Across Canada's north, diesel has long been the primary mode of providing year-round electricity to remote communities — but with the advent of small-scale renewables, that's about to change.
Northern communities were already making strides toward a renewable energy future, but with $400 million committed in this year's federal budget to establish an 11-year Arctic Energy Fund, energy security in the north has moved firmly into the spotlight.
"This level of support shows positive commitment from the Canadian government on ending fossil fuel dependency in Indigenous communities and transitioning these communities to clean energy systems," said Dave Lovekin, a senior advisor at the Pembina Institute.
Burning diesel not only pollutes the atmosphere, but getting it into remote communities is often inefficient in and of itself: it's delivered by truck, barge or, sometimes when the weather doesn't cooperate, by plane.
There are more than 170 remote indigenous communities in Canada still relying almost completely upon diesel for their electricity needs.
But, for some, at least, that's beginning to change. Take the community of Old Crow (Vuntut Gwitchin First Nation), above the Arctic circle in the Yukon.
Despite its northern latitude, and near total darkness between December and February, a 2014 Government of Yukon pilot study demonstrated that solar represents a major untapped renewable resource for the community.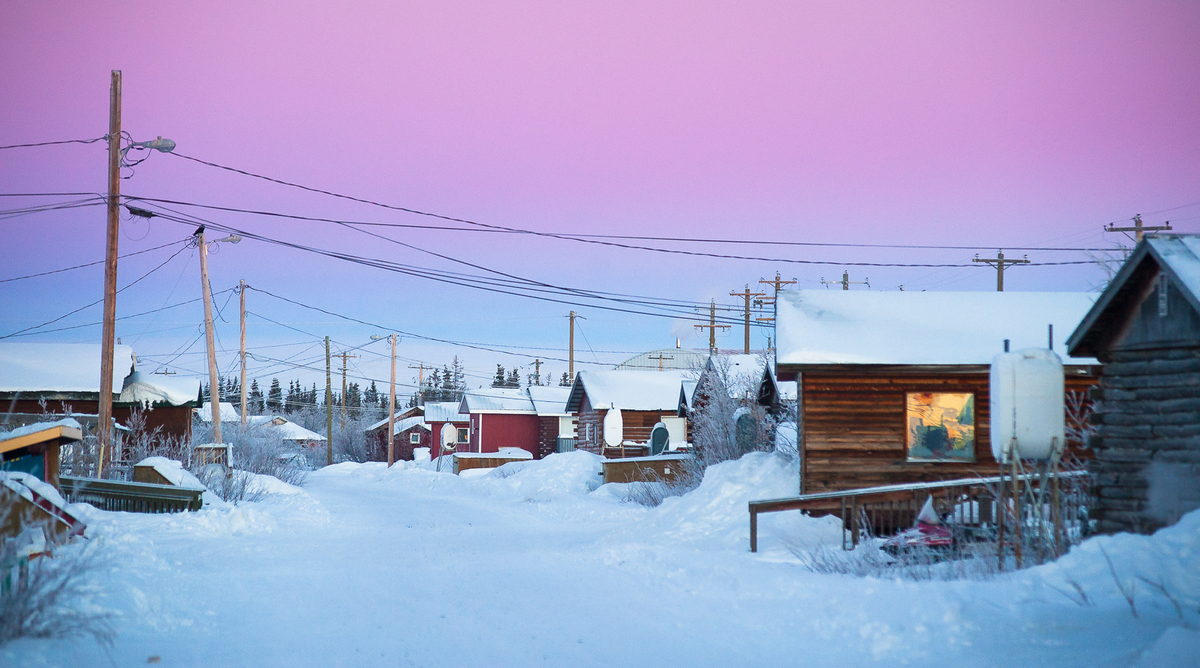 Many homes in Old Crow, north of the Arctic Circle, still rely on diesel, but that's changing. Photo: Matt Jacques.
Now Old Crow has a number of small-scale solar panel installations, including an 11.8 kilowatt array at the Arctic Research Centre — but its sights are set higher. Plans for a 330 kilowatt solar plant are well underway. A 2016 feasibility study estimated that this large-scale installation could offset 17 per cent of the community's total diesel use, or up to 98,000 litres of fuel each year.
"Anything that affects our community, we want to have control over. That's our goal with this project is to have ownership over the facility," said William Josie, director of Natural Resources for the Vuntut Gwitchin First Nation. "We burn a lot of fuel up here per capita and we're trying to reduce that."
Josie said his community is excited to build further solar capacity.
"This has been in the works for a long time, and it's just the right thing to do," he said. "It's the first solar project of this size in the Yukon with community ownership."
The Vuntut Gwitchin First Nation has a self-governing final agreement in place with the Government of Canada, the Government of the Yukon and the Council of Yukon First Nations. So too does the Kluane (Burwash Landing/Destruction Bay) First Nation in the southwestern Yukon, which is taking another approach to delivering a similar level of renewable energy capacity.
A major $2.4 million wind power generation project is set to be installed in 2018. Three refurbished 95 kilowatt turbines will deliver just under 300 kilowatts of total power and are estimated to offset 21 per cent of the community's total diesel use.
"One of the big things for the community is to be self-reliant and self-sufficient. Diesel is neither of those two," explains Colin Asseltine, general manager of the Kluane Community Development Corporation. "We're looking at what we can possibly do to reduce our carbon footprint and move off-grid."
The wind project will expand on the earlier successes in the community. Since 1998, Burwash Landing has used biomass for district heating, and began selling solar power back into the grid not long after installing a 48 kilowatt array in 2003. Along the way, they have been collecting the data required to inform the next steps and increase the impact of the community's investment in renewable energy.
Meet the First Nation Above the Arctic Circle That Just Went #Solar #yukon #arctic #cleanenergy #cdnpoli https://t.co/B9Um6R7yJq

— DeSmog Canada (@DeSmogCanada) March 28, 2017
A geothermal test well provides promise for increased food security.
"Connecting that to our greenhouse projects will really help with the possibility of growing year-round, and having a positive effect on food sustainability at the same time. Both renewable energy and food security go hand in hand, so we're working on those together," Asseltine said.
While these two communities have shown that renewable energy solutions are indeed feasible for remote northern environments, hurdles remain.
"Our biggest challenge right now is just to secure capital costs" Josie said. "We're looking for $2 million to $2.5 million, depending on the final engineering and design."
Lovekin, from the Pembina Institute, underscores this point, explaining that "the challenges on the technology side are nowhere near the challenges on the financial and community capacity side."
Up until now, federal and provincial or territorial funds have focused on financing initial development costs.
"The first focus on funding capital expenditure is good, but governments simply putting in money to get systems built has been shown to not be a sustainable strategy to support these communities to fully develop their projects," Lovekin said. "The more challenging part is the ongoing operations and maintenance and ability for communities to maintain the systems. Systems will break, nobody's there to fix them, and there's little funding for that."
And once systems are operational, their long-term economic viability largely rests on the value of the Power Purchasing Agreement (PPA) that is offered by the local utility operators.
"In order for that whole model to be successful, you need a better and more fair PPA price than what has typically been offered in the north. Typically the PPA will simply offer the avoided cost of diesel fuel, so whatever it costs to get a litre of diesel up to the community via winter road or barge," Lovekin adds.
Renewable energy systems typically have lower operating and management costs, and Pembina and others are working to ensure PPA prices reflect true cost savings.
"The federal carbon tax coming into play will also make diesel systems even more costly, so there's opportunity to look at a PPA price for renewable systems that will not pay the carbon tax, as well as other externalized costs such as diesel fuel spills, financial bailouts when winter roads deteriorate and fuel needs to be flown up. So addressing all of that in what gets offered via a fair and equitable PPA would be ideal," Lovekin said.
On the community capacity side of the equation, initiatives such as the 20/20 Catalysts Program and the Indigenous Clean Energy Network are providing essential training, and mentorship for indigenous communities making the transition to renewable energy.
Nonetheless, Lovekin feels there is a critical need for "more training, skill development and job establishment to support the community getting involved in their own transition. There need to be barriers removed to have more capacity built and leadership come from within the community."
That's where the new federal funding could be a game-changer.
"The real test will be in the types of policies and programs that are developed and how they are designed to support energy autonomy and create economic development within and for Indigenous communities," Lovekin said.
Image: Solar panels in Old Crow, Yukon. Photo: Matt Jacques