He writes "the federal government ins't answering questions about what's holding up the release of an annual report on Canada's progress in fighting climate change – an analysis normally released in mid-summer."
The annual inventory of Canada's greenhouse gas emissions is the definitive measure of the nation's carbon footprint and emissions trajectory based on previously reported years.
Environment Canada, the federal body responsible for the report, told De Souza "no release date had been set."
De Souza's article, published on www.canada.com this afternoon was forced offline by Natural Resources Canada, however, because it was reportedly published too early. The debacle, made public on twitter by David Provencher, Press Secretary to Canada's Minister of Natural Resources Joe Oliver, was resolved when the article resurfaced online around 2:20pm EST.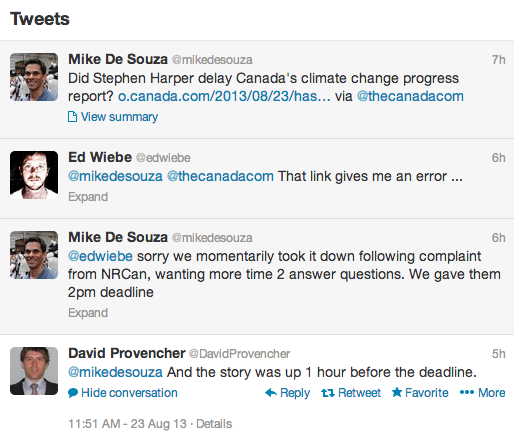 The revised article included a statement from Natural Resources: "Environment Canada is currently preparing the 2013 Canada's Emissions Trends report…Therefore, they are best positioned to comment on this report."
Natural Resources Canada also acknowledged it shared information with Environment Canada for the report, but would not say when those calculations were shared.
Natural Resources Canada's response, which delayed the released of De Souza's article for roughly one hour, caused speculation that the government was working to suppress media coverage of Environment Canada's missing report.
David McLaughlin, former chair of the
National Roundtable on Environment and Economy
which was recently
disbanded
by the Harper Government, suggested the report's delay might have something to do with the pending decision on the proposed Keystone XL pipeline. Recently
President Obama announced
that Canada's greenhouse gas emissions will play a role in Washington's decision on the pipeline, which will connect the Alberta tar sands, Canada's fastest growing source of greenhouse gasses, with refineries and export facilities in the Gulf Coast.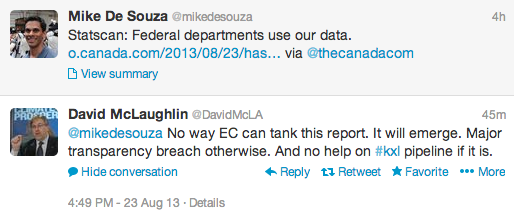 "The US is moving to meet that target while Canada is going in the opposite direction," she said at a press conference in Toronto.
Although just how far Canada is from that mark is impossible to tell without national reporting on carbon emissions.
According to De Souza
"the
last report
, released on Aug 8, 2012, revealed that Canada's climate performance was improving slightly with annual greenhouse gas emissions projected to be
19 per cent above
a target agreed to by Prime Minister Stephen Harper in international negotiations."
The report, writes De Souza, is critical for both economists and environmental groups that measure Canada's climate change impact in relation to policy for industry, transportation and other sectors of the economy.
"It's the best tool we have to understand Canada's progress, or lack thereof, towards our national climate target," Clare Demerse, director of federal policy at the Pembina Institute, told De Souza.
That same report also confirmed that the tar sands industry is Canada's fastest growing source of GHGs, with a carbon footprint projected to be larger than all of the provinces, excluding Ontario, by 2020.
The Harper Government has taken precautions in previous years to soften the impact of Canada's GHG emissions reporting.
"About two weeks before the emissions trends report's release in 2012, Natural Resources Minister Joe Oliver was told in a memo that Environment Canada was still 'considering different media strategy options' for how and when the report would be announced. Natural Resources Canada also said that both departments had prepared 'responsive lines' in anticipation of questions from journalists. Similar lines would normally be developed for newly-appointed Environment Minister Leone Aglukkaq," writes De Souza.
Today's fracas with Natural Resources Canada isn't De Souza's first run-in with federal ministries. Last year then Environment Minister Peter Kent referred to De Souza as an "
environmental activist
" for an article regarding Canada's position on a carbon tax.