The B.C. government unveiled a new natural gas development plan Thursday in an attempt to trigger a final investment deal with LNG Canada, the proponents of B.C.'s largest proposed liquefied natural gas export terminal, located in Kitimat.
The NDP's new framework offers LNG Canada and other companies tax reprieves and exemptions and a cheaper electricity rate than the previous B.C. Liberal government extended to the industry. The government is also offering a carbon tax break to LNG companies if their facilities can meet the "cleanest" operating standards in the world.
In a press briefing Premier John Horgan claimed the new plan carves a way for the province to develop a $40 billion LNG facility and still meet climate targets and obligations to Indigenous peoples. LNG Canada's own estimates say $25 to $40 billion for a "four-train project" while today's announcement only considers a two-train first phase of the project ('trains" refers to natural gas processing units).
However, the province has yet to release a climate plan that demonstrates what steps would be taken to counter significant greenhouse gas emissions from the LNG Canada facility — representing 10 per cent of B.C.'s 2050 emissions target, according to the government.
Exporting liquefied natural gas involves fracking for gas in B.C.'s northeast, shipping that gas via pipelines to the coast and then cooling the gas via massive compressors to -162 degrees Celsius, the point at which gas turns into liquid and becomes easier to transport via tanker. LNG Canada would burn its own natural gas for the energy-intensive compression process, resulting in enormous greenhouse gas pollution. (B.C. doesn't allow the burning of natural gas to create electricity because of these emissions.)
The government said LNG Canada will emit four megatonnes of carbon emissions each year — the equivalent of adding 856,531 cars to the road.
The Pembina Institute, however, has pointed out that when both phases of the project are built the LNG Canada project would emit 8.6 megatonnes of carbon per year in 2030, rising to 9.6 megatonnes in 2050. The government's emissions estimate only includes the first phase of the project, although its investment figure of $40 billion is for all project phases.
No clear climate plan
B.C.'s new "framework" to attract an LNG industry was slammed by the B.C. Green Party, which called the plan "race to the bottom economics."
Green Party leader Andrew Weaver pointed out that the more favourable electricity rate the NDP is offering the LNG industry is a "ratepayer subsidy" of Site C dam power that would go to LNG Canada "at less than half of what it would cost to produce."
At a press conference, Weaver said "there is profound concern" that LNG plants would be exempt from further increases in B.C.'s carbon tax.
He said the Greens will not support any legislation brought forth to back the changes to B.C.'s terms to LNG producers, but stopped short of saying the three Green MLAs will bring down the NDP government over the issue.
"This is not about toppling the government at this juncture," Weaver said. "Our confidence in government is predicated on government developing a climate plan to meet our targets. Government has been in power for eight months and we have not seen such a plan put forth."
If LNG Canada sets up shop in B.C. and "you are going to add eight to 10 megatonnes of greenhouse gas emissions," Weaver said all other aspects of the economy must make up the difference if B.C. is to meet legislated climate targets.
"By 2030 all other aspects of our economy — apart from LNG Canada — would have to cut emissions by 50 per cent. And by 2050 it means that all other aspects of our economy would have to cut emissions by 95 per cent."
Horgan said the $40 billion LNG Canada project has the support of 16 local First Nations, some of which have signed economic benefits agreements with Shell Canada, which owns a 50 per cent stake in the project alongside PetroChina, Korea Gas Company and Mitsubishi.
The LNG Canada plant would require 670 new kilometres of pipeline, linking Dawson Creek to Kitimat, and would spur up to 700 new tanker visits a year, according to Pembina.
Bringing remaining First Nations onside with the project is the responsibility of LNG Canada, Horgan said.
"It's not going to be easy," Horgan told reporters at a press briefing. "Industrial activity and reconciliation with Indigenous peoples are difficult issues. Meeting our climate change objectives are primary and fundamental to the new government's approach."
"Rather than skirt those issues, like the previous government did — rather than ignore those issues of reconciliation and climate action — we want to marry industrial activity with those two key government objectives."
NDP take up 'cleanest LNG in the world' mantle
The previous BC Liberal government promised to develop an LNG empire that would export "the cleanest LNG in the world."
Yet claims of "clean LNG" have been thoroughly debunked and a glut in the global natural gas market led to a major slow down in investment in B.C.
Of the 19 export LNG projects proposed under the previous government, only one, the relatively small Woodfibre LNG, has received a final investment decision.
Former Premier Christy Clark also promised 10,000 jobs in the LNG industry, which failed to materialize.
"They got zero [LNG plants], we may get one," Horgan said at the press conference.
The NDP is now singing from the Liberal songsheet on jobs, claiming that the LNG Canada investment would create 10,000 jobs and provide training opportunities for younger people as long-time members of the construction trade unions retire.
LNG Canada is expected to make a final investment decision in late 2018 and now, under the newly announced framework, B.C. has offered incentives if the company makes its decision by November.
The new plan offers LNG developers temporary relief from the provincial sales tax, new emissions standards, elimination of the LNG income tax and rebates for penalties paid under the carbon tax if the facility meets best-in-world standards.
According to the government, best-in-world standards would be met by electrifying fracking operations in natural gas fields, using new technology to reduce emissions in the LNG cooling process and by electrifying ancillary LNG operations.
"Energy-intensive trade-exposed industries already have an opportunity to reduce their emission profile and therefore potentially reduce their emissions cost," Horgan said. "That's not to absolve them of their responsibility. It's to help them transition as carbon pricing goes up and their industry transforms."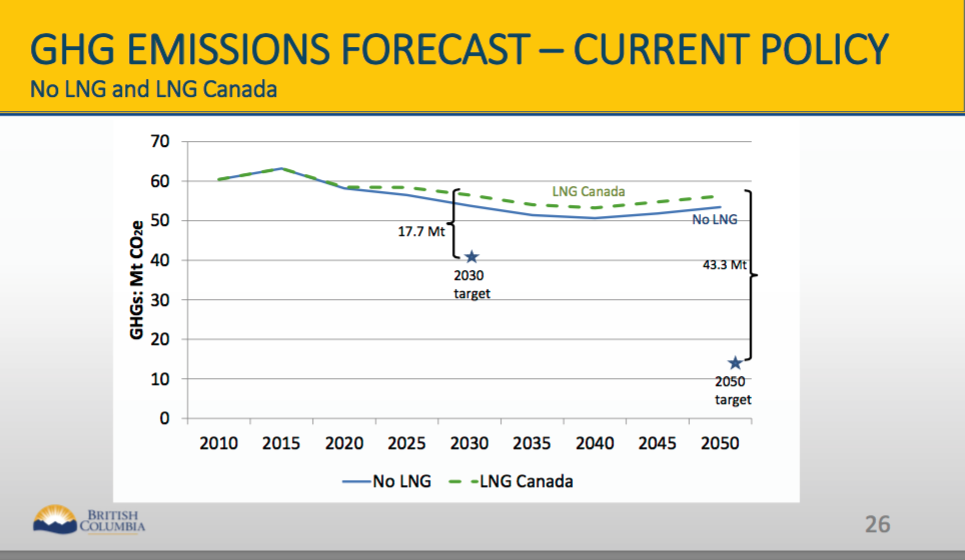 Exerpt from B.C.'s technical briefing on LNG Canada and the new natural gas framework.
Horgan said should the new project come online it will require "radical electrification" of B.C.'s economy, adding the province has an abundance of hydroelectric power.
"There is no intention to give anyone a free pass," he said.
Yet, Weaver said government has yet to put a credible climate path forward.
"I've spent 25 years in the field of climate science…frankly I don't know how you are going to be able to get to 40 per cent reductions and add 8 megatonnes."
Weaver said measures like the carbon tax, which are designed to help B.C. meet its climate targets, are undermined by proposals that exempt industry from planned increases to the tax.
The LNG Canada plant was approved in 2015 by both the B.C. and federal governments, with 74 conditions. None of the conditions relate to carbon emissions or place a limit on emissions.
Weaver waiting on fugitive emissions price
Another major obstacle to B.C.'s ability to carve a credible climate path forward are fugitive emissions, Weaver said.
A recent peer-reviewed study by the David Suzuki Foundation and St. Francis Xavier University found methane emissions from B.C.'s oil and gas industry are two-and-a-half times higher than reported.
A follow up study found wells in the Montney region, which would supply the gas to LNG Canada, release more than 11,800 tonnes of methane into the air annually — the equivalent of burning 4.5 million tonnes of coal or putting two million cars on the road.
B.C. does not currently price these fugitive emissions under the provincial carbon tax.
Weaver said the Green Party's agreement with the NDP stipulates the province put a price on fugitive emissions.
In a previous interview with DeSmog Canada, Weaver said he would topple the government if the NDP pushed for the development of an LNG industry.
He reiterated Thursday that the Green Party's confidence in the minority government is "firmly embedded" in a credible climate plan.
With files from Sarah Cox.
New title
You've read all the way to the bottom of this article. That makes you some serious Narwhal material.
And since you're here, we have a favour to ask. Our independent, ad-free journalism is made possible because the people who value our work also support it (did we mention our stories are free for all to read, not just those who can afford to pay?).
As a non-profit, reader-funded news organization, our goal isn't to sell advertising or to please corporate bigwigs — it's to bring evidence-based news and analysis to the surface for all Canadians. And at a time when most news organizations have been laying off reporters, we've hired eight journalists over the past year.
Not only are we filling a void in environment coverage, but we're also telling stories differently — by centring Indigenous voices, by building community and by doing it all as a people-powered, non-profit outlet supported by more than 2,900 members. 
The truth is we wouldn't be here without you. Every single one of you who reads and shares our articles is a crucial part of building a new model for Canadian journalism that puts people before profit.
We know that these days the world's problems can feel a *touch* overwhelming. It's easy to feel like what we do doesn't make any difference, but becoming a member of The Narwhal is one small way you truly can make a difference.
We've drafted a plan to make 2021 our biggest year yet, but we need your support to make it all happen.
If you believe news organizations should report to their readers, not advertisers or shareholders, please become a monthly member of The Narwhal today for any amount you can afford.