One of Ottawa and Alberta's main arguments in defence of the Kinder Morgan Trans Mountain pipeline — that Alberta oil sold to Asian markets will command a higher price — is a myth, according to a new report released Wednesday by scientist and energy resources expert David Hughes.
Contrary to the common claim, Hughes' research, conducted on behalf of the Canadian Centre for Policy Alternatives and the Parkland Institute, found "a 'tidewater premium' does not exist."
"My research shows that Canada's oil is not being unfairly discounted by the U.S.," Hughes said.
"Oil prices internationally and in North America are now nearly identical. That means Canadian crude producers are likely to receive lower prices overseas than in the U.S. because of the higher transportation costs involved in transporting bitumen by pipeline to B.C.'s coast and then exporting it by tanker."
Source: CCPA report, Will the Trans Mountain Pipeline and tidewater access boost prices and save Canada's oil industry?
The new report comes at a difficult time for Kinder Morgan, which is in the midst of a disappointing IPO for the Trans Mountain project. Investors were unenthused with the company's offering, released amid a shifting political landscape in B.C. that could spell doom for the pipeline project.
The new report, published as part of the work of the Corporate Mapping Project, finds several assumptions used in the National Energy Board's recommendation for the Trans Mountain were also faulty, including "overly optimistic projections of future oil supply" that "did not consider the Alberta government's cap on oilsands emissions."
No, Asian Markets Won't Fetch Better Prices for Canadian Oil: New Report https://t.co/Wnzijrhnme @carollinnitt @ParklandInst @ccpa #cdnpoli pic.twitter.com/aDRbprtP2e

— DeSmog Canada (@DeSmogCanada) May 31, 2017
Recently Greenpeace Canada asked the Alberta Securities Commission to investigate the details of Kinder Morgan's IPO, saying the company failed to accurately characterize demand for Canadian oil in Asian markets and the financial impacts of climate policy.
As part of Alberta's climate plan, announced November 2015, oilsands emissions are capped at 100 megatonnes per year which eliminates growth of future production.
According to Hughes' analysis, when considering restrictions placed on Alberta oil production under the province's greenhouse gas emission cap, "Kinder Morgan overestimated oil supply by 43 per cent in 2038."
Arguments for the necessity of the Trans Mountain pipeline have also been overstated, according to the new analysis, because of alternate pipeline approvals.
In addition to the Trans Mountain pipeline Prime Minister Justin Trudeau also approved the Enbridge Line 3 project and more recently President Donald Trump approved TransCanada's Keystone XL pipeline.
"If these projects are built, which seems likely, there will be a 13 per cent surplus of export pipeline capacity without the [Trans Mountain pipeline]."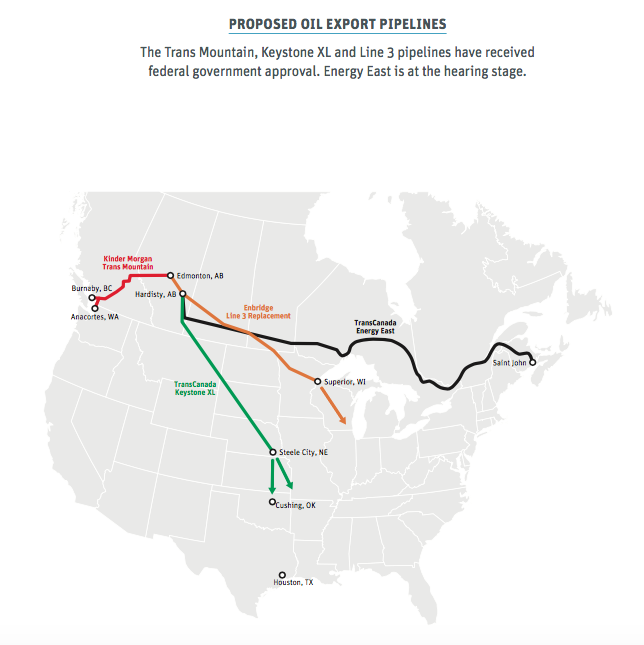 Source: CCPA report, Will the Trans Mountain Pipeline and tidewater access boost prices and save Canada's oil industry?
Independent economist Robyn Allan has also previous called out the NEB's reliance on incorrect information about the Trans Mountain pipeline and oil production projections. According to Allan, the federal government was "dangerously misled" on the economic benefits of the pipeline project
"Given the incorrect assumptions used by the NEB in approving the Trans Mountain pipeline it is surprising that the federal government approved it," Hughes said.
"The pipeline isn't needed given recently approved pipelines, it will not mean a higher price for oil, and increased tanker traffic would place unnecessary risks on B.C.'s Lower Mainland and sensitive marine environments," Hughes said.
This week the B.C. NDP and Green Party Leaders announced a power-sharing agreement as part of a plan to oust the B.C. Liberals from their minority government position.
The NDP and Greens have committed to using every available tool to cancel the pipeline project.
"The new B.C. government would be wise to withdraw the Province's approval for this project," Hughes said.
The new pipeline puts at odds Canada's commitment to reducing carbon emissions, the report finds.
"Canada has no energy strategy beyond liquidating its remaining resources as fast as possible," Hughes said.
"What we really need is a comprehensive energy strategy that addresses both the future energy security of Canadians and Canada's commitments on climate change."
Image: Oil tankers. Photo: CCPA report, Will the Trans Mountain Pipeline and tidewater access boost prices and save Canada's oil industry?