The misconception with 'west-to-east' pipeline proposals like Enbridge's Line 9 or TransCanada's Energy East is shipping western Canadian oil to eastern Canada means 'Canadian oil for Canadian refineries.' This assumption overlooks the fact eastern Canadian refineries cannot refine a certain type of Canadian oil – tar sands bitumen.
Bitumen is the heavy unconventional oil found in the Alberta tar sands (also called oil sands). Only a specialized refinery can process bitumen and turn it into refined products such as fuels. Few refineries in Canada can do it. None of the refineries in eastern Canada can refine large quantities of bitumen.
TransCanada and Enbridge claim their west-to-east pipelines will transport mainly conventional oil and only small amounts of bitumen. This is unlikely to be true in the long term as conventional sources of oil dry up in Canada and bitumen production continues to increase.
If no eastern Canadian refinery makes the massive investment to outfit their operation to refine bitumen, Line 9 and Energy East are destined to ensure more bitumen will flow to markets overseas, not Canadian refineries.
"Building more tar sands pipelines will lock Canada into a highly polluting carbon-based economy for decades," says Adam Scott, a climate and energy program coordinator for Environmental Defence Canada based in Toronto.
"We cannot support any pipeline that furthers the ongoing reckless and unchecked expansion of the tar sands," Scott told DeSmog Canada.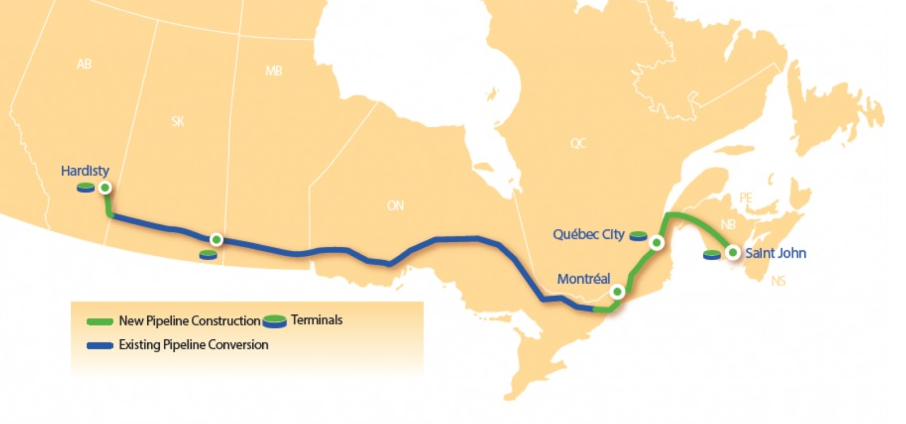 TransCanada's proposed Energy East pipeline route
Refineries Require an Expensive Coker Unit to Refine Bitumen
Bitumen is not the black liquid that many people think of when they think of oil. It is low-grade oil with the consistency of peanut butter and riddled with impurities.
Bitumen is high in carbon and low in hydrogen. High quality oils such as light sweet conventional crude oil are just the opposite. Much of the carbon in bitumen needs to be stripped in order to convert bitumen into refined products that can be sold.
Like what you're reading? Sign up for our email newsletter!
Refineries usually require a coker unit to remove the carbon from bitumen. To remove the carbon, bitumen is heated in large steel coke drums at higher temperatures (480 degree Celsius) and for longer periods of time than typical conventional oil refinery is capable of. Hydrogen is added afterwards to make bitumen more like a liquid-fuel.
Suncor's Montreal Refinery May Refine Bitumen if Line 9 is Approved
A few refineries in Alberta and one in Ontario have coker units. A massive investment $2 billion is required to install a coker. None of the three eastern Canadian refineries – Suncor, Valero, and Irving – have publicly announced their intentions to make this investment.
"Suncor is the most likely to install a coker because the company has tar sands projects in Alberta. Irving and Valero do not," says Lorne Stockman, research director at Oil Change International (OCI) in the US.
"There is plenty of lighter, easier to refine oil coming out of new sources such as Bakken oil shale in the US. Irving and Valero will probably to stick to processing lighter oils for the time being," Stockman told DeSmog Canada.
Neither Valero nor Irving appears interested in buying a coker at the moment. Irving, which has equipment to process small amounts bitumen, is investing in a $300 million marine terminal in Saint John, New Brunswick to export oil from the proposed Energy East pipeline. Valero announced earlier this year oil from Texas will be sent to its Quebec City refinery.
"Suncor may make more of a profit supplying its Montreal refinery with bitumen than by selling bitumen to its competitors," says Stockman.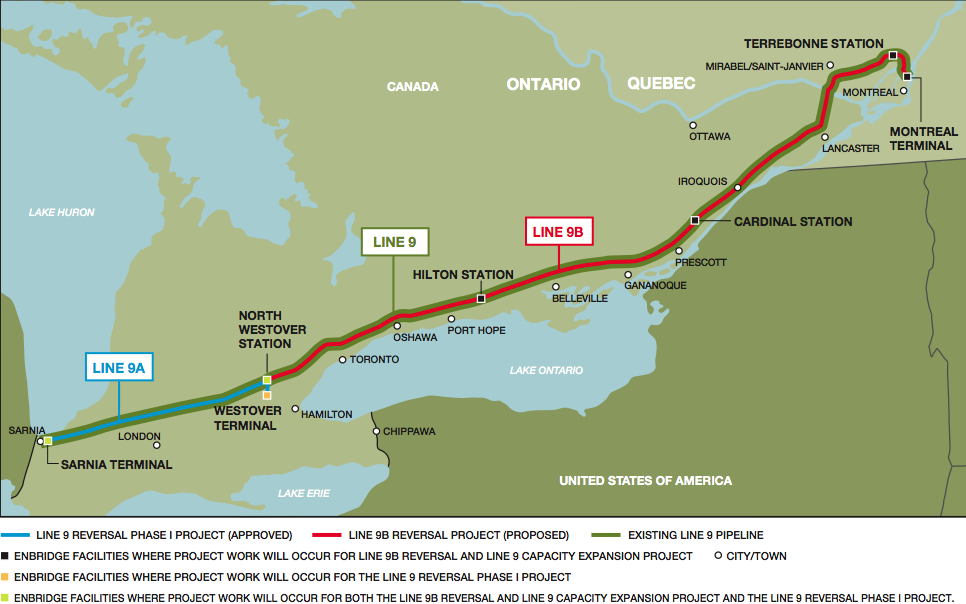 There is speculation Suncor will announce its plans to construct a coker unit at its Montreal refinery after the National Energy Board (NEB) – Canada's independent energy regulator – makes its decision on Line 9. The NEB decision on Line 9 could come as early as January 2014.
The US Has the Most Capacity to Refine Bitumen in the World
The probable destination of Energy East's or Line 9's bitumen is a refinery somewhere in the US, although some bitumen refining capacity does exist in Europe as well as China.
In the US, 59 of the 134 refineries are equipped with coker units. Approximately 30% of the US's bitumen refining capacity is in the nine Gulf of Mexico refineries TransCanada seeks to supply through its controversial Keystone XL pipeline. Sea-faring oil tankers traveling from Saint John, Quebec City or Montreal could also access these refineries.
Pet coke: the Coal Hidden in the Tar Sands
A major problem with refining bitumen is it has a rather nasty byproduct called petroleum coke or 'pet coke'. Pet coke contains most of the heavy metals, sulphur and other impurities removed from bitumen during the coking process. Approximately 15% of a barrel of bitumen will become pet coke.
The research and clean energy advocacy group Oil Change International describes pet coke as "the coal hiding in the tar sands" because it has emerged as an inexpensive alternative to coal since the bitumen boom in Alberta began ten years ago.
"Pet coke is providing coal-fired power plants with a cheaper and dirtier source of fuel. It is breathing new life into the industry, which is cause for concern as the world desperately tries to reduce its carbon emissions output," says Stockman of OCI.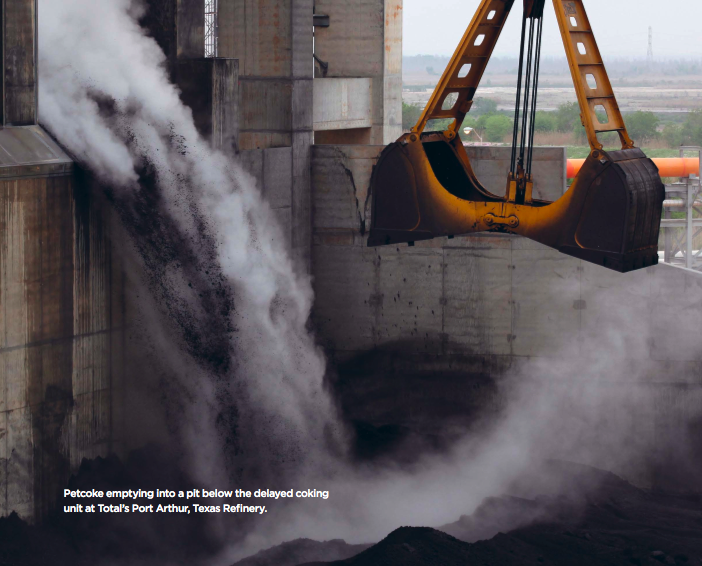 The majority of pet coke produced in North America is sold to Asia and Latin America where regulations on sulphur releases from coal-fire power plants are lax. Pet coke produces 5-10% more greenhouse gas (GHG) emissions than coal per unit of energy.
In Canada, pet coke is largely being stockpiled in Alberta. There are some exports of Canadian pet coke to Asia via ports near Prince Rupert, British Columbia.
Last August, the mayor of Detroit ordered the removal of pet coke piles sitting uncovered along the Detroit River. The piles were three-storeys tall. Dust particles containing the toxic heavy metals in pet coke were blowing off the piles and into the air and river.
The pet coke piles were from Marathon's refinery in Detroit. The refinery began refining bitumen in November 2012.
Oxbow Corporation is one of the largest sellers of pet coke in the world. The company is owned by William Koch, brother of the infamous pro-fossil fuels billionaires Charles and David Koch.
Image Credit: Northern Rockies Rising Tide, TransCanada, Enbridge, Oil Change International.
New title
You've read all the way to the bottom of this article. That makes you some serious Narwhal material.
And since you're here, we have a favour to ask. Our independent, ad-free journalism is made possible because the people who value our work also support it (did we mention our stories are free for all to read, not just those who can afford to pay?).
As a non-profit, reader-funded news organization, our goal isn't to sell advertising or to please corporate bigwigs — it's to bring evidence-based news and analysis to the surface for all Canadians. And at a time when most news organizations have been laying off reporters, we've hired eight journalists over the past year.
Not only are we filling a void in environment coverage, but we're also telling stories differently — by centring Indigenous voices, by building community and by doing it all as a people-powered, non-profit outlet supported by more than 2,900 members. 
The truth is we wouldn't be here without you. Every single one of you who reads and shares our articles is a crucial part of building a new model for Canadian journalism that puts people before profit.
We know that these days the world's problems can feel a *touch* overwhelming. It's easy to feel like what we do doesn't make any difference, but becoming a member of The Narwhal is one small way you truly can make a difference.
We've drafted a plan to make 2021 our biggest year yet, but we need your support to make it all happen.
If you believe news organizations should report to their readers, not advertisers or shareholders, please become a monthly member of The Narwhal today for any amount you can afford.