With two weeks to go until Ontarians vote in a new government, it appears proposed oilsands pipeline projects for the province will not be a prominent election issue.
Ontario's 2014 election will not be B.C.'s 2013 election.
"We would like to see all elected leaders in Ontario — not just MPPs — saying no to tar sands pipelines until sanity can be restored to federal environmental policy and the environmental regulations recently rolled back by the Harper government are put back in place," says Graham Saul, executive director of Ecology Ottawa.
Last year's provincial election in B.C. left many (especially those living outside of B.C.) with the impression that the Northern Gateway and Trans Mountain oilsands pipelines were the only election issues. Ontario also faces two proposed oilsands pipelines that would cut through the province — TransCanada's Energy East and Enbridge's Line 9 — but no political party has addressed the risks these pipelines pose for the province on the election trail.
"We are seeing momentum build in Ontario against tar sands pipelines, but resistance is still new," Saul told DeSmog Canada. Ecology Ottawa leads local opposition in the Canadian capital against Energy East. If approved, the 4,600 kilometre pipeline will transport 1.1 million barrels a day of oil and oilsands bitumen from Alberta through Ontario to Saint John, N.B.
Ontario Opposition to Oilsands Pipelines Has Yet to Reach B.C. Levels
Public outcry in Ontario against oilsands pipelines has yet to reach the same levels as opposition to pipelines in B.C. or the Keystone XL pipeline in the U.S. This may be because Line 9 and Energy East are existing pipelines being repurposed to ship heavy crudes such as bitumen. Both pipelines have been in the ground for decades — Line 9 as a conventional oil pipeline and Energy East as a transporter of natural gas.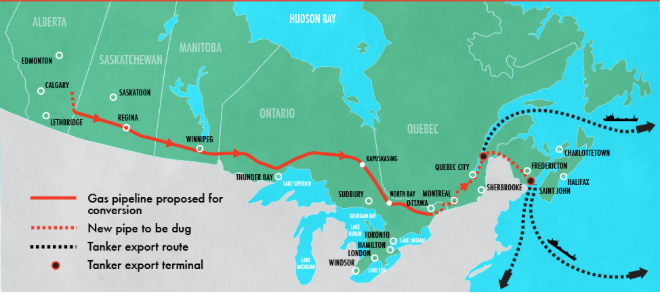 TransCanada's Energy East pipeline. Credit: Environmental Defence.
"People have the impression that it is not dangerous to retrofit pipelines for tar sands oil," Saul says.
An examination of pipeline spills in the U.S. Midwest between 2010 and 2012 by the Natural Resources Defence Council found pipelines transporting oilsands bitumen ruptured three times more often than the national average. The heavy bitumen's tendency to sink in water (confirmed by a federal study earlier this year) makes cleaning up bitumen spills in waterways extremely difficult. Conventional oil floats when spilled in water.
Line 9 in southern Ontario and Energy East in northern Ontario pass through or come dangerously close to the drinking water supply for millions of Ontarians, specifically the Great Lakes. Ontarians and their drinking water are effectively boxed in by proposed oilsands pipelines that critics describe as "all risk, no reward" for the province. The oil in both projects is not destined for Ontario, but for refineries in eastern Canada and overseas.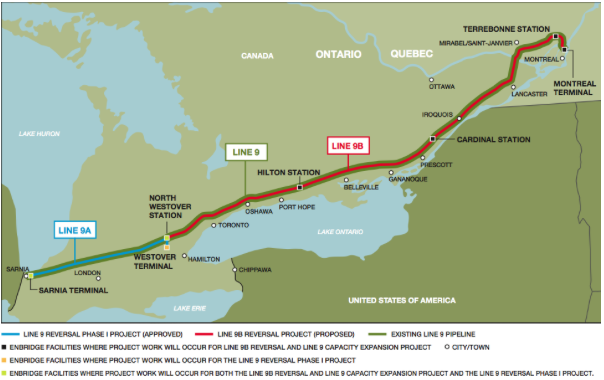 Enbridge's Line 9 Pipeline. Credit: Enbridge.
The timing may also be off for oilsands pipelines to be an Ontario election issue. The rushed review process of Line 9 concluded with the project's approval last March by the federal regulator, so for some Ontarians the issue of Line 9 may have already come and gone. Saul of Ecology Ottawa points out a decision on Energy East is not expected until 2016, so it may not be an imminent concern for Ontarians at the moment.
The Debate On Energy Is Being "Incorrectly" Informed By Political Parties
What Ontarians are left with is a provincial election energy debate revolving entirely around the rising costs of home power bills in the province.
"Power bills are a more tangible and directly visible concern. It hits people in their pocketbooks," says Mark Winfield, professor of environmental studies at York University in Toronto.
Ontarians do pay some of the highest rates of electricity when compared to other provinces, so it is a conversation worth having. Unfortunately, the major political parties — the NDP and Progressive Conservatives especially — have plunged this conversation down a path that ignores why power bills have gone up in the first place.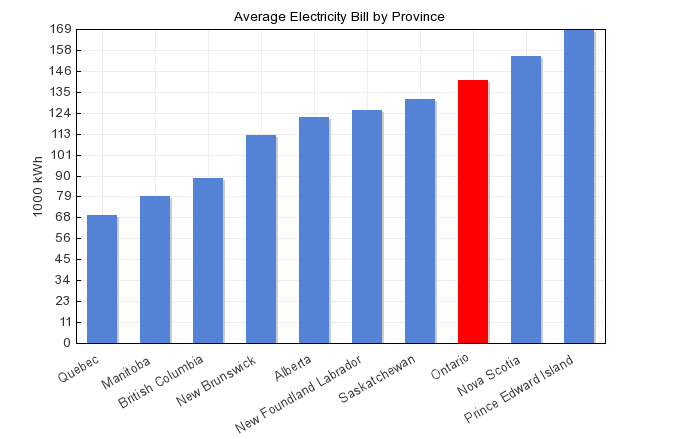 Ontari-Hydro.com chart showing average cost per 1,000 kWh of electrcity per province.
"Under [Ontario Premier] Harris we had a ten-year period of very little investment in electricity infrastructure. We are playing catch-up now," Winfield says.
"Its like taking out a new mortgage on your house to do badly needed home renovations," Winfield told DeSmog Canada.
The Progressive Conservatives claim the ruling Liberals' subsidies for renewable energy are to blame for the high cost of power and vow to get rid of them if elected. The NDP propose capping CEO salaries in the provincial power corporations and merging Ontario's four energy agencies into one to save money.
"This is informing the conversation on power incorrectly and ignores the historical operating costs of power in Ontario," Winfield says.
Ontario Is Still Paying Off Past Investments In Its Power Grid
A report released earlier this year finds paying off the construction of Ontario's nuclear power plants (all of which ran massively over budget) and investments made in Ontario's electrical delivery system over the last ten years is the largest component of the average home power bill in Ontario. Green energy, including solar, wind and biomass, comprises nine per cent of the bill.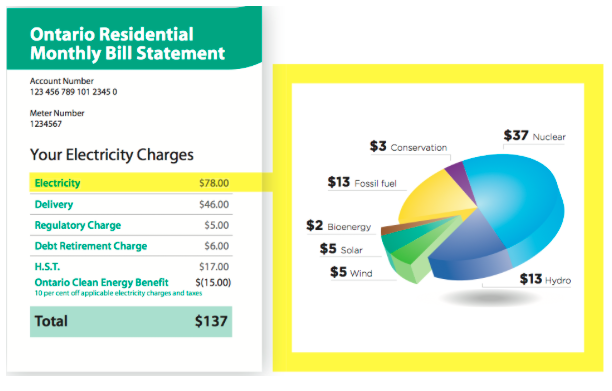 Average power bill in Ontario according to the "Your Home Electricity Bill" report.
Winfield argues the most cost effective method for savings on electricity is investing in energy conservation. The NDP, Greens and, to a certain extent, the Liberals all promote 'Conservation First' energy strategies. Winfield would also like to see discussion on whether Ontario is overbuilding electrical production facilities (electrical demand in Ontario is declining) and investing in "inflexible assets," such as nuclear power.
"There is still the perception in Ontario that it is the 1960s and we are getting lots of cheap hydro-power from Niagara Falls. Today in Ontario, hydro accounts for only 25 per cent of the province's electrical use. Constructing new sources of electricity costs money," Winfield says.
Ontario does sit beside a large, relatively inexpensive source of hydro power: Quebec. It is estimated Ontario could save $1 billion annually from 2020 to 2050 if the province imported hydro power from Quebec through existing power lines instead of refurbishing its nuclear plants to extend the plants' lives. All four political parties speak favourably of the proposal, although the Greens and the NDP are the strongest supporters.
Ontarians will hit the polls on June 12. Premier Kathleen Wynne's Liberals currently have a slight lead in the polls on Tim Hudak's Progressive Conservatives. Andrea Horwath's NDP, which forced the election, is trailing both parties significantly.
Image Credit: Sharon Drummond via Flickr.
New title
You've read all the way to the bottom of this article. That makes you some serious Narwhal material.
And since you're here, we have a favour to ask. Our independent, ad-free journalism is made possible because the people who value our work also support it (did we mention our stories are free for all to read, not just those who can afford to pay?).
As a non-profit, reader-funded news organization, our goal isn't to sell advertising or to please corporate bigwigs — it's to bring evidence-based news and analysis to the surface for all Canadians. And at a time when most news organizations have been laying off reporters, we've hired eight journalists over the past year.
Not only are we filling a void in environment coverage, but we're also telling stories differently — by centring Indigenous voices, by building community and by doing it all as a people-powered, non-profit outlet supported by more than 2,500 members. 
The truth is we wouldn't be here without you. Every single one of you who reads and shares our articles is a crucial part of building a new model for Canadian journalism that puts people before profit.
We know that these days the world's problems can feel a *touch* overwhelming. It's easy to feel like what we do doesn't make any difference, but becoming a member of The Narwhal is one small way you truly can make a difference.
We've drafted a plan to make 2021 our biggest year yet, but we need your support to make it all happen.
If you believe news organizations should report to their readers, not advertisers or shareholders, please become a monthly member of The Narwhal today for any amount you can afford.