A new poll released Thursday finds that more than three quarters of British Columbia residents want the province to shift away from producing, using and exporting fossil fuels and to embrace cleaner sources of energy.
The online survey, conducted by Strategic Communications Inc., found that 78 per cent of British Columbians agree that B.C. should transition away from using fossil fuels to cleaner sources of energy to prevent climate change from worsening, compared to 17 per cent who disagree.
"As climate science continues to demonstrate, climate change could have devastating impacts on both the environment and the economy," said Kevin Sauve, spokesperson for the Pembina Institute in B.C.
"It's encouraging to see that British Columbians are on the same page. Not only do they understand the need to reduce our reliance on fossil fuels but see economic benefits in developing cleaner sources of energy as well."
"British Columbia is largely sitting on the sidelines of a global clean energy bonanza," said Merran Smith, Director of Clean Energy Canada. "Citizens know that the world's energy system is changing. The provincial government needs to strengthen the province's clean energy economy through targeted policy today."
The poll was commissioned by the Pembina Institute, Clean Energy Canada and the Pacific Institute for Climate Solutions. Eight hundred and two adult B.C. residents were surveyed from April 1 to April 2, 2014, using an established proprietary research panel. The results were statistically weighted according to the most recent education, age, gender and region Census data to provide a representative sample of the B.C. population.
"This poll sends a clear message that British Columbians want steps put in place now to transition this province towards a prosperous low-carbon future," said Tom Pedersen, Executive Director of the Pacific Institute for Climate Solutions (PICS). "It is encouraging to see such strong support for change across all levels of society, but especially among tomorrow's leaders — 18-34 year olds."
The poll found that 67 per cent of B.C. residents agree that the province should decrease its reliance on fossil fuels for greater economic security while more than 78 per cent suggested a move away from fossil fuels is necessary to avoid worsening climate change. Another 74 per cent agreed the province could benefit from clean sector jobs and growing the alternative energy economy.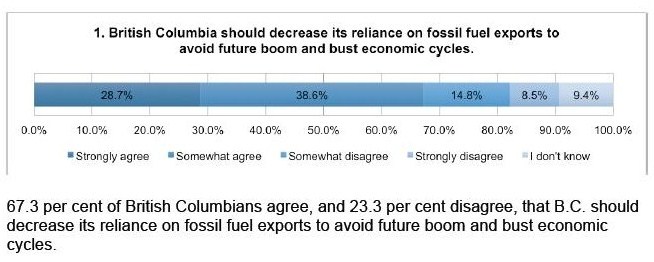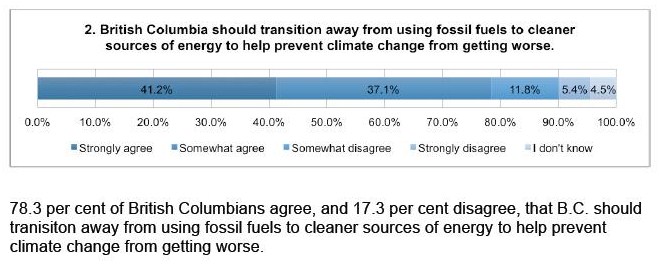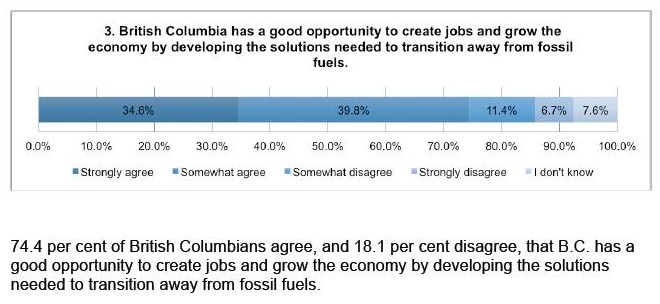 Natural gas "out of step with clean energy"
The results of the poll come as B.C. Premier Christy Clark is pushing for the increased development of natural gas fields and liquified natural gas (LNG) plants for export.
On Earth Day, April 22nd, Environment Minister Mark Polak suggested the rush to develop the province's vast gas deposits was a part of B.C.'s climate plan.
"Our proven track record of climate leadership and our unwavering commitment to sustainable economic growth will also guide the development of B.C.'s liquefied natural gas industry. Climate change is a global issue. By exporting our abundant natural gas, B.C. will supply growing markets with the cleanest burning fossil fuel from the world's cleanest LNG plants," she said.
Yet B.C.'s natural gas and LNG ambitions might not square with its ambitious emissions reductions.
"There are scenarios under which natural gas could potentialy be a transition fuel and that's certainly the way the government has been positioning it," Sauve told DeSmog Canada. "But there is very little analysis to back that up."
An increase in natural gas development will pile up on the climate impacts of other fossil fuels, Sauve said.
"Given this poll it looks like [the development of natural gas] is out of step with the expectations of British Columbians. It is out of step with clean energy."
He added: "The general direction B.C. wants to go in is away from fossil fuels and towards clean energy."
Image Credit: Sookie / Flickr Figures 1-3: British Columbians' opinions on climate change and clean energy: poll summary