In a move that epitomizes the principle of thinking globally and acting locally, national youth climate conference PowerShift has gone local. Rather than one large national event, the conference has been split into smaller, regional events. The first will be in Victoria, BC on October 4.
"We've held two national ones before, and while they were amazing, what we realized is we were missing the mark on really being able to connect with movements locally that were leading the edge in fighting the fossil fuel industry," said Cam Fenton, director of convening organization Canadian Youth Climate Coalition. Last year's PowerShift was held in Ottawa shortly after the Defend Our Coast rally at the Victoria legislature that drew thousands, and Fenton said the conference in Ontario failed to tap into the energy that was building on the west coast.
PowerShift is a series of youth-driven speakers, panels and workshops designed to give young people the skills and tools they need to organize for climate justice. Big-name speakers include David Suzuki and Council of Canadians national chairperson Maude Barlow, in addition to numerous young people from frontline communities all over Canada.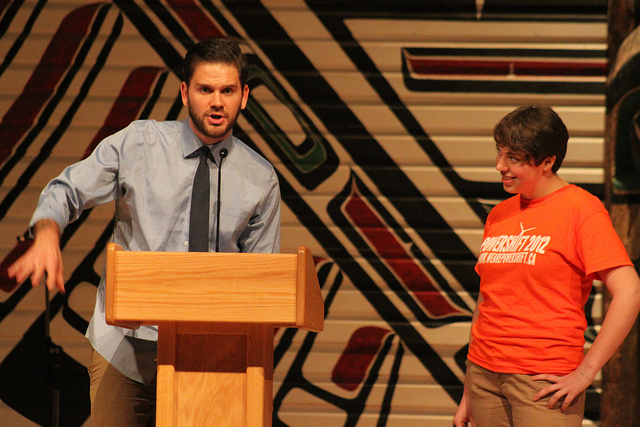 The decision to host the first regional event in BC was twofold. First, as a province that was once a leader in sustainable energy development and is now embracing LNG and tar sands development, BC has become a battleground. The fight to stop Enbridge's Northern Gateway Pipeline has galvanized activists and ordinary British Columbians alike.
The second reason has more to do with logistics. Fenton said the largest number of youth who were unable to attend last year due to the cost of getting to Ottawa were in BC, so it seemed like a great place to start.
He said there has also been a shift in the direction of the fight against fossil fuels. Rather than focusing on governmental policy change like their forbears, young climate activists are creating grassroots movements though community-based organizing and action.
"We wanted to transform PowerShift into something that would reflect that, and rapidly build our power as young people and as a climate movement in general."
The concept of movement building is key for Fenton, and bringing together the voices of people working across the country will be crucial going forward.
"In the past, it hasn't felt like we've really had a movement to stand behind our champions, and I think we're starting to see it and see these movements grow to be the force that we need and the people power we need."
He used opposition to the Keystone XL pipeline as an example of a group of people large enough to guide and support politicians to stand up for the climate justice.
"There is a movement that will actually stand behind them when they do the right things, and also hold them accountable if they do the wrong thing."
Fenton said one of CYCC's biggest concerns right now is divestment from the oil and gas sector, drawing on support from university groups and other major institutions. He's hoping to spark a major player to take a stand.
"In order to have this conversation more publicly, some folks and some institutions with a more significant profile need to step up."
Eriel Deranger, environmental activist and member of the Athabasca Chipewyan First Nation, will be bringing the story of her nation's fight against extreme energy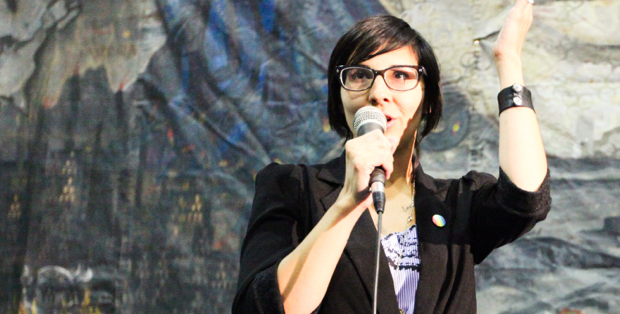 development on their traditional territory, with the hope of raising awareness about the scope and pace of tar sands development. She said part of the process of bringing national concerns to a regional level is highlighting the increasingly strong role First Nations are playing in defending the land and the water.
"I think just getting more people to have their eye on the expansion and approval of expansion on the Alberta tar sands is one of my main goals. The more eyes that are watching, the more the government will be careful."
In the past, she said, approval for new projects was simply rubber-stamped and pushed through. But change is starting to happen, and Deranger said her ultimate goal is to maintain that kind of pressure not only on the government but also on the industry itself.
"We saw it with the Jack Pine Mine hearings. They actually put conditions on the approval and there was a strong public lens on it, which I think changes the way these projects are approved."
Crystal Lameman, one of the keynote speakers, is member of the Beaver Lake Cree First Nation and does most of her work in her traditional territory, fighting tar sands development on the ground and through legal frameworks. She hopes to leave youth with the message that, no matter which road they've come in on, they have something important to give.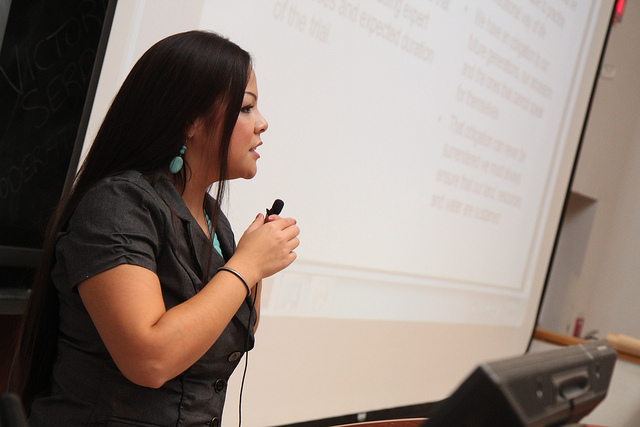 "Before our feet touch the floor in the morning, we're all human beings first and foremost," she said. "This issue that we're faced with now on the environmental front, this issue is no longer an Indian problem. If you drink water, if you breathe air, this is about you and you need to be involved."
She has no doubt grassroots organizing is the most powerful force for change right now. But she also acknowledges the foundation of policy work and legal struggles that underlie it.
"They created tools for change that the grassroots people are now taking up and using," she said. "They were just as important in this movement." In addition to sharing the stage with David Suzuki next Friday, Lameman will be speaking on a panel about legal issues. She said she's also looking forward to bringing her two children to meet the PowerShift organizers and attendees.
"These youth have every intention of creating a sustainable and safe future for my children."
Image Credit: Image courtesy of PowerShitCAN via Flickr
New title
You've read all the way to the bottom of this article. That makes you some serious Narwhal material.
And since you're here, we have a favour to ask. Our independent, ad-free journalism is made possible because the people who value our work also support it (did we mention our stories are free for all to read, not just those who can afford to pay?).
As a non-profit, reader-funded news organization, our goal isn't to sell advertising or to please corporate bigwigs — it's to bring evidence-based news and analysis to the surface for all Canadians. And at a time when most news organizations have been laying off reporters, we've hired eight journalists over the past year.
Not only are we filling a void in environment coverage, but we're also telling stories differently — by centring Indigenous voices, by building community and by doing it all as a people-powered, non-profit outlet supported by more than 2,900 members. 
The truth is we wouldn't be here without you. Every single one of you who reads and shares our articles is a crucial part of building a new model for Canadian journalism that puts people before profit.
We know that these days the world's problems can feel a *touch* overwhelming. It's easy to feel like what we do doesn't make any difference, but becoming a member of The Narwhal is one small way you truly can make a difference.
We've drafted a plan to make 2021 our biggest year yet, but we need your support to make it all happen.
If you believe news organizations should report to their readers, not advertisers or shareholders, please become a monthly member of The Narwhal today for any amount you can afford.