Port Metro Vancouver's newly released environmental impact assessment of the Fraser Surrey Docks coal export proposal was criticized today for failing to adequately consider public health, the environment and community safety.
"Unlike our chief medical officers, Port Metro Vancouver has once again refused to fulfill its duties to protect the public interest with this faulty assessment," said Laura Benson, director of Dogwood's Beyond Coal campaign.
Last week, the region's chief medical health officers warned the assessment doesn't adequately address the health impacts of the proposed coal terminal.
"Having looked at the document, it does not meet what we consider the very basic requirements of a health impacts assessment," Dr. Patricia Daly, Vancouver Coastal Health Authority chief medical health officer, told the Vancouver Sun.
The health authorities have called for a comprehensive health assessment to address concerns over coal dust, increased diesel emissions and noise since last spring. They offered to have a direct role in the assessment, but were rebuffed in a letter from Port Metro Vancouver.
Four municipal councils, including Surrey, have also expressed environmental and health concerns about the proposal, while five municipal and regional councils have passed resolutions opposing the proposal — including Metro Vancouver and, most recently, Fraser Surrey Docks' home city of Surrey.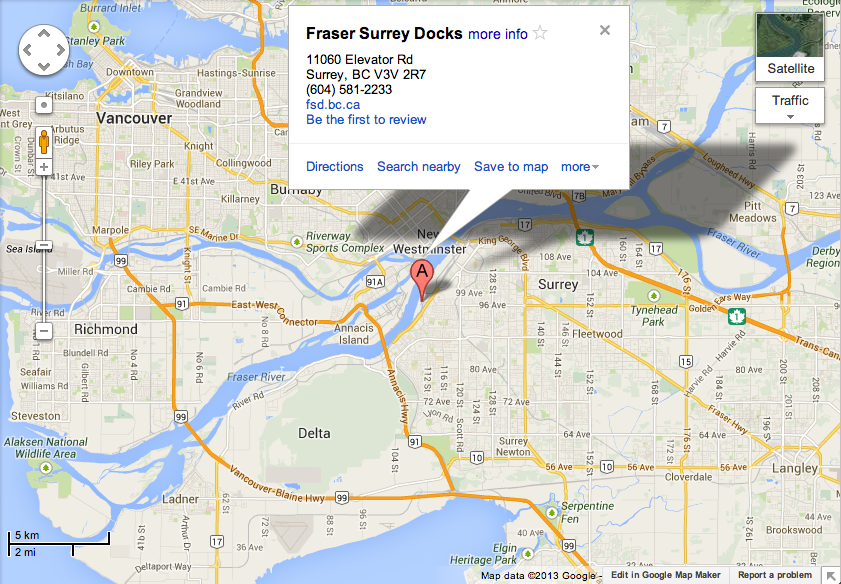 Location of Fraser Surrey Docks via Google Maps.
The proposed facility is intended to handle coal from the Powder River Basin in Wyoming. The coal would arrive at Fraser Surrey Docks by train, then be loaded onto barges bound for Texada Island before being transferred onto ships destined for Asia.
Benson says Port Metro Vancouver's assessment focuses solely on the Fraser Surrey Docks terminal, leaving out impacts associated with increased transport of U.S. coal by rail through White Rock, Surrey and Delta and with transferring coal off barges at Texada Island.
Proposals to build similar coal terminals on the west coast of the U.S. have faced tough opposition in part due to health concerns. Three proposals have been withdrawn.
The U.S. proposals have required public hearings, whereas Port Metro Vancouver has not held public hearings on the Fraser Surrey Docks proposal. Up against a groundswell of opposition, in mid-September the port agreed to conduct the environmental impact assessment, not required under law.
There will now be a public comment period on the environmental impact assessment, but Benson says it is unclear what affect the comments will have on the port's decision. The port will not be posting a public record of comments received, but several community groups are collaborating to catalogue public comments at RealPortHearings.org. The 30-day comment period will end on December 17.

Image credit: Jeremy Buckingham MLC via Flickr