The Environmental Appeal Board recently ruled B.C. was in its right to grant Rio Tinto Alcan a permit to increase sulphur dioxide emissions (SO2) from its 60-year old Alcan aluminum smelter in Kitimat.
The permit, granted in 2013, allowed Rio Tinto to increase sulphur dioxide emission as part of the company's modernization of the aging Kitimat aluminum smelter. The modernization project, which nearly doubles the plant's production, decreases the release of greenhouse gas emissions but raises sulphur dioxide emissions by 56 per cent.
The B.C. Ministry of Environment granted Rio Tinto permission to modernize the smelter but did not require the company to install scrubbers, commonly used in smelters to remove airborne pollutants from emissions.
Two Kitimat elementary teachers, Lis Stannus and Emily Toews, challenged the permit through the B.C. Environmental Appeal Board, saying the increased pollution would negatively and unnecessarily impact Kitimat residents.
Sulphur dioxide is a pungent pollutant released from the combustion of fossil fuels, such as the petroleum coke used to smelt aluminum. It is known to irritate skin, mucous membranes and lungs. Exposure to sulphur dioxide is also known to aggravate the respiratory systems of asthmatics, children and the elderly.
Stannus said she is disappointed in the December 23 ruling.
"Being a teacher of young children I see a lot of respiratory illness as it is," Stannus told DeSmog Canada. "I will also now question whether any respiratory problems are a result of these increased emissions."
According to a 2012 study published by Northern Health, Kitimat has a 60 per cent higher incidence of death from bronchitis, emphysema and asthma than the B.C. average.
Stannus said the Environmental Appeal Board made nine recommendations to Rio Tinto Alcan, seven of which "speak to health studies or the need to monitor emissions as to impacts on health."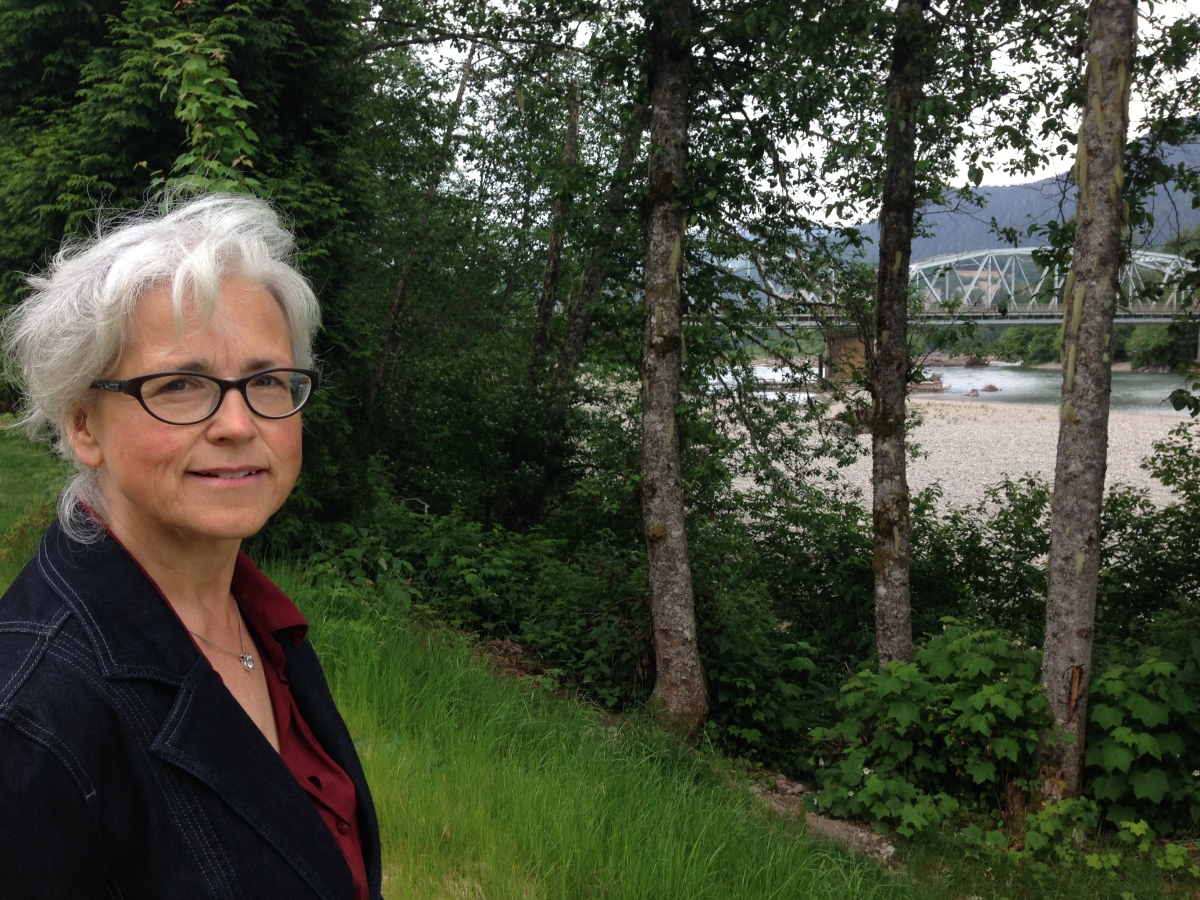 Appellant Lis Stannus in Kitimat, B.C. Photo: Carol Linnitt.
"We have been saying all along that there needs to be more study as to the health impacts on Kitimat residents before the permit amendment is granted to increase emissions," she said. "It would have been prudent to conduct these studies before the permit was granted rather than after."
She added the decision acknowledges the fact that sulphur dioxide can be harmful to human health.
"Any increase in respiratory illness should not be considered trivial when it has to do with an individual's health," she said.
Kitimat Mayor Phil Germuth also expressed disappointment with the decision.
"We're a bit disappointed in the decision," he said. "I believe the scrubbers should have been installed right from the beginning."
Germuth noted he is not criticising Rio Tinto Alcan for the decision. "It's the government's responsibility to protect human health and the environment, not Rio Tinto's." He added government subsidies could play a role in the development of expensive technologies like scrubbers, to ensure a balance is struck between development and protecting human health and the environment.
Germuth said Kitimat is "thankful" to Rio Tinto for investing $5 billion in the smelter and "securing the future of the aluminum industry in B.C."
But, he added, this recent decision has created uncertainty for Kitimat residents and future industries eyeing the region for further development.
"Besides the human health and environmental effects of SO2 in the atmosphere, my other concern is that having this much SO2 in the atmosphere could also potentially restrict any other industry from coming here that might have SO2 emissions as the airshed might already have too much in it."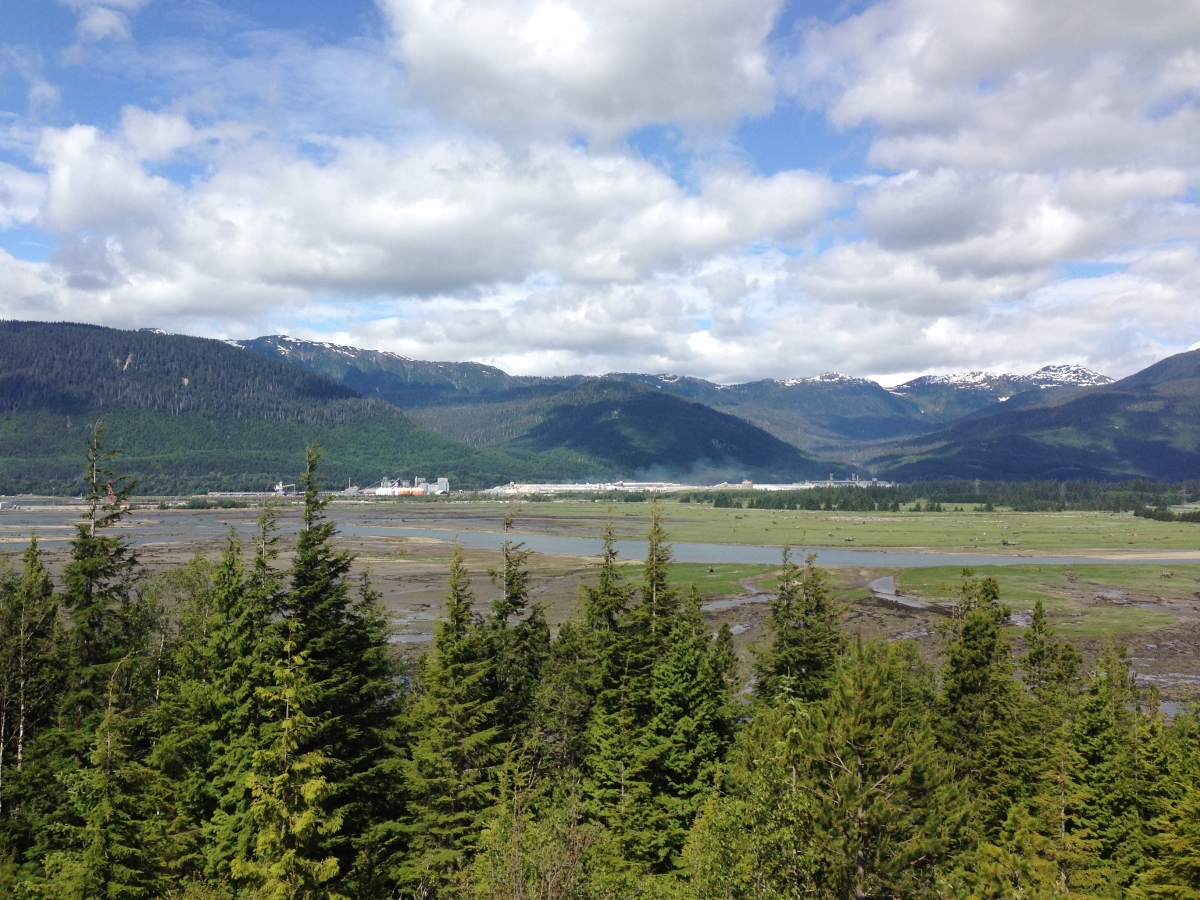 Emissions can be seen rising from the Rio Tinto Alcan Kitimat smelter on June 4, 2015. Photo: Carol Linnitt.
A 2014 report commissioned by the B.C. government found the Kitimat community and environment can handle increased industrial expansion, including more oil, gas and smelting operations.
Environment Minister Mary Polak said the Kitimat airshed can "safely accommodate" high industrial growth.
During hearings conducted by the Environmental Appeal Board, Brian Scarfe, economist and cost-benefit analyst from the University of Victoria, testified B.C. and Rio Tinto Alcan were externalizing the costs of sulphur dioxide emissions onto the health of Kitimat residents.
Scarfe told the board the overall cost placed on human health and the environment will outstrip the cost of installing scrubbers on the smelter.
"I don't like to think of this as a zero sum game, but that is what we have," Scarfe told the board. "Costs are going to fall one way or another, benefits are going to fall one way or another."
"We can think about households on one side and RTA on the other: clearly if nothing is done to limit SO2 there will be costs to the environment and costs to households in the area," he said.
A December 24 statement released by Rio Tinto B.C. General Manager Gaby Poirier states "there is more work to do to address community concerns regarding air quality in the Kitimat Valley."
"In providing their confirmation, the EAB included a series of recommendations," Poirier wrote. "Over the coming months, we will be working to fully assess them and we will continue to involve the local community including residents, stakeholders and our employees as we do so, noting that some of the recommendations have already started to be implemented."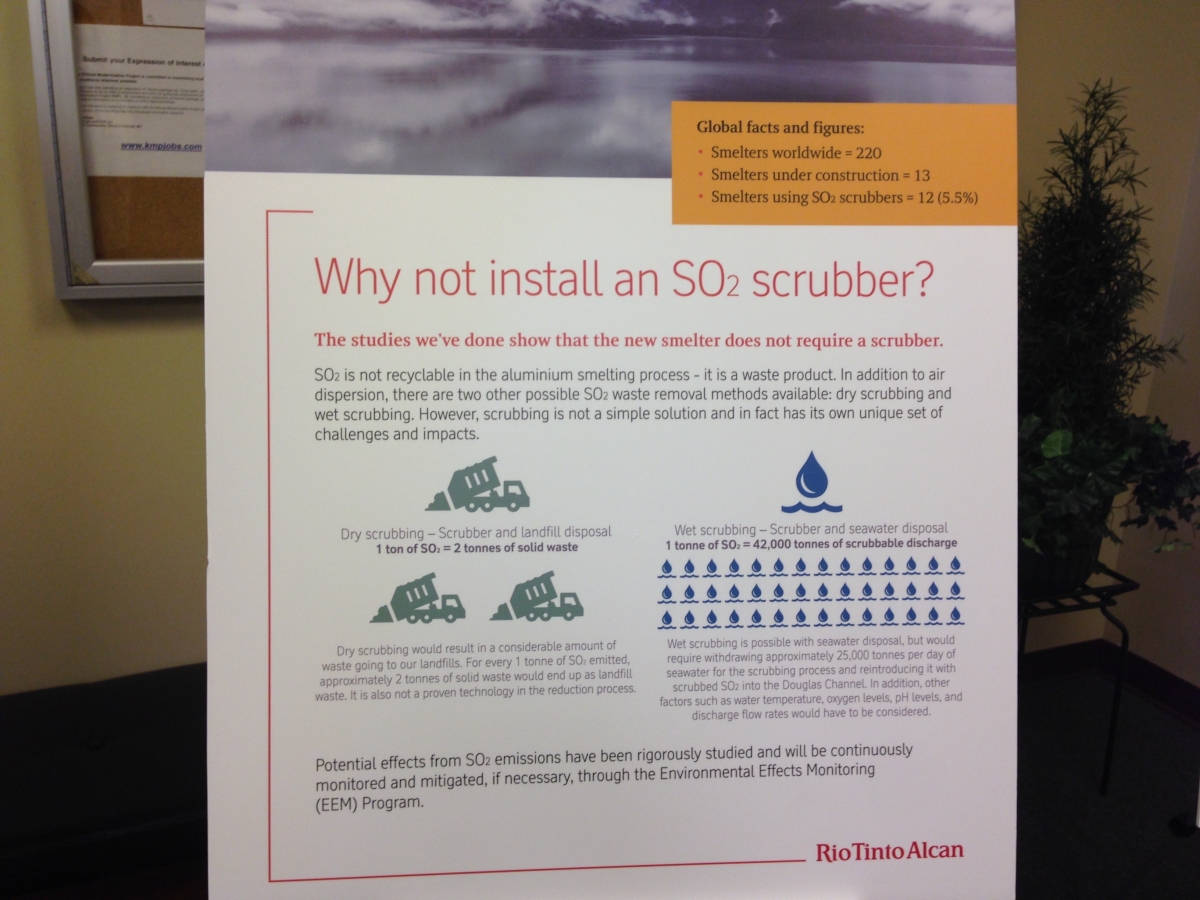 A Rio Tinto Alcan poster explains why SO2 scrubbers are not necessary at a public information centre in Kitimat, B.C on June 4, 2015. Photo: Carol Linnitt.
The fight against Rio Tinto Alcan's emissions permit was one of the largest cases ever heard by the B.C. Environmental Appeal Board, the same body that ruled in favour of the contentious contaminated soil landfill site near Shawnigan Lake. During the lengthy trial the tribunal heard of a cozy relationship between Rio Tinto Alcan and the B.C. government and allegations of regulatory capture.
Lawyers for Stannus and Towes were unable to provide comment on the ruling or whether they will pursue an additional appeal process.
Kitimat Unifor local 2301 is also appealing the Rio Tinto Alcan permit through the Environmental Appeal Board after winning the right to do so through the B.C. Supreme Court.
"Expanding the smelter without a scrubber is a terrible health risk to my community," Sean O'Driscoll, Unifor Local 2301 President, said in a statement.
"We're very pleased that Rio Tinto's proposal will have to go through an environmental assessment. It's a shame that it takes a Supreme Court Judge to force the B.C. Liberal government to do the right thing."
Image: RTA
New title
You've read all the way to the bottom of this article. That makes you some serious Narwhal material.
And since you're here, we have a favour to ask. Our independent, ad-free journalism is made possible because the people who value our work also support it (did we mention our stories are free for all to read, not just those who can afford to pay?).
As a non-profit, reader-funded news organization, our goal isn't to sell advertising or to please corporate bigwigs — it's to bring evidence-based news and analysis to the surface for all Canadians. And at a time when most news organizations have been laying off reporters, we've hired eight journalists over the past year.
Not only are we filling a void in environment coverage, but we're also telling stories differently — by centring Indigenous voices, by building community and by doing it all as a people-powered, non-profit outlet supported by more than 2,500 members. 
The truth is we wouldn't be here without you. Every single one of you who reads and shares our articles is a crucial part of building a new model for Canadian journalism that puts people before profit.
We know that these days the world's problems can feel a *touch* overwhelming. It's easy to feel like what we do doesn't make any difference, but becoming a member of The Narwhal is one small way you truly can make a difference.
We've drafted a plan to make 2021 our biggest year yet, but we need your support to make it all happen.
If you believe news organizations should report to their readers, not advertisers or shareholders, please become a monthly member of The Narwhal today for any amount you can afford.