Peace River Valley farmers Ken and Arlene Boon were at a lookout on a neighbour's property on Sunday when they spotted a fresh landslide at the Site C dam construction site.
Arlene snapped some photos of the latest geotechnical issue to dog the troubled project and posted one on Facebook, with the caption: "just more of the north hill sliding down to the bottom."
Given that the slide is on the same hill where recent attempts to stabilize the riverbank are encroaching on infrastructure for the $470 million Site C dam workers' camp, including its water line and parking lot, the couple was not surprised to see the latest slump.
But they are astounded that the NDP government is keeping the public in the dark when it comes to details about geotechnical problems, rising contract costs and other major issues plaguing the largest publicly funded infrastructure project in B.C.'s history.
"It seems that under the NDP there's a bigger cloak of silence," Ken Boon, president of the Peace Valley Landowner Association, told DeSmog Canada.
"They're just going to sit on all this bad news. It's out of sight and out of mind."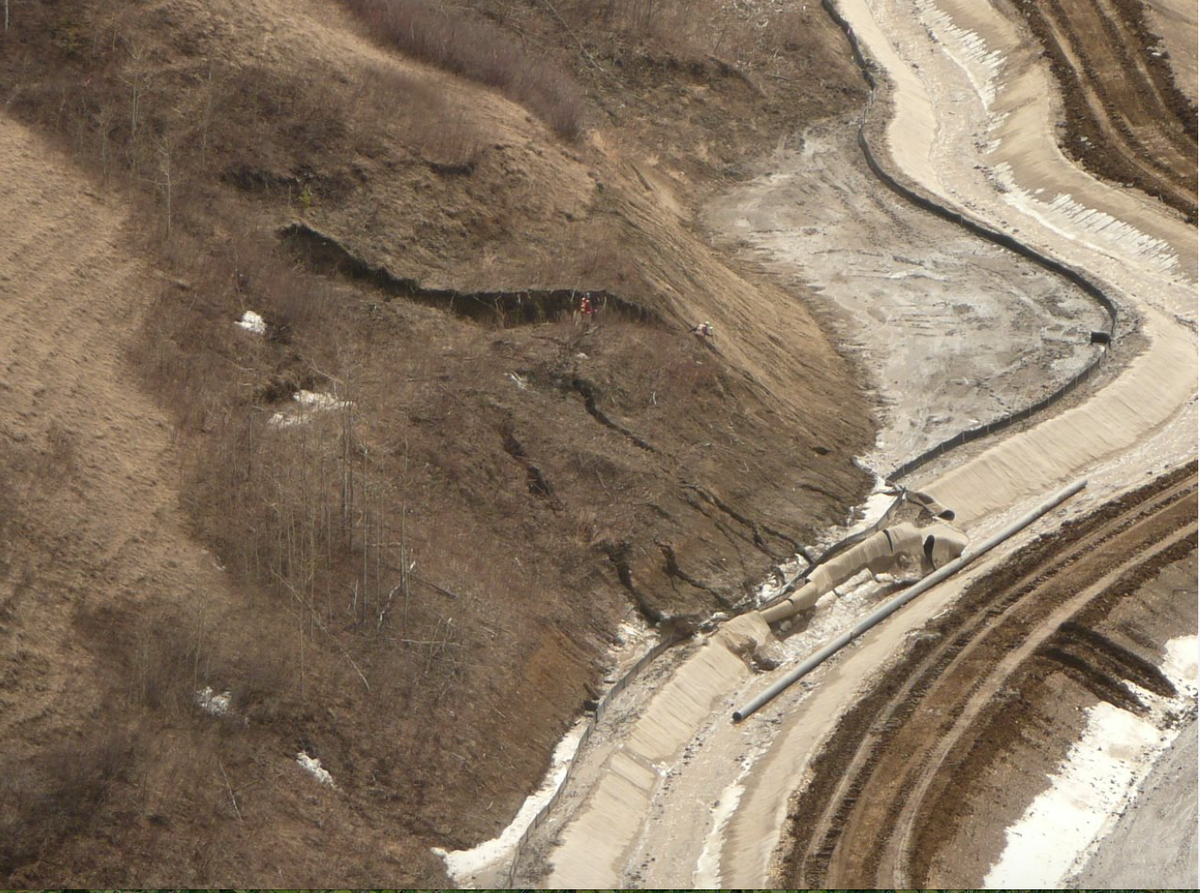 A landslide at the SIte C construction site, April 15, 2018. Photo: Arlene Boon
No public access to detailed Site C information
As soon as the B.C. Utilities Commission completed a fast-tracked review of the Site C project last November, the door slammed shut on public access to detailed information about the $10.7 billion project on the Peace River in northeast B.C.
Normally, the independent utilities commission — acting in the public interest — would provide ongoing oversight during project construction.
But the former BC Liberal government changed the law to remove the BCUC from scrutinizing the Site C dam, which the commission had previously rejected as an energy option.
Instead of fully restoring the commission's watchdog role, the NDP government announced in December that it would create a new Site C "Project Assurance Board" as part of a turnaround plan to contain escalating project costs.
The new board has been meeting since January, even though its composition has not been finalized, according to an email from the B.C. energy ministry.
Yet the public has heard nothing about the board's findings, even though a major Site C contract — to build the project's generating station and spillways — was recently awarded for $350 million more than documents (accidentally released last fall) revealed that BC Hydro had budgeted.
Marc Eliesen, the former CEO of BC Hydro, Ontario Hydro and the Manitoba Energy Authority, pointed out it has been nearly half a year since the NDP government announced it would set up the new board, and that no information has been forthcoming about the apparent cost overrun on the major contract for the generating station and spillways.
"To me this further confirms that there is no independent overview and that BC Hydro continues to run the show," Eliesen told DeSmog Canada.
BC Hydro directors will help oversee Site C project
According to the email from the energy ministry, BC Hydro directors and government representatives will sit on the project assurance board, meaning that it is not an independent body.
The composition of the board is being finalized by BC Hydro and the government, and members will be announced "in the coming weeks," the ministry said.
"We are taking the time to conduct a broad search to find highly-qualified, independent external advisors with expertise in engineering, construction and management of large, complex infrastructure projects to join BC Hydro directors and representatives from government on the new Project Assurance Board," the email said.
"Finding the kind of specialized skills, experience and independence from BC Hydro that we are looking for in the independent advisors is taking some time, especially considering the size and complexity of Site C and the long-term commitment required for a project that wont be completed until 2024."
Both Eliesen and David Vardy, the former chair and CEO of Newfoundland's public utilities board, said they have never heard of a provincial government creating a "whole new body" to oversee a major energy project like Site C.
"I think that the BCUC should be doing this oversight," Vardy said in an interview.
"The logical thing to me seems to be to use an existing board that has a similar kind of mandate. The BCUC is concerned with rates and the reliability of power. Why wouldn't they be the best people to exercise this oversight and particularly to ensure quality control?"
Eliesen said the BCUC showed through the Site C inquiry that it has both "the knowledge and expertise to undertake such a ongoing review."
"The facts clearly reflect that both the government and BC Hydro do not want that monitoring by the independent commission."
Meanwhile, in Labrador and Manitoba…
In Newfoundland and Labrador, a $37.5 million Commission of Inquiry is underway — including a forensic audit — to determine where things went sideways with the hugely over-budget Muskrat Falls dam, whose $12.7 billion price tag will add $1,800 a year to the annual hydro bills of every household in the province.
Vardy said while the commission can pinpoint what went wrong and make recommendations, it can't address what he calls the "democratic deficit."
"Which is what happened in our governance system that allowed us to go down this road without correction," Vardy said in an interview.
In Manitoba, where the over-budget Keeyask dam is also causing hydro rates to soar, the former head of the province's Public Utilities Board is among those calling for a forensic audit to examine why things went so wrong.
Graham Lane, who chaired the utilities board from 2004 to 2012, said the situation in Manitoba is so dire that he and others are calling for an immediate halt to construction of the Keeyask dam, even though up to $4.5 billion in sunk costs have been incurred.
That compares to about $2 billion in sunk costs for Site C.
"This story isn't going to end very well," Lane, a retired chartered accountant, said in an interview. "It's never too late to stop."
Manitoba hydro customers now face compounding eight per cent rate increases each year for six years in a row as a result of over-spending on the Keeyask dam and related transmission lines.
In a paper Lane wrote last month, for an inquiry into the Keeyask dam fiasco launched by an independent MLA, he pointed out that knowledgeable observers saw the "slow-motion disaster" coming more than a decade ago.
"Hard questions need to be asked about governance, political oversight, the influence of engineering contractors, the competence of executive managers, the advice provided by consultants, and the role of labour unions in this train wreck," Lane wrote.
"Special attention also needs to be placed on the lack of action by the Premier, his cabinet and advisors to grasp the immensity of the problem and take appropriate actions."
There are many similarities between the Muskrat Falls, Keeyask and Site C dams, Lane told DeSmog Canada.
He said politicians in Manitoba "put blinders on and just kept going."
"No-one knew how to stop. You could see what was happening. You could see the losses building."
Lack of independent scrutiny of Site C 'mind-boggling'
Asked if the findings of the Site C Project Assurance Board will be made public, the energy ministry replied that "progress" on the Site C dam will continue to be documented in quarterly reports to the BCUC available on BC Hydro's Site C website.
Yet the hamstrung BCUC lacks the muscle to question basic information contained in the reports, much less to dig into issues like why the approved design for Site C's generating station and spillways recently underwent an overhaul so significant BC Hydro must request an amendment to the project's environmental assessment certificate, a process that will take months.
The BCUC also has no authority to ask questions about why the latest Site C quarterly report states that in October BC Hydro engaged the consulting firm Ernst and Young to "provide independent oversight to the Project Assurance Board for the Site C Project going forward."
The BCUC did not submit its final report on Site C until November 1 and the NDP government did not announce its final decision about the project until December.
The latest report, which covers the period to the end of December, also says the Site C dam will provide energy for "more than 100 years," contradicting earlier government statements that the project will generate 70 years of power.
The report goes on to list major Site C project organizational changes, including an array of new director positions, noting that the "scale and complexity of operations" has increased" and also that project oversight has been centralized.
Eliesen called the lack of independent scrutiny of Site C dam construction, including of the quarterly reports filed with the BCUC, "mind-boggling."
A spokesperson for the Peace River Hydro Partners, the international consortium that holds Site C's largest civil works contract, referred questions about the landslide captured on camera by the Boons to BC Hydro.
New title
You've read all the way to the bottom of this article. That makes you some serious Narwhal material.
And since you're here, we have a favour to ask. Our independent, ad-free journalism is made possible because the people who value our work also support it (did we mention our stories are free for all to read, not just those who can afford to pay?).
As a non-profit, reader-funded news organization, our goal isn't to sell advertising or to please corporate bigwigs — it's to bring evidence-based news and analysis to the surface for all Canadians. And at a time when most news organizations have been laying off reporters, we've hired eight journalists over the past year.
Not only are we filling a void in environment coverage, but we're also telling stories differently — by centring Indigenous voices, by building community and by doing it all as a people-powered, non-profit outlet supported by more than 2,900 members. 
The truth is we wouldn't be here without you. Every single one of you who reads and shares our articles is a crucial part of building a new model for Canadian journalism that puts people before profit.
We know that these days the world's problems can feel a *touch* overwhelming. It's easy to feel like what we do doesn't make any difference, but becoming a member of The Narwhal is one small way you truly can make a difference.
We've drafted a plan to make 2021 our biggest year yet, but we need your support to make it all happen.
If you believe news organizations should report to their readers, not advertisers or shareholders, please become a monthly member of The Narwhal today for any amount you can afford.