Ontario may have shut down its last coal plant earlier this year, but the province still needs to make major cuts to the amount of greenhouse gas emissions it produces if the provincial government is serious about tackling global warming, according to a new report.
"The provincial government hasn't even delivered on commitments it made seven years ago," Ontario's Environmental Commissioner Gord Miller said in a statement on Wednesday.
Miller, who is Ontario's independent environmental watchdog, did not mince words in his report on the province's slow progress in reducing its overall carbon footprint. He says Ontario will not meet its 2020 greenhouse gas emissions reduction targets "because [Ontario] has taken very little additional action to implement the Climate Change Action Plan it released seven years ago."
"We need to limit the increase in global temperatures to 2 degrees Celsius. But that can only be done if we leave two-thirds of the existing oil and natural gas reserves in the ground. People need to understand that brutal fact," Miller warns.
Ontario's 2007 Action Plan on Climate Change requires the province to cut its output of greenhouse gas emissions by six per cent by this year and 15 per cent by 2020 (from 1990 levels). Ontario will achieve its 2014 reductions goal largely because of the province-wide coal phase out, but is off track in meeting its 2020 target:
"GHG emissions will exceed the target by 28 Mt (megatonnes) in 2020. This is a significant amount; it is almost twice the total emissions from the electricity sector in 2012," according to Miller's report.
Ontario GHG emissions measured in megatonnes.
Transportation Is Ontario's Achilles Heel
Despite Ontario's coal phase out — the "single largest regulatory action in North America" to reduce greenhouse gas emissions — and a 21 per cent decrease in greenhouse gas emissions produced by industry in Ontario since 1990, the province's overall carbon footprint remains relatively unchanged.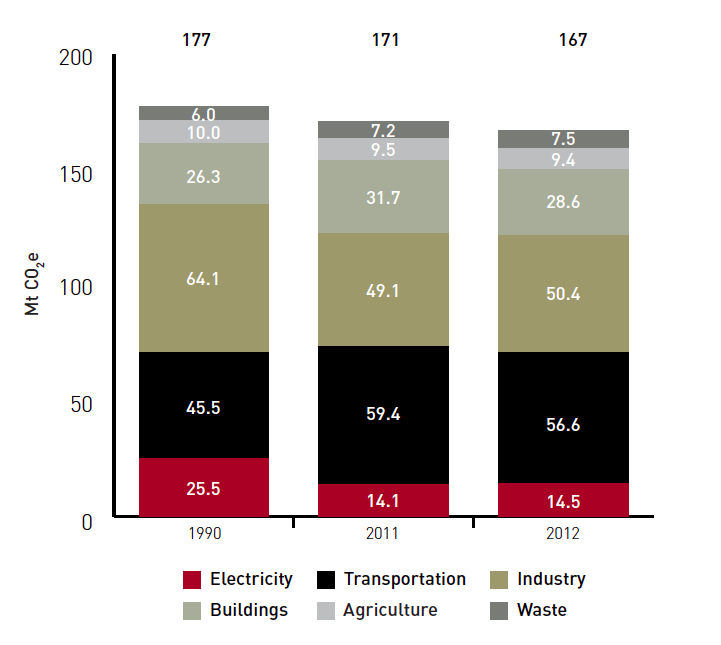 Ontario's GHG emissions by sector.
"Partially offsetting these reductions, however, has been the 24 per cent increase in emissions from the transportation sector since 1990. The transportation sector remains the largest contributor to the overall provincial inventory," the report states.
"The 2007 Action Plan said the government would reduce transportation emissions by 19 megatonnes (Mt) by 2020. That goal, unfortunately, has now been cut by almost 80 per cent. I have been given no reason why, and no explanation about what the Ontario government plans to do instead," Miller writes.
Transportation currently accounts for 34 per cent of Ontario's carbon footprint. The provincial government revised its greenhouse gas emission reduction targets in 2012 for the transportation sector from 19 megatonnes to barely four megatonnes. The report insists "it is incumbent" upon the provincial government to explain why the targets for the transportation sector have been so "severely downgraded."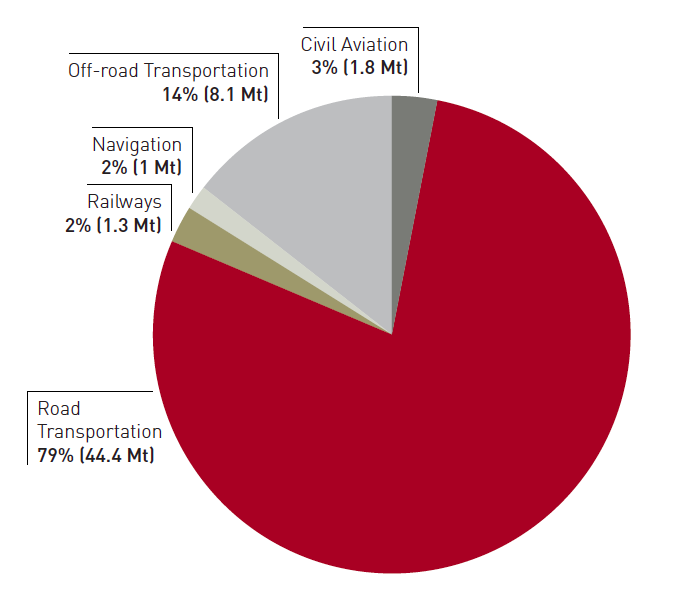 Transportation GHG emissions by type of vehicle.
A shift from cars to sport utility vehicles (SUVs), pickup trucks and minivans in Ontario spurred on by low oil prices account for much of the increase in emissions within the transportation sector between 1990 and 2005 according to the Environmental Commissioner.
Ontario Needs the Same Type of Leadership That Pushed For the Coal Phase-Out
Miller says that in order for Ontario to take appropriate action on climate change the province needs the same type leadership that led to the coal phase out and to follow the examples of other provinces such as Quebec and British Columbia:
"British Columbia has brought in a carbon tax, Quebec has implemented a cap-and trade system for carbon credits. Meanwhile, Ontario appears to have lost the ambition it once had and won't even look at directives to ensure more compact urban development or a serious commitment to using electricity for transportation," Miller says.
Sink or Swim: Ontario Needs to Adapt to Climate Change Too
The Environmental Commissioner also recommends Ontario begin implementing strategies to adapt to a changing climate, particularly in regards to improving stormwater management practices.
"Ontario has always experienced storms; however, the province has recently faced more intense and frequent extreme weather, as well as unprecedented damages costs," the Environmental Commissioner's report states.
A rainstorm in Toronto last summer saturated the city in a two-hour period with twice the amount of precipitation Toronto usually gets for the entire month of July (126 millimetres). That resulted in 1.3 billion litres of bypassed sewage flowing into Lake Ontario over 28 hours without residents being notified.
In total, 4.2 billion litres of sewage bypassed treatment plants and flooded into waterways in Toronto alone last year.
"We are having changes to our climate here, so we're seeing more and more intensive rain than we have in the past," Mark Mattson, president of Lake Ontario Waterkeeper told DeSmog Canada.
"The latest scientific evidence shows that the pace of climate change is accelerating. Extreme weather events have increased dramatically around the world," Miller says.
Image Credit: Environmental Commissioner of Ontario