The Canadian government is working hard behind the scenes to cover up the negative effects that tar sands extraction is having on the local environment, wildlife, communities and the global climate. According to Access to Information documents obtained by Postmedia's Mike De Souza, the Stephen Harper government has actively suppressed the release of vital information regarding the spread of tar sands contamination by muzzling federal scientists.
The gag order, according to De Souza, came on the heels of a newly researched government report in November 2011 which confirmed the findings of University of Alberta scientists Erin N. Kelly and David Schindler. The scientists discovered concentrations of toxics such as heavy metals were higher near tar sands operations, showing a positive correlation between tar sands activity and the spread of contaminants in the local environment.
The government of Canada and the government of Alberta denied the correlation, saying local waterways tested showed no signs of toxic contamination and reports of mutated and cancerous fish downstream from the tar sands were unfounded.
The document uncovered by De Souza shows that federal scientists who could confirm the University of Alberta results were restricted from speaking to the media: "If scientists are approached for interviews at the conference, the [Environment Canada] communications policy will be followed by referring the journalist to the media relations…phone number. An appropriate spokesperson will then be identified depending on journalist questions."
Federal scientists were also given a list of scripted responses, explaining government tests in the spring of 2010 showed no toxics in the Athabasca River and established no links between contaminants and abnormal and sick fish.
Scientists were also directed to avoid questions regarding environmental monitoring of the tar sands and the role Environment Canada plays in the region with this scripted line: "I am a scientist. I'm not in a position to answer that question but I'd be happy to refer you to an appropriate spokesperson."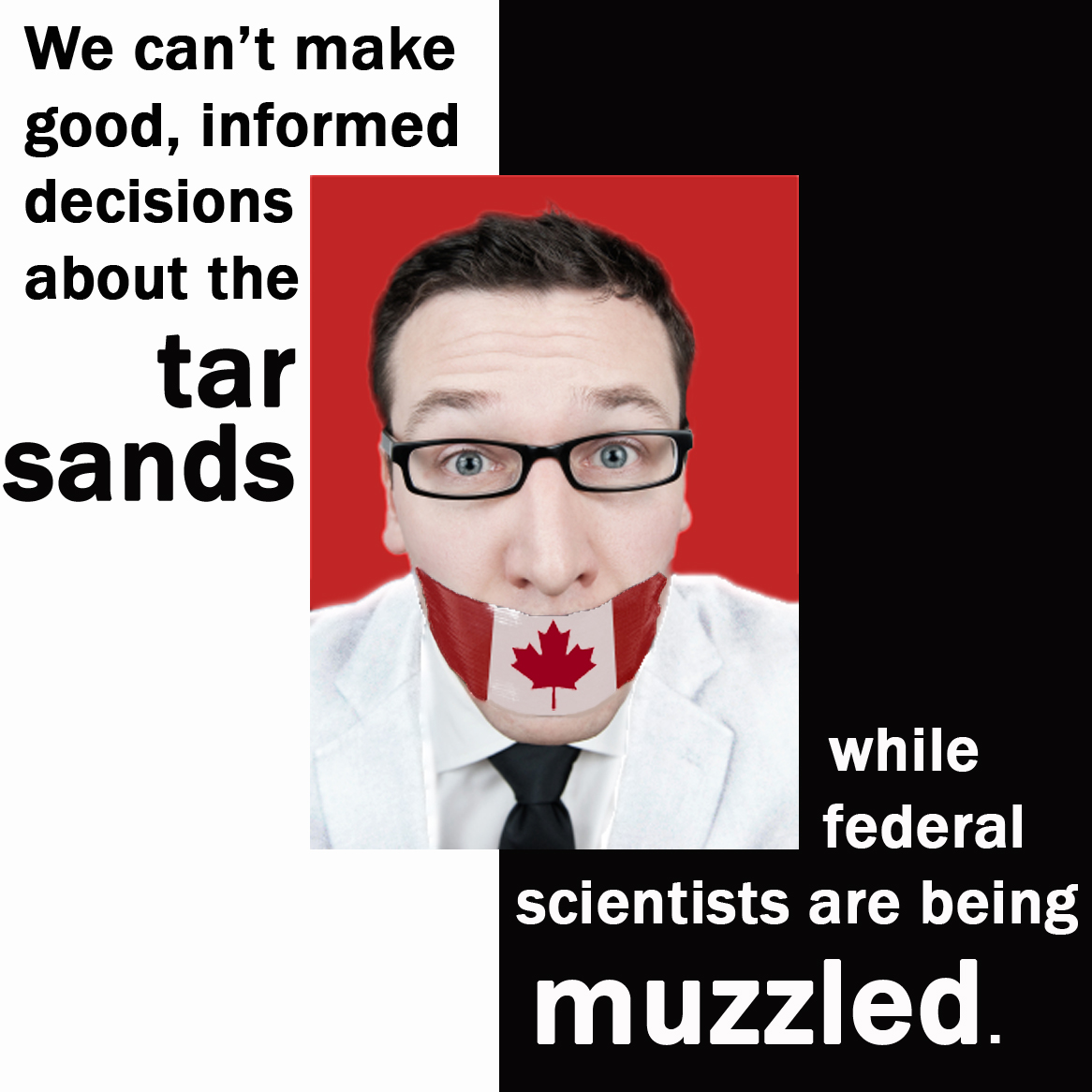 David Schindler, co-author of the 2010 University of Alberta study commented, "it is a good study, and [the author] is a very fine young scientist, who should be trusted to comment on her own results."
"Similarly, Derek Muir, her supervisor and co-author, is one of the world's top contamination experts, and Canadians should be ashamed that he cannot discuss results directly with the public, but must go through an official spokesperson."
In 2010, the results of Kelly and Schindler's contaminant analysis caused an uproar in Alberta and federal governments. Eager to promote expansion in the tar sands, the Canadian government failed to install a sound and independent monitoring system for the region.
Any data used to support the government's official position, that no contamination had occurred, was supplied by the oil and gas industry.
Schindler conducted a basic analysis of waterways in the region, sampling water both upstream from tar sands operations, and downstream. What Schindler and his team discovered was a considerable accumulation of pollutants in water downstream from tar sands development which includes open-pit mining and refining.
Most notably, Schindler discovered that airborne pollutants were being deposited on land, far from contaminated waterways like the Athabasca River. It was Schindler who first recognized the role snow was playing in the transportation and depositing of tar sands pollution.
These land-based pollutants mirrored contamination of waterways. Schindler found that "embryos of fish exposed to oilsands' water and sediment have very high rates of mortality, and among the survivors, there are very high rates of deformities."
His research confirmed the concerns of local communities, First Nations and environmental groups that the fast-tracking of tar sands expansion without careful monitoring was having negative effects on the environment and those living downstream.
The findings also contradicted research conducted by the industry/government group Regional Aquatics Monitoring Program (RAMP), a group Schindler claims "violated every rule" of long-term study.
In perhaps one of Canada's most scandalous moments in recent history, Dr. Schindler was publicly discredited by the provincial and federal government. His research and his credibility were called into question when the Alberta government went on record to say his study – which was published in the prestigious Proceedings of the National Academy of Sciences – was biased and that contaminants in the region's watershed occur naturally and not as a result of industrial activities.
The treatment Schindler received as a result of his research concerned scientists across Canada, many of whom felt the federal government was conduction a 'witch hunt' to silence information that might fuel opposition to the tar sands.
Schindler's experience was just one of many reasons why scientists from across Canada held a mock memorial this summer on Parliament Hill, mourning the "Death of Evidence," caused by the muzzling of scientists by the federal government.
The motto of the event was clear: "Stephen Harper Hates Science."
To this day no clear environmental monitoring program is in place to track and analyze the effects that tar sands extraction and refining has on the local environment. Last month the Alberta government announced the creation of a new scientific body to monitor the impacts of development, which Diana McQueen, the province's Environment Minister, suggests will be 'credible' and operate at an 'arms-length' from industry and government. The plan, however, has yet to take any real shape.
"This is yet another plan to develop a plan," said Greenpeace energy and climate campaigner Mike Hudema. "There is still no funding commitment and no clear governance model to ensure independence. The province should stop approving new projects based on flawed data and incomplete information until this gets sorted out."
Image credit: Jodi Stark
New title
You've read all the way to the bottom of this article. That makes you some serious Narwhal material.
And since you're here, we have a favour to ask. Our independent, ad-free journalism is made possible because the people who value our work also support it (did we mention our stories are free for all to read, not just those who can afford to pay?).
As a non-profit, reader-funded news organization, our goal isn't to sell advertising or to please corporate bigwigs — it's to bring evidence-based news and analysis to the surface for all Canadians. And at a time when most news organizations have been laying off reporters, we've hired eight journalists over the past year.
Not only are we filling a void in environment coverage, but we're also telling stories differently — by centring Indigenous voices, by building community and by doing it all as a people-powered, non-profit outlet supported by more than 2,500 members. 
The truth is we wouldn't be here without you. Every single one of you who reads and shares our articles is a crucial part of building a new model for Canadian journalism that puts people before profit.
We know that these days the world's problems can feel a *touch* overwhelming. It's easy to feel like what we do doesn't make any difference, but becoming a member of The Narwhal is one small way you truly can make a difference.
We've drafted a plan to make 2021 our biggest year yet, but we need your support to make it all happen.
If you believe news organizations should report to their readers, not advertisers or shareholders, please become a monthly member of The Narwhal today for any amount you can afford.