Climate scientists and environmentalists need to revamp their messaging and get more involved in public debate if they want to stop what appears to be a plunging online interest in global warming, say observers of internet research trends across Canada and worldwide.
"Many in the public feel tired of hearing about global warming because they feel unempowered by how they can deal with it," Andrew Weaver, leading Canadian climate scientist and B.C. Green MLA, told DeSmog Canada.
"We need more reporting on the solutions, but in order to have more reporting on the solutions, we need those solutions to be out there for people to actually see and discuss. And to do that we require people, we require a political will to allow these to come forward."
Downward Google trends
Researchers at Princeton and Oxford looked at Google Trends, which measures global searches through Google's search engine. They found that since 2007 there has been an ongoing decrease in online searches via Google for terms such as climate change and global warming, both around the world and in the United States. A
preliminary search
on Google Trends shows similar results for Canada.
Google Trends tracks more than 80 per cent of the world's web searches and is being used more and more in science and business to track global trends, from flu outbreaks to public opinion on corporate brands.
GRAPH: Princeton University and University of Oxford researchers found that overall public interest in the topic of climate change has steadily waned since 2007. To gauge public interest, the researchers used Google Trends to document the Internet search-engine activity for "global warming" (red line) and "climate change" (blue line) from 2004 to 2013. They examined activity both globally (top) and in the United States (bottom). The numbers on the left indicate how often people looked up each term based on its percentage of the maximum search volume at any given point in time. Image courtesy of William Anderegg.
"I do find the results concerning," said William Anderegg, a postdoctoral research associate in the Princeton Environmental Institute, one of two authors of the study. "It's concerning that [the impact of climate change] is not clear, that people do not necessarily connect climate change to what is happening around them…[and] that we are having trouble connecting with the public."
In their analysis, the researchers found that online searches for terms like "global warming" and "climate change" in English, Chinese and Spanish (the three most commonly used languages on the internet) peaked in 2007 and have been in steady decline ever since.
"The largest upward spike in Google searches for

global warming

occurred just after Earth Day in April, 2007, a few weeks after the U.S. Supreme Court ruled that the EPA has the authority to regulate carbon dioxide to protect human health, and two months after the film "An Inconvenient Truth" won an Academy Award for Best Documentary. Since 2007, however, Google searches for the term

global warming

have declined to almost the same flat, relatively low level of searches for

climate change

."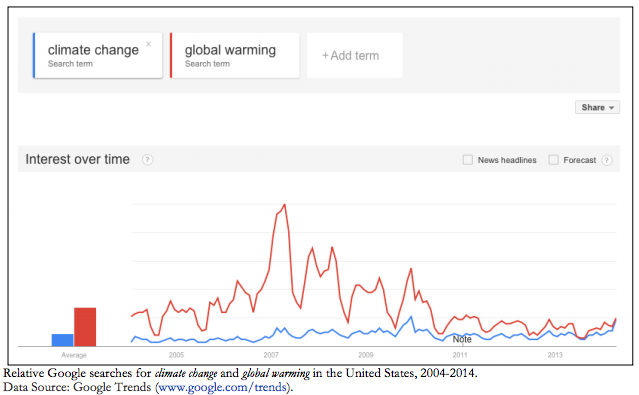 The years 2006 and 2007 were a landmark period in the debate around climate change and global warming. Alongside the release of "An Incovenient Truth" and new EPA powers to regulation emissions, 2007 marked the release of the Intergovernmental Panel on Climate Change's (IPCC) fourth report, which garnered major public attention. Both helped secure climate change in the public eye.
Has climate become 'background' noise?
Since then the drop in online public interest has been steady. Although, climate related information searches have spiked around the release of subsequent IPCC reports, as well as during so-called climate 'scandals,' such as the 2009 "Climategate" when hacked e-mails purported to show IPCC scientists purposefully ignored research that undermined their findings (the scientists wrongfully accused have since been
cleared
of any wrongdoing through several investigations). But neither these positive nor negative stories displayed any long-lasting impact on online interest in climate.
The Oxford researchers were
particularly concerned
about the impact of stories negating climate change science, and whether those had a long-lasting impact on public opinion. But they found that, while climate scientists feared denier stories would radically shift public opinion, their impact (as measured by online searches for terms such as "climate change hoax") dropped quickly, lasting less than a month.
While Anderegg and his co-author, Oxford's Gregory Goldsmith, point out that while this was good news on the stage of public opinion, overshadowing that finding is the concern that climate change is becoming more background noise than a pressing concern.
Their findings are supported by other observers. Weaver confirmed that his own research into media coverage of climate change in Canada has shown similar trends. In parallel,
Influence Communications
, which monitors global news trends, has found that worldwide coverage of environmental issues, including climate change, has dropped from a significant peak of five per cent of media coverage around 2005, to around 1.2 per cent today, said company president Jean-François Dumas in an interview.
While all have seen similar trends, ideas about the causes and possible solutions differ. For Anderegg and Goldsmith, the results suggest climate scientists need to communicate their findings more effectively with the public over the long-term, and not take too much time to simply counter attacks on climate change science. Others may speculate a lack of political leadership may contribute to a wider social disconnect.
Overcoming crisis fatigue
Weaver, though, feels recent studies may have "missed the boat" on something deeper.
"Global warming is a pervasive issue that is not going away, but the media cycle is always looking for a new angle on a new story," he said. "It's hard when you have the Ukraine crisis, the Iraq crisis, the Syria crisis, to have this pervasive crisis get extensive coverage."
To Weaver, the problem isn't so much about how climate scientists communicate their current work, but rather making the issue one that cannot be ignored in public and political spheres.
More scientists need to step out and engage in the debate more vocally, he said. Doing so, he added, could rekindle more interest in the media, sparking renewed public interest. From his work studying major newspapers in Canada, Weaver feels that the Canadian media is interested in covering climate change, if only more people had the political will to make it a story.
"So maybe a few more climate scientists will join me in actually taking public discourse into the political level, by actually running," he said. "After a certain point, complaining is just that — complaining. If you want to faciliate change, get involved in the process. I'd be delighted to see more of my colleagues stand up for what they believe in."
Influence Communications' data seems to back him up. Coverage of environmental issues is higher in Canada and Quebec than the world average, although still lower than it was in 2005. What their data shows, Dumas said, is that climate change is becoming a background issue, like health care and education: issues that are always there, but don't necessarily grab headlines or create a buzz.
Dumas says that this could be due in part to the dire warnings of climate scientists becoming a kind of broken record: people have heard the warnings so often, but do not feel they've seen events that meet the concern, so they don't pay much attention anymore. Likely complicating the issue is the lack of political leadership in major polluting countries like Canada and the U.S.
Weaver said he recently saw this play out in a primary school classroom he visited. When talking with children about climate change, they all said they knew what it was, but they looked tired of it.
"I asked them why they are sick of hearing about it," he said, "and they are sick of hearing about it because all it is is bad news, no one is talking about the solutions and no one is doing anything about it. So it leads to a sense of hopelessness."
While wording it differently, study author Anderegg said he will be applying a similar concern to his future work, one that other climate scientists could apply as well.
"It leaves me with a sense that we need to better connect our work with people. People see climate change impacts happening in their back yards," he says, pointing to his life growing up in a region of Colorado prone to wildfires, which have become more severe in recent years. "It's important to connect people to the issues around them."
To start a new trend, climate scientists and advocates need to do a better job of connecting long-term and often abstract climate warnings to tangible impacts on people's day-to-day lives. The scientific and environmental communities also need to start holding political leaders to account when it comes to climate policy.
Beyond that, there is a tangible need to bring solutions — a strong clean energy sector, improved public transit and city infrastructure, meaningful emissions regulations and the transition away from fossil fuels — into the foreground.
Image Credit: Eric Parker via Flickr