A new poll on Canadian attitudes on climate change reveals some pretty stunning numbers about public desire for politicians to act.
The poll by Abacus Data found 85 per cent of Canadians are convinced the consequences of not taking action on climate change will result in "catastrophic," "very severe" or "severe" consequences to wildlife and animal habitats, agriculture and farming, coastal cities and towns and human health and safety.
"There's a new normal in Canada on the issue of climate change," said Abacus chairman Bruce Anderson.  "Half of voters won't consider politicians who don't take the issue seriously – and most other voters also believe action is needed and inaction will result in catastrophe."
The poll was conducted via an online survey of 1,534 Canadians, resulting in a margin of error of +/- 2.5 per cent, 19 times out of 20.
A lot of Canadians also feel strongly about why action should be taken: 91 per cent of those polled said "we have a moral responsibility to those who will live on the planet after us," while 87 per cent people think there's plenty of evidence that emissions can be cut.
Eighty per cent also think that climate-related weather disasters will become a financial disaster, perhaps informed by the multi-billion dollars bills caused by Hurricane Harvey and Irma.
Some 47 per cent also said there is "little chance we could stop climate change at this point." That's in line with what climate experts conclude: there's really no chance that we won't suffer some consequences of climate change, but the issue now is minimizing damages.
'There's a New Normal': Canadians Fear Consequences of Not Taking Action on #Climate Change in New Poll https://t.co/yq4RzMHdk8 #cdnpoli @abacusdataca @bruceanderson pic.twitter.com/5XqNgfZoLu

— DeSmog Canada (@DeSmogCanada) November 10, 2017
Alberta and Saskatchewan Residents See Opportunity in Climate Action
As to be expected, residents in Alberta and Saskatchewan — the two major oil and gas producers in the country — have slightly less enthusiasm about climate action.
But with that said, their views aren't actually that far off the rest of the country. Some 79 per cent of residents in the prairie provinces think there's lots of evidence for emissions reductions, compared to 89 per cent of the rest of Canada.
Meantime, 72 per cent of respondents in Alberta believe combating climate change could open up new economic opportunities, compared to 80 per cent in the rest of the country.
As Abacus CEO Bruce Anderson put it on Twitter: "If a politician tells you most voters in Alberta or Saskatchewan don't want climate action, don't count on it."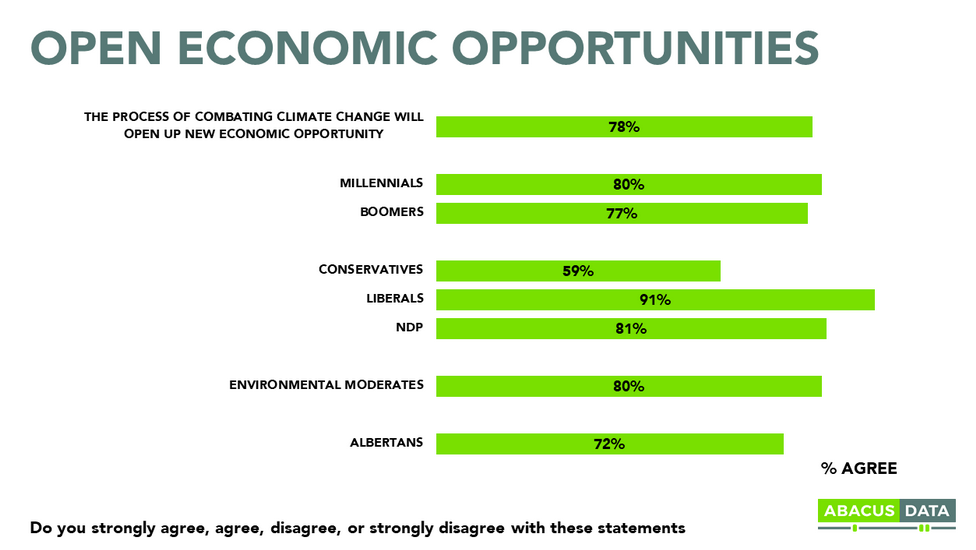 Canadians Have Different Reasons For Wanting Climate Action
Many people also have there own particular reasons for addressing climate change.
When asked for the "best reason" to act on climate change, 45 per cent cited "moral responsibility." Interestingly, that option was picked by more Conservative supporters than by supporters of other paries.
Another 28 per cent of Canadians opt for "catastrophe if we fail to do more." That reason was chosen by more NDP supporters than any other party. Rounding out the reasons were weather/financial disaster (15 per cent) and economic opportunity (11 per cent).
As many climate communicators and psychologists such as George Marshall and Renee Lertzman have pointed out, levels of concern about climate change are as much about how you communicate the message of climate action as the issue itself. These numbers appear to confirm that thesis.
Far more boomers (people born between 1954 and 1964) support climate action on the grounds of moral responsibility than millennials (born between the early 1980s and early 2000s): 50 per cent versus 39 per cent.
Conversely, far more millennials (16 per cent) prefer action on the grounds of opening up new economic opportunities than boomers (only eight per cent).
Vast Majority of Canadians 'Moderate' Environmentalists
Most Canadians (78 per cent) see themselves as "moderate environmentalists," while only 11 per cent see themselves as "ardent environmentalists" and another 11 per cent said they were "not really concerned about environment."
There were some potential sticking points flagged in the poll, however.
A full three-quarters of people polled indicate they have "neutral," "negative" or "very negative" views about the impact of climate change action on government costs and tax levels. Similarly, 61 per cent of Canadians had an uncertain or negative view on its results on jobs.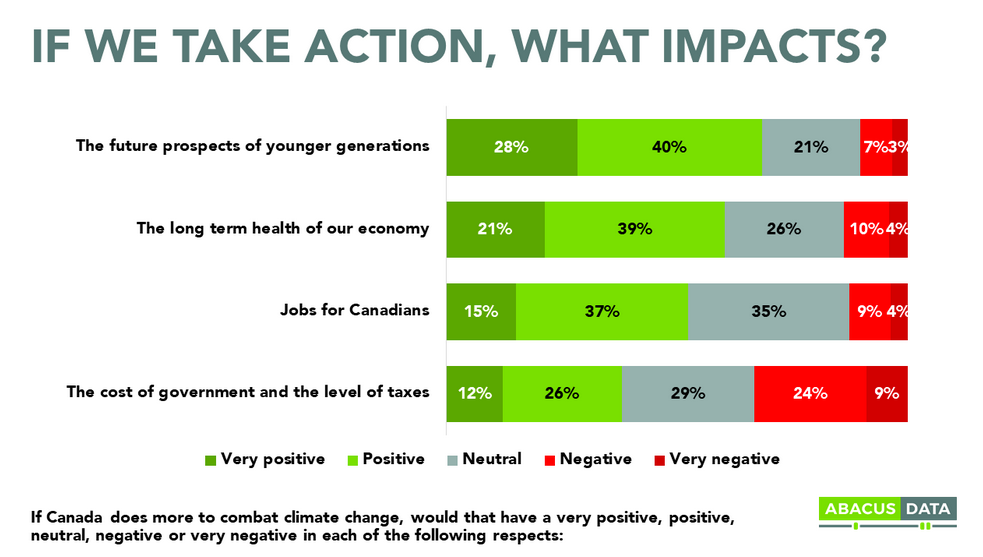 That may suggest that climate communicators need to do even more work on the economic possibilities of climate change — and the risks of not acting. As calculated by the National Roundtable on the Environment and the Economy, climate change could cost up to $91 billion per year by 2050 if not acted upon.
Exactly 50 per cent of people polled said they would only vote for a candidate or party if they express a commitment to fighting climate change. But that also means that half of people polled don't see that as a priority, with six per cent of people actually stating that they would prefer a party that "favoured doing nothing."
Perspectives on Climate Change = Complicated
This same tension is also apparent in previous polls conducted by Abacus.
In a 2016 poll, it was found that 82 per cent of Canadians "strongly support" or "support" the continued development of conventional oil wells in Alberta and Saskatchewan, with 70 per cent backing oilsands production. In addition, only 21 per cent opposed the building of new pipeline capacity.
As reported by Environmental Commissioner Julie Gelfand, the country is currently facing a 44 megatonne "emissions gap" to meet its Paris Agreement targets even if all policies from the Pan-Canadian Framework are fully implemented.
It's unclear from this poll if Canadians would be supportive of more aggressive climate policies to meet the Paris Agreement targets.
New title
You've read all the way to the bottom of this article. That makes you some serious Narwhal material.
And since you're here, we have a favour to ask. Our independent, ad-free journalism is made possible because the people who value our work also support it (did we mention our stories are free for all to read, not just those who can afford to pay?).
As a non-profit, reader-funded news organization, our goal isn't to sell advertising or to please corporate bigwigs — it's to bring evidence-based news and analysis to the surface for all Canadians. And at a time when most news organizations have been laying off reporters, we've hired eight journalists over the past year.
Not only are we filling a void in environment coverage, but we're also telling stories differently — by centring Indigenous voices, by building community and by doing it all as a people-powered, non-profit outlet supported by more than 2,900 members. 
The truth is we wouldn't be here without you. Every single one of you who reads and shares our articles is a crucial part of building a new model for Canadian journalism that puts people before profit.
We know that these days the world's problems can feel a *touch* overwhelming. It's easy to feel like what we do doesn't make any difference, but becoming a member of The Narwhal is one small way you truly can make a difference.
We've drafted a plan to make 2021 our biggest year yet, but we need your support to make it all happen.
If you believe news organizations should report to their readers, not advertisers or shareholders, please become a monthly member of The Narwhal today for any amount you can afford.