The federal government has issued an approval for the $36-billion Pacific Northwest liquified natural gas (LNG) export terminal on Lelu Island on the B.C. coast, undermining its commitments to take action on climate change.
Tuesday's decision — announced an hour behind schedule in Richmond, B.C., by a trio of ministers including Minister of Environment and Climate Change Catherine McKenna — means it will be virtually impossible for B.C. to meet its climate targets.
The announcement was seen as the litmus test on whether the Liberals would live up to its climate promises.
"With today's decision on the Pacific NorthWest LNG project, Minister McKenna made it much more difficult for Canada to meet its climate targets and signaled that it's OK for provinces to miss their own emissions targets," said Matt Horne of the Pembina Institute.
"If built, Pacific NorthWest LNG will be one of the largest carbon polluters in the country and a serious obstacle to Canada living up to its climate commitments."
Pacific Northwest LNG — wholly owned by the Malaysian government and boasting a questionable human rights record — lobbied the federal government 22 times between February 1 and April 21 this year, including meetings with McKenna and her chief of staff Marlo Raynolds.
The project will involve scaling up fracking in northeastern B.C., building a pipeline to the West Coast and constructing an export terminal on Lelu Island, near a crucial area for juvenile salmon.
The Pacific Northwest LNG project is expected to emit 9.2 million tonnes of carbon dioxide equivalent annually — equal to 1.9 million cars.
By 2050, the entire province of B.C. is supposed to emit 13 million tonnes of carbon pollution. With this approval, meeting the climate target becomes an impossibility.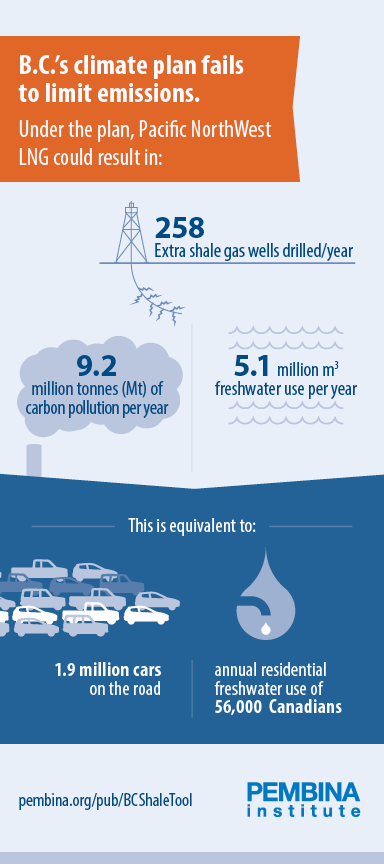 B.C. Premier Christy Clark had already torpedoed any credibility she had on climate change when she announced her widely criticized "climate action plan" this summer.
On Tuesday she trotted out her go-to myth that exporting LNG will reduce emissions in other parts of the world — which was quickly shot down.
"Despite claims to the contrary, the production and export of LNG from B.C. has not been demonstrated to help reduce global emissions. Stronger climate policies — not increased fossil fuel production — are what we need to position the British Columbian and Canadian economies to thrive in a low-carbon future," Horne said.
Honeymoon Over for Liberals
The federal Liberals were riding on the coattails of their election promises and climate commitments made in Paris
Now the honeymoon is over.
"For British Columbians and all Canadians concerned about salmon habitat, climate change and reconciliation with First Nations, today's decision is profoundly troubling," said Christina Smethurst of Dogwood, B.C.'s largest citizen group.
"It does not restore public trust in the federal environmental review process."
The announcement comes on the heels of the Liberals pledging to repair relations between Canada and First Nations, but then approving permits for the Site C Dam against their wishes (the dam has been pushed by Clark in part to power the fracking fields in northeastern B.C. that will feed the Pacific Northwest LNG export terminal).
Adding to the heap of broken promises, the Liberals are also expected to approve the Kinder Morgan Trans Mountain pipeline to Vancouver sometime before Christmas.
"Nation-to-nation" rhetoric is awfully convenient until you have to live up to it.
It's also one thing to care about climate change as a concept and quite another to have the guts to turn down a project when you're being barraged by lobbyists.
A refusal of Pacific Northwest LNG would have proven the federal government is one willing to make tough decisions to live up to its promises — one that would refuse a project if it put climate targets out of reach. One that would invest in renewables, energy efficiency and public transit infrastructure.
Perhaps, one day, we'll see some real change.
On the bright side, there are doubts Pacific NorthWest LNG will even be built.
"As the cost of renewable energy continues to fall,

it is increasingly uncertain that LNG exports can compete in Asian markets," Merran Smith of Clean Energy Canada said.
A new world is coming. Question is: will Canada compete in it?
Photo: Natural Resources Minister Jim Carr, Federal Environment Minister Catherine McKenna, Premier Christy Clark and Fisheries Minister Dominic Leblanc. Photo by Province of British Columbia.
New title
You've read all the way to the bottom of this article. That makes you some serious Narwhal material.
And since you're here, we have a favour to ask. Our independent, ad-free journalism is made possible because the people who value our work also support it (did we mention our stories are free for all to read, not just those who can afford to pay?).
As a non-profit, reader-funded news organization, our goal isn't to sell advertising or to please corporate bigwigs — it's to bring evidence-based news and analysis to the surface for all Canadians. And at a time when most news organizations have been laying off reporters, we've hired eight journalists over the past year.
Not only are we filling a void in environment coverage, but we're also telling stories differently — by centring Indigenous voices, by building community and by doing it all as a people-powered, non-profit outlet supported by more than 2,500 members. 
The truth is we wouldn't be here without you. Every single one of you who reads and shares our articles is a crucial part of building a new model for Canadian journalism that puts people before profit.
We know that these days the world's problems can feel a *touch* overwhelming. It's easy to feel like what we do doesn't make any difference, but becoming a member of The Narwhal is one small way you truly can make a difference.
We've drafted a plan to make 2021 our biggest year yet, but we need your support to make it all happen.
If you believe news organizations should report to their readers, not advertisers or shareholders, please become a monthly member of The Narwhal today for any amount you can afford.