A bizarre twist in a decade-long battle over a proposed mine on Tsilhqot'in Nation traditional territory could see the B.C. government issue extensive exploration permits for the mine this month even though the project has twice been turned down by the federal government.
The proposal by Taseko Mines Ltd. to build a $1.5-billion open pit, copper and gold mine in the Cariboo region — a plan which received vocal support from Energy and Mines Minister Bill Bennett — was approved in 2010 by the provincial government after a B.C. environmental assessment.
But, the same year, the Prosperity Mine was rejected by the federal review panel, which took a dim view of plans to drain Fish Lake, known to Tsilhqot'in as Teztan Biny, for use as a tailings pond.
The company took a second shot with a proposal for the New Prosperity Mine, which would save Fish Lake and situate the tailings pond two kilometres away in a smaller lake. But, the federal government again turned it down in 2014, despite a trip to Ottawa by Bennett in an effort to persuade the federal government of the importance of the mine to the economy of B.C.
Undeterred, Taseko, which says it has spent more than $130-million trying to develop the mine, attempted to persuade the provincial government not to knuckle under to Ottawa. According to the Elections B.C. website Taseko donated $123,450 to the BC Liberals between 2008 and 2014.
A letter to Premier Christy Clark from CEO Russell Hallbauer, written in May last year, said the B.C. government should be very disturbed "because constitutionally mineral assets are owned by the province and their development is the Provinces' responsibility, not Ottawa's."
Hallbauer wrote: "The B.C. government approving our project and the federal government torpedoing it by not following their own process, is something that needs to be addressed by your administration."
The letter from Hallbauer suggested that, if the Environmental Assessment Certificate was not amended in a timely way, the province should buy the tenures or that Taseko could launch a civil suit for damages.
Shortly afterwards, the B.C. Environmental Assessment Office amended the original permit, which has been extended to 2020.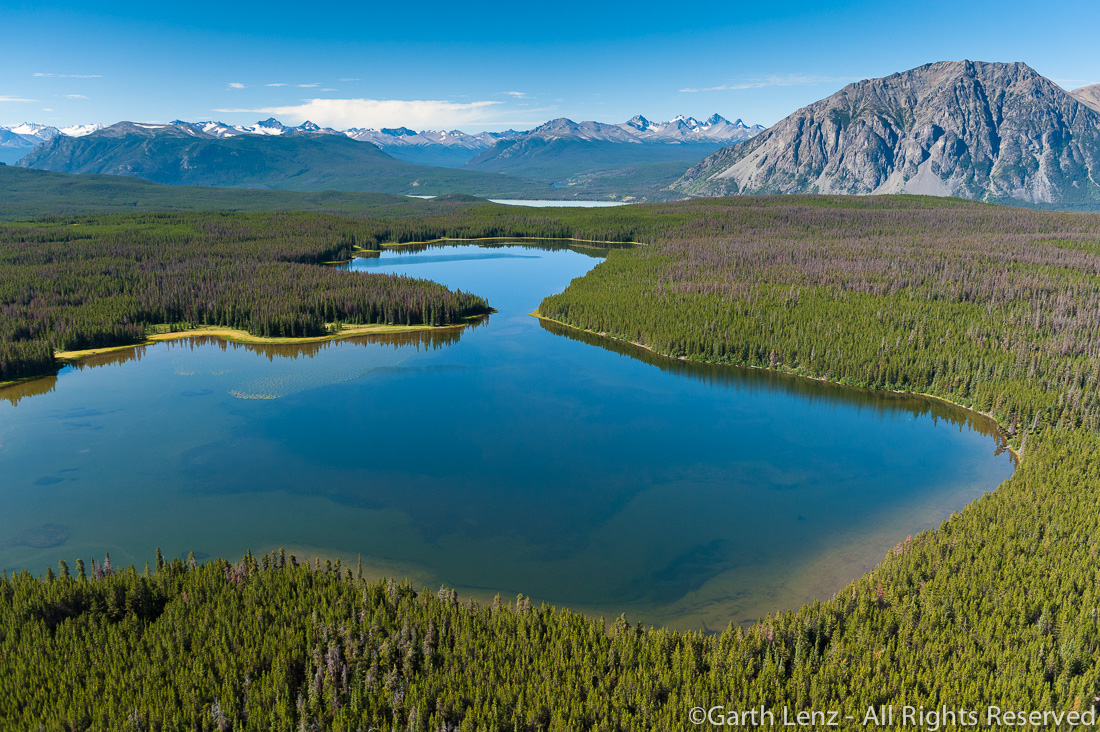 Fish Lake, known as Teztan Biny to the Tsilhqot'in, August 2012. Photo: Garth Lenz, all rights reserved.
Now, the province has told the Tsilhqot'in National Government, representing six First Nations, that a decision on allowing a multi-million-dollar exploration plan will probably be made this month, even though no federal permits are in place.
The exploration, which would include a 50-person work camp, 367 test pits, 47 hectares of "new disturbance," road building and seismic line testing, is adamantly opposed by the Tsilhqot'in and a January letter from Yunesit'in Chief Russell Myers-Ross asked why the province would consider approving more drilling and damage "for a project that cannot be built."
Myers-Ross accused the province of betraying the Tsilhqot'in people and pleaded for fair treatment.
"The federal government has rejected the project. It is dead, in no small part because our Nation has made a substantial case about the devastating effects that it presents for our people and culture. There is an opportunity here to make the right decision and not repeat the same patterns as the past," he wrote.
Myers-Ross said in an interview that he finds it baffling that the province would consider allowing more exploration, in the area made up of connected meadows and small streams, frequented by moose, wild horses and grizzlies.
"It's like the comic villain that keeps coming back," he said, predicting that, if the exploration is allowed, the Tsilhqot'in Nation will be heading back to court asking for a judicial review and an injunction.
"We will be making sure they don't set foot on our territory," he said.
The same message is echoed in a letter to Taseko from Tl'etinqox Chief and Tsilhqot'in National Government tribal chair Joe Alphonse and vice chairman Chief Roger William who accused Taseko of kicking a dead horse.
The letter warns that the Nation is fully prepared to go to court.
"Given our proven Aboriginal rights in the area and the profound cultural and spiritual importance of these lands, your company's efforts to further disrupt this area to advance a rejected project would represent a severe and unjustified infringement of our aboriginal rights," it says.
Grand Chief Stewart Phillip, Union of B.C. Indian Chiefs president, said he believes a provincial decision is imminent.
"This is a deliberate provocation. It's a political move. We are in an election period," he said.
"It's bizarre and very underhanded. I think the province is hoping to provoke a confrontation. . . . It's a very Trump-like move. They are saying Canada has no business meddling in the affairs of B.C.," Phillip charged.
However, apart from provincial documents given to the Tsilhqot'in National Government, it is difficult to assess the province's aim as the Ministry of Energy and Mines has ignored all requests for information from DeSmog Canada.
Communications spokesman Suntanu Dalal initially said he knew nothing about the issue, but would look into it. Three phone calls and two emails later, there has been no response.
Meanwhile, Taseko is continuing to fight the federal government's rejection of the mine, which it says would help bring economic prosperity to an area devastated by the mountain pine beetle.
Key economic benefits would include a $5.5-billion increase in revenues to B.C and 71,000 jobs, according to Taseko background papers.
The company was in Federal Court last week with a constitutional challenge to the Canadian Environmental Assessment Act, asking for two judicial reviews, and has also filed a B.C. Supreme Court civil claim seeking damages against the federal government.
In 2016 the B.C. Supreme Court dismissed a lawsuit Taseko had filed against the Wilderness Committee and, in an unusual decision, the judge awarded special costs to the Wilderness Committee which claimed the case amounted to a SLAPP suit (strategic lawsuit against public participation).
Taseko did not respond this week to requests for an interview.
Image: A member of the Tsilhqot'in beats a drum at Fish Lake, August 2012. Photo: Garth Lenz, all rights reserved.