It sounds like a renewable energy utopia of the distant future.
Twelve million houses with roofs covered in solar panels. Wind turbines whipping the equivalent energy of 170 Site C dams onto the grid. A popular type of hydro called pumped storage, which often leaves a pinky toe of an environmental footprint compared to the imprint of large dams and their reservoirs.
But this is no futuristic climate-friendly Shangri-La. It's all part of the U.S. government's national Hydropower Vision for the next 15 to 35 years, a report unveiled in late July at the world's largest annual hydro event in Minneapolis.
Developed by the U.S. Department of Energy, the report outlines a very different energy path than the "one dam fits all" approach of the B.C. government, whose single-minded focus on building the $8.8 billion Site C dam on the Peace River

blew the Canadian Wind Energy Association right out of the province earlier this year.
In the U.S. vision, construction of new large dams is supplanted by more environmentally-friendly energy development, focusing on a fast-growing type of hydro called pumped storage and the deep integration of hydro with wind and solar power.
"The report tries to articulate a future for hydro that is really built on new types of hydro power facilities that intrinsically find themselves to be smaller in size," Jose Zayas, the Director of Wind and Water Power Technologies for the U.S. Energy Department, said in an interview with DeSmog.
Zayas said "it would be difficult to imagine" that large hydro facilities like the Hoover Dam and Grand Coulee Dam will be replicated in the U.S. given "environmental considerations" and as long as there are renewable energy alternatives.
Instead, he said existing large U.S. dams will be updated with modern equipment to increase their energy output, and they will dovetail with more variable wind and solar power to ensure a steady electricity supply.
Joining wind and solar is a third musketeer in the U.S. renewable energy transition: pumped storage, a smaller footprint form of hydro that was examined by BC Hydro in 2010 and found to be viable in British Columbia.
A 21st Century Electrical Grid
In a keynote address to the hydro convention, which drew almost 3,000 delegates from around the world, Zayas said the U.S. hydro industry wants to partner with a "growing set of technologies such as solar and wind, and it wants to partner quickly."
"Think about hydro and pumped storage as an enabler for the transmission and modernization of our 21st century electrical infrastructure."
In keeping with that objective, Zayas and the many stakeholders who worked on the vision report, including industry and the environmental group American Rivers, dubbed it "A New Chapter for America's First Renewable Electricity Source."
The U.S. vision stands in sharp contrast to what Robert Hornung, president of the Canadian Wind Energy Association, called a lack of opportunity to develop new wind projects in B.C., despite a "tremendous untapped potential" for wind development in the province. Hornung said the association was withdrawing from B.C. this year to focus on Alberta and Saskatchewan, "markets which provide the greatest opportunities in the short term to see more wind energy deployed in the country."
As the Canadian Wind Energy Association exits B.C., wind power in the U.S. will amplify by 150 percent over the next few decades, according to Zayas. Wind facilities in the U.S. already generate 75,000 megawatts of energy a year, while Site C's projected output is a fraction of that at 1,100 megawatts.
"When you look at the growth curves of wind and solar they're quite exponential, Zayas said in an interview. "What you find into the future is quite a bit of renewables."
Complementing the projected increase in wind and solar energy, the U.S. Department of Energy points to the potential expansion of pumped storage, which is capable of generating 36,000 megawatts of new power in the U.S., or the equivalent of building 33 Site C dams.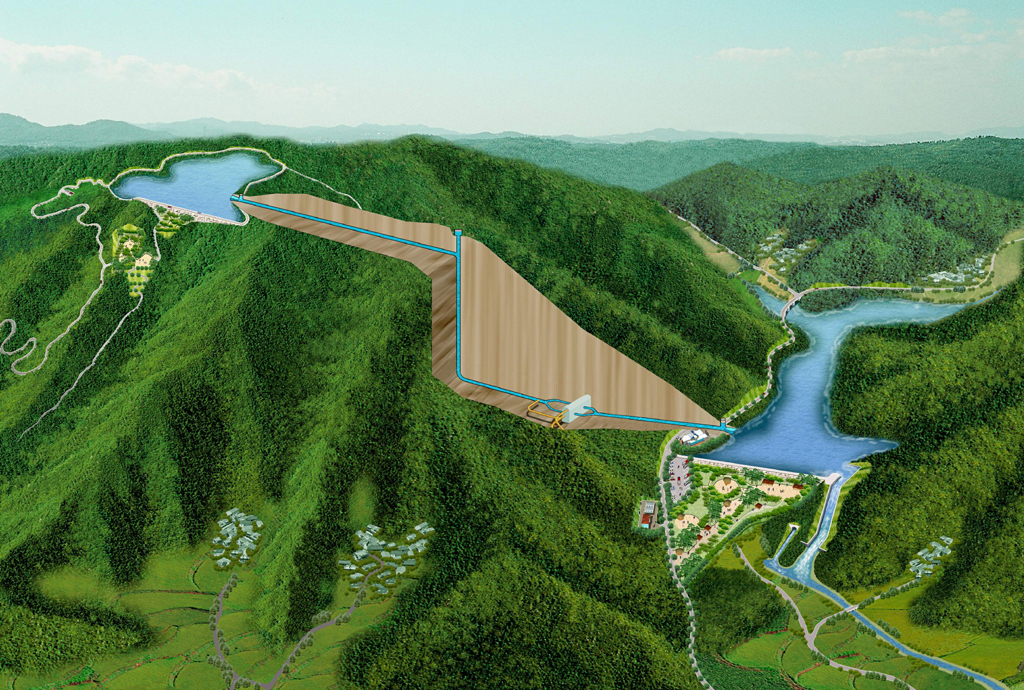 Rendering of the Yecheon Pumped Storage Hydropower Facility. Image: U.S. Department of Energy
Pumped Storage A Potential for B.C.
A 2010 study commissioned by BC Hydro concluded that pumped storage is a viable renewable energy option in the province, raising questions about why the B.C. government has not embraced pumped storage to produce more environmentally-friendly energy than Site C, which will put more than 100 kilometres of the ecologically-unique Peace River Valley and its tributary valleys under water.
The Royal Society of Canada said the environmental impact of Site C would be more severe than any other industrial project ever examined under Canada's current environmental assessment act, including the proposed Enbridge Northern Gateway pipeline project.
Former BC Hydro CEO Marc Eliesen told DeSmog that BC Hydro has "too much of a vested interest" in large hydro projects. The only serious way to examine alternatives to Site C, including pumped storage, would be to establish an independent review body, said Eliesen. "You would have to create an independent commission of inquiry to look into this."
DeSmog twice asked the B.C. Ministry of Energy and Mines why pumped storage was not chosen as a lower-impact hydro option than Site C, but received no reply. BC Hydro also did not respond to a phone call asking for comment.
Previously, BC Hydro has said Site C is the cheapest option for generating new electricity in the province.
U.S. Hydropower Vision Exposes B.C.'s Short-Sighted Thinking on #SiteC Dam https://t.co/Ue2KBXtePJ @sarahcox_bc #bcpoli #cdnpoli

— DeSmog Canada (@DeSmogCanada) August 10, 2016
Pumped Storage Facility in the Works for Ontario
In pumped storage, water is moved back and forth between two smaller reservoirs in a system that can be closed, effectively recycling the water. Reservoirs can be natural water bodies, blasted in rock formations, or they can be repurposed former mine and quarry sites.
"Water is pumped to the upper reservoir at night when electricity prices are low and released down to the lower reservoir during the day to generate power when needed," explains Northland Power, the developer of a proposed pumped storage facility in Ontario that will make use of an abandoned mine pit filled with water.
"It's the project that keeps on giving," John Wright, Northland's lead developer for the project, told DeSmog. "It was an open pit iron mine…Then it was used for crushing gravel and at the next phase of its life it's going to become a long-term clean energy asset. It's a pretty good use of a natural resource, the ultimate use in my point of view."
Construction of the Marmora pumped storage facility will cost Northland Power $900 million and the facility will produce 400 megawatts of power, according to Wright, or about 36 percent of the energy that would be generated by Site C. Northland is seeking a power purchase agreement with the Ontario government and will spend four to five years developing the facility once permits are received.
Wright said pumped storage, developed more than a century ago in Italy and Switzerland, is undergoing a worldwide "renaissance" as governments and industry realize it is a perfect complement to more variable wind and solar energy systems.
Significant Alternatives to Site C Available in B.C.
After former Premier Gordon Campbell announced in April 2010 that the provincial government would seek regulatory approval to build the Site C dam, BC Hydro commissioned a report to evaluate the potential for pumped storage in the Lower Mainland and on Vancouver Island.
Despite the Vancouver-based Knight Piésold consulting firm being given just six weeks to analyze pumped storage potential in southwestern B.C., it came to some thought-provoking conclusions.
"Are there potentially viable greenfield pumped storage hydroelectric sites in the Lower Mainland and Vancouver Island region of southwest British Columbia that are economically viable?" Knight Piésold said in its 44-page report. "The answer to this question is YES, there are numerous potential pumped storage sites that meet the basic criteria established for this study."
After eliminating pumped storage options in terrestrial parks and salmon-bearing rivers, Knight Piésold, an employee-owned firm with offices in 15 countries, concluded that there are 194 potential pumped storage sites in southwestern B.C.
Each of the 194 sites is capable of producing 500 to 1,000 megawatts of electricity.
Of those sites, Knight Piésold identified 45 as the cheapest to develop.
"Freshwater pumped storage is a proven technology with projects operating worldwide," said the report, which contains a chart of more than 60 pumped storage projects across the globe, each generating more than 1,000 megawatts of energy.
Pumped storage facilities are common in Europe and Asia as well as in the U.S., where 22,000 megawatts of energy are already generated by this method.
B.C. Pumped Storage Would Steer Clear of Salmon Rivers
Pumped storage facilities around the world range from tiny installations that generate less than 100 megawatts of energy to large facilities in China and the United States that create the equivalent power of nearly two or three Site C dams. A 1,700-megawatt pumped storage facility in Wales, the Dinorwig Power Station, was constructed on the former site of slate quarries that closed in the 1960s.
A 2012 report for BC Hydro found that B.C.'s north coast also has a "high potential" for pumped storage hydro at sites that exclude terrestrial parks and salmon-bearing rivers.
In that report, Knight Piésold identified 33 potential freshwater pumped storage sites on the North Coast, each capable of producing 500 or 1,000 megawatts of electricity.
However, the firm cautioned that the North Coast potential for pumped storage was "slightly less than in the Lower Mainland and Vancouver Island, primarily due to the relatively undisturbed nature of the landscape and the lack of many existing hydropower and other man-made reservoirs suitable for use as part of a pumped storage facility."
Eliesen said times have changed and B.C. needs to re-examine its focus on producing most new electricity from large dams, taking into account factors such as the environment, agriculture, recreation, and the ability to produce electricity more locally.
"Now, because of the trade-offs that are involved, this is a serious matter. There's no question that a full evaluation of alternative forms of generating energy without seriously impacting the environment…and on a local basis…has to be looked at."
On the same day the U.S. Department of Energy released its vision report, it also announced a US$10 million contribution to help build "next-generation" pumped storage facilities and for power generation projects at dams that currently have other uses, such as flood control. Unlike in Canada, where hydro is publicly owned, the U.S. has a mix of public and private hydro.
Zayas said the U.S. Department of Energy is striving for an integrated system of wind, solar, tidal, geothermal, and hydro. "We invest in all of those."
Image: Site C Construction along the Peace River. Photo: Jayce Hawkins/DeSmog Canada
New title
You've read all the way to the bottom of this article. That makes you some serious Narwhal material.
And since you're here, we have a favour to ask. Our independent, ad-free journalism is made possible because the people who value our work also support it (did we mention our stories are free for all to read, not just those who can afford to pay?).
As a non-profit, reader-funded news organization, our goal isn't to sell advertising or to please corporate bigwigs — it's to bring evidence-based news and analysis to the surface for all Canadians. And at a time when most news organizations have been laying off reporters, we've hired eight journalists over the past year.
Not only are we filling a void in environment coverage, but we're also telling stories differently — by centring Indigenous voices, by building community and by doing it all as a people-powered, non-profit outlet supported by more than 2,500 members. 
The truth is we wouldn't be here without you. Every single one of you who reads and shares our articles is a crucial part of building a new model for Canadian journalism that puts people before profit.
We know that these days the world's problems can feel a *touch* overwhelming. It's easy to feel like what we do doesn't make any difference, but becoming a member of The Narwhal is one small way you truly can make a difference.
We've drafted a plan to make 2021 our biggest year yet, but we need your support to make it all happen.
If you believe news organizations should report to their readers, not advertisers or shareholders, please become a monthly member of The Narwhal today for any amount you can afford.