This is a guest post by Jens Wieting, forest and climate campaigner with Sierra Club B.C.
The wildfires currently raging uncontrolled in Alberta are not within the range of what's normal.
As of May 29, 854,984 hectares have burned this year in Canada, mostly Alberta — almost 10 times the 25-year-average amount of forest lost by this date (89,391 hectares).
And summer hasn't even started.
Warm temperatures and low humidity mean that, for the time being, there is no end in sight. A similar situation is taking shape in British Columbia.
The correlation between higher average temperatures and wildfires in Canada has been well-researched, but the extremes now underway still come as a shock. Leading climate scientists have compared the urgent need to prevent further overheating of our planet to a person with a dangerously high fever. Our body temperature is normally about 37 degrees. If it increases by two degrees to 39, you have fever. If it goes over 41, you might die.
The life support systems of our planet are fairly resilient, but almost all of them have thresholds and tipping points. Cross them and we face severe danger, such as extreme wildfires. These fires are just one example of increasingly unmanageable impacts of human-caused climate change. In B.C. snow cover is at record lows and drought is becoming the rule rather than the exception in many parts of the province.
These events emphasize what the majority of the world's scientists and policy-makers have already acknowledged: it is time to end the fossil fuel era. It's also time to embrace the post carbon economy and increase protection of ecosystems and their environmental services offer us a path towards a liveable future.
This means that our governments must accept that new major fossil fuel development — like liquefied natural gas (LNG) projects or new oil pipelines from Alberta — will undermine any realistic path to stabilize the climate. Real solutions,including renewable energy systems, improved resource and energy efficiency, mass transit, recycling and new service models like the sharing economy, exist and need our full support.
British Columbia is aggressively pursing the development of fracked gas and the creation of an LNG export industry. Investment in major fossil fuel projects like this harmful in several ways,by exacerbating the climate problem, by degrading, fragmenting and polluting the natural environment, and at the same time taking time, energy and resources away from clean, alternative solutions like small-scale hydro, wind, solar and geothermal.
Sierra Club B.C. recently released a vision paper for B.C. called The Future is Here that identifies three areas of action and 10 critical steps we must take to change course in the face of threats to our natural environment, our economy and climate.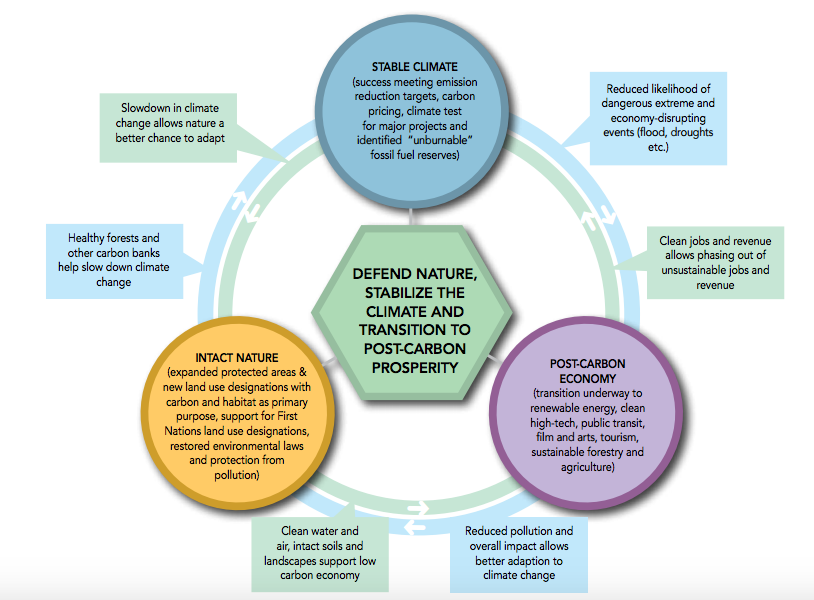 B.C. has, for a long time, paid lip service to environmental concerns while actively pursuing unsustainable extraction of fossil fuels and natural resources that threaten local tourism economies, sources of drinking water, conservation efforts and indigenous rights.
But true climate solutions are also economic solutions that don't degrade our natural environment. As the illustration above shows, reducing climate pollution, creating a clean economy and saving nature must go hand in hand.
Our current economic model is becoming increasingly out of date as we realize a healthy environment is the basis of the new economy. In B.C. in particular, protection of ecosystems on land and sea is vital to our agriculture, seafood harvest, recreation, tourism and First Nations cultures.
Protecting the land and sea also increases the chances of our iconic species like caribou, wolves, grizzlies and salmon surviving the changes to their habitat brought about by industrialization and climate change.
Taking steps to move to a clean economy, protect the environment and battle climate change are all interrelated. The sooner we realize that the quicker we can protect society and our natural resources from the worst impacts of climate change and business-as-usual practices — like raging wildfires or oil spills.
As many studies have shown, the longer we wait to act on climate change the harder and more expensive it will become.
10x the 25-year-average annual amount of fires burned this year in Canada, mostly AB https://t.co/3jYdurSwAB #ableg pic.twitter.com/d0RbEZkwv9

— DeSmog Canada (@DeSmogCanada) May 30, 2016
From the Maya to the Easter Island cultures history shows that climate change and ecosystem breakdown can lead to collapse if civilizations fail to undertake the required reforms while stable conditions prevail. Neither government nor society will be able to plan and implement the scope of change required once the consequences and costs of environmental crisis and climate impacts become unmanageable.
Wealthy industrialized countries with high per capita emissions like Canada have much greater flexibility when it comes to pursing alternative economic and energy systems. For other countries struggling to provide basic access to education and clean water to its citizens, the climate challenge is much more stark.
That, in part, is why countries like Canada have promised to help less-developed nations transition away from fossil fuels and toward clean energy as part of the Paris Agreement. Thanks to its size, vast resources and relatively small population British Columbia is well positioned to make a successful transition from boom and bust cycles to long term prosperity — if we act before we lose manoeuvring room to respond to the climate crisis.
Image: B.C. Wildfire Service/Facebook