What a difference a decade makes – especially when it comes to government-directed communications policies regarding science, and especially when you're in Canada.
In 2003 a Canadian-American research collaboration, involving scientists from US universities and Canada's Department of Fisheries and Oceans (DFO), began in the Eastern Arctic to track oceanic conditions and ice flow in the Nares Strait.
During its early stages, government rules regarding communication and publication about the project were meant to encourage scientific and academic freedom: "Data and any other project-related information shall be freely available to all Parties to this Agreement and may be used, disseminated or published, at any time," the agreement reads.
Now, under new restrictions imposed by DFO officials, scientists are prevented from sharing any information with a third party without the explicit consent of a high-ranking bureaucrat. According to the 2013 agreement, all technology and information related to DFO research, even if conducted in collaboration with outside parties, is "deemed to be confidential and neither party may release such information to others in any way whatsoever without prior written authorization of the other party."
For one American academic currently collaborating with DFO in the Arctic, this type of policy suppresses the free flow of scientific information and is a "potential muzzle." Andreas Muenchow of the University of Delaware is the avid blogger behind "Icy Seas: Scientific Musings of a Sailor in a Changing Climate" and fears the strict new policy will prevent him and other scientists from publishing about their project.
Under the new guidelines DFO managers decide how scientists like Muenchow use the scientific information they gather in their work, leaving the fate of scientific communication regarding the project in the hands of bureaucrats and not scientists.
After the January 29 memo outlining the new communications protocol was highlighted yesterday by Postmedia's Margaret Munro scientists like Muenchow were informed their work – if conducted in partnership with DFO scientists – is also subject to the new guidelines.
Any material prepared for publication must be approved by a DFO Division Manager before being submitted to an external source like a journal.
This document, released by an anonymous DFO insider on the blog Unmuzzled Science, details the new publication procedure: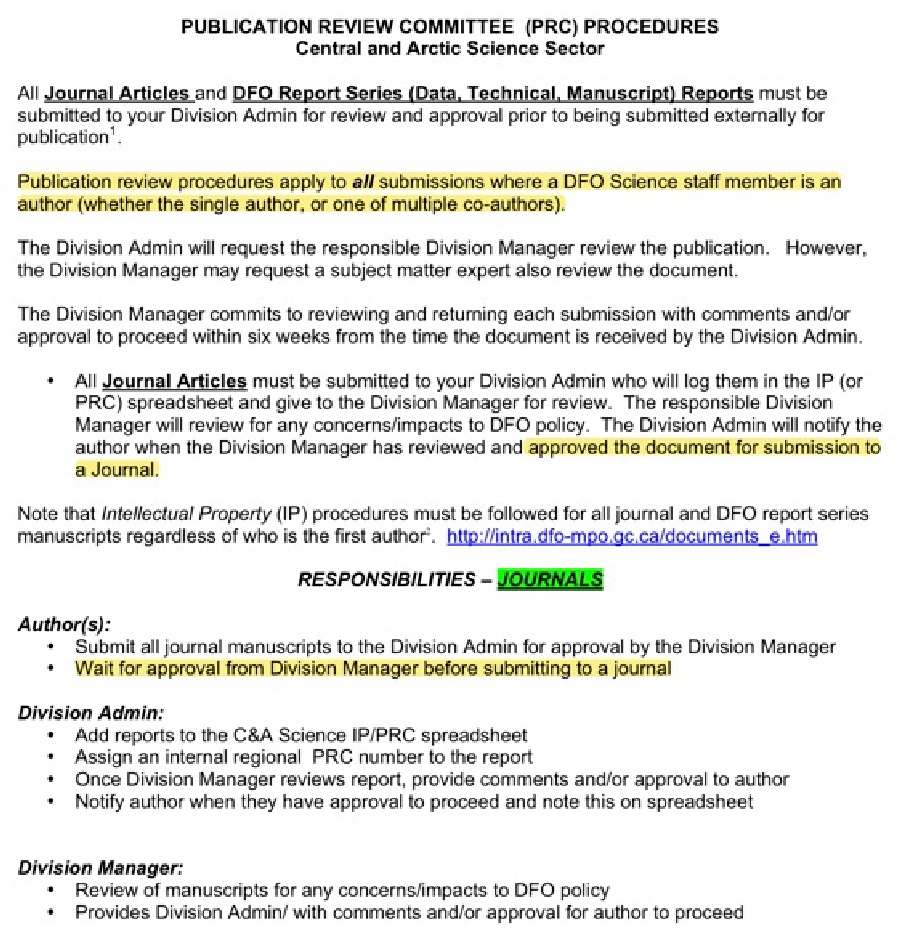 DFO Communications Advisor Melanie Carkner originally denied any changes had been made to the department's publication policy after journalist Michael Harris originally reported on the story. Yesterday Postmedia's Munro reported Frank Stanek, manager of media relations for DFO, said the department was not prepared to comment on the rules.
Muenchow, in the meantime told Postmedia's Munro he will not be signing the new agreement that threatens his "freedom to speak, publish, educate, learn and share." He is currently working with the University of Delaware and DFO to renegotiate the agreement and today gave this statement to DeSmog Canada:
"This is a very delicate situation for me to be in at the moment, because the proposed Confidentiality Rules as reported by Margaret Munro in the Ottawa Citizen, Vancouver Sun, and other Canadian papers are being negotiated between the University of Delaware and the Canadian Department of Fisheries and Oceans as part of a Collaborative Agreement.

As such, for now, I would not want to inject myself any further into a public debate over policy, even if these policies have the potential to impact my work. I think it is in my best (scientific) interest to let the negotiations process play itself out."
Muenchow, like so many other scientists in his shoes will have to be extra cautious from now on in, to ensure his academic freedom escapes Canada intact.
New title
You've read all the way to the bottom of this article. That makes you some serious Narwhal material.
And since you're here, we have a favour to ask. Our independent, ad-free journalism is made possible because the people who value our work also support it (did we mention our stories are free for all to read, not just those who can afford to pay?).
As a non-profit, reader-funded news organization, our goal isn't to sell advertising or to please corporate bigwigs — it's to bring evidence-based news and analysis to the surface for all Canadians. And at a time when most news organizations have been laying off reporters, we've hired eight journalists over the past year.
Not only are we filling a void in environment coverage, but we're also telling stories differently — by centring Indigenous voices, by building community and by doing it all as a people-powered, non-profit outlet supported by more than 2,900 members. 
The truth is we wouldn't be here without you. Every single one of you who reads and shares our articles is a crucial part of building a new model for Canadian journalism that puts people before profit.
We know that these days the world's problems can feel a *touch* overwhelming. It's easy to feel like what we do doesn't make any difference, but becoming a member of The Narwhal is one small way you truly can make a difference.
We've drafted a plan to make 2021 our biggest year yet, but we need your support to make it all happen.
If you believe news organizations should report to their readers, not advertisers or shareholders, please become a monthly member of The Narwhal today for any amount you can afford.