The release of a University of Victoria study calling for updates to Canadian charitable law created quite a stir last week.
The study, prepared for DeSmog Canada, was covered by the Toronto Star, Vancouver Sun, Victoria Times Colonist, Canadian Press, Macleans, The Tyee, Yahoo! News and CFAX.
The report called for the Canada Revenue Agency (CRA) to clarify rules around "political activities" — defined as any activity that seeks to change, oppose or retain laws or policies — and to provide a more generous limit on allowable policy advocacy in line with other common law jurisdictions such as Australia and New Zealand. It also called for the creation of a politically independent charities commission to remove the potential for political interference in audits.
The findings were raised in the House of Commons by Victoria NDP MP Murray Rankin, who stated the report "analyzes the alarming lack of clarity in the rules governing political activities for charities."
Tim Gray, executive director of Environmental Defence, said the recommendations put "what's going on in Canada in the context of what's going on in other common law and western countries … It gives a sense of how far Canada is behind on these things."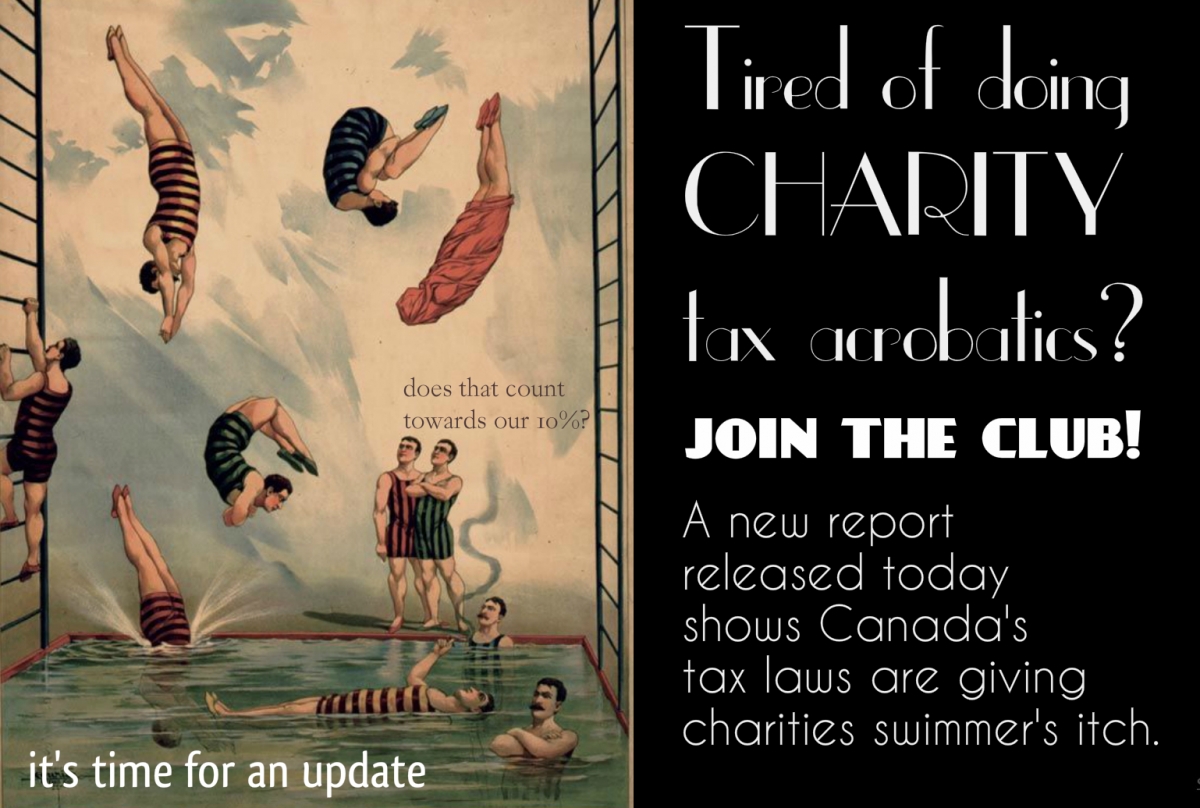 Do you think charity law in Canada deserves to be updated? Click the image above to share on Facebook.
Environmental Defence was one of 18 Canadian charities that called on the country's politicians to enhance the ability for charities to engage in public policy debates earlier this month.
"The lack of a level playing field between business and citizens around public policy is particularly evident in the debate around climate and tar sands," Gray told DeSmog Canada. "There's massive spending going on by the oil sector to influence public policy and every dollar they spend on lobbyists in Ottawa or on television ads, they deduct from their gross income and therefore reduce the income tax that they pay to build roads and run hospitals."[view:in_this_series=block_1]
Citizens who donate money to a charity only receive a 17 per cent tax benefit and charities are limited to spending 10 per cent of their resources on policy advocacy work, described as "political activity" by the CRA.
Fifity-two charities have been audited for their "political activities" under a $13.4 million audit program launched by the federal government in the 2012 budget.
"It's already unfair and the rhetoric that's out there right now is to say that that level of unfairness should be enhanced," Gray said. "It would be a huge move to favouring involvement by corporations in public policy at the expense of citizens."
Gray also said citizens are confused by the current talk around "political activities," which many assume to mean "partisan activities," which charities are banned from taking part in.
Bill Schaper, director of public policy and community engagement for Imagine Canada — which advocates for the charitable sector — said his group has been hearing more and more about re-thinking how we define charity over the last couple of years.
"It's something that's been percolating," Schaper told DeSmog Canada.
But he also noted that there are risks associated with opening up charitable law for major changes. National Post columnist Andrew Coyne, for instance, has argued that we should get rid of charitable status altogether.
"As much as the grey zones are causing issues right now, sometimes grey zones are better than too much clarity because you might not like the clarity you get," Schaper said.
He noted that the charitable sector can do a better job of educating itself in terms of what constitutes "political activity" and said there would need to be much more discussion before Imagine Canada would push for specific changes to the law.