British Columbians overwhelmingly want BC Hydro's Site C dam sent for an independent review and support pausing construction on the $8.8 billion project while alternatives are investigated, according to a new poll conducted by Insights West.
The poll, sponsored by readers of DeSmog Canada, found that 73 per cent of British Columbians support sending the Site C dam for an independent review of both costs and demand, as recommended by the Joint Review Panel in its 2014 report.
Seven in 10 respondents supported pausing construction of Site C to investigate alternatives to meet future power demand.
"When pondering Site C, British Columbians are favouring caution and not hubris," said Mario Canseco, vice president of public affairs at Insights West.

"Most are willing to switch the focus to efficiency and alternative sources."
Construction on the $8.8 billion Site C dam started in 2015 and is scheduled for completion in 2024. The project has been plagued by court challenges and questions about cost and demand from high-profile experts, including Harry Swain, the man who chaired the federal-provincial panel on Site C, and Marc Eliesen, who has been chair or CEO of BC Hydro, Manitoba Hydro and Ontario Hydro.
"What they're doing with Site C is unprecedented in Canada," Eliesen told DeSmog Canada. "You've never had a project in the billions of dollars run by a provincial utility go through without any review by the utilities board."
Survey results suggest British Columbians prefer taking a more measured approach to the project, which Premier Christy Clark has promised to get to "the point of no return."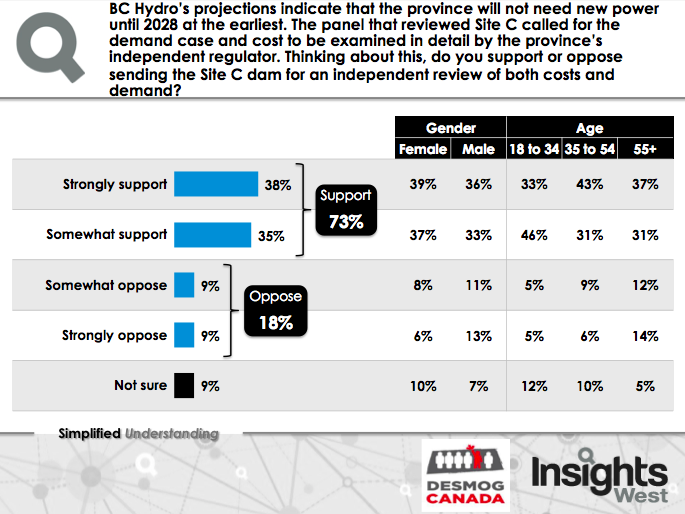 "We're not too late to either cancel or suspend Site C while a full and impartial, objective review is taken," Eliesen said. "There have been a number of major hydro developments in Canada that were subsequently cancelled when the forecasts that came out two to three years later were different than the ones used to justify the project."
Eliesen pointed to the Limestone Generating Station in Manitoba as an example. Work on that dam began in 1976, but was suspended in 1978 after electricity demand forecasts changed.
"From a business case, they realized it was stupid to go ahead building a station when at the end of the day they'd be left with a white elephant and they'd have to dump the results of that power, 1,400 megawatts, on the spot market. They would have lost their shirt and the ratepayers of Manitoba would have paid heavily for it," Eliesen said.
The project resumed in 1985 after a major firm contract was negotiated between Manitoba and Minnesota for 500 megawatts.
"Unless you do that in advance, then you're going to have a white elephant because the cost of generating electricity is far more than any prices you can get on the spot market," Eliesen said.
"If BC Hydro wanted to do something on a major scale of building the station and exporting the power … they should have gone out and negotiated what is called a firm power contract."
That hasn't happened and BC Hydro has indicated that the province will not need new power until 2028 at the earliest. If demand for more power arises in the future, nine in ten British Columbians support investing in energy efficiency measures (92 per cent) and adding more wind, solar and geothermal power to the grid as needed (also 92 per cent). Just over a third (37 per cent) favour building large hydro dams.
The Joint Review Panel found the province had failed to investigate alternatives to building the Site C dam, such as geothermal energy. According to BC Hydro's own estimates, geothermal could replace two-thirds of the power that could be generated by the Site C dam.
Seventy-seven per cent of British Columbians support investing in geothermal (40 per cent "strongly") rather than building a large hydro dam.
The Insights West poll found more British Columbians outright oppose the Site C dam (44 per cent, 21 per cent strongly) than support it (39 per cent, 11 per cent strongly).
If Site C does go ahead, Eliesen says ratepayers will be in store for massive rate increases.
"It will destroy our ability to generate employment and jobs because the high electricity rates for commercial and small business," he said.
VIDEO: 70% of British Columbians Support Pausing #SiteC Dam Construction, New Poll Finds https://t.co/nKAqApyT8k #bcpoli #cdnpoli

— DeSmog Canada (@DeSmogCanada) November 16, 2016
Across the country, Newfoundand's Muskrat Falls dam has garnered a lot of attention lately, as its cost has ballooned to $11.4 billion, up $4 billion since 2012.
For the average homeowner, it's estimated this will add an extra $150 per month in power costs. The CEO of the province's power corporation, Nalcor, has said power demand forecasts were off and the dam was not the right choice for the power needs of the province.
"The project is identical to Site C in the sense that the project went ahead without proper due diligence and the business case was not adequately undertaken and in a short period of time major changes took place which resulted in a phenomenal escalation of costs," Eliesen.
"Site C if it goes ahead it will go down as one big white elephant. Unfortunately the people who made that decision won't be around in 2024 or 2026," he said.
"There is a window for that decision to be changed and it can be changed with the forthcoming election."
Adrian Dix, the NDP critic for BC Hydro, said the polling results came as no surprise.
"What is interesting is the difference between this poll and the ones sponsored by BC Hydro," Dix said. "It really shows that having accurate information about Site C makes a huge difference in people's response."
Dix said the BC Liberals have exaggerated future demand to justify the project.
"Since then, all of the Liberals and BC Hydro's estimates about future energy need have been proven to be massively in error," he told DeSmog Canada. "The Liberals have recklessly gone ahead without evidence and have put all of us at risk — financial and otherwise."
Dix said the NDP sticks by its position that Site C must undergo an independent review.
The online study was conducted by Insights West from October 27 to October 30, 2016, among 821 adult residents of British Columbia. The data has been statistically weighted according to Canadian census figures for age, gender and region in British Columbia. The margin of error—which measures sample variability—is +/- 3.5 percentage points, nineteen times out of twenty.
View the data tabulations and the full report.
Photo: ©Garth Lenz
New title
You've read all the way to the bottom of this article. That makes you some serious Narwhal material.
And since you're here, we have a favour to ask. Our independent, ad-free journalism is made possible because the people who value our work also support it (did we mention our stories are free for all to read, not just those who can afford to pay?).
As a non-profit, reader-funded news organization, our goal isn't to sell advertising or to please corporate bigwigs — it's to bring evidence-based news and analysis to the surface for all Canadians. And at a time when most news organizations have been laying off reporters, we've hired eight journalists over the past year.
Not only are we filling a void in environment coverage, but we're also telling stories differently — by centring Indigenous voices, by building community and by doing it all as a people-powered, non-profit outlet supported by more than 2,900 members. 
The truth is we wouldn't be here without you. Every single one of you who reads and shares our articles is a crucial part of building a new model for Canadian journalism that puts people before profit.
We know that these days the world's problems can feel a *touch* overwhelming. It's easy to feel like what we do doesn't make any difference, but becoming a member of The Narwhal is one small way you truly can make a difference.
We've drafted a plan to make 2021 our biggest year yet, but we need your support to make it all happen.
If you believe news organizations should report to their readers, not advertisers or shareholders, please become a monthly member of The Narwhal today for any amount you can afford.