Last year the Harper government's decision to gut the Department of Fisheries and Oceans (DFO) led to the deft and unceremonious firing of more than 1,000 federal employees, many of them researchers, lab technicians and experts crucial to Canada's understanding of marine science. Frontline stories of tearful staff meetings, where the devastating news was delivered en masse, convinced many Canadians we were in the midst of what is now popularly known as the 'War on Science.'
That storyline continues today after a new Environment Canada report outlines the department's plan to eliminate more than 1,000 jobs, a disproportionate amount of which will come from the climate change division.
The 'plans and priorities' report shows the department will reduce spending from more than $1 billion in 2014-2015 to $698.8 million in 2016-2017, reports the Toronto Star.
In addition program spending for Environment Canada's climate change and clean air program will be reduced from $234.2 million in 2014-2015 to $54.8 million in 2016-2017.
Full-time equivalent jobs will drop from 6,400 this year to 5,348 in 2016-2017.
Canada has committed to reducing greenhouse gas emissions to 17 per cent below 2005 levels by 2020 under the Copenhagen Accord. Environment Canada's most recent emissions report, released in October 2013, shows Canada's current measures are inadequate for reaching our emissions reductions targets.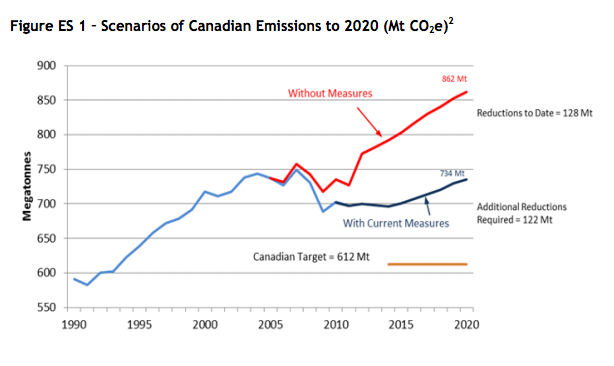 Emissions trends reported in Environment Canada's 2013 Emissions Report.
A new study released by Globe International that examined nearly 500 pieces of climate legislation in 66 countries found Canada had "no flagship legislation" for climate despite being in the top 20 worldwide emitters. The report also notes Canada's decision to withdraw from the Kyoto Accord in 2011.
Megan Leslie, Halifax MP and environment critic for the NDP, says given the global challenges posed by climate change, Canada's decision to cut related programs at Environment Canada doesn't make sense.
"Knowing what the situation is with greenhouse gas emissions worldwide, one would think they got the numbers backwards. And that we would be ramping up rather than ramping down," she told the Toronto Star. "That is a shocking decrease, it really is."
Leslie noted these changes to Environment Canada are happening while the country still awaits promised emissions regulations for the oil and gas sector. The oilsands are Canada's fastest growing source of greenhouse gas emissions.
According to the Pembina Institute, "if Alberta were a country, its per capita greenhouse gas emissions would be higher than any other country in the world." They also report "7 per cent of Canada's total greenhouse gas emissions came from oilsands plants and upgraders in 2010."
Emissions from the extraction and upgrading of oilsands bitumen is estimated to be 3.2 to 4.5 times as intensive on a per barrel basis than conventional crude produced elsewhere in Canada or the U.S.
"This is a sector with the fastest growing emissions and we're still waiting," Leslie said.
Image Credit: Kris Krug