This article originally appeared on the Pembina Institute website.
Over the past 50 years, the development of the oilsands has changed the face of Alberta, driving innovation and technology to make oilsands a reality. The oilsands are the third largest oil reserve on earth, and despite a cycle of boom and busts, contribute to the prosperity of the province. Industry, however, has not addressed many of the largest environmental impacts generated by the oilsands, and much work is still left to be done. This blog is part of a series where we look back at the last 50 years of the oilsands industry and shed light on a number of the remaining challenges.
After 50 years of production, the oilsands remain among the world's most carbon intensive large-scale crude oil operations. Studies continue to back this up.
The Carnegie Endowment's Oil-Climate Index suggests most oilsands crude is associated with 31 per cent more emissions than the average North-American crude from the point of extraction through its lifecycle to the point of end use (See Figure 1).
Figure 1. Emissions associated with the full lifecycle of a crude (from extraction to combustion) for a selection of crudes produced in North America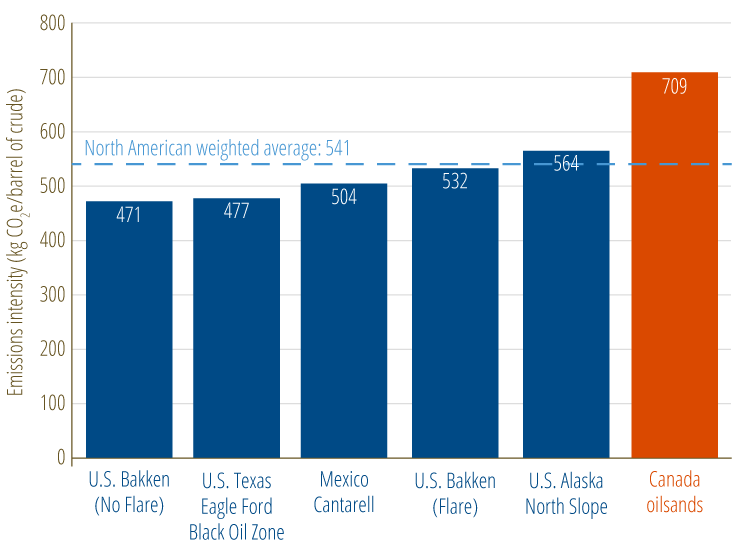 When looking at the carbon pollution associated with the extraction and processing, the Oil-Climate Index suggests that the oilsands generate 2.2 times as many emissions per barrel than the average crude extracted in North America (See Figure 2).
Figure 2. Emissions associated with the extraction and processing for a selection of crudes produced in North America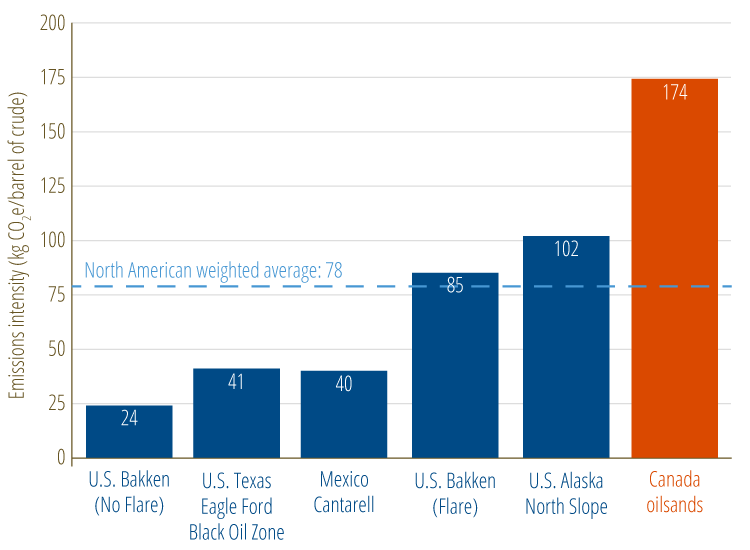 The latest data on carbon emissions associated solely with oilsands extraction indicate little improvement over time. Industry likes to celebrate the changes it implemented to reduce emissions and waste, but the greatest of those were one-off advances in emissions intensity nearly 20 years ago.
Since then, the emission intensity from oilsands extraction increased nine per cent between 2004 and 2015, as illustrated in Figure 3.
Figure 3. Emissions intensity of oilsands extraction between 2004 and 2015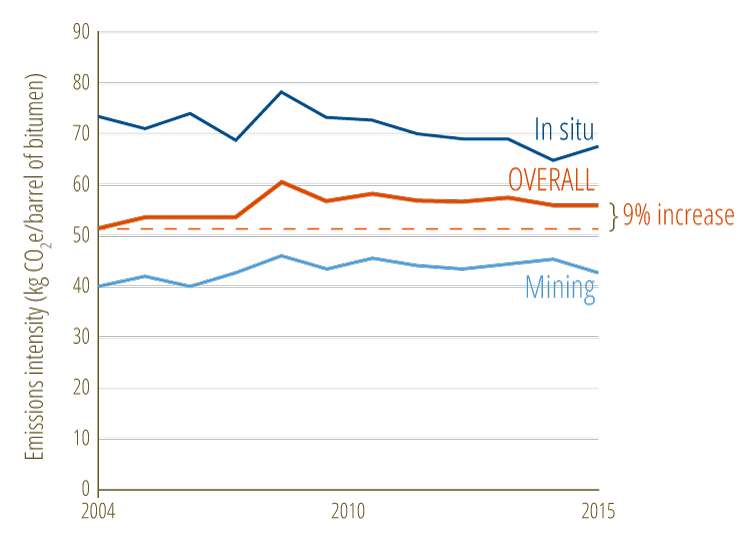 In short, the emission intensity of mining operations increased by seven per cent between 2004 and 2015, and this trend will certainly continue as producers access deeper, lower quality bitumen and the distance from mines to processing facilities increases.
Although in situ operations' emission intensity decreased by eight per cent between 2004 and 2015, this production type still produces 58 per cent more greenhouse gas emissions than surface mining. Because in situ has become the dominant form of extraction and has a higher intensity than mining, the overall emissions intensity of the sector continues to grow.
Data sources
Emission intensities from North-American crudes are sourced from Carnegie Endowment for International Peace, Oil-Climate Index, "Viewing total emissions," 2016.
Greenhouse gas emissions are sourced from Environment and Climate Change Canada, National Inventory Report 1990-2015: Greenhouse Gas Sources and Sinks in Canada, Table A10–2, 2017.
Bitumen production is sourced from Alberta Environment and Parks, Oil Sands Information Portal, "Total Oil Sands Production Graph."
Alberta #Oilsands Most Carbon Intensive Crude in North America: Analysis https://t.co/KhIJqElvt8 via @Pembina @ben_yyc #emissions #ableg

— DeSmog Canada (@DeSmogCanada) October 16, 2017
Image: Alberta oilsands. Photo: Kris Krug
New title
You've read all the way to the bottom of this article. That makes you some serious Narwhal material.
And since you're here, we have a favour to ask. Our independent, ad-free journalism is made possible because the people who value our work also support it (did we mention our stories are free for all to read, not just those who can afford to pay?).
As a non-profit, reader-funded news organization, our goal isn't to sell advertising or to please corporate bigwigs — it's to bring evidence-based news and analysis to the surface for all Canadians. And at a time when most news organizations have been laying off reporters, we've hired eight journalists over the past year.
Not only are we filling a void in environment coverage, but we're also telling stories differently — by centring Indigenous voices, by building community and by doing it all as a people-powered, non-profit outlet supported by more than 2,500 members. 
The truth is we wouldn't be here without you. Every single one of you who reads and shares our articles is a crucial part of building a new model for Canadian journalism that puts people before profit.
We know that these days the world's problems can feel a *touch* overwhelming. It's easy to feel like what we do doesn't make any difference, but becoming a member of The Narwhal is one small way you truly can make a difference.
We've drafted a plan to make 2021 our biggest year yet, but we need your support to make it all happen.
If you believe news organizations should report to their readers, not advertisers or shareholders, please become a monthly member of The Narwhal today for any amount you can afford.