While the Keystone XL, Northern Gateway, Trans Mountain and Energy East pipelines remain stalled in political upheaval, environmental opposition and regulatory processing, the government of Alberta could start moving landlocked oil to tidal waters via the Arctic as early as 2015, according to a technical report recently released by the Alberta government.
The report, authored by Canatec Associates International Ltd., an Arctic petroleum consultation firm, considers three scenarios for exporting oilsands product, all of which were deemed technically feasible. An early, exploratory shipment of oil to the Arctic could be on the move as early as next year, the report states.
The Arctic Gateway Pipeline, previously considered logistically unfeasible, has been eyed with increasing interest recently, as a warming climate begins to open up the north to new development and previously inaccessible shipment routes.
The report notes the new export route stands to benefit from a combination of a changing northern climate, hunger for resource development in Yellowknife and the Northwest Territories, and the growing desperation to move Alberta oil to Asian markets.
The Financial Post reports "an aggressive push from the federal government to reduce environmental oversight in the territory" is part of the "combination of winning conditions" adding to the proposal's viability.
The report states Alberta "could take a leadership role within Canadian confederation, on the future of the Arctic."
"Alberta will automatically be a major player in this industry if it has already established an Arctic Energy Gateway."
The Canatec report notes the Arctic "lacks the equipment, personnel and logistical capacity to effectively respond to oil spills," adding, "no oil spill response organizations are certified to work in the Arctic."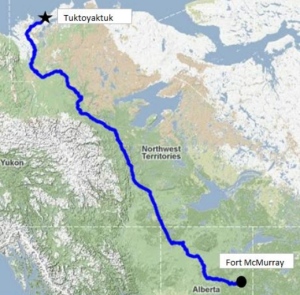 Proposed route to the Arctic. Image from Canatec.
The pipeline is projected to transport up to 100,000 barrels of diluted bitumen a day. The Keystone XL pipeline would carry up to 700,000 barrles of oil per day from Canada to the Gulf Coast and the federally-approved Enbridge Northern Gateway pipeline would have a daily capacity of 525,000 barrels of oil.
Alberta Energy spokesperson Ryan Cromb told Fort McMurray Today the report was commissioned to survey oil-export options, and not to identify an alternative to existing pipelines.
"This report was commissioned as part of our larger look at market access in all directions – east, west, north and south," he said. "Alberta Energy is continuing to review the report and will use it to help better inform us and more fully understand market options."
Mike Hudema from Greenpeace Canada told Fort McMurray Today it is "absolutely ridiculous" Alberta is considering an Arctic route for oil export.
"Not only should we not be expanding the oilsands at a point where we are blowing past so many environmental thresholds, but now we want to endanger one of the last remaining untouched ecosystems?" he said.
Keith Stewart, energy and climate campaigner for Greenpeace, echoed these concerns: "The melting of the arctic should be setting off alarms saying we should start moving away from fossil fuels," he said. "Instead, we are using it as an opportunity to make things worse."
New economic attention has been paid to Arctic shipping routes since ice levels dropped to record lows in the summer of 2012. Unprecedented ice retreat in August 2012 opened up Parry Channel in the Northwest Passage, signaling a new life to the historic shipping route that, until then, was thought too dangerous to be economic.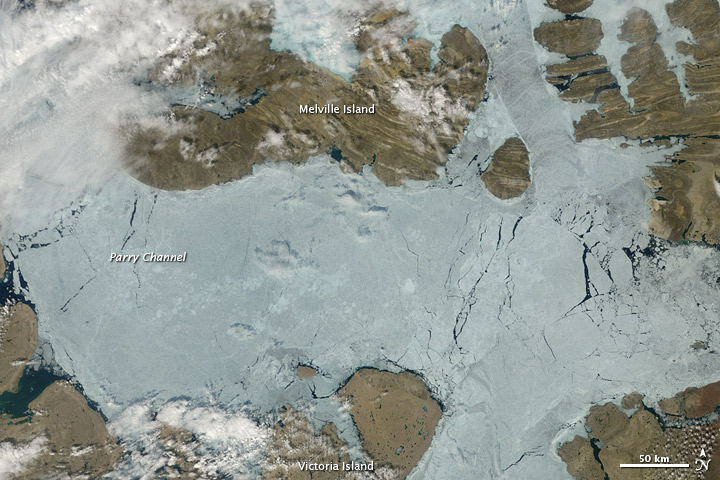 Ice in the Perry Channel July 17, 2012. Image by NASA.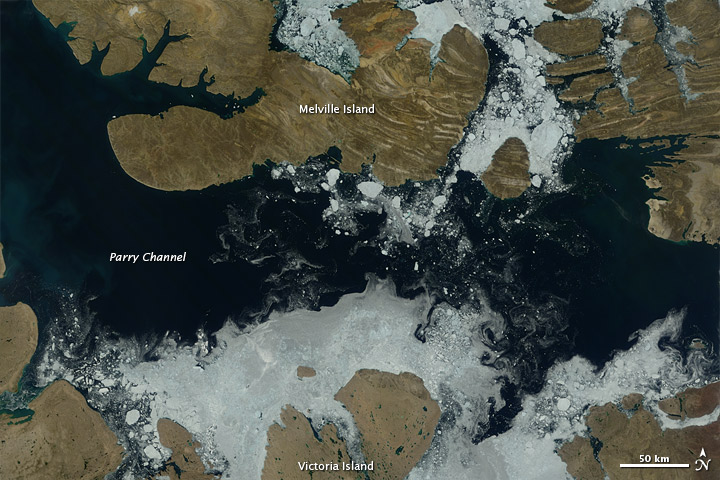 Ice retreat in Perry Channel on August 3, 2012. Image by NASA.
In 2013 a container ship used the Northwest Passage to deliver cargo to the port in Rotterdam.
Canatec currently lists the Northwest Passage as "technically feasible to open."
Image Credit: Tuktoyaktuk by pony_coach via Flickr.