A drive along Iceland's 'ring road,' a winding narrow highway that encircles the isolated island's 1,332 kilometre circumference, will take you from the sublime to the beautifully desolate in quick succession as views of snow spotted mountains give way lava fields, relatively young in geologic time at 800 years, covered in the country's signature muted green moss.

But perhaps no natural feature is so stunningly otherworldly than Iceland's geothermal activity.

The remote island is the outcome of upwelling forces, emerging in the volcanic seam between the Eurasian and North American tectonic plates. The result is a remarkably active geologic landscape, one pitted with boiling mud pots, meandering hot rivers and steaming caverns that open up out of a serene landscape like gaping mouths of Hades.

One of my first day trips, along Iceland's famous Golden Circle route, I stop at the Geysir geothermal valley, a popular tourist hot spot (the English word geyser is a derivative of the Icelandic word geysir, which means gusher). The Strokkur Geysir, like Old Faithful, is a pressurized water column that superheats and erupts at regular intervals, blasting 25 to 30 metres into the air above a crowd of camera-ready spectators.

Both laconic hot pools and violently boiling cauldrons of water surround the Geysir, all of which can be seen from a vantage point just a short hike up the hill. Small-scale geothermal stations, used in a domestic capacity at houses and farms, dot the landscape, easily identifiable with their consistent plumes of steam rising into the mid-day sky, which at this latitude, above 64 degrees north, seems a bluer blue.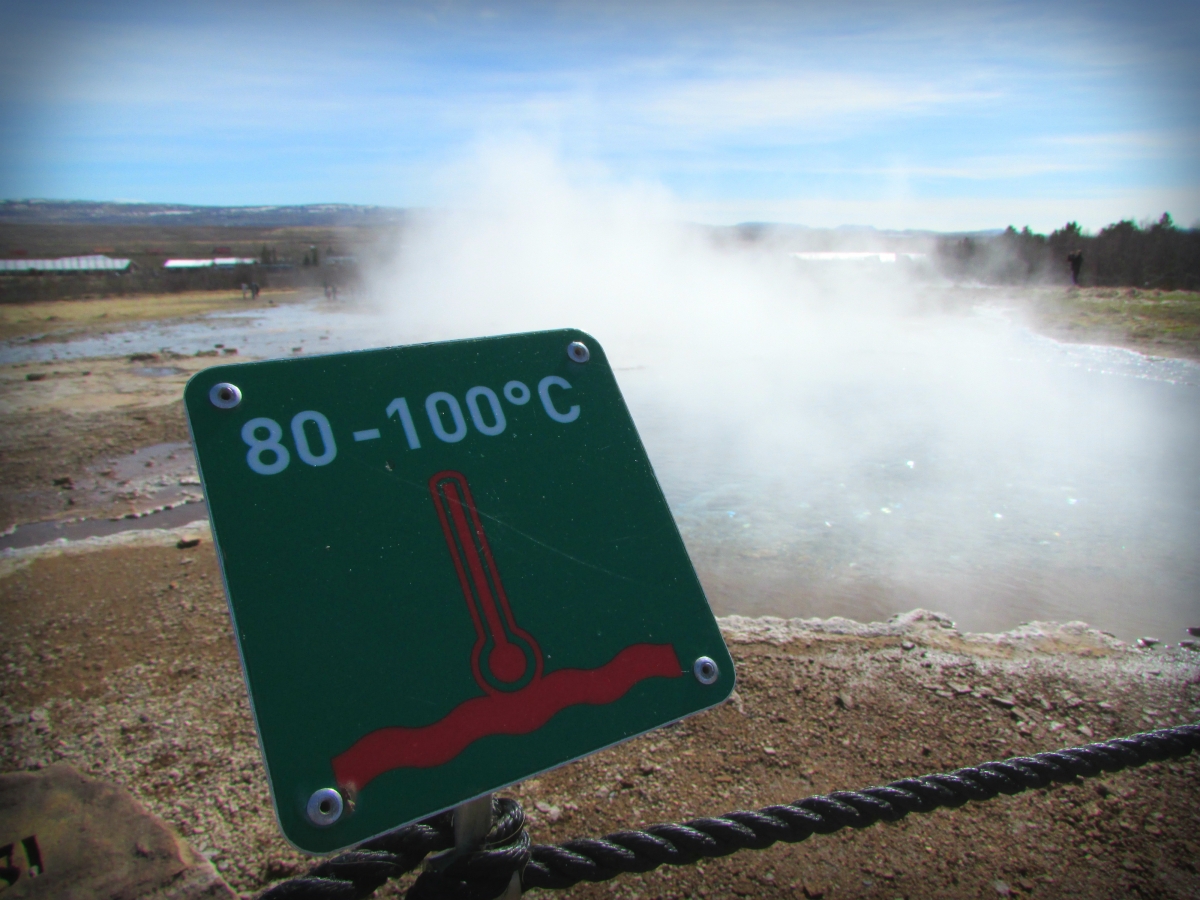 Geothermal pools in the Geysir valley. Photo: Carol Linnitt.
One of the more visibly active of Iceland's geothermal areas, the Geysir is teeming with tourist busses. [view:in_this_series=block_1]
I gather myself and head for Hveragerdi, a small town about 40 kilometres outside of Reykjavik that tourist brochures have named 'the geothermal village.'

The first thing you notice pulling into the small town off the highway are the rows and rows of greenhouses. On closer inspection you can see the glass structures are rimmed with thick pipes, drawing hot water from the ground into the houses to support a robust growing season all year round.

In July, Iceland's hottest month, the temperature averages 11 degrees Celsius, so the added warmth is critical to the country's success in growing plants year round.

On a Tuesday afternoon I stopped by Garðyrkjustöð Ingibjargar, the local garden centre, run by Ingibjorg Sigmundsdottir, that has been using geothermal heat in its greenhouses since the 1950s.

"I have been in this business for 35 years and have always used geothermal and my father before me," Sigmundsdottir said. "Since this town began to build up, it always used geothermal."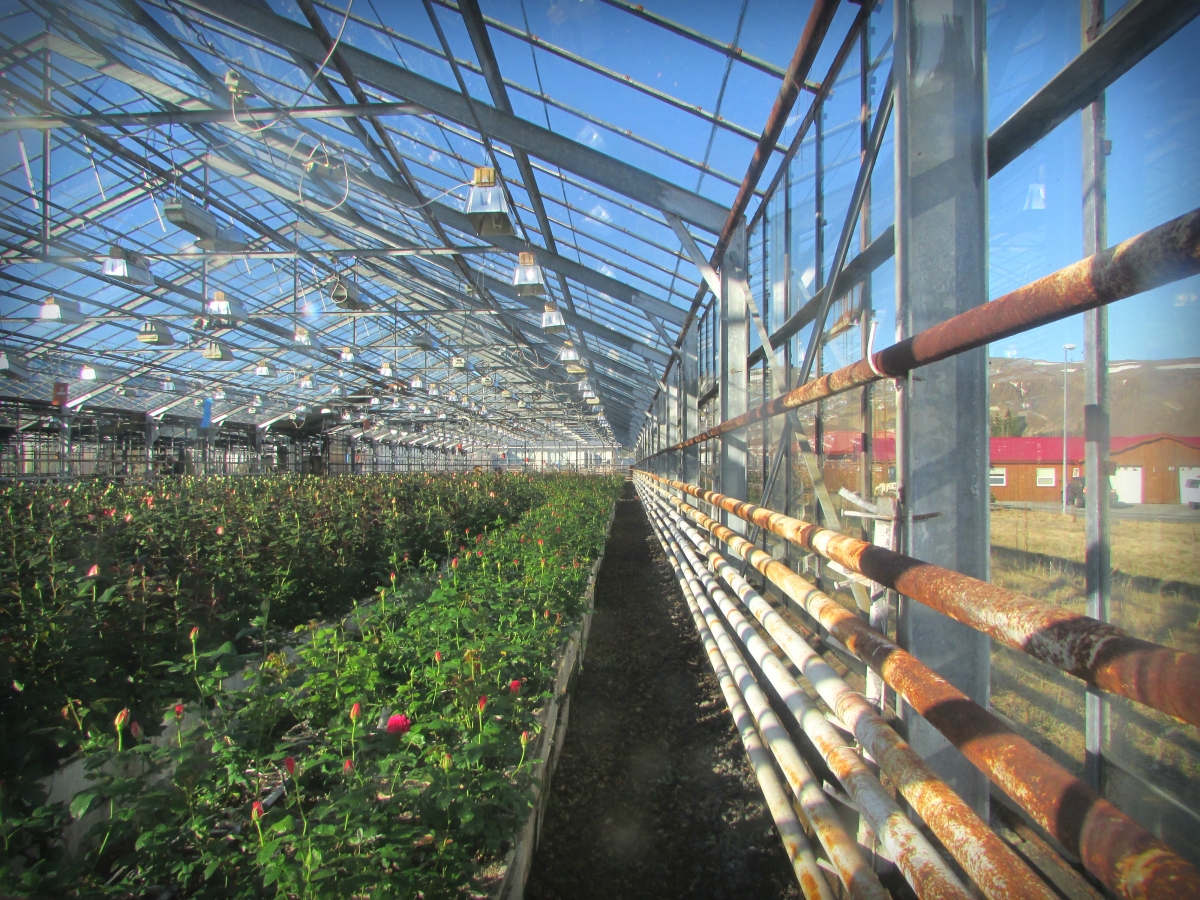 The geothermal greenhouses at Garðyrkjustöð Ingibjargar have been in operation since the 1930s. Photo: Carol Linnitt.

"In the middle of the town here we have a hot spring and we use steam to heat the houses," she said, adding sustainability is something people in Iceland value highly.

"We have very beautiful nature in Iceland and everyone takes very good care of the nature."

Although Iceland's vast geothermal resources have been in use since the time of the Vikings, for bathing and washing, it was in the 1930s when the nation embarked on an expensive experiment, pumping hot water through city infrastructure as a source of direct heat. Building on that success, geothermal heated greenhouses quickly followed.

Geothermal horticulture is essential to produce production in Iceland. I recently walked into a restaurant in downtown Reykjavik asking for that restaurant that uses produce grown in geothermal greenhouses. "Do you know the one I'm talking about," I asked a perplexed-looking hostess.

"Every restaurant in Reykjavik uses vegetables grown in geothermal greenhouses!" she replied.

Beyond plants and vegetables, Hvergardi also uses geothermal to manufacture the vast majority of Iceland's ice cream and heat underground ovens for baking bread. A common tourist pastime in the city's geothermal park is to consume an egg you've just boiled in a narrow nearby river.

Up beyond the small town centre, with a cup of coconut ice cream in hand (and after changing a flat tire — done before my ice cream melted I'll have you know!), I arrive at the base of Reykjadalur, or Smoke Valley, named for the multiple steaming geothermal vents along the hillside.

I start the hour hike in to the hot rivers above around 7:00pm, during the late sun of the day. Luckily, because of the high latitude, it won't be fully dark until around 11:00pm.

I climb the steep trail and round the shoulders of winding hills until I come to a wide open valley with a gentle, steaming river at its base. Jackpot.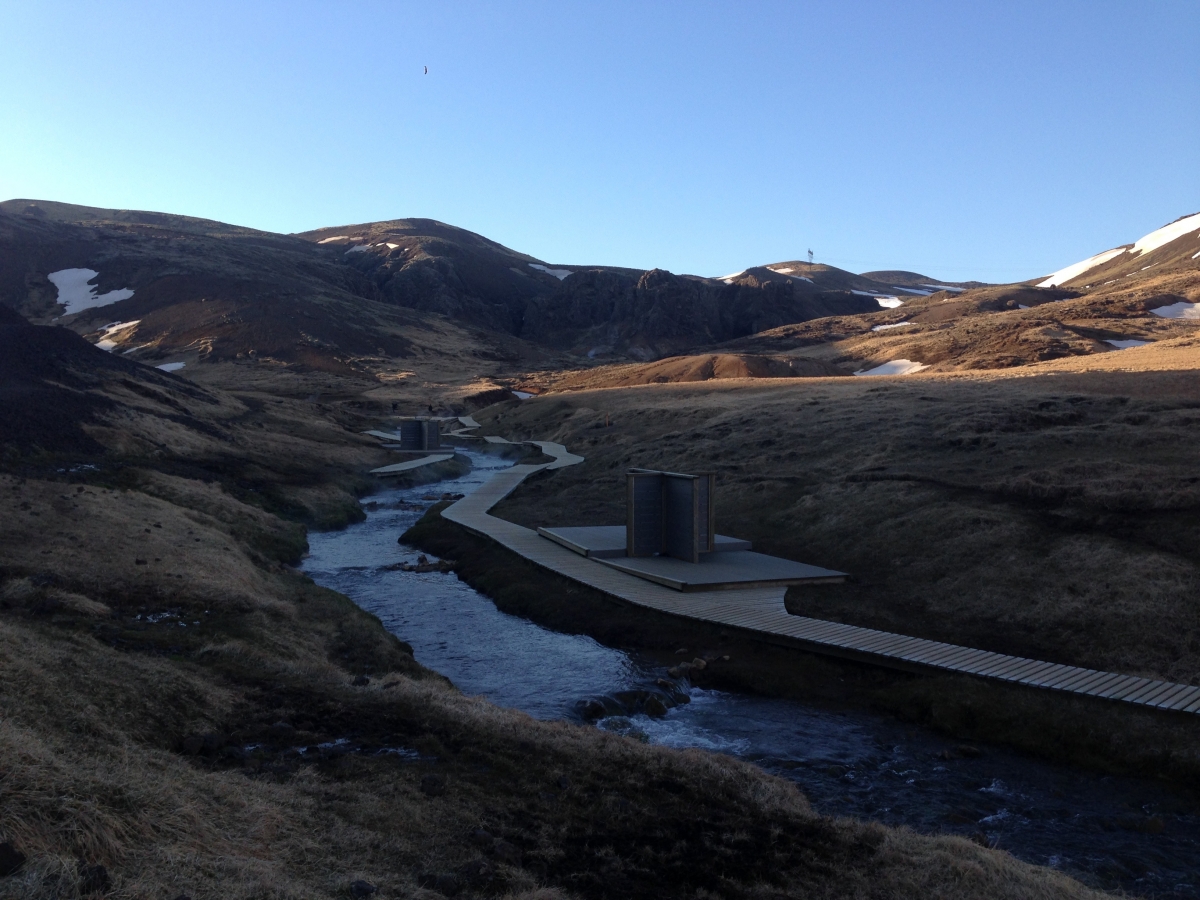 The hot river of Reykjadalur. Photo: Carol Linnitt.

I lingered in the hot water until about 10:00pm, just in time for a twilight hike back to the trailhead.

The next day as part of an envoy from the Iceland Geothermal Convention in Reykjavik, I board a bus and head out to Hellisheidi, the world's largest geothermal power station.

I had discovered the plant before on a previous excursion after noticing its immense steam release tracking through a mountain pass on the highway. I pulled off the road to take a closer look.

Although impressive from the outside, once inside the facility, where our group was welcomed by Pall Erland, the CEO of Orka Náttúrunnar (ON Power), Hellisheidi was a sight to behold.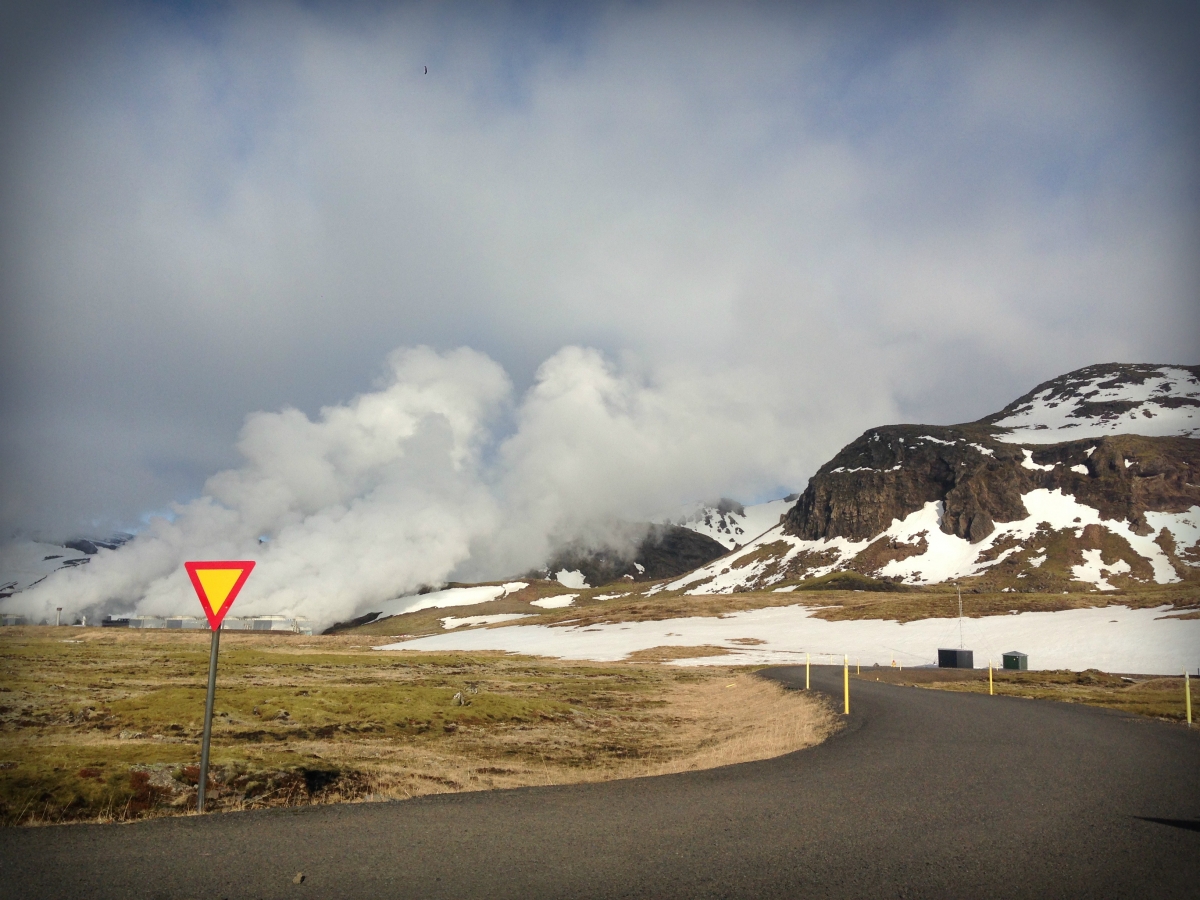 Steam rises from the Hellisheidi station in Iceland, the world's largest geothermal power plant. Photo: Carol Linnitt.

The plant, which generates 300 megawatts of electricity and 133 megawatts of thermal power, provides all of Reykjavik with direct district heating. It supplies half the population of Iceland with power, Erland said.

According to Reykjavik Energy, Iceland's power and utility company, the use of geothermal energy displaces 560 thousand tons of coal or 360 thousand tons of oil for heating the capital city each year. In the 100 years between 1914 and 2014, the use of geothermal and hydro power in Iceland prevented 250 million tons of carbon dioxide equivalent from entering the atmosphere, according to Orkustofnun, the country's National Energy Authority.

Hot water from Hellisheidi travels over 20 kilometres by pipeline to Reykjavik. One of the tour guides at the plant told my group the "ridiculous pants" on the pipelines were insulation, designed to minimize heat lost in the water during its trip to the city.

"It's around 83 degrees when it starts from this power plant and only looses one to two degrees on the way to the houses" in Reykjavik, Erland told me, "where it is used by half of the population of Iceland for heating houses, for industries, for swimming pools, even heated football fields."

"That's a new one," I laughed.

"We are blessed with a lot of hot water," Erland said. "So after being used in the houses the rest coming out around 35 degrees is an excellent hot water [source] to be used either to heat up streets, walkways, football or other sport fields. We even use the rest of it to go to a little beach in the summer where people can come and enjoy the sun and a little warmth from the seawater being heated up with geothermal."

"So," I replied, "I'm guessing Icelanders don't like shoveling snow."

"Well the modern Icelanders try to avoid it as possible and thanks to our renewable resources, we can easily use it for…making life easier," Erland said with a smile.

DeSmog Canada is currently in Reykjavik for the Iceland Geothermal Conference. To learn more about geothermal potential in Canada, read Canada Has Enormous Geothermal Potential. Why Aren't We Using it?