Canada's carbon emissions in 2020 will be 20% higher than Harper government's promised reductions under the 2009 Copenhagen Accord. More importantly, Canada's emissions will be 66% to 107% higher than what's actually required to do its share in meeting the 2C global warming target a new Environment Canada report revealed.
That is "significant progress" the report says without irony.
"We're getting results," claimed Environment Minister Leona Agglukaq when asked about the clear failure to meet the Copenhagen target in the House of Commons Thursday. This is a target Canada was more than half way to meeting the former Environment Minister Peter Kent claimed more than a year ago.
"The only real action on climate is increased PR by the Harper government," said John Bennett of the Sierra Club of Canada.
"While the rest of the world is trying to solve the climate crisis, this government is only interested in protecting the interests of the fossil fuel industry," Bennett told DeSmog Canada.
Survey after survey shows that Canadians overwhelmingly want action on climate but are misled by the government's propaganda that something is being done he said.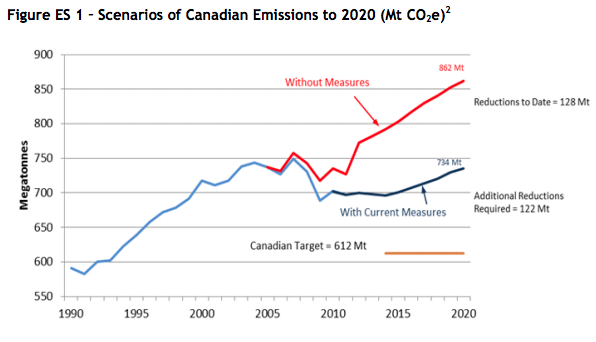 Emission scenarios from Environment Canada's October 2013 report.
The official Environment Canada emissions report shows the country's 1990 emissions were about 590 million tons. (Caveat: Canada has likely been under reporting its emissions according to an international investigation.) 1990 is the scientific and United Nations baseline year against which emission reductions are measured. Under the Kyoto Protocol, Canada agreed to reduce its emissions by 6% to 554 million tons (Mt) by 2012.
Actual emissions in 2011 were 24% higher than 1990.
In 2011 Canada became the first country in the world to renege on an international climate treaty.
Growth of the tar sands and natural gas sectors, almost all for export, will push Canada's emissions to 734 Mt in 2020. That number should be a lot higher if not for major reductions by cities and provinces, including Ontario closing all of its coal-fired power plants by 2014.
Scientists estimate that developed countries need to reduce their net carbon emissions by 25 to 40% by 2020 to have a good chance of keeping global warming to no more than 2C. No one considers 2C a safe level of warming.
For Canada to do its fair share, emissions in 2020 should be between 354 and 472 Mt. Instead, Canadian emissions will be 66-107% higher based on the Environment Canada's 2020 estimate.
"Climate Change is a global problem that requires a global solution. Canada, like the European Union, takes its commitments seriously and is doing its part," said Peter Kent, Environment Minister in a March 20, 2013 speech.
In 2012 the European Union reduced its emissions 18% from 1990 and will exceed 20% by 2020.
"Politicians are simply not telling the truth. You can't keep expanding the tar sands and meet the reduction target," Mark Jaccard an energy economist at Simon Fraser University previously told DeSmog.
Canada's obvious duplicity on the climate file is widely known at international levels. Will Canadians continue to allow government ministers to say '1+1 = 5?'
New title
You've read all the way to the bottom of this article. That makes you some serious Narwhal material.
And since you're here, we have a favour to ask. Our independent, ad-free journalism is made possible because the people who value our work also support it (did we mention our stories are free for all to read, not just those who can afford to pay?).
As a non-profit, reader-funded news organization, our goal isn't to sell advertising or to please corporate bigwigs — it's to bring evidence-based news and analysis to the surface for all Canadians. And at a time when most news organizations have been laying off reporters, we've hired eight journalists over the past year.
Not only are we filling a void in environment coverage, but we're also telling stories differently — by centring Indigenous voices, by building community and by doing it all as a people-powered, non-profit outlet supported by more than 2,900 members. 
The truth is we wouldn't be here without you. Every single one of you who reads and shares our articles is a crucial part of building a new model for Canadian journalism that puts people before profit.
We know that these days the world's problems can feel a *touch* overwhelming. It's easy to feel like what we do doesn't make any difference, but becoming a member of The Narwhal is one small way you truly can make a difference.
We've drafted a plan to make 2021 our biggest year yet, but we need your support to make it all happen.
If you believe news organizations should report to their readers, not advertisers or shareholders, please become a monthly member of The Narwhal today for any amount you can afford.