Canada's largest World Heritage Site is under threat from unfettered oilsands development and hydro dams on the Peace River — where the B.C. government is now planning to build the massive Site C dam — says a hard-hitting report by a United Nations agency.
While contaminants from the oilsands are affecting water and air quality, water flows through Wood Buffalo National Park are being strangled by dams, according to the highly critical report by the UNESCO World Heritage Centre and International Union for Conservation of Nature
The report warns that, if there is not a "major and timely" response to its recommendations the organization will recommend that Wood Buffalo National Park be included in the list of World Heritage in Danger, a list usually reserved for sites in war-torn countries or those facing other disasters.
The park, made up of 4.5 million hectares of boreal plains in northern Alberta and the southern Northwest Territories, has been affected by decades of massive industrial development along the Peace and Athabasca Rivers, along with poor management and lack of overall consideration of the effect of projects, it says.
"The scale, pace and complexity of industrial development along the critical corridors of the Peace and Athabasca Rivers is exceptional and does not appear to be subject to adequate analysis to underpin informed decision-making and the development of matching policy, governance and management responses," says the executive summary, which adds that the park is also subject to the additional stress of climate change.
If the development approach of the last decades continues, the future of Wood Buffalo National Park is uncertain at best and several current project proposals add severity and urgency to the message, says the report, which singles out Site C and the Teck Frontier project, which would bring oilsands development closer to the southern boundary of the park and encroach on the habitat of the Ronald Lake Wood Bison Herd.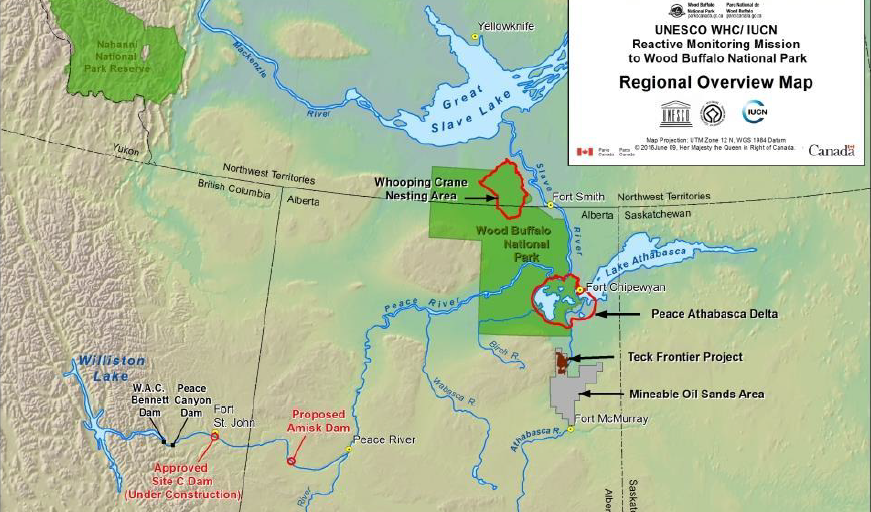 Map of threats to Wood Buffalo National Park from UNESCO report.
The park is home to the largest free-ranging buffalo herd in the world and includes the only known breeding ground for endangered whooping cranes.
UNESCO inspectors concluded that oilsands development near the park is affecting the water, land and air while putting human health at risk.
"There is long-standing, conceivable and consistent evidence of severe environmental and human health concerns based on both western science and local and indigenous knowledge," it says, pointing to evidence that toxins such as mercury are showing up in fish and bird eggs.
The report includes 17 recommendations, including working more closely with First Nations, better monitoring of the Peace-Athabasca Delta, a systematic risk assessment of tailings ponds and strengthening of Parks Canada's conservation focus and management of the park.
UNESCO also wants to see an environmental and social impact assessment of the Site C dam.
"The time is now to finally give this project the scrutiny it deserves and to establish a basis for informed and balanced decision-making still currently lacking," says the report.
Galen Armstrong, Peace Valley coordinator for the Sierra Club of B.C., said the damning report demonstrates that government should never have approved Site C.
"Sierra Club B.C. is calling on the Trudeau government to suspend its approval of Site C and order an immediate halt to construction, while Canada assesses the report's recommendations and implements changes," he said.
B.C. Hydro said in a statement that it was disappointing that the report ignored Site C facts.
"It's unfortunate that the WHC/IUCN report chose to ignore details about the federal-provincial environmental assessment process for Site C. By doing so, the report presents an incomplete picture of Site C and the Peace Athabasca Delta," says the statement.
The park was visited last fall by UNESCO inspectors after a 2014 petition from the Mikisew Cree First Nation.
Melody Lepine, who led the Mikisew petition, said the report confirms what Mikisew elders have been saying for years.
"Canada may have ignored the Peace-Athabaska Delta and the Mikisew Cree in the past, but now the world will be watching. It's time for Canada to start working with us to protect the Delta," Lepine said.
Environment Minister Catherine McKenna said in a statement that the report represents a call to action that will require collaboration between all levels of government, engagement with First Nations and consultations with industry.
"And it will need to include the best available science and the traditional knowledge of our indigenous communities," she said.
Meanwhile, members of the Mikisew Cree and non-profit groups are hoping the report and McKenna's response will mean a change of direction.
Candace Batycki, Yellowstone to Yukon Conservation Initiative program director, said it's ironic the report has been delivered the same year Canada celebrates its 150th birthday by providing free access to national parks.
"Will Wood Buffalo National Park remain an object of national pride or will it become a symbol of the impacts runaway development and disrespect for indigenous lifeways have on nature and culture?" she asked in a news release.
"Only strong leadership and action can prevent an international embarrassment."
Photo: Salt flat by Agenta Magenta via Flickr
New title
You've read all the way to the bottom of this article. That makes you some serious Narwhal material.
And since you're here, we have a favour to ask. Our independent, ad-free journalism is made possible because the people who value our work also support it (did we mention our stories are free for all to read, not just those who can afford to pay?).
As a non-profit, reader-funded news organization, our goal isn't to sell advertising or to please corporate bigwigs — it's to bring evidence-based news and analysis to the surface for all Canadians. And at a time when most news organizations have been laying off reporters, we've hired eight journalists over the past year.
Not only are we filling a void in environment coverage, but we're also telling stories differently — by centring Indigenous voices, by building community and by doing it all as a people-powered, non-profit outlet supported by more than 2,500 members. 
The truth is we wouldn't be here without you. Every single one of you who reads and shares our articles is a crucial part of building a new model for Canadian journalism that puts people before profit.
We know that these days the world's problems can feel a *touch* overwhelming. It's easy to feel like what we do doesn't make any difference, but becoming a member of The Narwhal is one small way you truly can make a difference.
We've drafted a plan to make 2021 our biggest year yet, but we need your support to make it all happen.
If you believe news organizations should report to their readers, not advertisers or shareholders, please become a monthly member of The Narwhal today for any amount you can afford.