In the coming months, European Union environment ministers are set to vote on the proposed Fuel Quality Directive (FQD), which would label tar sands oil as 'dirty' because of its higher GHG emissions in comparison to other fuels, bringing the Harper government and Alberta's years-long lobbying against the law to a decisive point.
As Jason Fekete writes for Postmedia News, this is "a critical few months for the future of Canada's oilsands industry and the environmental movement that has targeted the development."
It's hardly surprising that two senior Alberta government ministers depart Saturday "for a weeklong trip to Europe to trumpet what they say is Alberta and Canada's solid environmental credentials, and have EU countries reject a proposal that would "discriminate" against oilsands-derived fuels," as Postmedia News reports.
Canada has been actively fighting the EU proposal for years now for its labelling of tar sands oil as leaving an especially high carbon footprint. A July 2011 report by environmental group Friends of the Earth Europe documented over 110 lobbying events organized by the Canadian government on the tar sands and FQD between 2009 and 2011.
For example, in October 2011, Natural Resources Minister Joe Oliver wrote to the EU Commissioner for Energy, Gunther Oettinger, warning that "if unjustified, discriminatory measures to implement the FQD are put in place, Canada will not hesitate to defend its interests."
In December 2011, David Plunkett, Canadian Ambassador to the EU, wrote to European Commissioner for Climate Action Connie Hedegaard saying that "Canada will not accept oil sands crude being singled out in the Fuel Quality Directive." He added that the Canadian government would "explore every avenue at its disposal to defend its interests, including the World Trade Organisation."
Hedegaard has called the FQD a "science-based and non-discriminatory proposal," and stressed that "studies on the lifecycle GHG intensity of various fuels have been conducted" for it, in a 2011 letter to Minister Oliver.
A 2013 briefing by Friends of the Earth Europe details more recent instances of Canada's lobbying for the tar sands in Europe, including sending two Albertan government ministers on tour in Europe this January to hand out fliers assuring the 11 countries visited that Canada was showing "global leadership in the fight against climate change" despite leaving the Kyoto Protocol and pushing for the tar sands.
The aggressive lobbying efforts by Canada and its EU supporters like the UK have continued unabated since reduction targets were decided on in 2009, forcing the European Commission to undertake an Impact Assessment on the FQD and delaying the vote on the proposal from June 2012 to later this year.
"It has got to be fair, it can't be discriminatory, and it should be based on the facts and the science – and this is not. This is my definition of bad policy," Minister Joe Oliver said of the FQD in an interview last Friday.
Oliver made a similar claim that the proposal "is not based on science and so discourages disclosures and will not achieve its stated objectives," last month in an email to the Canadian Press.
The repeated refrain from the Canadian government that the FQD is not scientific doesn't address the fact that the proposal is based on a 2011 Stanford University study commissioned by the European Commission. The study found that average lifecycle GHG emissions from tar sands oil are 23 per cent higher than conventional fossil fuels.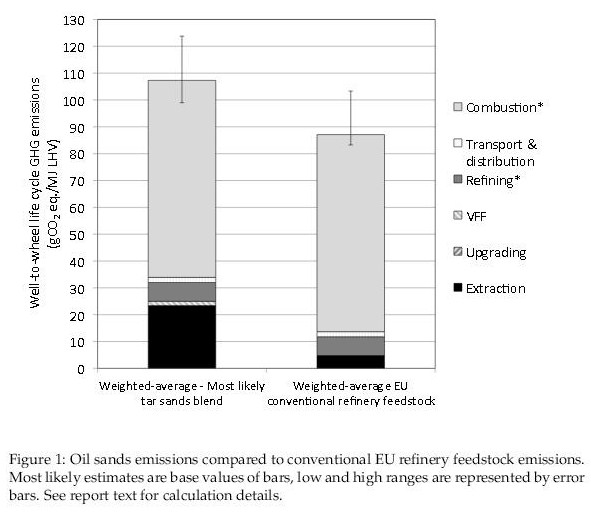 Image: 'Upstream greenhouse gas (GHG) emissions from Canadian oilsands as a feedstock for European refineries,' by Adam R. Brandt.
Since then, research by NGO Oil Change International has indicated that emissions from tar sands oil could be even higher than thought before, because of emissions released by the burning of tar sands refinery byproduct petroleum coke, or petcoke, which is also used as a cheap fuel.
According to the Stanford study, "GHG emissions from oil sands production is significantly different enough from conventional oil emissions that regulatory frameworks should address this discrepancy with pathway-specific emissions factors that distinguish between oil sands and conventional oil processes."
The Pembina Institute also published a June 2013 report confirming that "average oilsands production is significantly more GHG-intensive than conventional oil production," and calling tar sands GHG emissions "the fastest growing source of climate change pollution in Canada."
The FQD sets a mandatory six percent reduction in GHG emissions from transport fuel suppliers by 2020, and assigns default emission values to different fossil fuel feedstocks (the raw material from which the fuels are made).
Tar sands oil production requires more energy than conventional fossil fuels because of its extraction and refining process from bitumen. Because of this, the FQD would give tar sands oil a higher default emission value, making it unattractive to European fuel suppliers, who would be hit with financial penalties and higher carbon offsets if importing it.
The Harper government's plan of making Canada a global energy superpower by opening up the tar sands oil reserves via international trade would be adversely affected by the FQD, which guarantees that the federal government and the Albertan oil industry will continue lobbying against it, and for the tar sands, in full force in the months to come.
Postmedia News reports that EU environment ministers are set to vote on the FQD in mid-October or mid-November. If approved, the proposal would need to be ratified by the European Parliament in 2014.
Image Credit: Pembina Institute / Flickr

New title
You've read all the way to the bottom of this article. That makes you some serious Narwhal material.
And since you're here, we have a favour to ask. Our independent, ad-free journalism is made possible because the people who value our work also support it (did we mention our stories are free for all to read, not just those who can afford to pay?).
As a non-profit, reader-funded news organization, our goal isn't to sell advertising or to please corporate bigwigs — it's to bring evidence-based news and analysis to the surface for all Canadians. And at a time when most news organizations have been laying off reporters, we've hired eight journalists over the past year.
Not only are we filling a void in environment coverage, but we're also telling stories differently — by centring Indigenous voices, by building community and by doing it all as a people-powered, non-profit outlet supported by more than 2,500 members. 
The truth is we wouldn't be here without you. Every single one of you who reads and shares our articles is a crucial part of building a new model for Canadian journalism that puts people before profit.
We know that these days the world's problems can feel a *touch* overwhelming. It's easy to feel like what we do doesn't make any difference, but becoming a member of The Narwhal is one small way you truly can make a difference.
We've drafted a plan to make 2021 our biggest year yet, but we need your support to make it all happen.
If you believe news organizations should report to their readers, not advertisers or shareholders, please become a monthly member of The Narwhal today for any amount you can afford.