An investigation by The Narwhal reveals that industry and related groups, primarily from the oil and gas industry, are responsible for more than 80 per cent of Senate lobbying on Bill C-69, Canada's proposed new environmental assessment law.
In contrast, just 13 per cent of Senate and Senate staff lobbying was conducted by environmental groups and four per cent was carried out by one First Nation.
Twenty-nine groups representing industry, business and related associations registered to lobby the government specifically about Bill C-69, which introduces new rules for reviewing major projects like mines and pipelines following the gutting of environmental assessment legislation by the former Stephen Harper government.
Of these groups, 21 went on to have 224 meetings with individual Senate members over a 16-month period beginning when Bill-C-69 was first introduced in February 2018. (To read more about how The Narwhal conducted this analysis, read our methods at the end of the article).
The unelected Senate has become a potential show-stopper for Bill C-69, which would make updates to Canada's environmental assessment laws promised by Prime Minister Justin Trudeau during the last election campaign. The bill was supported by four out of five political parties in the House of Commons.
Normally the Senate would readily approve legislation backed by a majority of MPs. But last Thursday, in a rare move that tests the limits of its power, the Senate passed Bill C-69 with 187 sweeping amendments that experts say would leave Canada with weaker environmental assessment laws than those introduced by the Harper government.
Many of the Senate's amendments mirrored requests, some word for word, from oil companies and related associations such as the industry lobby group Canadian Association of Petroleum Producers (CAPP).
CAPP, which has issued press releases and written op-eds condemning the original Bill C-69, has lobbied 36 senators since Bill C-69 was introduced, some of them on multiple occasions, according to The Narwhal's findings.
Only three environmental groups specifically listed Bill C-69 as a target for their government lobbying — the Quebec Centre for Environmental Law, West Coast Environmental Law and the Pembina Institute, a Canadian non-profit think tank focused on energy issues.
Those three groups had a total of 36 meetings over the 16-month period beginning when Bill-C-69 was first introduced by federal Environment Minister Catherine McKenna in February 2018.
Foreign ownership of Canada's oil industry
Kevin Taft, a former Alberta MLA and former leader of Alberta's Liberal Party, said he's not at all surprised that the oil industry has "massively outspent and out manoeuvred and out lobbied everybody else" on Bill C-69 — and Bill C-48, which would formalize a 30-year-old moratorium on large oil tanker traffic off B.C.'s north coast.
Taft said he's struck by what he called an"Orwellian twist" and irony that Alberta Premier Jason Kenney faults "foreign-funded" environmental groups for influencing bills C-69 and C-48 when the oil industry has played a far larger role in lobbying. The oil industry, Taft said, is largely foreign-funded even though it's based in Calgary.
Last Friday, when Kenney announced his "energy war room," he repeated a now-familiar refrain from his campaign that environmental groups are behind a "campaign of lies and defamation" against the province's energy industry.
Kenney, flanked by oil and gas industry representatives including the CEO of CAPP, Tim McMillan, told reporters that the "tar sands campaign" launched by environmental groups "helped to write two devastating federal bills — C-48, the ban on Alberta oil exports off our northern coast, and Bill C-69, what we call the No More Pipelines Law."
Taft pointed out that Imperial Oil is owned by Texas-based Exxon Mobil Corp., while Canadian Natural Resources Limited trades largely on foreign stock exchanges.
China is also heavily invested in Canada's oil industry. Calgary's Nexen Energy is now owned by China National Offshore Oil Corporation's (CNOOC) international division. And Chinese-owned Sinopec Oilsands Partnership — the biggest oil company in the world ranked by revenue — owns nine per cent of Syncrude, while CNOOC acquired seven per cent of Syncrude through its acquisition of Nexen.
Then there's Husky Energy Inc., one of the largest oil companies operating in Alberta. The majority stake in Husky is controlled by the family of Hong Kong's richest man, recently retired billionaire Li Ka-shing, who holds approximately 70 per cent of the company's shares.
Oil industry spends 'millions' a year on lobbying and PR campaigns
Laurie Adkin, a political science professor at the University of Alberta, said to imply that the oil and gas industry is the victim of propaganda and the environmentalists have all the power is "an inversion of what we know factually."
"The reality is that the oil and gas industry has huge resources to lobby and finance public information campaigns, advertising … departments dedicated to engaging in government relations, digital communications, preparation of submissions for inquiries and consultations of various kinds," she told The Narwhal.
"We know that they spend millions of dollars a year on this."
Adkin noted that environmental lawyers say the government's original version of Bill C-69 is weak, pointing out that it doesn't go far enough to reverse the Harper government's deregulation and protect the health of Canadians and biodiversity, or to address the climate change effects of Canada's extractive industries.
The oil and gas industry views Bill C-69 and Bill C-48 as "obstructions" to building pipelines and expanding the oilsands, Adkin said. "So they are investing a lot in defeating them and modifying them."
Oil industry has a 'grip on the throat of democracy'
"It's not a coincidence that five members of Jason Kenney's cabinet, including the energy minister, are from the oil industry," said Taft, author of the book Oil's Deep State, which examines why democratic governments have failed to take serious steps to reduce carbon emissions despite compelling evidence of the growing threat posed by the climate crisis.
In addition to Sonya Savage, Alberta's energy minister, at least four other ministers in Kenney's cabinet list extensive oil and gas experience in their government biographies.
Taft said the oil industry has "got a grip around the throat of democracy in Canada" and that he believes that anybody who thinks the Alberta government is looking after the best interests of Albertans is mistaken.
"The Alberta government is looking after the best interests of the oil industry and that's because the oil industry has such a tight grip on most of the democratic institutions in this province. And they are working hard and deliberately to tighten that grip nationally through the Conservative party, for example, whose senators are bringing forward legislative amendments written word for word by the industry."
"Those should be ringing loud alarm bells for every Canadian," Taft said. "When we have a rich, powerful, foreign-controlled industry drafting our legislation for us we have a real problem with democracy in Canada."
Industry lobbies government 16 times more than environmentalists
At press time, the full House of Commons was poised to debate a motion to accept about one-third of the Senate's amendments and reject about two-thirds. Once the amended bill is approved by a majority of MPs it will return to the Senate for consideration, likely next week.
The Narwhal's investigation reveals industry and related groups had far more access to politicians than environmental groups did, even before the bill reached the Senate.
In addition to tallying lobbying of the Senate, The Narwhal also looked at the total number of lobbying meetings with all government officials reported by groups registered to lobby on Bill C-69. This includes senators, members of parliament, the prime minister's office and all other public office holders. These reports span a 12-month period.
Because the communications reports that document meetings do not specify the content of the lobbying effort, we couldn't verify that each of these meetings directly included Bill C-69, though each group had included the bill in their lobbyist registration.
The Narwhal's analysis found that industry and associated groups registered to lobby on Bill C-69 had 945 meetings with government officials in a 12-month period.
The Canadian Association of Petroleum Producers (CAPP) alone reported more than 100 meetings during this time period.
In its lobbyist registration, CAPP listed — among a myriad of other topics — what it described as a "grassroots lobbying campaign to ask Senators to make sure [Bill C-69] does not pass as it stands today" as one of its lobbying activities.
Elisabeth Besson, a spokesperson for CAPP, declined to answer specific questions but told The Narwhal by email "CAPP seeks to work collaboratively with governments to meet a common goal — protect the environment, responsibly grow oil and natural gas production and strengthen the economy. We appreciate opportunities to submit comments or participate in working groups to provide our expertise, along with other key stakeholders, on a given topic."
Taft said "for practical purposes" oil companies have unlimited resources for lobbying.
"They count their dollars by the billions whereas environmental groups count them by the thousands," he said. "It's a complete and utter mismatch."
"Organizations and corporations lobby because it's effective," Taft said, adding that lobbying is "only one small component" of the oil industry's broader strategy.
"It's a strategy that, in addition to lobbying, includes advertising, legal threats, massive political donations … [and] overt political organization," Taft told The Narwhal.
By comparison, environmental groups registered to lobby on C-69 held 58 meetings with government officials — about six per cent of the lobbying done by industry-related groups.
Indigenous groups registered to lobby on C-69 filed a total of seven communications in the same period.
Not all industry groups oppose the bill. The Mining Association of Canada has supported Bill C-69 since it was introduced, saying it would provide more certainty and is an improvement over existing legislation. The association's CEO, Pierre Gratton, told CBC that metal and minerals mines account for more than half of current environmental assessments.
Industry is 'in the driver's seat'
David Hughes, an earth scientist who has studied the energy resources of Canada and the U.S. for more than four decades, said The Narwhal's analysis clearly show "industry is in the driver's seat."
"The industry's been incredibly successful in ramping up production, which is why we have a pipeline bottleneck," Hughes said in an interview.
"If the environmental groups are lobbying to reduce production and leave it in the ground they're incredibly unsuccessful."
Oilsands production increased 376 per cent from 2000 to 2018, according to Hughes, who spent 32 years with the Geological Survey of Canada as a scientist and research manager.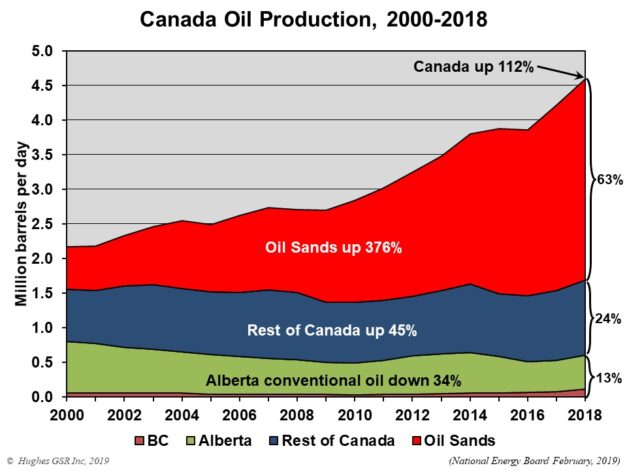 Oil production in the rest of Canada increased 45 per cent over the same time period, he said, while conventional oil production in Alberta dropped by 34 per cent.
Canada's net oil exports have increased by 515 per cent since 2000, Hughes pointed out, adding that "environmental groups have been very ineffective."
As overall oil production has climbed, royalties to government have plummeted — by almost 60 per cent, or $9.5 billion, from 2000 to 2017, according to Hughes.
'Very big disproportionality'
University of Victoria sociologist Bill Carroll, whose research focuses on the relationships between corporate power, fossil fuel capitalism and the climate crisis, said The Narwhal's findings are consistent with patterns traced by the Corporate Mapping Project he co-directs.
"What Jason Kenney says is not only untrue in terms of the specific details of Bill C-69 but it doesn't fit the actual reality of lobbying in a larger time frame," Carroll said in an interview.
Funded by the Social Sciences and Humanities Research Council, the mapping project — a partnership of several universities and civil-society organizations — examined fossil fuel sector lobbying of federal agencies and public office holders from early 2011 to early 2018.
That research showed that 260 fossil fuel companies and carbon-sector industry associations, such as the Canadian Association of Petroleum Producers and Canadian Energy Pipeline Association, lobbied the federal government over that time period, registering more than 11,000 distinct lobbying contacts.
Those lobbying contacts were concentrated among a small number of those 260 organizations, with the top 20 organizations accounting for 88 per cent of all lobbying, Carroll said. Those included CAPP, Enbridge, Suncor and TransCanada Corp (now known as TC Energy).
By comparison, over the same seven-year period, 16 environmental groups were active in lobbying at the federal level, Carroll said. "Their total lobbying contacts amounted to one-fifth of what the fossil fuel sector was doing. So a very big disproportionality there."
The most active environmental group was the Canadian Parks and Wilderness Society, with 628 lobbying contacts. Other top environmental lobbyists were Environmental Defence, Pembina, Nature Canada, Ducks Unlimited and the David Suzuki Foundation, Carroll said.
Fossil fuel companies and associations are lobbying in an effort to shape legislation and policy "in ways that maximize their profitability" as part of business strategies, he noted.
"There's an ongoing strategic concern to shape policy, to in a sense bombard policy makers — including senior civil servants and politicians — with a lot of information in an on-going, really permanent campaign in which the voice of industry is dominant."
'Tactical' lobbying
When a specific piece of legislation like Bill C-69 is introduced, a "lobbying window" opens up and lobbying takes on a more "tactical aspect," according to Carroll.
Speaking to CBC this week, Cenovus CEO Alex Pourbaix characterized his industry's involvement with Bill C-69 and subsequent amendments as an "almost unprecedented effort with government."
Rick Petersen, founder of the group Suits and Boots, penned a strategy for killing Bill C-69 in the Senate. Suits and Boots describes itself as a "grassroots organization" of 3,700 members, founded in April 2018 by a group of investment community colleagues (the 'suits') who support the working families of the resource sector (the 'boots').
Petersen wrote that only 48 Senate votes were needed to kibosh the bill.
He theorized that the 31 Conservative Senators "will all very likely oppose C-69." So only an additional 17 votes would be needed from the remaining 64 sitting senators, Petersen wrote on the Suits and Boots website, which published a list of senators people could call to "kill Bill C-69."
Of the sitting non-Conservative senators, 11 are Liberal, 45 are independent and eight are non-affiliated.
CAPP's Senate lobbying on Bill C-69 reflected the strategy outlined by Petersen. Of the 37 senators lobbied by CAPP since February 2018, only approximately a fifth were Conservative senators — eight in total, including one senator who retired in August 2018.
The majority of senators CAPP targeted for lobbying — 24 in total — were independents. CAPP also targeted two Liberal senators and two non-affiliated senators.
Suits and Boots is a non-profit organization that lists neither its total funding nor its funding sources, although its website solicits donations from "individual grassroots supporters." The website says the group received "early support" from corporations that include Canoe Financial and Petersen Capital.
As part of the group's campaign targeting the Senate, launched last October, Suits and Boots hired an airplane to fly over Parliament Hill trailing a huge banner for all to see.
The message was clear: "Kill Bill C-69."
*Updated 9:20 a.m. June 14, 2019, to add the word 'net' to this sentence: Canada's net oil exports have increased by 515 per cent since 2000, Hughes pointed out, adding that "environmental groups have been very ineffective."
Research methods

Wondering how exactly we conducted this analysis?
First we wanted to hone in on the lobbying of the Senate — which was crucial in gutting Bill C-69 — so we tallied the number of lobbying efforts that specifically targeted the Senate.
To do this, The Narwhal scoured the federal lobbyist registry for all registrations that specifically named "C-69," dating back to February 8, 2018, when federal Environment Minister Catherine McKenna introduced the bill.
We then tallied the number of monthly lobby communications reports — communications reports are filed whenever there's a pre-planned face-to-face meeting, a phone call or any other verbal communication with a member of parliament, senator or other government official — associated with those registrations, including only those that involved the Senate.
We then categorized each lobbyist into one of the categories: industry and related groups, Indigenous groups and environmental groups. A couple of lobbyists, such as Alberta Barley and the Alberta Wheat Commission, were grouped into the "other" category as they appear to be primarily lobbying on agricultural, rather than industry-related, interests.
While we can't verify the precise content of individual lobby efforts (the communication reports contain only vague subjects, such as "environment" or "energy"), we can identify which groups lobbied Senate members the most extensively in the 16 months after Bill C-69 was introduced. It's important to note that The Narwhal only searched for lobbyist registrations that specifically named Bill C-69 — other lobbying activities on Bill C-69 may have taken place without specifically naming the bill.
Second, we wanted to get an idea about lobbying of all government officials. To do this, we used the federal lobbying registry's 12-month tool to compile all communications reports tied to lobbying registrations that specifically named Bill C-69.
We again searched for registrations that specifically named C-69, then tallied communications reports and grouped them using the same categories.
New title
You've read all the way to the bottom of this article. That makes you some serious Narwhal material.
And since you're here, we have a favour to ask. Our independent, ad-free journalism is made possible because the people who value our work also support it (did we mention our stories are free for all to read, not just those who can afford to pay?).
As a non-profit, reader-funded news organization, our goal isn't to sell advertising or to please corporate bigwigs — it's to bring evidence-based news and analysis to the surface for all Canadians. And at a time when most news organizations have been laying off reporters, we've hired eight journalists over the past year.
Not only are we filling a void in environment coverage, but we're also telling stories differently — by centring Indigenous voices, by building community and by doing it all as a people-powered, non-profit outlet supported by more than 2,900 members. 
The truth is we wouldn't be here without you. Every single one of you who reads and shares our articles is a crucial part of building a new model for Canadian journalism that puts people before profit.
We know that these days the world's problems can feel a *touch* overwhelming. It's easy to feel like what we do doesn't make any difference, but becoming a member of The Narwhal is one small way you truly can make a difference.
We've drafted a plan to make 2021 our biggest year yet, but we need your support to make it all happen.
If you believe news organizations should report to their readers, not advertisers or shareholders, please become a monthly member of The Narwhal today for any amount you can afford.