There is steel behind Kathryn Teneese's smile as she describes her nation's unwavering commitment to continue fighting against plans for a European-style ski resort in the remote valleys of the Purcell Mountains — the Ktunaxa Nation's spiritual centre.
Jumbo and Toby Creek watersheds, where Glacier Resorts Ltd. hopes to build the billion-dollar Jumbo Glacier Resort, is known to the Ktunaxa as Qat'muk ­— the place where the Grizzly Bear Spirit was born, goes to heal itself and returns to the spirit world. The Grizzly Bear Spirit provides guidance, strength and protection for Ktunaxa people.
To Teneese, chair of Ktunaxa Nation Council, the nation's spirituality is intrinsically tied to Qat'muk and it is unthinkable that the sacred place could house 23 ski lifts, lodges and condominiums.
"In our opinion, it's a monstrosity. There's no reason for its existence."
But, following an application for a judicial review of the province's approval of the project, the B.C. Supreme Court ruled in April that the consultation process was reasonable and the resort would not substantially interfere with Ktunaxa spiritual beliefs and practices.
That decision is now being appealed by the Ktunaxa, with a court date likely to be set for early next year, and hopes are high that the legal climate has changed following the Supreme Court of Canada Tsilhqot'in decision, which recognized aboriginal title.
There is also the matter of human rights, said Teneese.
"We have the right to have our spirituality exist side-by-side with Christianity, Buddhism and whatever else exists in the world," she said.
The passion comes not only from conviction that the area must be protected for its spiritual value, but also environmental concerns, including protection of grizzly bear habitat, Teneese said.
People are welcome to go in and enjoy the area, but the Ktunaxa will never agree to permanent structures, Teneese emphasized.
"When you destroy something pristine, it changes it forever. Why do they want to build there and destroy what people wanted to enjoy in the first place?" she asked.
Glacier Resorts Argues Grizzly Bear Spirit Wasn't Mentioned for 20 Years
However, Glacier Resorts argues on its website that for the first 20 years of negotiations, despite Ktunaxa participation, no mention was made of the Grizzly Bear Spirit and the first reference was the 2010 Qat'muk Declaration proclaiming a refuge area where no permanent development would be allowed.
Spiritual beliefs are usually kept private because of the history of residential schools and government efforts to stamp out indigenous culture, Teneese responded.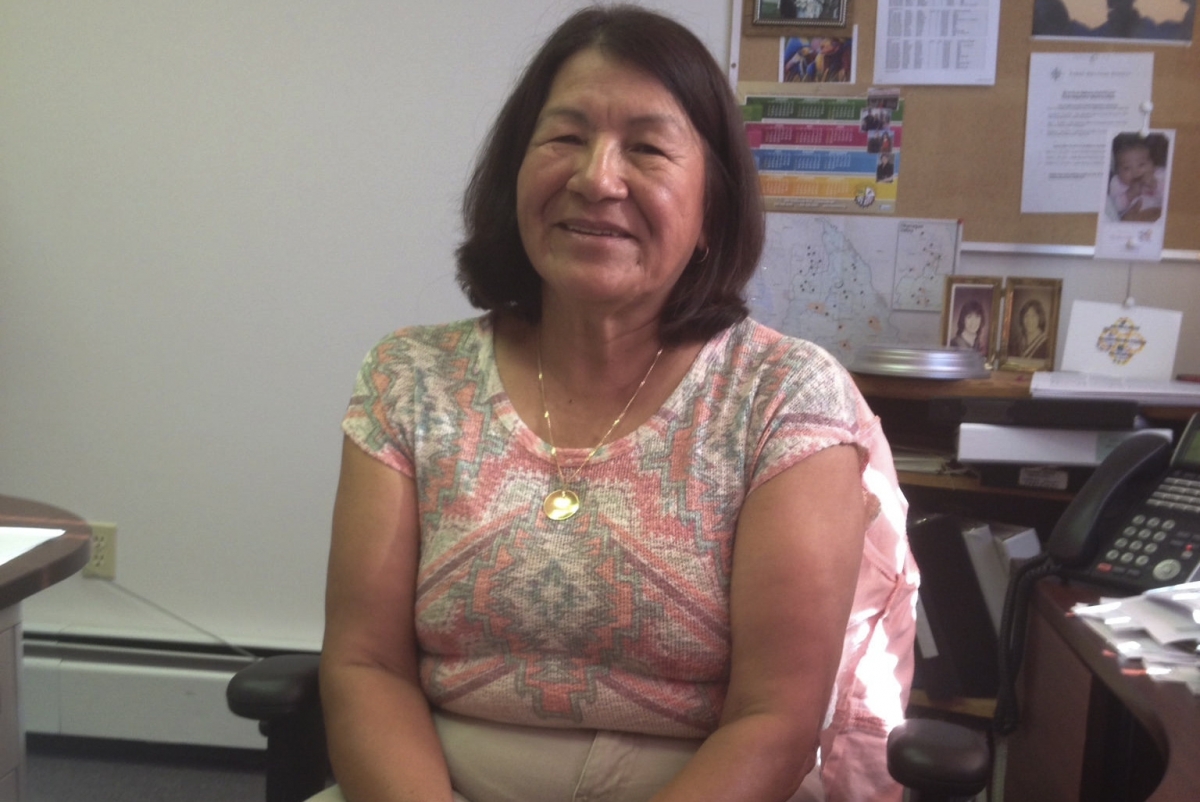 Kathryn Teneese, chair of Ktunaxa Nation Council. Photo by Judith Lavoie.
Glacier's website "Before Qat'muk" has drawn the ire of Columbia River-Revelstoke MLA Norm Macdonald who, in a letter to the Environmental Assessment Office, said the website makes fun of Ktuxana claims and pits one First Nation against another.
"These are not actions that indicate a willingness to have respectful dialogue or consultation," he wrote.
Shuswap Indian Band Supports Glacier Resort
Glacier maintains it has First Nation support as the 300-member Shuswap Indian Band is in favour of the resort and signed a benefits agreement with the company in 2008.
At that time, Shuswap Chief Paul Sam said the resort would provide employment and economic opportunities and an interpretive centre would showcase Shuswap history. The band, known for encouraging economic development, is based in Invermere and claims the Jumbo area as traditional territory.
The area is also claimed by the Sinixt Band from the opposite side of the Purcell Mountains.
Teneese said the nation tries to have respectful relations with its neighbours and the Shuswap were part of the Ktunaxa Kinbasket Tribal Council, but decided to leave in 2005. The Tribal Council now consists of the St. Mary's, Tobacco Plains, Lower Kootenay and Akisqnuk bands.
Jumbo's 2004 Environmental Assessment Certificate was renewed once in 2009 and cannot be renewed a second time unless the proponent can prove substantial progress. The company has until October 12 to demonstrate construction has "substantially started" for the certificate to become permanent.
As that October deadline approaches, an additional concern is that Glacier Resorts has not met many of the legally binding preconstruction conditions, said Teneese, who has asked the Environmental Assessment Office for proof the company is meeting its commitments.
"We do not feel they have fulfilled their obligations," she said.
"We are using government's own mechanism to challenge this."
First Nations Target Investors in Jumbo Glacier Resort, Warn of Blockades
The Ktunaxa are also reaching out to potential investors.
"If I had money and was investing, I would want to make sure all the risks had been managed. In this case, there's a huge risk because the Ktunaxa are not in support and we are not standing alone. Investors, you had better do your homework," Teneese warned.
A rally in support of Qat'muk in November 2012. Photo: Ktunaxa Nation.
While the leadership is challenging the project through official channels, others are wondering about more direct action.
Chief Jason Louie of the Lower Kootenay Band loves the beauty of the area and translated Qat'muk as "where the grizzly bears go to dance."
Environmental impact is the main concern, he said, envisioning condos in the berry harvesting area.
"I am so disappointed that the legal system has failed our nation. I thought it maybe would be different this time around," he said.
"I think the next step is just to blockade it. I would be willing to go to jail if that's what it takes."
Action is needed to attract the world's attention, Louie said.
"Maybe we need to get in front of the heavy equipment."
However, a community meeting will be held before decisions are made, Louie said.
"It's something that wouldn't be done in haste. It has to be well thought out."
'They never defeated us. They just came and took it': Native Elder
The grizzly bear is key to Ktunaxa culture, said Akisqnuk elder Herman Alpine, remembering times as a young man, camping in the valley, when he would put down tobacco and pay tribute to the grizzly.
"I knew big things happened there. Sometimes I used to hear my uncles sing these beautiful songs to the grizzly," said 71-year-old Alpine.
"There are different areas that are sacred to my people…It was never for sale. They never defeated us. They just came and took it."
The culture is worth fighting for, said Alpine, who believes that, if the development goes ahead, there could be confrontation or even bloodshed.
"I would be willing to go there. It means so much to me," he said.
Main photo: Howard P. Smith, phototide.com.
New title
You've read all the way to the bottom of this article. That makes you some serious Narwhal material.
And since you're here, we have a favour to ask. Our independent, ad-free journalism is made possible because the people who value our work also support it (did we mention our stories are free for all to read, not just those who can afford to pay?).
As a non-profit, reader-funded news organization, our goal isn't to sell advertising or to please corporate bigwigs — it's to bring evidence-based news and analysis to the surface for all Canadians. And at a time when most news organizations have been laying off reporters, we've hired eight journalists over the past year.
Not only are we filling a void in environment coverage, but we're also telling stories differently — by centring Indigenous voices, by building community and by doing it all as a people-powered, non-profit outlet supported by more than 2,500 members. 
The truth is we wouldn't be here without you. Every single one of you who reads and shares our articles is a crucial part of building a new model for Canadian journalism that puts people before profit.
We know that these days the world's problems can feel a *touch* overwhelming. It's easy to feel like what we do doesn't make any difference, but becoming a member of The Narwhal is one small way you truly can make a difference.
We've drafted a plan to make 2021 our biggest year yet, but we need your support to make it all happen.
If you believe news organizations should report to their readers, not advertisers or shareholders, please become a monthly member of The Narwhal today for any amount you can afford.