Three Manitoba-based environmental groups — Manitoba Wildlands, Wilderness Committee, and Manitoba Energy Justice Coalition — held a press conference Thursday in Winnipeg demanding the Manitoba government "acknowledge the magnitude" of TransCanada's Energy East pipeline project, which would see oilsands (also called tar sands) bitumen shipped through the province.
"Does the Manitoba government have an agreement with TransCanada Energy East already? Or does Manitoba Hydro already have an agreement to provide this energy? Will the Manitoba government follow the lead of other provinces and review the climate impacts? There are so many unanswered questions," Gaile Whelan-Enns, director of Manitoba Wildlands, said.
While Ontario and Quebec are conducting public consultations on the propsed west-to-east oil pipeline and have expressed some uneasiness with the project, Manitoba premier Greg Selinger has been accused of saying very little about Energy East.
"Manitobans deserve to know where their government stands on this issue," Whelan-Enns said.
Manitoba May Have to Finance Energy East Infrastructure
The groups also released their analysis of the 30,000-page Energy East project application. They found nine new pipeline pumping stations are needed in Manitoba for the pipeline's operations and Manitoba Hydro, the province's public utility, would then be expected to provide the electricity and transmission lines to power the stations.
TransCanada would be required to pay for the electricity the stations consume, but electrical infrastructure costs like the maintenance and construction of transmission lines are usually shared by Manitoba Hydro and consumers.
"People in this province need to hear about the tremendous investment this proposed pipeline needs from us in Manitoba," Eric Reder, Manitoba campaign director for the Wilderness Committee, said.
"In Manitoba, we have a Clean Energy Strategy that is based on creating a future without fossil fuels," Alex Paterson of the Manitoba Energy Justice Coalition said.
"It's time to have a real, democratic conversation about the role our public utility wants to play in expanding fossil fuel infrastructure in Canada."
Ninety-six per cent of Manitoba's electricity comes from renewable hydroelectricity.
Energy East Opposition Ranks Highest in Manitoba
Manitobans ranked the highest among Canadians opposed to Energy East in a recent nation-wide opinion poll conducted for the Climate Action Network Canada. Seventy-eight per cent of Manitobans said they believe tackling climate change and protecting the environment is more important than building pipelines and expanding oilsands production.
The Green Party of Manitoba last month called on the provincial government to reject the Energy East project.
"If it goes ahead, the Energy East Pipeline will threaten the health and safety of thousands of Manitobans who live in 25 communities along the proposed route," provincial Green Party leader James Beddome said.
"As well, by providing an outlet for Alberta oilsands crude, Energy East will magnify the impact of the oil sands on global climate change."
The 4,600-kilmetre TransCanada Energy East pipeline if approved would begin in Alberta and head east to New Brunswick, crossing through Saskatchewan, Manitoba, Ontario and Quebec. The pipeline would be North America's largest oil pipeline.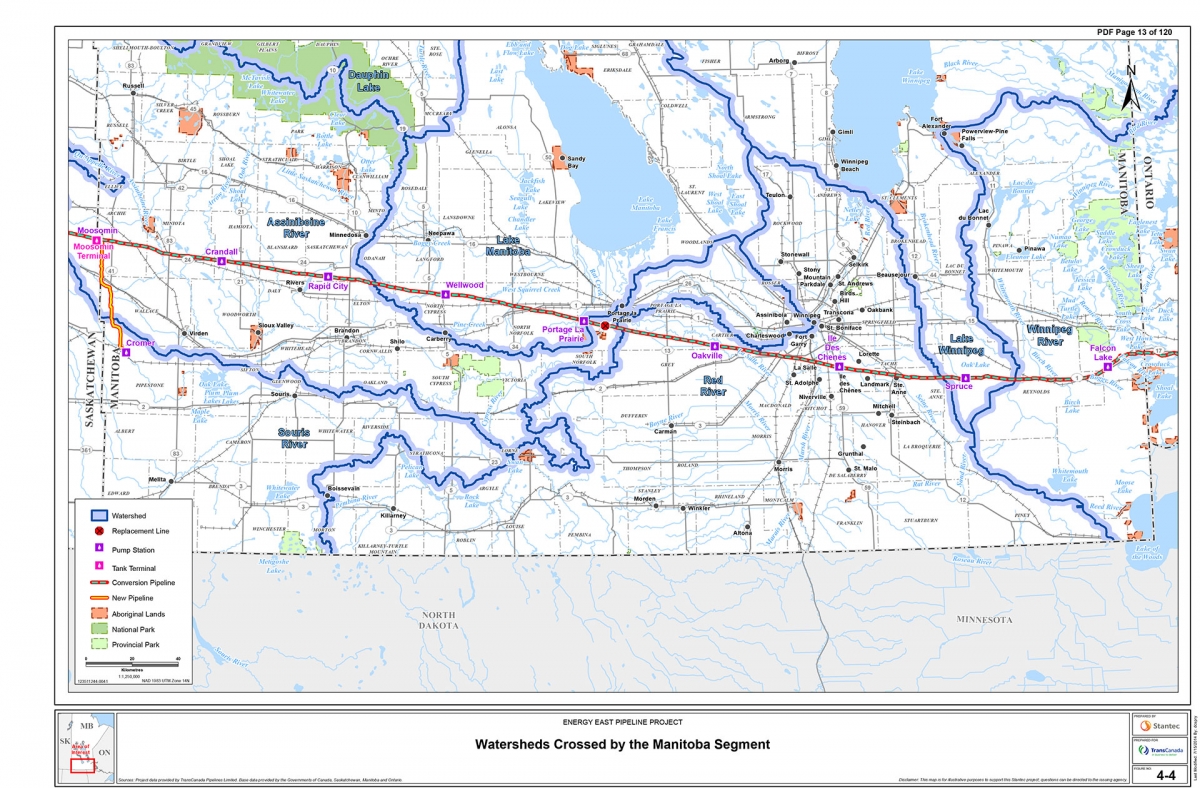 Image Credit: Travel Manitoba