Stop a random person on the street. Ask them for the first thing that pops into their head when they think of Alberta's oilsands.
Unless they're an industry analyst or an over-enthused real estate agent turned corporate shill, chances are that they'll describe either buffalo roaming on a restored tailings pond or helicopter shots of open-pit mining. Individuals are more likely to describe a visual element of the resource as opposed to, say, the barrels per day of oil or annual megatonnes of greenhouse gasses the region produces.

It's this notion — that pictures, videos and other media representations often have extremely powerful influence on discourse about the oilsands — that compelled Patrick McCurdy to launch the MediaToil project.
"The premise of my work is that media is a site of social struggles," McCurdy, an associate professor in the department of communications at the University of Ottawa, told DeSmog Canada. "It's a battle for our imaginations and what we think about a certain topic and the actions we're willing to take. I wanted to try to map that."
Working with a two-year grant from the Social Sciences and Humanity Research Council, McCurdy and his team identified all the different stakeholders involved in the oilsands (of which there are many: corporations, industry associations, media, environmental non-profits, Indigenous groups), combed their websites and created an Excel database with the links.
Online Oilsands Campaigns Can Disappear from Web
McCurdy said one of the key challenges his team encountered was the lack of digital posterity of online oilsands campaigns and ads.
Unlike analyzing something like historic tobacco advertising — which is often still available via microfilm or print — many digital campaigns are no longer live, meaning companies and industry organizations can effectively eliminate controversial points in history from the record.
Take the 2010 television campaign by the Canadian Association of Petroleum Producers (CAPP) which compared the consistency of oilsands tailings waste to yogurt: the Sierra Club of Canada filed a complaint to Advertising Standards Canada, arguing that it misrepresented the toxic nature of tailings. CAPP eventually revised the ad, removing the yogurt reference.
"But this ad no longer exists," McCurdy said.
"The challenge is it has an impact on the public imagination. Of course, the Advertising Council ruled in CAPP's favour, but no matter — if you wanted to for your own interest watch this ad, it doesn't exist. It's been removed."
New Public Database Charts Decades of #Oilsands Advertising #cdnpoli #bcpoli #ableg #oilandgas https://t.co/g5si0itH5B

— DeSmog Canada (@DeSmogCanada) September 13, 2016
Rise of 'Apocalyptic Imagery' in Oilsands Campaigns
Despite such challenges, he says it's possible to detect trends in communication strategies.
Back in the 1980s, depictions of the oilsands emphasized "images of accomplishment by industry: man over nature, ability to make money from dirt," McCurdy said.
But that kind of rhetoric saw a decline in the early 2000s, when companies like Suncor attempted to balance community responsibility with environmental burdens (which McCurdy calls "caring for toads") and didn't engage in the "trend ad warfare" we see now.
Everything changed following the rise of "apocalyptic imagery" in 2008 and 2009 by organizations like Greenpeace, which executed huge banner drops and other image-heavy events. (The Syncrude duck disaster of 2008 also provided visual fodder for organizations unsatisfied with the province's approach to environmental regulations.)
Industry and its network of associations first responded with photos of smiling CEOs backdropped with lush forests and freshwater. But they quickly ditched that strategy, opting for what we're stuck with now: lifestyle rhetoric, boosterism and appeals to potential supporters instead of engagements with critics.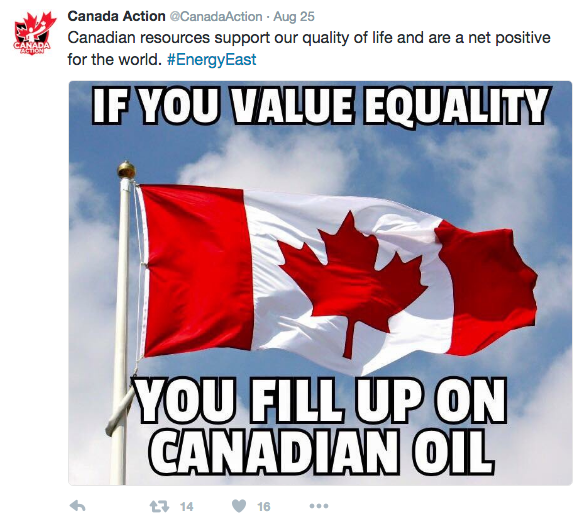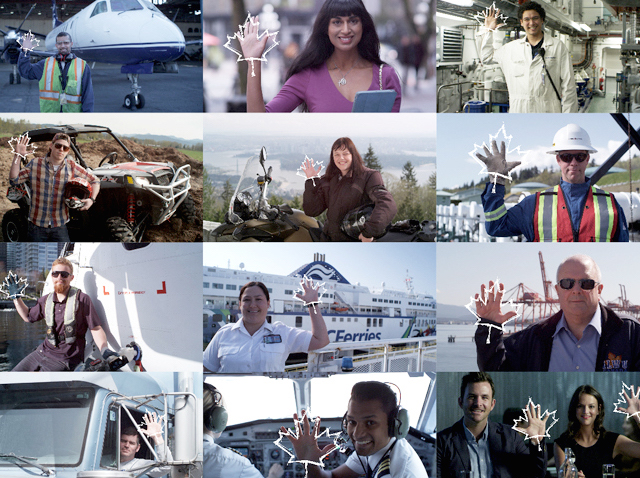 Screenshots from Canada Action, left, and the Canadian Association of Petroleum Producers Raise Your Hand campaign, right.
Meanwhile, Indigenous communities and organizations tend to be significantly underrepresented, with the exceptions of media events like the Tarsands Healing Walk and appearances in ads by environmental organizations like WWF or Greenpeace.
"Looking at these ads certainly tracks and captures these shifts in strategies," McCurdy said. "For me, the value of tracking this over time is you can look at what are the political decisions that have been made, what are the milestones in the timeline of the oilsands that relate to this?"
70-Page Comic Book To Be Published Alongside Database
But McCurdy wanted to broaden the project even beyond the database and the peer-reviewed papers that will eventually come, as it was important to think of another way to engage the public given the debate currently resembles a "red team vs. blue team thing."
For that, he contacted Nicole Marie Burton and Hugh Goldring of Ad Astra Comix on Twitter to create a 70-page graphic novel loosely based on the themes of the MediaToil project.
Goldring said the work will follow the experience of two young photographers in Edmonton that work for advertising agencies representing "opposite sides."
"It tracks their conflict of conscience," he said. "The whole reason we picked people in advertising in the first place was that it provided a way to look at the production of these images."
Goldring added that while the database of images is important, it's McCurdy's work that applies the larger contextual frame.
"Patrick's work in a larger sense is in the way the images are produced and what the larger semiotic meaning or context of the work that's being put out by these ad agencies is."
Burton said the graphic novel will feature a fair bit of ambiguity, and is ultimately intended to help provoke conversation and provide discussion topics for bigger picture questions about the framing and discourse of the oilsands.
The comic will come out sometime in 2017, wbe available for free online as a downloadable PDF. In the meantime, McCurdy hopes that the public will point out "blind spots" in the database and explore the ads and fact sheets further.
Energy East Debate Further Emphasizes Need for Analysis of Visual Rhetoric
And while data collection was only conducted up until 2015, the goal is to continue it. Especially given the country's increased focus on TransCanada's proposed Energy East pipeline. McCurdy said it's "a true battle over statistics" that's falsely presented as a national unification project that will reduce the country's dependency on foreign imports.
A popular image that's made its way around social media features a series of flags of countries that Canada currently imports oil from, with the implication that such imports would cease with the construction of Energy East. But recent reports suggest that a great majority of oil shipped east via the pipeline would actually be exported to the United States.
It's these kinds of projects — along with the way that solar and wind technologies are visually communicated by fossil fuel companies — that McCurdy hopes to explore during his 2017 sabbatical.
"I think it's time we actually try to pick apart this persuasive communication which is a proxy, very much, for public debate," he says.
"It really clouds our ability to think critically about these things and becomes a back-and-forth. That's part of the reason for the comic, and part of the reason for the database is to have some stuff out there for the public as opposed to just tucking stuff away in peer-reviewed academic journals."
New title
You've read all the way to the bottom of this article. That makes you some serious Narwhal material.
And since you're here, we have a favour to ask. Our independent, ad-free journalism is made possible because the people who value our work also support it (did we mention our stories are free for all to read, not just those who can afford to pay?).
As a non-profit, reader-funded news organization, our goal isn't to sell advertising or to please corporate bigwigs — it's to bring evidence-based news and analysis to the surface for all Canadians. And at a time when most news organizations have been laying off reporters, we've hired eight journalists over the past year.
Not only are we filling a void in environment coverage, but we're also telling stories differently — by centring Indigenous voices, by building community and by doing it all as a people-powered, non-profit outlet supported by more than 2,500 members. 
The truth is we wouldn't be here without you. Every single one of you who reads and shares our articles is a crucial part of building a new model for Canadian journalism that puts people before profit.
We know that these days the world's problems can feel a *touch* overwhelming. It's easy to feel like what we do doesn't make any difference, but becoming a member of The Narwhal is one small way you truly can make a difference.
We've drafted a plan to make 2021 our biggest year yet, but we need your support to make it all happen.
If you believe news organizations should report to their readers, not advertisers or shareholders, please become a monthly member of The Narwhal today for any amount you can afford.