The Federal Court of Appeal has ruled that the National Energy Board (NEB) made a legal mistake by not considering whether TransCanada's Prince Rupert Gas Transmission pipeline is under federal jurisdiction, thus requiring NEB approval.
The 900-kilometre natural gas pipeline would move mostly fracked gas from northeastern B.C. to the proposed Pacific NorthWest liquefied natural gas (LNG) terminal near Prince Rupert.
The pipeline was approved by the B.C. government but Smithers, B.C., resident Mike Sawyer requested that the NEB hold a full hearing to determine whether the pipeline is actually in federal jurisdiction.
The NEB regulates the construction and operation of pipelines that cross international or provincial boundaries, as well as the export of oil, natural gas and electricity.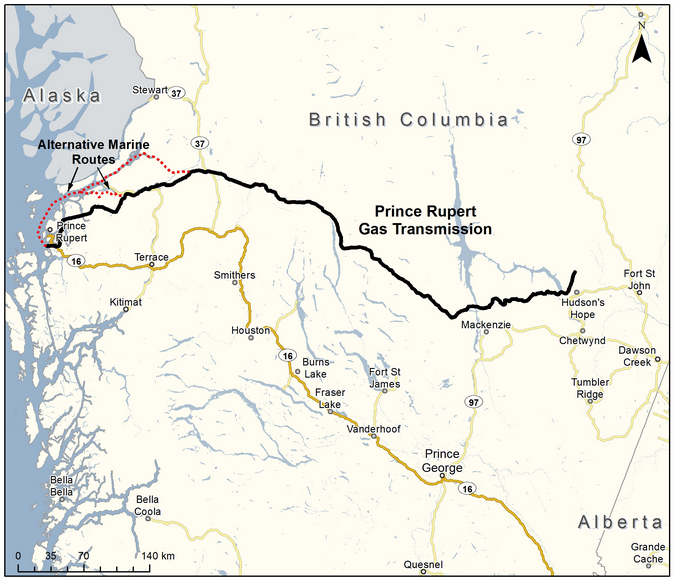 Map of the proposed Prince Rupert Gas Transmission pipeline via the Canadian Environmental Assessment Agency.
The court sent the matter back to the National Energy Board for re-determination. Speaking for the unanimous panel of three judges, Justice Donald Rennie said the board looked only at the location of the pipeline within B.C. and failed to consider that the entire purpose of the pipeline is to move gas for export.
The judge said courts don't usually overturn NEB decisions, but in this case the issue involves the constitution so the court is stepping in.
"This shows that the NEB was too quick to dismiss a legitimate constitutional argument without a full hearing," Sawyer said. "I'm convinced that PRGT is just one part of a massive natural gas export scheme that is clearly within federal jurisdiction and needs federal approval to proceed."
If built, the Pacific NorthWest LNG terminal would be the single largest source of greenhouse gas emissions in Canada. The federal government's approval of the export terminal is facing a judicial review this fall. The project has also been criticized for being situated on Lelu Island, where it will disturb critical salmon habitat at Flora Bank.
"I don't think we should be exporting our natural resources, particularly energy resources, if we haven't determined what's in our public interest," Sawyer said.
Pacific NorthWest #LNG Hits Road Block as #Gas Pipeline Sent Back to National Energy Board by Federal Court https://t.co/njBsxmWzjC @PNWLNG

— DeSmog Canada (@DeSmogCanada) July 20, 2017
TransCanada now has 60 days to apply to the Supreme Court of Canada for permission to appeal the decision.
Apart from that, the constitutional issue will go back to the National Energy Board for a full hearing to determine if the pipeline is in federal jurisdiction and would require a federal environmental assessment and approval.
Image: Lelu Island, the proposed site of the Pacific NorthWest LNG terminal. Photo: Lax U'u'la