When people ask me why I decided to go to journalism school, I always tell them I was inspired by The Narwhal. 
I've been following the online magazine since it launched two years ago, and I've witnessed how well-told stories have the power to break open political silos and hold power to account. It's a critical time for our planet, and we need this kind of journalism now more than ever. 
That's why I'm over-the-moon-excited to be The Narwhal's first-ever intern. 
As a journalism student, I often hear that I'm entering into a dying industry. 
The Narwhal offers a powerful example to the contrary. 
In a decade of unprecedented layoffs across Canada's media industry, The Narwhal is bucking the trend. It's hiring more journalists to write groundbreaking investigative stories and signing up more monthly members to support that invaluable work.
Even in the midst of the global pandemic, The Narwhal had the most successful membership drive in its history. In fact, more than 450 people have become monthly members since the COVID-19 crisis hit. 
Those numbers tell us part of the story, but we learn even more when members explain why they've decided to support right now. 
"In these very difficult times, with potentially looking at a whole year without income, it's not an easy decision," writes Michael, a new monthly member. "But what you do is that important. Thank you and keep going. You are on the right path."
For The Narwhal's second birthday, I got the chance to ask founders Carol Linnitt and Emma Gilchrist to reflect on their first two years and weigh in on what's next. 
New title
Get The Narwhal in your inbox!
People always tell us they love our newsletter. Find out yourself with a weekly dose of our ad‑free, independent journalism
Why did you start The Narwhal?
Emma: We started The Narwhal because there's been a huge erosion of environment reporting in Canada over the last decade or two. I was working at the Calgary Herald about a decade ago and at that time there was an environment reporter at almost every newspaper in Canada. If you fast-forward to today, almost none of those environment reporters are left. We saw this huge void at a time when biodiversity loss and the climate crisis were top concerns for Canadians. 
Carol: We were in this unique position as journalists to reflect on how many fascinating and sometimes harrowing stories about the environment were going untold. We started to dream up a publication that would not only fill that gap, but would actually reimagine the way that environmental journalism was done. We wanted the publication to have a pulse. We wanted our stories to have this verve and a sense of urgency, even a sense of excitement, to them — and to bring those environmental stories to the world. 
How did you come up with the name?
Emma: I was looking for a Father's Day present for my dad at one of those kooky gift stores, and they had this Canadiana apron with Mounties, trees, moose and a narwhal. I saw it and I was like, "The Narwhal!"
Carol: Emma just texted me "The Narwhal," and I was like, ooh!
Emma: So I went home and bought the domain. And I also bought the apron for my dad — he still has it.
The Narwhal began during a decade when record numbers of publications across Canada were going out of business. Why do you think The Narwhal has succeeded against the odds?
Emma: It comes down to our relationship with our readers. Sometimes they send us story ideas and sources. And they've also become financial supporters of the organization by becoming monthly members and donors. It's that direct relationship with our readership that is unique and that has made us succeed during otherwise difficult times. 
We don't run any advertising, and it's really the ad business that's been falling away for media. We very consciously chose to be a nonprofit, and that fosters a very direct relationship with our readers because they're the only people we serve.
What role do you think The Narwhal plays in Canada's media landscape?
Emma: I'm proudest of our work to bring readers into the heart of the process and give them a meaningful way to take part in democracy — because journalism is such an essential part of an informed democracy. We also bring a different tone and voice as an organization that's run by young women. We're not trying to be a traditional news outlet that covers the environment. We're trying to bring a little more voice to it and be more engaging. 
Carol:  Sometimes I describe The Narwhal as telling ugly stories beautifully. The subject matter we cover is difficult. It can be exhausting. We recognize that there is a well-researched problem of people tuning out to what's happening with the natural world because it's so overwhelming. And it's very difficult for people to know where their power is, where their voice is and how they can help in meaningful ways. 
We want to reinvigorate people's relationship with the natural world, but also wanted to re-enchant what journalism could be. Sometimes it's about oil and gas companies not paying money into the orphan well levy, which can be kind of dry and policy-heavy. But we're also sending journalists and photographers into the field to tromp into forgotten rainforests and look at enormous cedars and tell the other, beautiful side of the story of destruction. Our emphasis on visual storytelling is on full display in the fact that we had four of six nominations in the photo essay category of this year's Digital Publishing Awards. 
What has been your most rewarding moment at The Narwhal?
Emma: I think the most rewarding moment has been during the COVID-19 crisis, when we have had the most support from our readers ever. One of my favourite parts of my job is reading the donor comments. I love reading why they decide to become monthly members. These comments are a constant reminder to do right by these people. We're built on the small donations of thousands of people. 
Carol: For me, it was receiving the gold in the photo essay category at the Canadian Online Publishing Awards and getting to get up on stage to say, "This is the accomplishment of our readers." After telling our audience that we needed to raise $10,000 to get photos of a new, remote generation of mines in B.C., they stepped up to the plate and fully funded that award-winning piece of content.
What has surprised you most during these first two years?
Carol: The speed of our growth. We hoped that we had landed on a good concept and that we were successfully putting ducks in rows, but I don't think we had a true sense of just how quickly The Narwhal would flourish. It has genuinely surprised and delighted me.
Emma: We've gone from two staff when we launched to 10. The growth has been exponential at a time when a lot of media outlets are struggling. I would have never in a million years believed that we would get 450 new members in six weeks during the greatest economic crash since the Great Depression! 
Carol: Another thing that still surprises me after all these years of being a journalist is what it takes behind the scenes to make a really stellar piece of journalism come to life. We just published an investigation into the harassment of fisheries observers that was so much work — from finding the sources, to talking to the sources, to convincing sources to go on the record, to the rounds of legal review. It's a monumental effort, and it's very time consuming and expensive.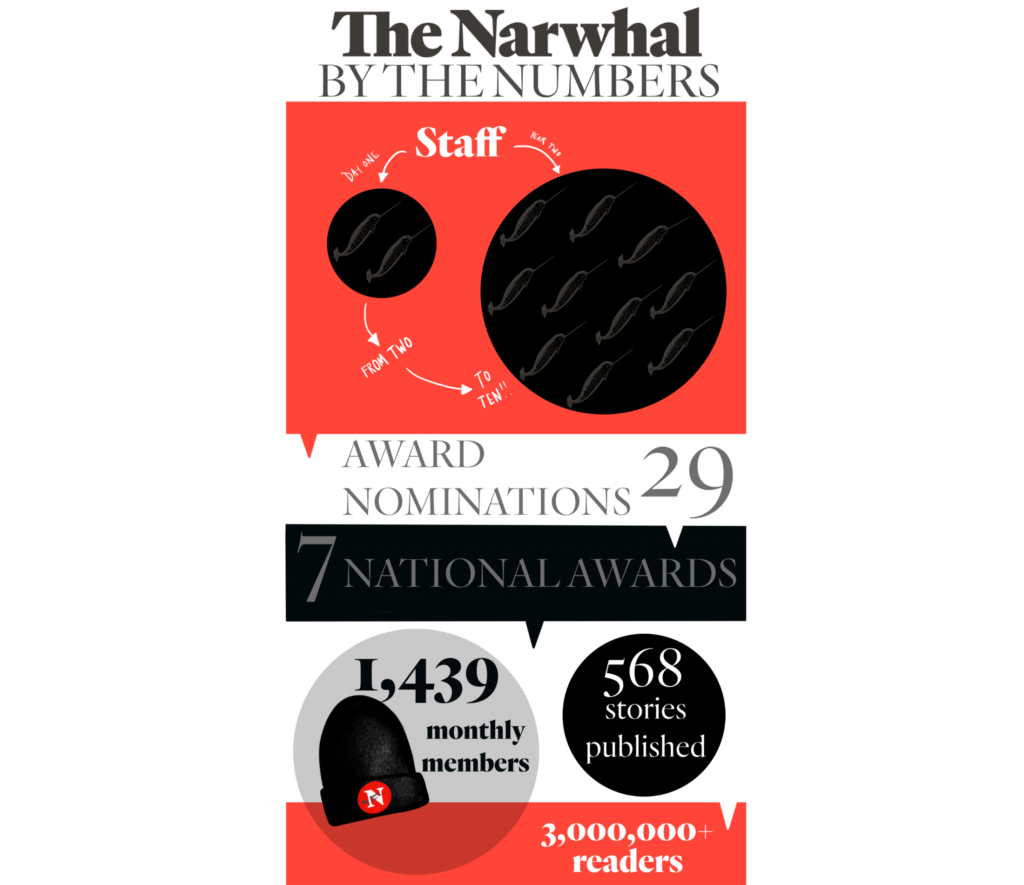 Where do you see The Narwhal headed in the coming years?
Emma: I see our membership program becoming more and more crucial to our success and us being able to expand into more geographic places because of reader support.
Carol: I see us developing more capacity to do more of the in-depth work that we're becoming known for. We recognize that people don't want more — they want better. One of the ways I see us growing is by becoming better at what we do and not just getting bigger. 
We're in the midst of a strange time with COVID-19. What's keeping you going?
Emma: For me, it's about getting outside. It helps me keep going and reminds me why we do what we do. Last week, I was out surfing and I had a grey whale in the surf line-up with me — that's going to keep me going until October! That and the tremendous reader support.
Carol: One of the things that keeps me going is thinking about all the places we can't go right now. We had to cancel a bunch of reporting trips, and a lot of work that we do is on the ground. I've been reflecting on the incredible places that our work has taken us — to Yukon, northern B.C., the coast, northern Alberta. If anything this time of slowing down and focusing has reignited my excitement for getting back out there and exploring these wild places, these endangered places, to meet the beautiful people who live there and tell their stories.
What's your favourite Narwhal fact? 
Emma: It's so hard to choose just one! They're one of the deepest diving mammals and their tusk is actually an overgrown tooth that functions like a very sensitive antenna.
Carol: A group of narwhals is called a blessing, which is, you know, adorable and seems to ring true every day for us around here.