The Tsleil-Waututh nation announced it will launch a legal challenge against the Canadian government and the National Energy Board (NEB) Friday over legal compliance and consultation with First Nations in relation to the proposed Kinder Morgan Trans Mountain pipeline expansion.
At an outdoor press conference on Tsleil-Waututh territory overlooking the Burrard Inlet and Kinder Morgan facilities, Chief Maureen Thomas said her nation has been ignored by the government throughout the Trans Mountain pipeline review process.
"Today with a heavy heart we want to announce we are going to….I don't want to use those words…but we are going to fight," she said.
Merle Alexander, aboriginal resource lawyer with Gowlings LLP said there are a number of "procedural errors" affecting the pipeline assessment process. "If these decisions aren't corrected now they'll affect the entire review process," he said.
The Tsleil-Waututh nation will commence a legal action in the federal court of appeal, challenging a number of decisions of the NEB that include failed consultation, improper project assessment and a fundamental mischaracterization of the Trans Mountain project which involves an expanded pipeline, a terminal and increased storage facilities.
"The case is really one about legal compliance," Alexander said. "Tsleil-Waututh is forcing legal compliance with Canadian legal law as well as enforcing their own legal government."
Rueben George of the Sacred Trust Initiative and project manager of public engagement for the Tsleil-Waututh says the legal challenge is in the interest of all Canadians.
"The actions we take are to benefit everybody," he said, "because Canada is making the wrong decision in supporting Kinder Morgan."
"Since time immemorial we have been stewards of our land and we have a track record of taking care of our people."
"I've had the land and waters feed my spirit. Everything we get out of the water is goodness."
"What that is over there is Kinder Morgan," he said, gesturing over his shoulder to Kinder Morgan's storage facilities. "What they put in the water isn't goodness."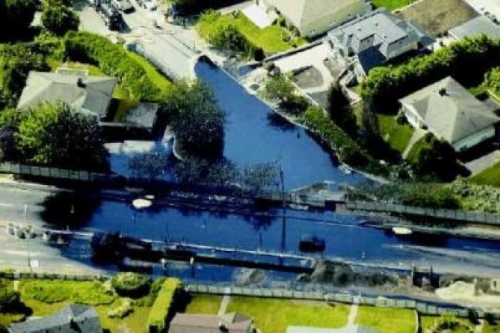 In 2007 the Trans Mountain pipeline ruptured in a Burnaby neighbourhood after a road crew's excavator accidentally hit the line. Roughly 250,000 litres of oil spilled into the community with 70,000 litres entering the Burrard Inlet.
The proposed pipeline expansion would increase the line's capacity from 300,000 to 750,000 barrels of oil per day. The increase in capacity could quadruple the number of oil tankers moving through the inlet, from five to more than 20 each month.
Chief Thomas said the case is ultimately about taking a stand.
"We have to take a stand, stand up for what we believe is truly right. What we really believe is right for us is protecting land and waters to the best of our ability. We have to move forward in a way that we really do become aware of what is going on and not take things for granted. You have to be the one to stand up," she said.
Thomas recounted the decline of local plants and species in the region, saying local people can no longer harvest shellfish from the once-fertile and clean waters.
"When you look at the future you have to make sure you have water, food for your family. Those are necessities. This land, area has been continually declining in providing our people food. Our people once survived from the food of this land. The animals, the plants, they are declining every day. We have to find a way to stop that decline to the best of our ability."
The Tsleil-Waututh have worked for years to rehabilitate and lessen their impact on the local area. They've introduced wind power, salmon rehabilitation projects and have reintroduced elk to the hillside.
"We're not people that fight," Thomas said, "but we want to protect and respect these lands."
Image Credit: @kingcornevj via Twitter