On the banks of the Peace River on Saturday, Grand Chief Stewart Phillip told hundreds of opponents to the Site C dam that he will be handcuffed if necessary to stop BC Hydro's mega project from moving ahead.
"From this point forward we have to really focus our efforts on how we're going to physically stop this project from happening," Phillip said during a speech at the 10th annual Paddle for the Peace. "The provincial cabinet recently approved permits to allow construction to begin. That's where the rubber is going to hit the road."
An emotional Phillip said B.C. is on the eve of an uprising after the government has repeatedly dealt in "bad faith" with First Nations.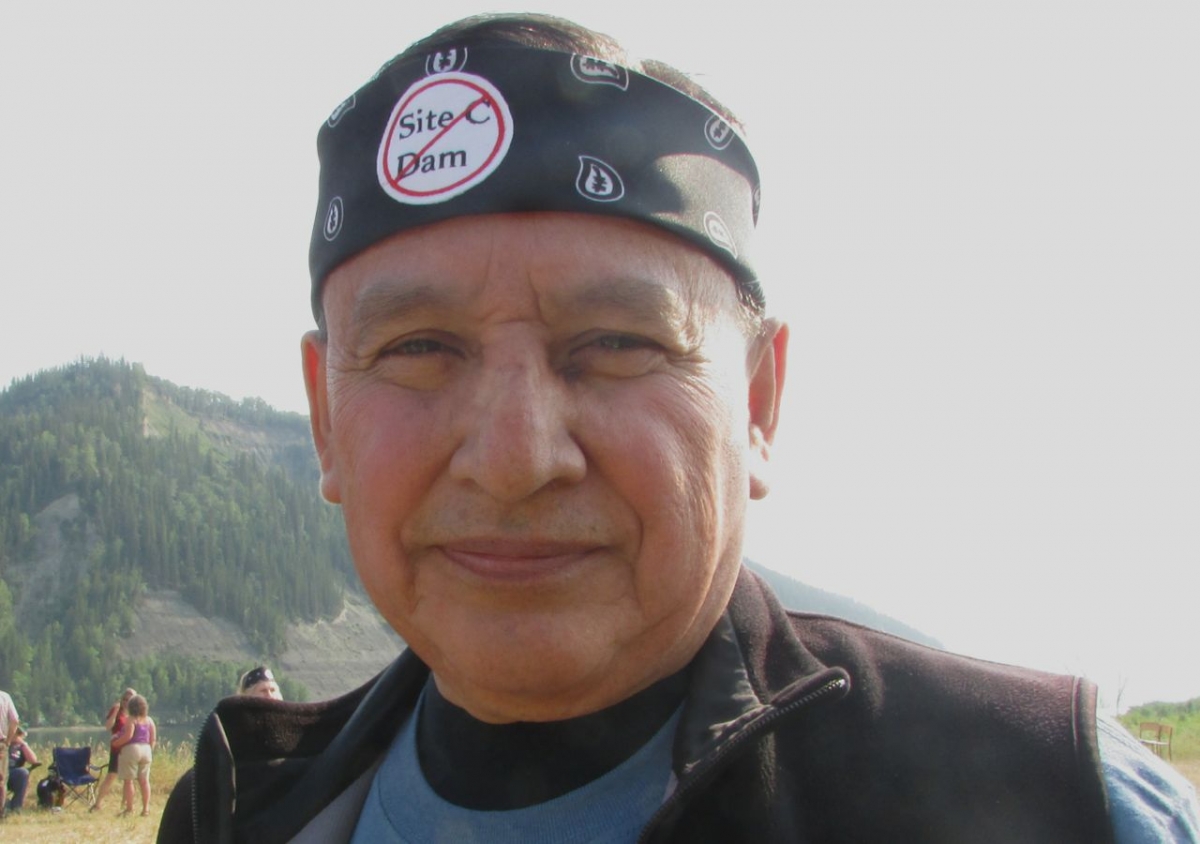 Grand Chief Stewart Phillip has vowed to be arrested to stop the Site C Dam.
"If push comes to shove, I for one — being a grandfather of 14 grandchildren who I absolutely adore — I am more than willing to be arrested as long as that will contribute to stopping this project," he said.
"I know when that moment comes I will not be alone."
The Last Paddle for the Peace?
About 300 boats took to the water Saturday in what could be the last Paddle for the Peace — held on a stretch of the Peace River that will be flooded if the $8.8 billion Site C dam is built.
Construction is due to start on the dam any day now despite a pending Treaty 8 legal challenge, due to be heard by the federal Supreme Court on July 20.
"This is a watershed moment in the province of British Columbia and in this country," Phillip said. "We simply can not — we can not allow this to happen."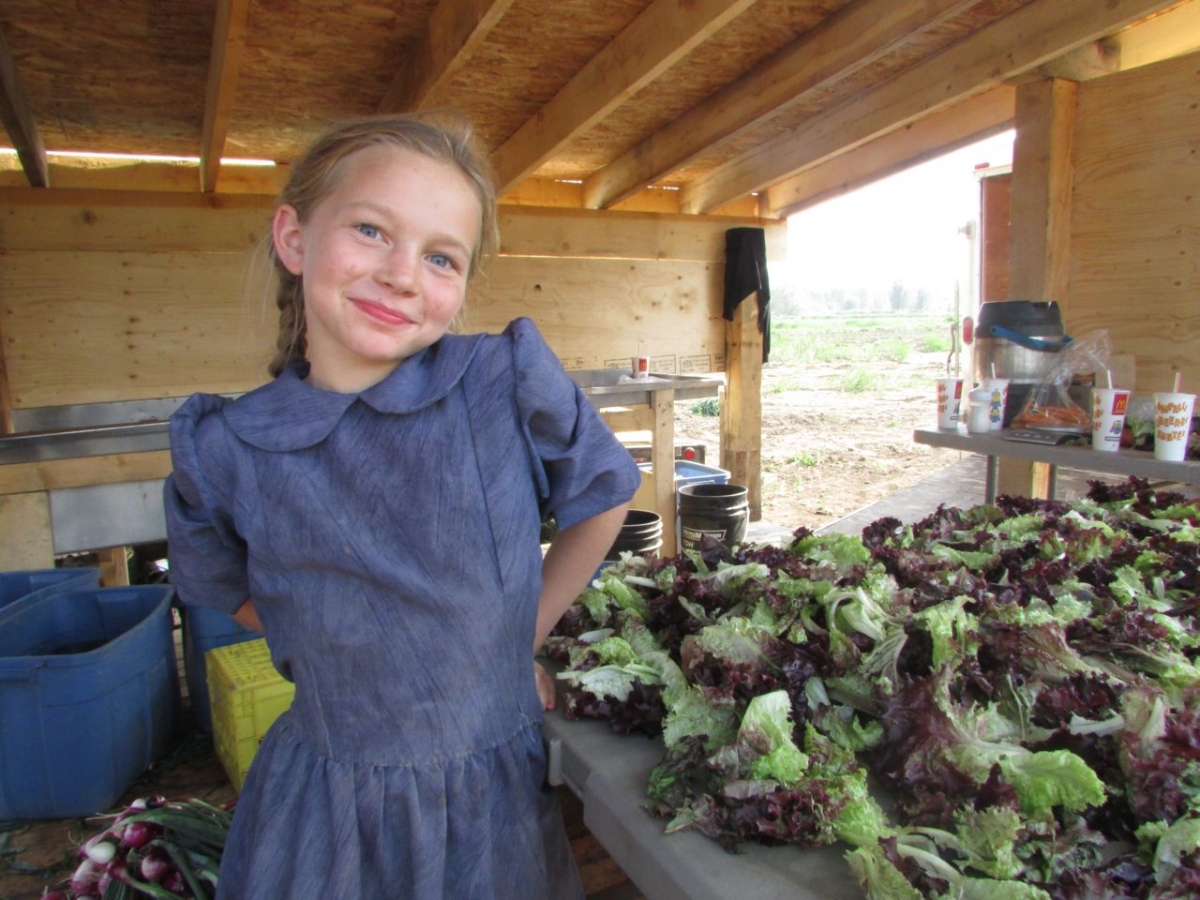 Beth Steiner, 8, helps bag lettuce at her parents market garden stand in the Peace Valley. The land the Steiners grow everything from corn to watermelons on will be flooded if the Site C dam is built.
Calls for a moratorium on construction on Site C have gained strength recently with the Greater Vancouver Regional District board, representing 23 local governments and 2.5 million people, voting to ask Premier Christy Clark for a two-year moratorium on construction.
The Peace River Regional District — which includes Fort St. John, the city that would see the most economic activity from the dam — voted on Thursday to write a letter to Clark to request that all construction on Site C be stopped until active court cases regarding the project have been completed.
The B.C. government has been criticized for pushing ahead with the project while ignoring repeated calls for an independent review of costs and demand — a recommendation made by the government's own panel.
David Suzuki: 'We Fundamentally Failed'
Famed environmentalist David Suzuki changed his schedule to join the paddle on Saturday (and helped rescue some capsized canoeists while he was at it) because the fight for the Peace Valley is near and dear to his heart. During a keynote speech, he told the crowd about his involvement with stopping the Site C dam for the first time in 1981.
"Thirty-five years later, guess what? We're fighting exactly the same battles all over again," Suzuki told the crowd. "What we thought were victories were not victories at all, because we fundamentally failed. We failed to shift the way we see our place on the planet."
Ranchers Dick and Renee Ardill know the drain of the 34-year fight against the dam all too well. When the dam was first defeated, Dick was a spry 54-year-old. Now he's 88 and grasps his truck for balance as he walks.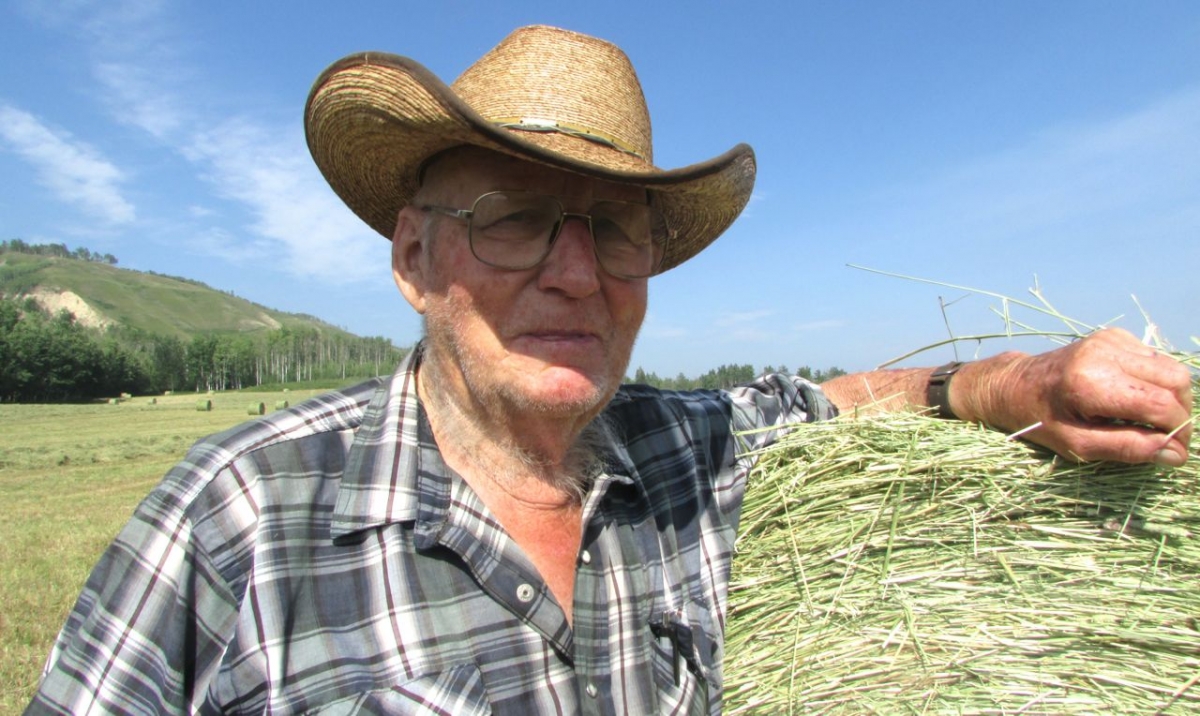 Dick Ardill has spent his 88 years ranching in the Peace Valley. His parents homesteaded the land in 1910.
His daughter Renee is sick of telling their story.
"I'm tired of the whole thing," she told DeSmog Canada during a break from baling hay. "I'm tired of the stupidity of it."
"You have to just keep going on and doing your job and, if we lose and they build the thing, we'll worry about that when the time comes. In the meantime, I'm hoping that someone comes to their senses."
While the recent rejection of the Peace Valley Landowners Association legal challenge was disappointing, it's not the end of the world, Renee says.
"The battle goes on."
Injunctions Will Be Filed to Stop Site C Dam Construction
"This is the tenth year we've done this and if BC Hydro and B.C. have their way we won't be doing it any more," said Roland Willson, chief of West Moberly First Nation, before canoes were put in the water.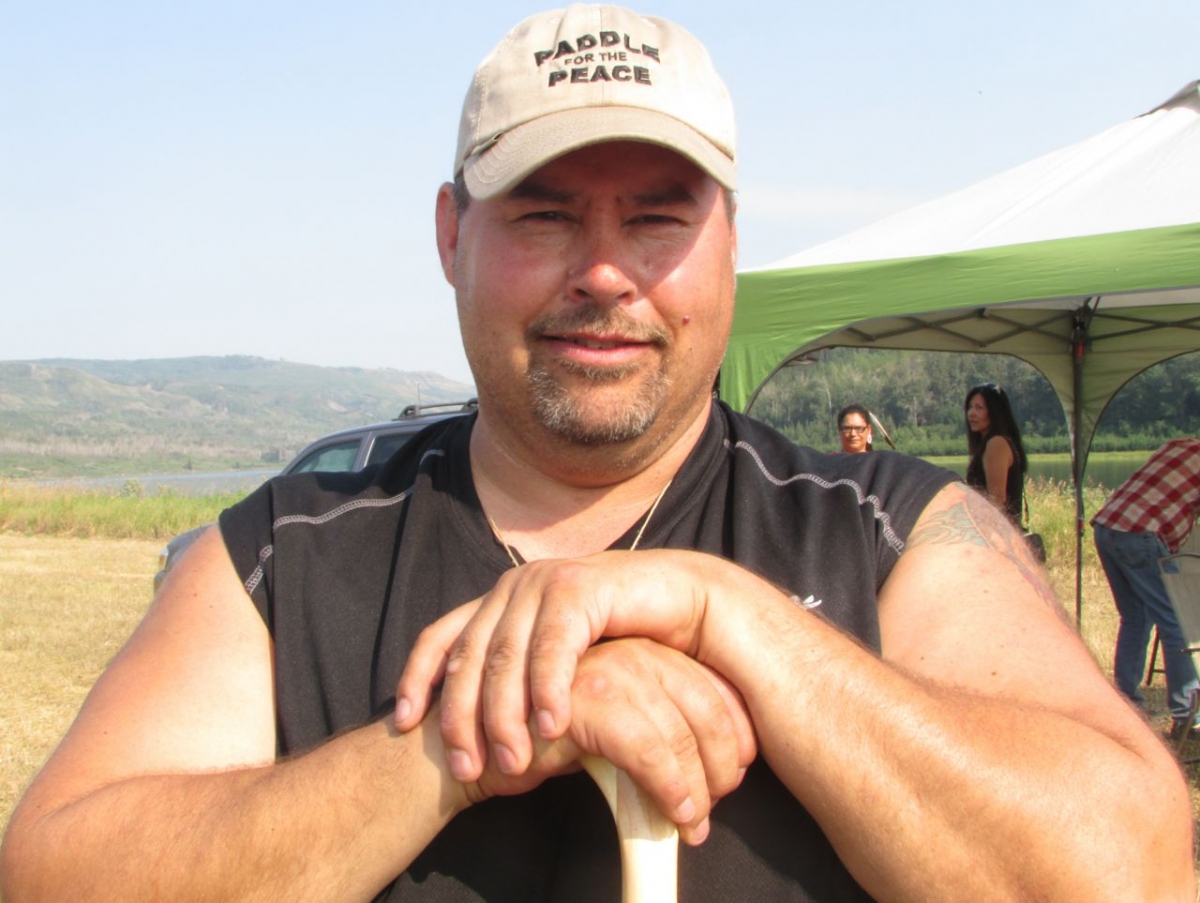 West Moberly Chief Roland Willson.
In an interview with DeSmog Canada, Willson said he's holding out for the courts to make the right decision.
"The dam is a direct infringement of our treaty rights," he said.
Willson said injunctions will be filed to stop any construction that will cause "irreparable harm."
Farmer Ken Boon, who hosts the Paddle for the Peace on his land, says the early construction plans look like a soft start.
"I'm still confident this dam will not be built," Boon said. "All we've got to do is win one court case."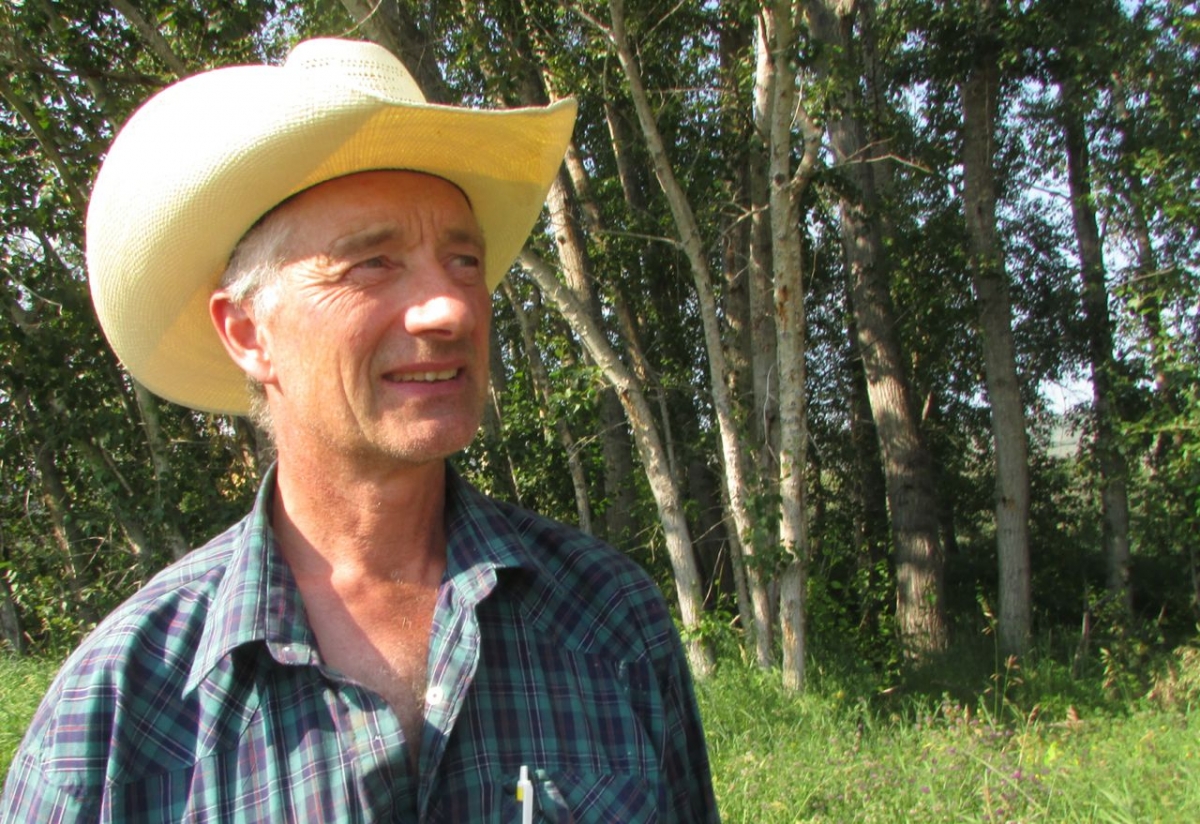 Ken Boon is confident the Site C dam will not be built.
Boon's land will be flooded if the dam is built, but he has yet to be approached by BC Hydro about moving.
"I'm pretty sure they're expecting a lot of these to go to expropriation if things carry on," he said.
As it stands, Boon and his wife Arlene still aren't thinking about moving.
'We're Being Mowed Over'
Shawna-Marie Phillips is less optimistic. If construction moves forward, a 3,000-man camp will be located one kilometre from her organic farm and ranch.
Sometimes it feels like she's yelling into the void and nobody's listening, she said.
Given that the Site C dam is the most expensive public project in B.C. history, yet only one reporter from a major news outlet attended Saturday's event, Phillips could be forgiven for feeling out of sight and out of mind.
"I feel like we're being mowed over," she said. "I get a feeling that this is the last time."