As 2015 drew to a close and families across the country planned for New Year festivities, Sonia Furstenau was busy trying to figure out how many officials, journalists and photographers she could get up in a helicopter on January 6 if she divided the day into 30-minute departure times.
Furstenau, an elected representative for the Cowichan Valley Regional District, is a resident of Shawnigan Lake where a protracted battle to keep contaminated waste out of a local watershed is gaining new momentum.
Along with other members of the Shawnigan community and the Save Shawnigan Water campaign, Furstenau arranged to get elected representatives and media up in the air above Shawnigan Lake and, a mere five kilometres uphill, above a nearby contaminated waste site.
If it was going to take a day's worth of helicopter rides to generate media attention for her community's plight, then, well, "get to the choppa."
Four years ago, Furstenau agreed to fill a one-year teaching position at Dwight School Canada, a prestigious international boarding school located on a sprawling 23-acre campus on Shawnigan Lake. The alpine lake setting and small, friendly community won her family over immediately.
"We moved here by accident," Furstenau said with a laugh, adding her family agreed to give the school one year before returning to Victoria. During that first year in Shawnigan, however, her blended family of seven began to put down permanent roots.
"We fell in love with the lake, with the community and the Cowichan Valley."
But as Furstenau was eyeing Shawnigan as the perfect place to settle down and raise her children, the B.C. government and waste disposal company South Island Aggregates (SIA) had identified the area for something entirely different.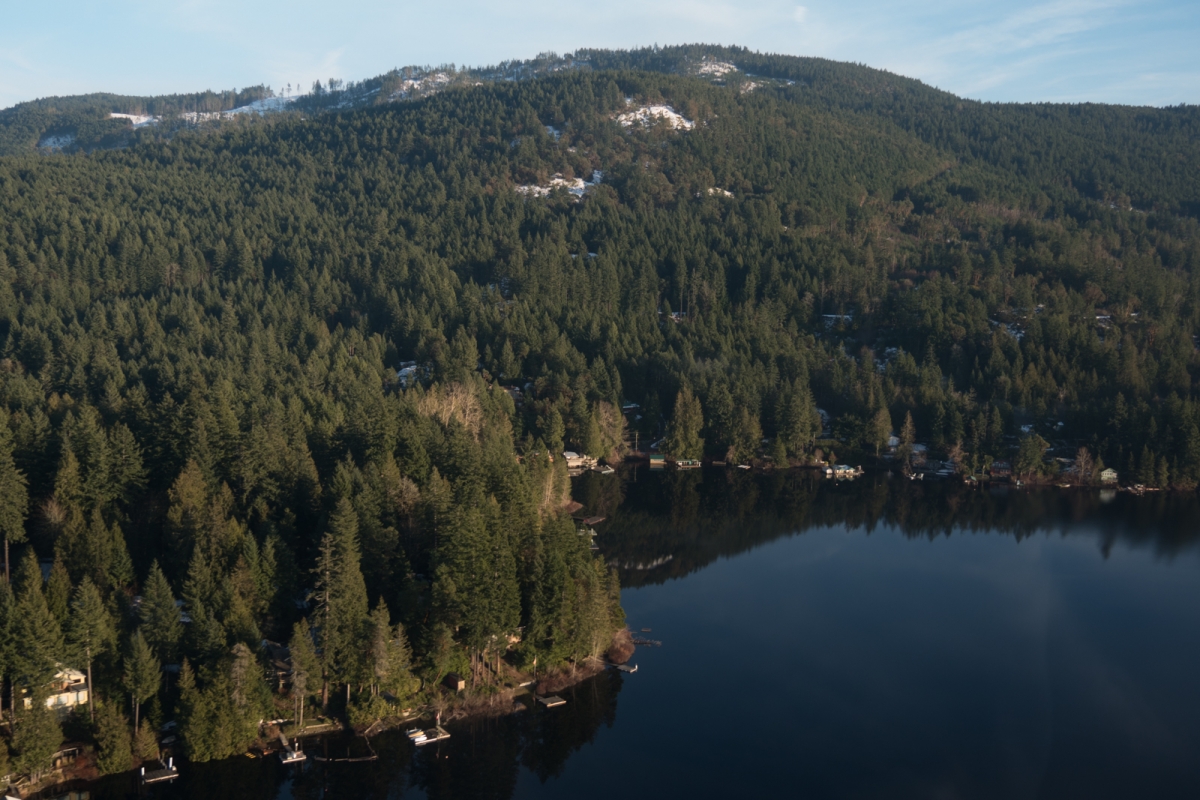 Shawnigan Lake. Photo: Jayce Hawkins/DeSmog Canada.
In 2012, SIA, owned by parent company Cobble Hill Holdings Ltd., applied for a permit to dump 100,000 tonnes of contaminated waste soil into a local quarry located in the headwaters of Shawnigan Lake, a local source of drinking water for the 7,500 permanent residents of Shawnigan Lake. During the summer months, that number balloons to 12,000.
The B.C. Ministry of Environment granted SIA a 50-year permit, allowing the company to dump a total of 5 million tonnes of industrial waste containing furans, dioxins, chlorinated hydrocarbons, glycols, polycyclic aromatic hydrocarbons, benzene, toluene, xylene and other materials know to cause cancer, brain damage, and birth defects in humans.
The landfill site is flanked by streams that flow downhill into the Shawnigan Lake watershed.
SIA maintains the site is cradled in a 75-foot layer of nearly impermeable bedrock. The company estimates it would take approximately 103,000 years for contaminants to reach local groundwater and migrate into Shawnigan Lake.
South Island Aggregates' landfill site. Photo: Jayce Hawkins/DeSmog Canada.
SIA based these estimates on the geotechnical work of Active Earth Engineering. In the summer of 2015 a document was anonymously provided to the Shawnigan Residents Association that showed SIA and Active Earth Engineering signed a profit sharing contract for the 50-year lifespan of the landfill. SIA maintains the agreement was never acted on and eventually abandoned.
Yet the community is arguing the project review process was corrupted and that the B.C. Ministry of Environment, as well as the Environmental Appeal Board through which the community sought to have the permit pulled, relied too heavily on the expertise of Active Earth — a company they say had a clear conflict of interest.
A judicial review in the B.C. Supreme Court began on Monday, January 11 in Victoria. The review is expected to take two weeks to complete.
"It doesn't take long to understand why this community is up in arms and so determined to fight what is going on here," Furstenau said.
"Putting a contaminated landfill on a mountain at the headwaters of your drinking watershed above the lake that is the heart of your community is insanity. We do not accept this and we never will."
Up on the mountain during the January 6 protest Furstenau's sentiment seemed widespread.
On that cold morning nearly 500 residents gathered outside the gates of SIA's private facility to prevent the latest shipment of contaminated soil from reaching the landfill site. Protesters held signs that read "pull the permit" and "Save Shawnigan Water" and children built snowmen in front of a line of blockaded work trucks.
"I think almost anyone can tell you this doesn't on the surface seem to be logical," Steve Housser, Shawnigan resident and former CBC journalist, said outside the landfill site.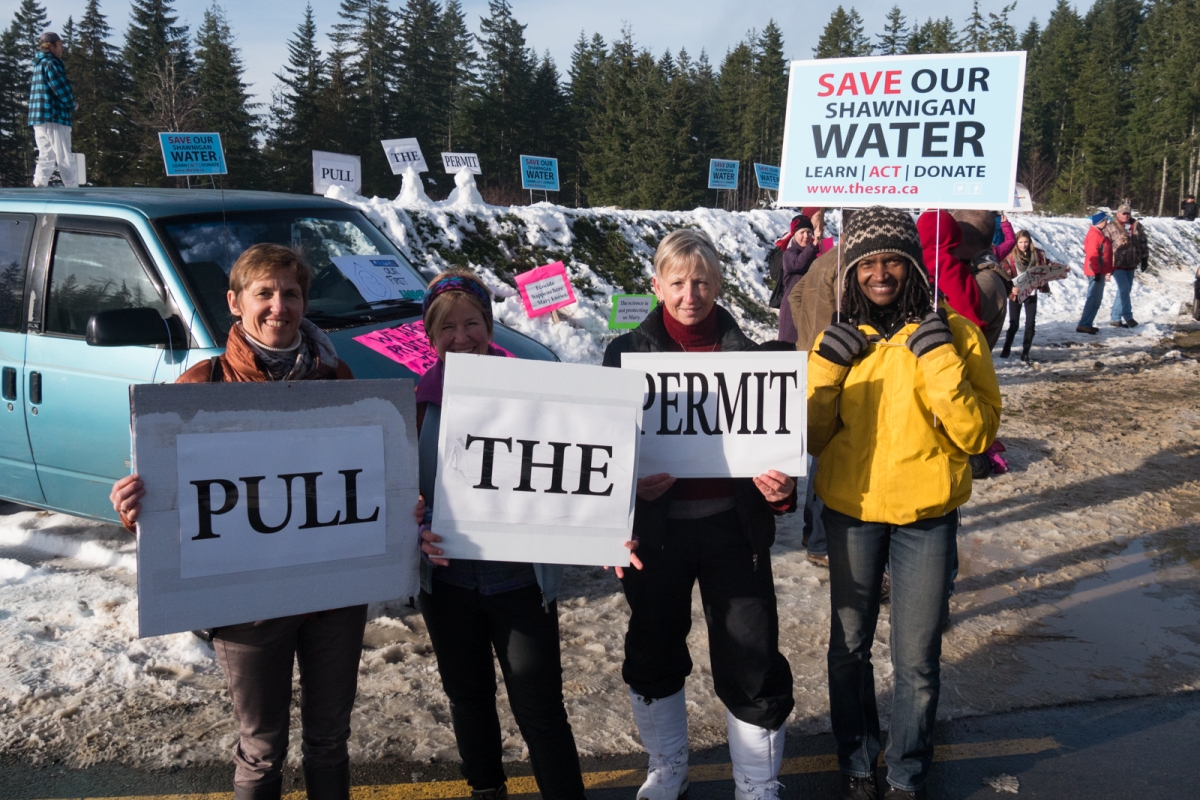 Protesters at the landfill site, January 6, 2015. Photo: Jayce Hawkins/DeSmog Canada.
"The government says the science says it's okay," Housser said. "Unfortunately that science was bought and paid for by SIA."
Housser who ran as a BC Liberal candidate in the Cowichan Valley riding during the last provincial election said revelations about the profit-sharing agreement between SIA and Active Earth engineers "completely undercuts their independence, their professional integrity and almost makes a mockery of the word science."
He added the community does not feel it had a legitimate role to play in the decision-making process.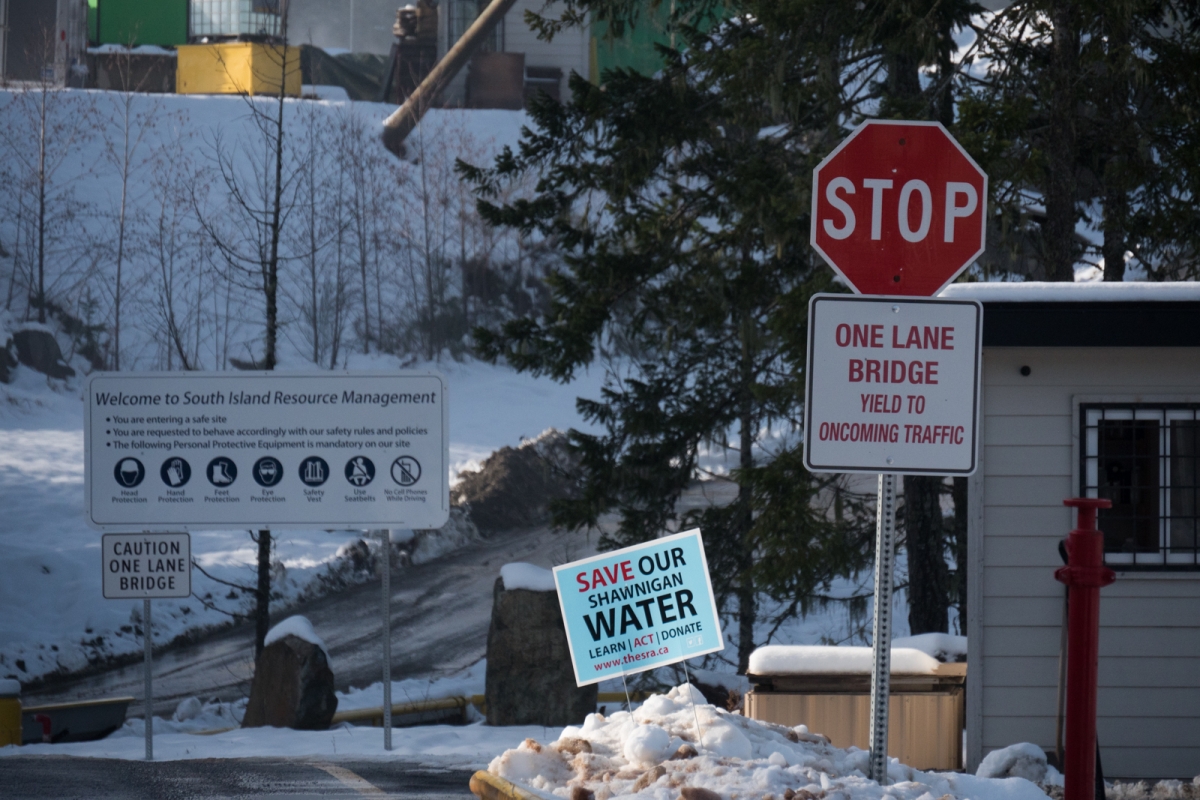 A "Save Our Shawnigan Water" sign sits on the site of the contaminated soil landfill, January 6. Photo: Jayce Hawkins/DeSmog Canada.
"Any say we had was ignored," Housser said, adding the community has sent in a 15,500 signature petition, demonstrated at the legislature and held multiple rallies. "I don't know what the hesitation is to stop this thing."
"If it can be done to us, if somebody thinks they can dump toxic, contaminated waste into a watershed in Shawnigan, who's next?" he said.
Dwight Canada School student Dimitri Monti-Browning also attended the protest along with a handful of classmates.
"I feel that a lot of the Shawnigan Lake community and a lot of people in B.C. and on Vancouver Island really care about Shawnigan Lake and don't want to ruin this beautiful place," Monti-Browning said.
He added the night before the event he was with his grandmother, who owns a home on Shawnigan Lake Road. "I went over to her house last night and she was crying because we don't want to lose our water and as I said before this beautiful place."
"We want to save our water," he said.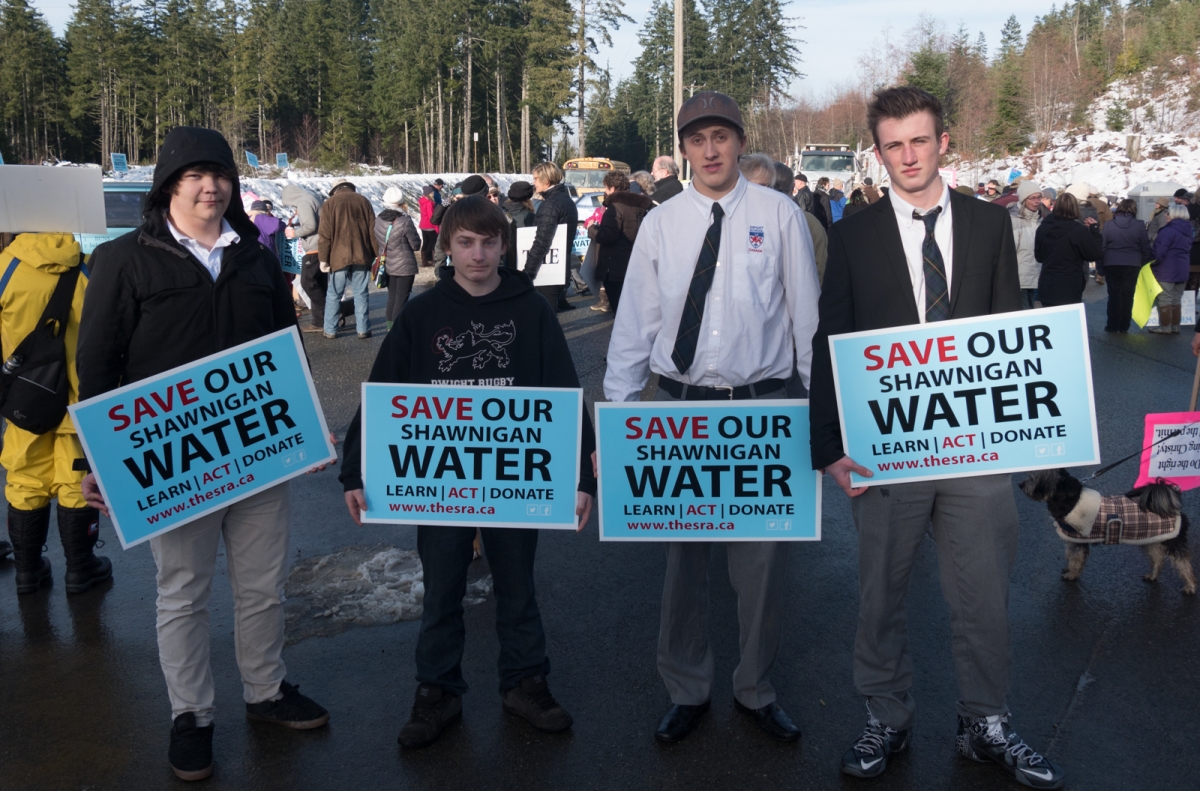 Dwight School Canada student Dimitri Monti-Browning, centre right, at the protest with classmates. Photo: Jayce Hawkins/DeSmog Canada.
Calvin Cook, president of the Shawnigan Resident's Association, said the community has a lot of legitimate concerns about the risk of seismic events, like the December 29 4.7 magnitude earthquake that shook houses in Victoria, or what happens over time when the plastic liners used in the pits begin to break down.
"The quarry itself is 15 per cent dug. Still 85 per cent remains to be blasted," Cook said. "We'll have containment cells next to and adjacent to an active blasting site. That is unprecedented. That has never occurred before."
"Shawnigan Lake and its citizens are being used as a test laboratory for this facility."
On January 6 South Island Resource Management, the company managing the disposal site since June 2015, release a statement, saying, "We are fully compliant with the Ministry of Environment Waste Discharge Permit and with the Ministry of Mines Permit.There is no quantifiable risk from the site to human health in the Shawnigan Lake watershed and we continue to hope that reasonable debate will prevail."
In November a breach of surface runoff from the site prompted the Vancouver Island Health Authority to issue a no-used water advisory to Shawnigan lake residents.
Cook said despite what he sees as "unacceptable risks," years of community opposition has fallen on deaf ears.
"Our minister [Mary Polak] and our Premier have steadfastly refused to act," he said. "All we are asking them to do is put a stay in place to prevent further contaminants being brought to this site until a complete judicial review has been heard."
During the ongoing judicial review, B.C. Supreme Court Justice Robert Sewell will hear evidence the permit holder lacks credibility and relied on faulty engineering advice.
Cook said while that review was waiting to hit the courts in November, new contaminated industrial waste was being trucked in from Port Moody.
"When we win, the site will have to be remediated," Cook said. "Those costs will be borne by every citizen in B.C. Why further increase those costs? Let the judicial review take place. Let all the facts be heard by a judge."
From an ad hoc helicopter landing pad one the shore of Shawnigan Lake, Port Moody city council member, Zoe Royer said she is "very concerned" about industry from her riding shipping contaminated waste to this community.
"I'm not here representing the city of Port Moody," Royer said. "I'm here because I'm deeply concerned about the situation in Shawnigan Lake, about the contamination that is happening in this community."
"My heart goes out to the people in this community. This was a pristine watershed and many, many people depend on it for their drinking water and their livelihood."
"We have to stand together and help to stop this," Royer said before boarding the helicopter for an aerial view alongside two other Port Moody city councilors.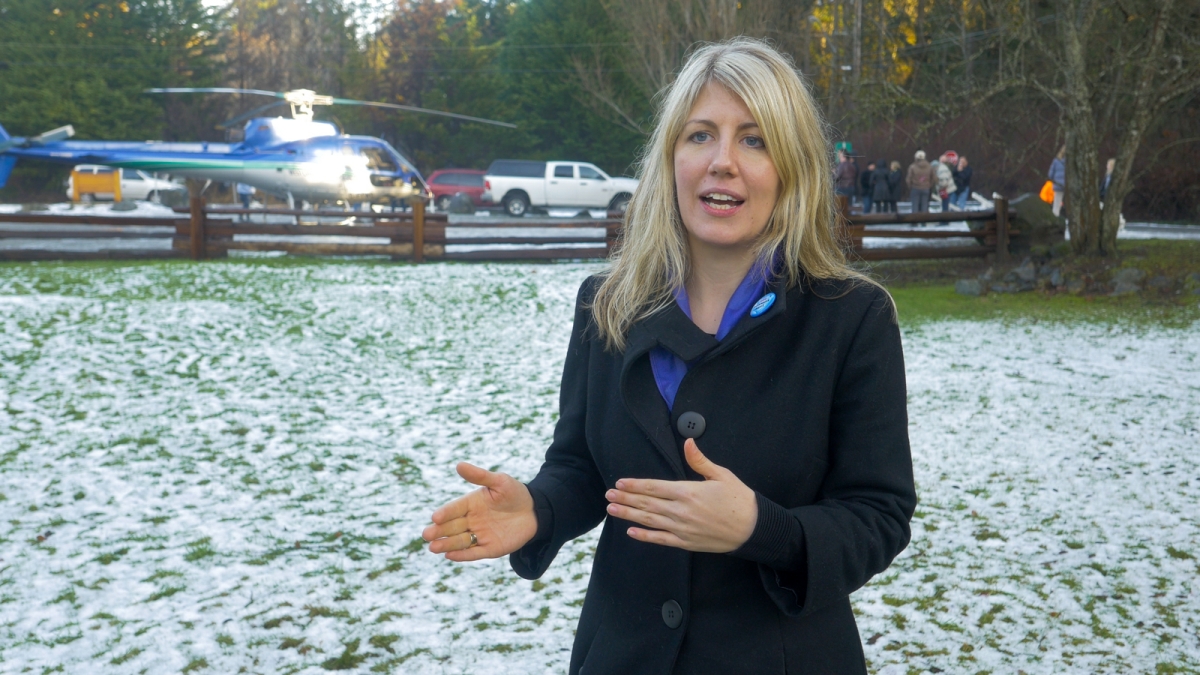 Georgia Collins. Photo: Jayce Hawkins/DeSmog Canada.
Shawnigan resident Georgia Collins, who lives on the lake beside the makeshift helicopter pad, said when the company first came to the community they said the landfill site would benefit everyone.
"They said it was something that would be very helpful to the community, that it would be cleaning up contaminated sites that are in the watershed already," Collins said. "But it turns out that it's a permit to dump 5 million tonnes of contaminated soil over 50 years and that soil can come from anywhere."
Collins' young son played around her legs as we spoke. "We do have elected representatives and we expect them to protect our water," she said. "We expect them to protect our livelihoods. What we've seen is them constantly ignoring our community."
She added that since 2012 the company and the provincial government tried to manage the community to limit public backlash.
"But we're not going away."
"It's hard to see this going on, that this is possible in any community," she said. "There is the beautiful silver lining that this has galvanized the people and I love the people here. They're my community and I want to protect them."
Collins said Environment Minister Mary Polak has the authority to place a hold on the permit at any time.
"We're a community in unrest and we deserve to have this put on hold. We deserve to have trucks stopped while we wait for judges to make the right decision."
Images by Jayce Hawkins for DeSmog Canada.
New title
You've read all the way to the bottom of this article. That makes you some serious Narwhal material.
And since you're here, we have a favour to ask. Our independent, ad-free journalism is made possible because the people who value our work also support it (did we mention our stories are free for all to read, not just those who can afford to pay?).
As a non-profit, reader-funded news organization, our goal isn't to sell advertising or to please corporate bigwigs — it's to bring evidence-based news and analysis to the surface for all Canadians. And at a time when most news organizations have been laying off reporters, we've hired eight journalists over the past year.
Not only are we filling a void in environment coverage, but we're also telling stories differently — by centring Indigenous voices, by building community and by doing it all as a people-powered, non-profit outlet supported by more than 2,900 members. 
The truth is we wouldn't be here without you. Every single one of you who reads and shares our articles is a crucial part of building a new model for Canadian journalism that puts people before profit.
We know that these days the world's problems can feel a *touch* overwhelming. It's easy to feel like what we do doesn't make any difference, but becoming a member of The Narwhal is one small way you truly can make a difference.
We've drafted a plan to make 2021 our biggest year yet, but we need your support to make it all happen.
If you believe news organizations should report to their readers, not advertisers or shareholders, please become a monthly member of The Narwhal today for any amount you can afford.