Alberta is projecting a historic deficit for the 2020-2021 fiscal year as resource revenues decline to levels not seen in decades.
In a first quarter fiscal update, Finance Minister Travis Toews gave Albertans a closer look at the combined toll on provincial coffers of what he called a "triple black swan event": the COVID-19 pandemic, the ensuing global economic crisis and the collapse of oil prices. 
The deficit is now projected to be $24.2 billion — $16.8 billion higher than government estimates in the 2020 budget released in February.
The increase is largely due to a major decline in government revenue, which is now projected to be $11.5 billion lower than estimates in the budget. Revenue from non-renewable resources is expected to be $3.9 billion lower, while income tax revenue is expected to be down $4.3 billion.
"These numbers are incredibly sobering to all of us. If left unchecked, they predict a grim reality for Albertans," Toews said in an August statement. 
"We are facing the most significant economic challenge of our generation."
Resource revenue for the fiscal year is now expected to be $1.2 billion, a level not seen since the 1970s, according to the fiscal update. The biggest dropoff is from bitumen royalties, which are now expected to be $686 million, down from the $3.2 billion budgeted earlier this year.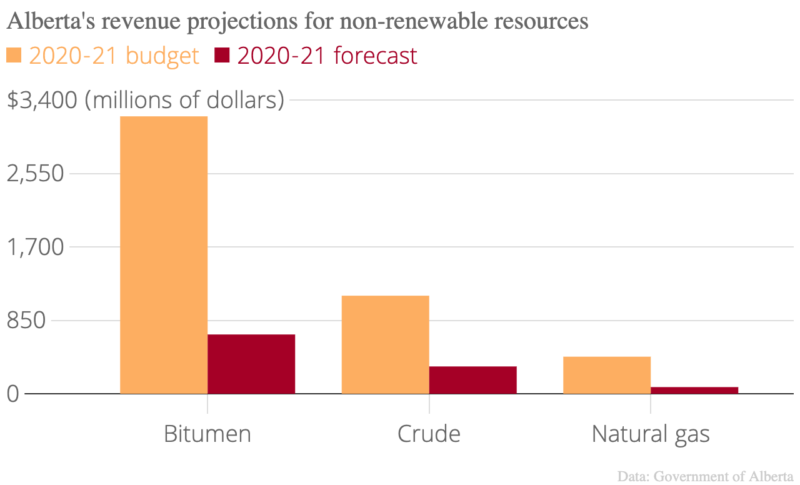 "The global shut-down has cratered oil demand and prices, even as global producers have continued to constrain production to re-balance supply and demand," the update says.
For Alberta, the impact has been severe. 
"Many oilsands projects are generating minimum or no positive returns this year, reducing significantly any royalty payable under the revenue minus cost royalty regime," the update notes.
Though exacerbated by the pandemic, some observers say the challenges Alberta is facing today were already in the cards.
"It's a confirmation of what a number of people have been saying already, which is that we need to prepare for a future where we don't have those sources of revenue and job generation from the oil sector that we have relied on for so many years," said Sara Hastings-Simon, a senior research associate at the Payne Institute for Public Policy and research fellow at the University of Calgary's school of public policy.
New title
Get The Narwhal in your inbox!
People always tell us they love our newsletter. Find out yourself with a weekly dose of our ad‑free, independent journalism
Production in Alberta had already been curtailed due to low prices and limited pipeline access but the outlook for the oil patch was looking up in the early part of the year. That changed when the Russia-Saudi Arabia price war and dramatic drop in demand for oil wrought by the pandemic sent crude prices on a downward spiral. At one point, the North American oil benchmark — West Texas Intermediate — hit negative prices.
In response, oil producers cut production by roughly 700,000 barrels per day between February and May, according to the fiscal update. At the same time, capital spending was significantly reduced.  
Prices have since recovered as economies began the process of reopening, with West Texas Intermediate recently trading at over US$40 a barrel.
"Despite the rebound, abundant supply and high inventory levels are expected to keep a lid on prices in the near term," the fiscal update says. 
The West Texas Intermediate is expected to average US$35.60 in 2020-2021, down from earlier forecasts of US$58 a barrel.
The differential between the WTI and the Western Canadian Select (the price many Alberta producers get for their oil), however, is now expected to average US$12.50 this year, about US$6.60 per barrel lower than forecasts in the provincial budget. The narrower differential means Alberta oil is expected to be sold at less of a discount relative to West Texas Intermediate.
Alberta's oil production is expected to increase slowly, the province doesn't expect it to reach pre-pandemic levels until after 2021. 
Meanwhile,  Jason Kenney's campaign promise to sell-off crude-by-rail contracts inked by Rachel Notley's NDP is now forecast to cost $2.1 billion, up from the $1.5 billion the United Conservative Party government had budgeted. 
The NDP government signed leases for more than 4,000 railcars to ship up to 120,000 barrels of oil per day last year in an effort to get Alberta crude to market. Kenney was critical of the plan, saying at the time it would make it more expensive for the private sector to ship by rail, CBC reported.
Overall, Alberta is projecting a "severe" economic contraction this year. Real gross domestic product is expected to decline 8.8 per cent and unemployment is forecast to average 11.6 per cent — up from 6.9 per cent last year.
"Our challenging economic results are largely, almost entirely actually, from a reduction in revenue and that reduction in revenue has come from really a reduction in economic activity, a reduction in global energy prices and so that's why we're putting an inordinate focus on economic recovery and economic growth in this province," Toews said in a press conference.
While the minister said there are important discussions to have in the future about Alberta's income tax structure, he said the middle of a crisis is not the time to talk about raising taxes.
Instead the government's focus will be on growing the economy and delivering services more efficiently, he said. That could mean spending cuts are coming.
The UCP's campaign promise to balance the provincial budget by 2022-23 has also been delayed.
"Right now, it would be almost impossible to provide a credible date to balance with the uncertainty we're dealing with," said Toews. "Balancing does remain very important to our government and we will be building a plan forward and presenting a date to balance to Albertans in the future."
Though exacerbated by the pandemic, some observers say the challenges Alberta is facing today were already in the cards.
Hastings-Simon, the University of Calgary research fellow, said the UCP government should look to its own history with the oilsands as it tries to boost the economy.
"In some of the research that I've done, it shows that the government really was the one who proved out this resource and it was at that point then that industry took it on and grew it," she said.
Moving forward, there are plenty of opportunities for economic diversification in Alberta whether it's in natural resources — through production of hydrogen or the metals and minerals needed for a clean energy transition — or in the technology sector, said Hastings-Simon.
As for the oilsands, Hastings-Simon cautions against focusing too much energy on efforts to produce at lower costs with lower emissions.
"Even if you were able to manage that you would be talking about really trying to capture a market that's shrinking, and that's just not where you want to be deploying your innovation," she said.
New title
You've read all the way to the bottom of this article. That makes you some serious Narwhal material.
And since you're here, we have a favour to ask. Our independent, ad-free journalism is made possible because the people who value our work also support it (did we mention our stories are free for all to read, not just those who can afford to pay?).
As a non-profit, reader-funded news organization, our goal isn't to sell advertising or to please corporate bigwigs — it's to bring evidence-based news and analysis to the surface for all Canadians. And at a time when most news organizations have been laying off reporters, we've hired eight journalists over the past year.
Not only are we filling a void in environment coverage, but we're also telling stories differently — by centring Indigenous voices, by building community and by doing it all as a people-powered, non-profit outlet supported by more than 2,500 members. 
The truth is we wouldn't be here without you. Every single one of you who reads and shares our articles is a crucial part of building a new model for Canadian journalism that puts people before profit.
We know that these days the world's problems can feel a *touch* overwhelming. It's easy to feel like what we do doesn't make any difference, but becoming a member of The Narwhal is one small way you truly can make a difference.
We've drafted a plan to make 2021 our biggest year yet, but we need your support to make it all happen.
If you believe news organizations should report to their readers, not advertisers or shareholders, please become a monthly member of The Narwhal today for any amount you can afford.