Alberta Energy Minister Diana McQueen toured key U.S. cities this week in an effort to gain the interests of major oil refiners and producers before an auction Wednesday will see the sale of 1,300 acres of new oil and gas leases. The leases overlap 650 acres of critical boreal caribou habitat as well as mountain caribou ranges.
Caribou is an endangered species in the province, with a long history of being placed second to the province's oil and gas priorities. Last week Alberta put 1,235 acres of mountain caribou range up for auction despite a recent Environment Canada report that called for the restoration of the region given the threat of local herds disappearing.
Both Alberta and the Government of Canada have consistently failed to stem the rapid decline of the province's endangered caribou, a species now protected under the federal Species at Risk Act. An Environment Canada recovery plan, released in 2012, advanced habitat protection as one of the only means available to protect the vanishing species.
According to Carolyn Campbell conservation specialist at the Alberta Wilderness Association adequate habitat protection measures have yet to be put into place while oil and gas development continues to dramatically outpace conservation efforts.
"New leasing in caribou range should halt," she said, "until there are real rules to prevent new footprint and restore old footprint."
Although new project-level guidelines require industry to at times delay or coordinate new projects that will impact habitat, Campbell says the rules "still allow for a lot of harmful footprint."
Both Alberta Energy and Canada's Oil Sands Innovation Alliance (COSIA) were asked about the leasing of land in caribou habitat but were unable to provide comment by the time of publication.
Caribou are naturally timid creatures, their grazing and mating patterns easily disturbed by human and industrial activities. The rapid expansion of Alberta's oilsands, including open-pit mines and infrastructure-heavy in situ extraction, as well as far-reaching oil and gas exploration in the region including the creation of seismic lines cut through large portions of the boreal forest, has dramatically reduced safe caribou habitat in which herds can persist at healthy levels.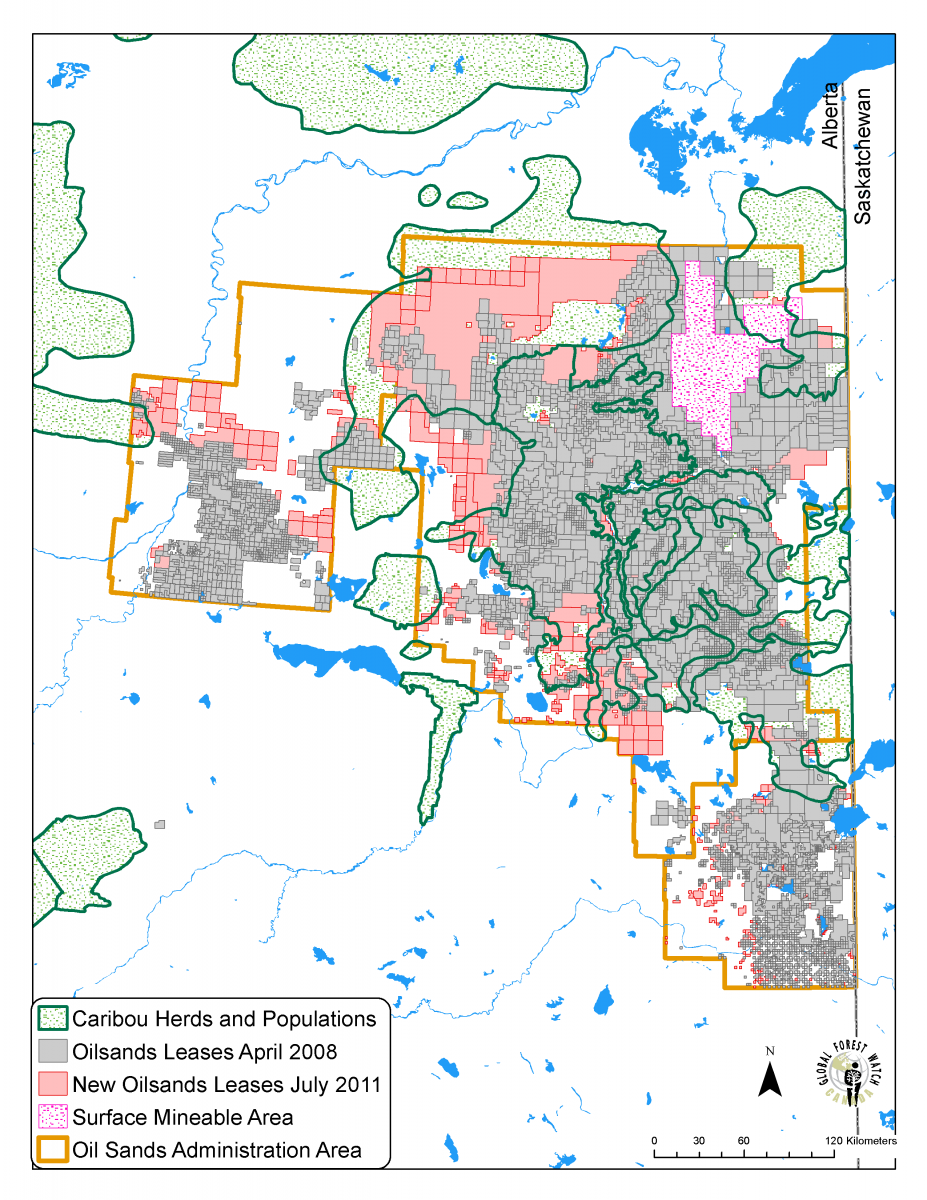 Oil and gas industry activity in caribou ranges. Map by Global Forest Watch.
According to Campbell, the linear footprint caused by seismic lines and other surface disturbance "stimulates populations of deer, moose and predators" and "provides easy access for predators to reach caribou." But the overwhelming scientific evidence, she said, "is that loss of habitat is the ultimate cause of caribou population declines."
In 2011 the Canadian government released a draft recovery strategy that was heavily criticized for recommending a province-wide wolf cull as a means of supporting flagging caribou populations without addressing habitat loss. The plan drew wide-ranging condemnation from the scientific and environmental communities as well as First Nations who held industrial development was to blame for caribou declines, not the province's wolves.
An independent study later confirmed Alberta's wolves eat very little caribou and sustain themselves on a diet of deer, moose and elk. Although the fragmentation and disturbance of caribou habitat put caribou and wolves in closer quarters.
"Caribou and wolves have co-existed over thousands of years," Campbell said, "but too much human footprint robs the caribou of their ability to minimize overlap with wolves."
In late 2012, five years after it was due, Environment Canada released a revised recovery strategy that called the oil and gas industry and the government of Alberta to work together to ensure at least 65 per cent of caribou habitat remain undisturbed to ensure caribou survival.
Critics were quick to point out the federal recovery strategy did not outline how Alberta should implement the 65 per cent strategy, leaving the plan largely undefined. Since then industry in Alberta has continued to operate mostly unimpeded, putting the caribou on a "collision course" with oil and gas interests, as Simon Dyer from the Pembina Institute put it at the time.
"The provincial government has previously not followed it scientists' recommendations, nor even multi-sector groups' recommendations, to temporarily stop leasing and logging until range plans are developed that focus on habitat recovery," Campbell said.
Mountain caribou populations have declined by more than 60 per cent since 2002. Boreal herds are in a similarly precarious state. In 2011 the Canadian government placed 70 per cent of Alberta's boreal woodland caribou herds in or on the border of a 'not self-sustaining' category.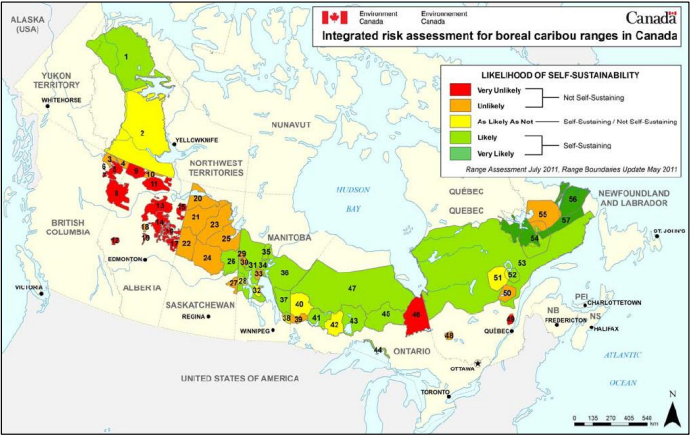 Although caribou declines have been tracked by scientists and conservationists for decades, the province's emphasis on oil and gas development, coupled with loose and undefined recovery plans, has left the species struggling. And according to Campbell, this could have wide-reaching consequences for the surrounding ecosystem, even across provincial boundaries.
"If you look at the attached Environment Canada map (above) of boreal woodland caribou across Canada, it's Alberta where most of the herds are at highest risk of dying out under current policies. This affects the genetic diversity and viability of neighbouring B.C., the North West Territories and Saskatchewan caribou populations.

Beyond that, caribou are indicators of whether the boreal and foothills forests are healthy. If we change how these forests are managed so that caribou populations can recover (which Alberta states is its policy goal), then our northern Mackenzie watershed will be healthier, and many other species will benefit too, such as migratory birds that depend on old growth forest and intact wetlands."
Under Canada's new caribou recovery strategy Alberta is legally required to develop plans to preserve and restore caribou ranges within five years. The province has yet to demonstrate how these plans will move forward in the face of new energy leases and land sales.
Although some basic changes could make a bit difference, Campbell said.
"In 2012, in response to thousands of Canadians speaking up for a strong boreal caribou recovery strategy, the federal government did strengthen the strategy to be more habitat-focused. Second, to its credit, in 2013 the Alberta government stopped new energy leasing in two west central Alberta caribou ranges and deferred some logging in one of those ranges until range plans are developed for those caribou.

This is a start, and it shows how important it is for citizens to get involved."
But, she added, these efforts need to be backed up by "real rules to reduce footprint" which might mean a "re-thinking of forestry and energy." Ultimately, resource managers are going to have to work together to more responsibly manage industry impacts and reduce disturbance to caribou habitat, she said.
Image Credit: Zak Richter/NPS via Flickr
New title
You've read all the way to the bottom of this article. That makes you some serious Narwhal material.
And since you're here, we have a favour to ask. Our independent, ad-free journalism is made possible because the people who value our work also support it (did we mention our stories are free for all to read, not just those who can afford to pay?).
As a non-profit, reader-funded news organization, our goal isn't to sell advertising or to please corporate bigwigs — it's to bring evidence-based news and analysis to the surface for all Canadians. And at a time when most news organizations have been laying off reporters, we've hired eight journalists in less than a year.
Not only are we filling a void in environment coverage, but we're also telling stories differently — by centring Indigenous voices, by building community and by doing it all as a people-powered, non-profit outlet supported by more than 2,200 members. 
The truth is we wouldn't be here without you. Every single one of you who reads and shares our articles is a crucial part of building a new model for Canadian journalism that puts people before profit.
We know that these days the world's problems can feel a *touch* overwhelming. It's easy to feel like what we do doesn't make any difference, but becoming a member of The Narwhal is one small way you truly can make a difference.
We've drafted a plan to make this year our biggest yet, but we need your support to make it all happen.
If you believe news organizations should report to their readers, not advertisers or shareholders, please become a monthly member of The Narwhal today for any amount you can afford.