DeSmog Canada has been named as a finalist for "Best News Coverage" by the Canadian Online Publishing Awards.
The awards recognize the best of the country's online publishing and are judged by a panel of experts from Canada and the U.S.
The other finalists in the "Best News Coverage" category are The Globe and Mail, CBC News, Macleans Magazine and The Huffington Post Canada.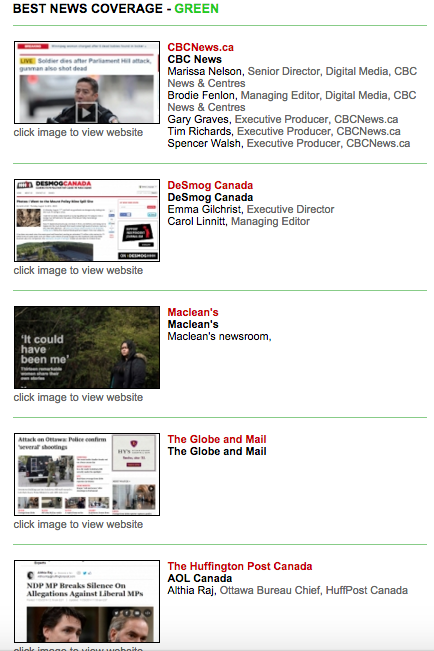 DeSmog Canada submitted three stories for consideration for the award.
I Went to the Mount Polley Mine Spill Site by Carol Linnitt is a first-hand photo essay of the aftermath of the Mount Polley tailings pond disaster in August 2014.
Field of Dreams: Peace Valley Farmers, Ranchers Fight to Keep Land Above Water As Site C Dam Decision Looms by Emma Gilchrist profiles those who stand to lose the most from the construction of the most expensive public project in B.C. history: the Site C dam.
Companies Illegally Dumped Toxic Fracking Chemicals in Dawson Creek Water Treatment Systems At Least Twice, Officials Report by Linnitt rounded out the submission. In that article, Linnitt tells the story of companies thwarting fracking waste disposal laws.
At an awards ceremony last week in Toronto, The Globe and Mail took the gold prize for its coverage of the deadly attack on Ottawa last year. Maclean's Magazine was awarded the silver prize for its coverage of the same event.
For our part at DeSmog Canada, we are beyond thrilled to be recognized alongside such heavy hitters in the news industry. As a small, non-profit news outlet, sometimes we feel like a small fish in a big pond. This recognition goes to show that when people come together and support independent media, big things can happen — thank you!
By the end of the year we need to raise $20,000 to continue our ground-breaking energy and environment reporting. Please donate what you can today.