Perhaps it's the charming student activist, Gabriel Nadeau-Dubois, who donated his $25,000 Governor General's Literary Award to the pipeline fight, or perhaps it was the scandalous documents leaked last week that showed pipeline company TransCanada has teamed up with one of the world's most powerful PR firms, Edelman, to manipulate public opinion surrounding the Energy East pipeline.
Or maybe it's the fact that at least two-thirds of Quebecers oppose the construction of a 4600km pipeline that will carry 1.1 million barrels of oilsands crude through their province (and five others) for export. Maybe onlookers, disturbed by the 50 arrests on Burnaby Mountain, have felt compelled to prevent a similar situation from erupting east of Alberta.
Who knows?
But what is becoming clear is the firestorm of public opposition that is committing to the fight against Energy East. Twelve hours after Nadeau-Dubois announced his $25,000 donation on the Radio-Canada talk show Tout le monde en parle on Sunday donations surpassed $140,000.
"If Quebec blocks this project, we will do a service to ourselves and future generations, but we also need to send a clear signal that we are prepared to contribute the global fight against climate change," the Montreal Gazette reported him saying.
As of Tuesday, donations have surpassed $300,000.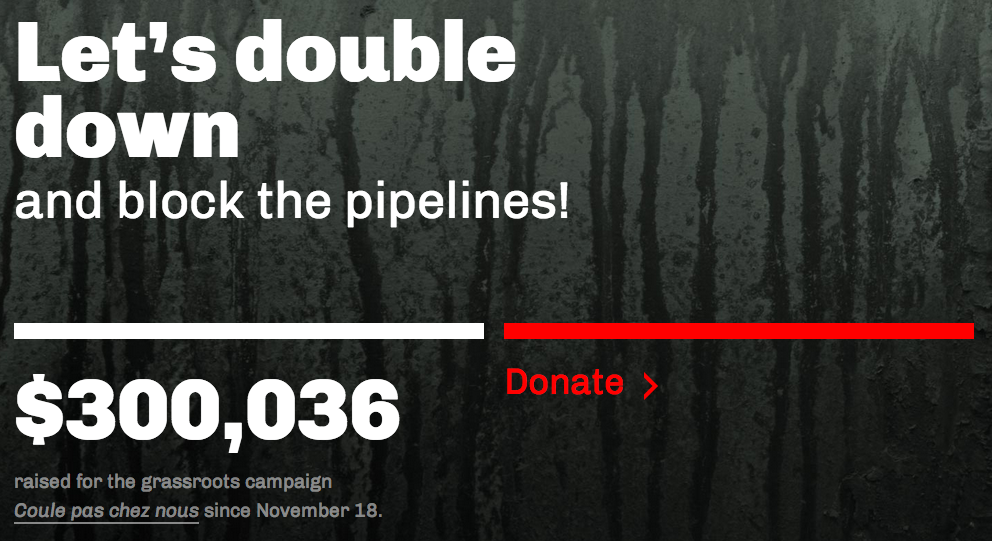 Keith Stewart, climate and energy campaigner with Greenpeace Canada says the "unprecedented outpouring of support shows the breadth and depth of opposition in Quebec to this pipeline."
He adds it also shows the level of opposition to "the broader pro-oil, anti-environmental agenda of the federal government."
"It shows that a lot of people want to be a part of a movement that makes the world a better, fairer and greener place, and don't accept that we have to accept the oil industry's false choice between environment and economy," Stewart told DeSmog.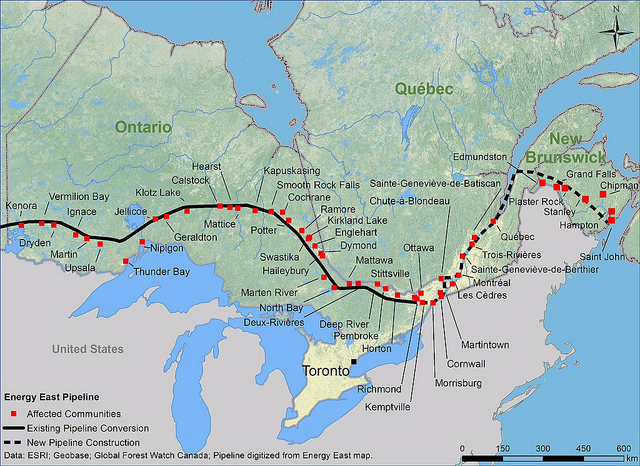 Council of Canadians map of Energy East pipeline route.
Mark Calzavera, regional director for Ontario, Quebec and Nunavut with the Council of Canadians, says the outpouring of support "shows very clearly that people are concerned about Energy East and that opposition is growing."
He added people are more interested in information about the pipeline and in challenging the information that is currently available.
"In no way is [Energy East] a nation-building pipeline," he said. "It's an export pipeline."
"It's taking the product in its rawest form that it can be shipped in, which is diluted bitumen, and they are exporting it along with any the jobs that go with refining it."
The people of Canada have for years now been saying they're concerned about climate change and are looking for leadership on climate change from their governments and we haven't seen it so people are taking matters into their own hands. These pipeline projects – that lead to greater emissions – they're opposing them personally."
Nadeau-Dubois told CBC Daybreak Monday that Quebec is in a "serious situation."
"We have a very, very important choice to make around that very controversial Energy East TransCanada pipeline," he said.
Stewart said the 'nation-building pipeline' narrative deployed by TransCanada is now turning against the company and the Energy East proposal.
"The only nation that Energy East is building is a nation of resistance. TransCanada's attempt to trick people and buy support for their project has backfired, and now people want to be a part of the alternative," he said.
Image Credit: Environmental Defence Canada via Flickr