Drinking water for more than 60 per cent of Manitoba's population will be put at risk by TransCanada's proposed Energy East pipeline, according to a report released Monday by the Manitoba Energy Justice Coalition.
"The entire length of the Winnipeg aqueduct is in danger of contamination from the nearby pipeline," the report states. "Contamination could occur from large spills anywhere along the pipeline and from small, more frequent, undetected spills between Falcon Lake and Hadashville where the aqueduct and pipeline are very close."
Retired biophysicist and author of the report, Dennis LeNeveu, announced his findings in Winnipeg, saying the city's aqueduct is at risk from the nearby pipeline. LeNeveu added it is not just Winnipeg's drinking water that is threatened by the 1.1 million barrels a day Energy East project.
"The drinking water supplies in the province, as well as Winnipeg's supply are at risk of contamination from the pipeline. Many communities draw their water from rivers that the pipeline directly crosses," LeNeveu wrote in the report.
"Winnipeg has much to lose from the pipeline crossing within its boundaries and little to gain."
The Manitoban portion of the Energy East project involves repurposing a 40-year old natural gas pipeline to transport crude from Saskatchewan and the Alberta oilsands (also called tarsands) to refineries and export facilities on the east coast. TransCanada plans to convert a total of 3,000 kilometres of natural gas pipeline and construct another 1,600 kilometres of pipe in eastern Canada for the project.
The proposed pipeline for conversion in Manitoba is one of six natural gas lines laying side by side south of Winnipeg. LeNeveu is concerned the proximity of natural gas and oil pipelines adds additional risk.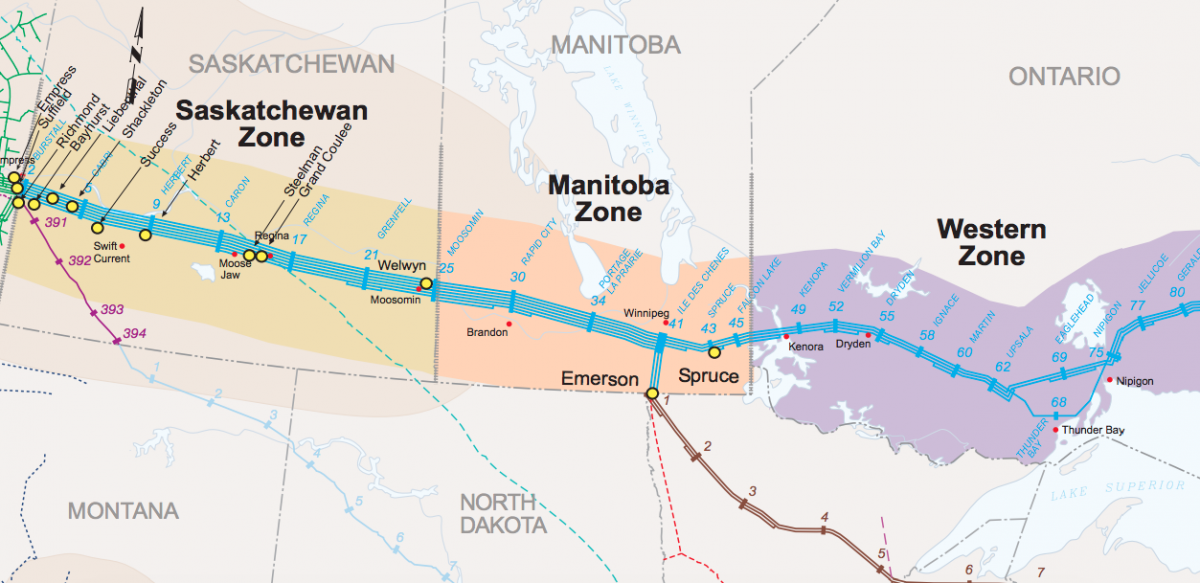 TransCanada's system map shows parallel gas lines running through Manitoba. TransCanada is proposing repurposing one of the gas lines to transport oilsands crude.
A 2014 explosion in one of the gas lines left a crater ten metres wide and three metres deep leaving around 4,000 Manitobans without heat in the dead of winter.
The explosion was TransCanada's fourth failure in twenty years in the province.
"There is a significant risk of rupture and explosion of the Energy East line from the nearby natural gas lines… An explosion and black toxic smoke plume from a dilbit (diluted bitumen) fire could easily be larger than occurred at Lac Megantic," the report states.
"The smoke plume from such an explosion and fire could necessitate the immediate evacuation of the entire population of Winnipeg should it occur nearby."
Winnipeg's Red River, and the LaSalle, Seine and Assiniboine Rivers are all listed in the report as potentially threatened by an Energy East pipeline spill.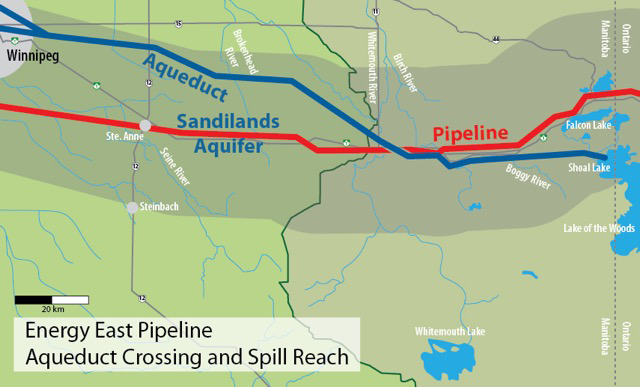 Image from the Manitoba Energy Justice Coalition report.
Of particular concern is the lack of information in the Energy East application on safety features like pipeline shut off valves or modeling pipeline pressure swings that can cause damage to pipe walls, according to the report.
"There is no information in the Energy East submission on the location of shut off valves and especially those around water crossings. This lack of information could be considered a major deficiency," the report concludes.
Although, TransCanada submitted an unprecedented 30,000-page project application for Energy East to the National Energy Board (NEB) in 2014, the application is not complete.
The NEB, Canada's pipeline regulator, recently ordered TransCanada to submit additional project information for the pipeline review process to move forward.
The information TransCanada provided indicates the pipeline company does not plan on making the final details of the project available to the NEB or the public until the end of this year.
Image Credit: Energy East
New title
You've read all the way to the bottom of this article. That makes you some serious Narwhal material.
And since you're here, we have a favour to ask. Our independent, ad-free journalism is made possible because the people who value our work also support it (did we mention our stories are free for all to read, not just those who can afford to pay?).
As a non-profit, reader-funded news organization, our goal isn't to sell advertising or to please corporate bigwigs — it's to bring evidence-based news and analysis to the surface for all Canadians. And at a time when most news organizations have been laying off reporters, we've hired eight journalists over the past year.
Not only are we filling a void in environment coverage, but we're also telling stories differently — by centring Indigenous voices, by building community and by doing it all as a people-powered, non-profit outlet supported by more than 2,900 members. 
The truth is we wouldn't be here without you. Every single one of you who reads and shares our articles is a crucial part of building a new model for Canadian journalism that puts people before profit.
We know that these days the world's problems can feel a *touch* overwhelming. It's easy to feel like what we do doesn't make any difference, but becoming a member of The Narwhal is one small way you truly can make a difference.
We've drafted a plan to make 2021 our biggest year yet, but we need your support to make it all happen.
If you believe news organizations should report to their readers, not advertisers or shareholders, please become a monthly member of The Narwhal today for any amount you can afford.