"Our messages are not resonating," Natural Resource Minister Greg Rickford told a room full of oil and gas executives in a luxury Rocky Mountain resort last fall. "You are fighting an uphill battle for public confidence."
Rickford, who attended the meeting at the request of the Canadian Association of Petroleum Producers (CAPP), encouraged the executives to do more to spread the oil industry's message to the Canadian public.
"Much of the debate over energy is characterized by myth or emotion," he said, suggesting scientists and campaigners critical of development in the Alberta oilsands were "crowding out the real facts."
Rickford made no mention of Canada's international climate commitments, but he did deride concerns about pollution from the oilsands — the country's fastest growing source of greenhouse gas emissions.
Rickford's advice, released to Greenpeace via an Access to Information request, marked the beginning of a decisive shift in industry's public relations campaigns.
As CAPP described it to The Guardian: "The energy industry is embarking on a different level of engagement and CAPP is moving to a ground campaign to activate industry supporters."
While we'll likely never know the level of coordination happening behind the scenes, the shared vision going forward was clearly articulated by Rickford: "Those of us here in this room have a responsibility to tell our shared energy story," he intoned. "We must all be on the same page."
Of Oil and Patriotism
Rickford's call for a new "shared energy story" was in October of 2014.
At that point, the narrative that environmental advocates were "un-Canadian" had been seeded in public discourse, most doggedly by blogger Vivian Krause and most famously by key Conservative players high in the political party hierarchy.
The connection between pro-industry ideals and patriotism had been ham-handedly advanced by controversial personality Ezra Levant through his Ethical Oil campaign (which seemed to lose steam after its industry and Conservative-party connections were exposed by DeSmog).
Since then, the attempt to persuade Canadians of the Canadian-ness of the oil industry has ramped up and become much more polished.
A whole host of campaigns designed to advance the agenda of the fossil fuel industry have cropped up: Resource Works, British Columbians for Prosperity, Energy Citizens, Coal Alliance, Canadian Natural Resources Alliance, Pipeline Action, and many others.
But no individual has mastered the art quite as effectively as the oil industry's citizen activist Cody Battershill, founder of Canada Action.
Described as a "one-man oil sands advocate…in [a] PR war," last year Battershill told the National Post he wants to create a more "balanced conversation" about the Alberta oilsands.
But DeSmog Canada's research indicates Battershill and Canada Action appear to have close ties to the oil industry and to powerful campaigners from the Conservative Party of Canada.
Who are Cody Battershill and Canada Action?
Battershill is a young Calgary realtor in the top one per cent of agents in his Canada-wide company. As he tells the story, his oilsands advocacy began in 2010 when he was walking along Vancouver's Robson Street and noticed that a LUSH cosmetics store had placed some "Stop Oilsands" posters in its window. It caught his attention, he says. He knew nothing about oil and gas but "common sense says that everything in that store is made possible by natural resources."
Battershill said he decided to get involved to foster "a more informed conversation about resource development." He started a Twitter account and has been building Canada Action ever since.
His non-profit organization, Canada Action, sells clothing for men, women and children with the statement: "I love oil sands," designed by Canada Action's Robbie Piccard.
It echoes a longer-running campaign in the U.S. — run by Alex Epstein from the pro-industry Center for Industrial Progress — that makes a moral case for fossil fuels. Epstein, like Battershill, argues social prosperity relies on the consumption of fossil fuels while overlooking the overwhelming scientific evidence that shows the negative impacts of industrial pollutants and greenhouse gas emissions.
Did you know you can move somewhere where it's #EarthHour, every hour? (Always enjoy hearing @AlexEpstein speak) pic.twitter.com/7BOSp66buP

— Cody Battershill (@codyincalgary) June 16, 2015
Battershill declined to comment on his relationship with Epstein. Epstein did not respond to an interview request.
Battershill, right on point with Rickford's advice, has said critics of industry add "a lot of fear and emotion to the argument that's not supported by facts."
Alongside his prolific Twitter activity, Battershill writes articles for the Huffington Post, the Calgary Herald and the Journal of the Canadian Heavy Oil Association, where he often opposes the opinions of climate campaigners or other environmental advocates.
Canada Action also produces numerous slick infographics that promote industry views on oilsands development. These are in turn shared by Canada Action sub-groups, Oilsands Action and Pipeline Action, which play an active roll disseminating industry-friendly information to large audiences on Facebook and Twitter.
Not bad for a realtor.
So is Canada Action a one-man band as Battershill would prefer people to believe or is there more than meets the eye?
Deep Industry, Conservative Connections
Canada Action was registered as a federal not-for-profit society in September 2014. With a little help from his friends, Battershill held a launch party at the Woods Buffalo Brewing Co. in Fort McMurray the same day. (Through a corporate registry search, DeSmog Canada discovered Canada Action existed as a numbered corporation between 2012 and 2013 before being renamed Canada Action Coalition in August of 2013.)
Kim Farwell, leader of oilsands extraction at Syncrude and two-time former president of the Conservative Party of Canada's riding association in Fort McMurray helped Battershill organize the event along with Robbie Picard, Canada Action campaigner. Another organizer, Diane Slater, announced she was retiring as chief administrative officer at the Fort McMurray Chamber of Commerce — whose ranks are loaded with heavy oil businesses — to take on a more active role in Canada Action.
Canada Action's registration as a non-profit society reveals its board of directors. Most interestingly, Canada Action's society documentation indicates Battershill brought in an accomplished Conservative campaigner as a director.
Matt Gelinas and the 2011 Robocall Scandal
Although he was only 26 when Canada Action was incorporated, director Matt Gelinas already had a long history of political campaigning and advocacy for conservative causes. In 2006, he supervised phone banks for the Alberta Progressive Conservative leadership campaign of the most right-wing candidate, Ted Morton.
As a University of Calgary political science student, Gelinas helped organize the visit of right-wing, incendiary speaker Ann Coulter to the university campus in 2011. In one of her more famous claims about Muslims, Coulter said, "We should invade their countries, kill their leaders and convert them to Christianity."
By the time he graduated, Gelinas was a seasoned political campaigner working closely with key conservative organizations.
Gelinas went on to work with the Manning Centre, an organization that promotes conservative ideas and politicians. In 2013, before the Alberta provincial election, he presented a workshop at the Manning Centre titled: "Do you know how to get your voters out?"
Gelinas is also an expert consultant on NationBuilder, which provides software for political campaigns, helping candidates organize their online presence. NationBuilder's power lies in converting social media activity into datasets useful for elections campaigning and fundraising.
Gelinas studied under conservative political strategist, and Stephen Harper's former chief of staff, Tom Flanagan. In his book, Winning Power: Canadian Campaigning in the Twenty-First Century, Flanagan writes that he contracted Gelinas' company Blue Direct to perform "auto-dialler polls and electronic town halls."
Blue Direct is still run by Gelinas' colleague and conservative campaigner Richard Dur who was credited for helping win the 2011 federal Conservative majority. Dur is a trainee of the Koch brothers-funded Leadership Institute, a training centre for "conservative activists" that counts many senior Canadian conservative leaders among its alumni.
According to his LinkedIn account, between 2012 and 2013, Gelinas worked for the Responsive Marketing Group, an automated call service. The company has played a key role in the history of the Conservative Party of Canada and was a central player in the 2011 robocall scandal, before Gelinas joined its ranks.
Gelinas is also listed on Yatedo.com as an owner of Alberta Blue Strategies, a company that provided fundraising, voter identification services and automated calling services to the Conservatives. The Alberta Blue Strategies web address is no longer active, but according to urlmetrics.com the only available links currently redirect to the Blue Direct website.
Alberta Blue Strategies was paid more than $5,000 in 2011 from a Conservative candidate in a riding blanketed with misleading robocalls. The calls in that riding were later traced to an automated phone service provider called RackNine, which claims it provided services to a third-party who tried to "disrupt voting." Although there is no overt connection between RackNine and Alberta Blue Strategies, Gelinas notes in a client testimonial on the company's website that he recommends RackNine, which he uses for all his "web solutions." DeSmog Canada could not confirm if Gelinas was connected with Alberta Blue Strategies in 2011.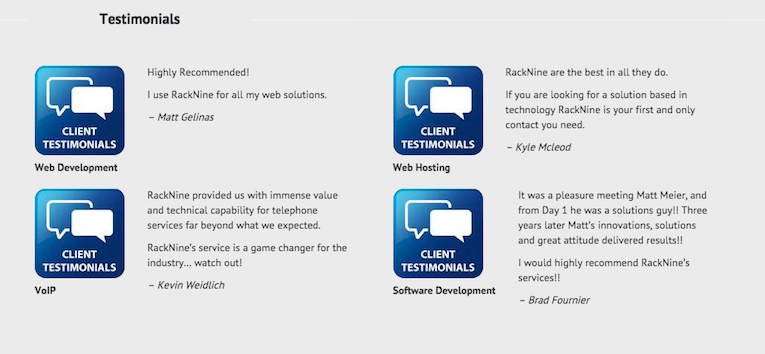 Screenshot from the RackNine website hosting Matt Gelinas' testimonial.
Furthering the connections between Gelinas' businesses, colleagues and the Conservative Party of Canada, Riley Braun, an employee of Alberta Blue Strategies from 2011 to 2012 went on to become a stakeholder relations assistant in the office of Stephen Harper.
Canada Action's listed address is the same as Alberta Blue Strategies. It is also the same as Patchwork Investments, owned by Susan Gelinas, the third member of Canada Action's board of directors. There is little information about Patchwork Investments available online, but it is described on several websites as providing investment advice. Several calls to Patchwork's listed phone number went unanswered.
Canada Action also shares an address with Data Trek Inc., an oil and gas data service provider. According to LinkedIn, the president of Data Trek is Dave Gelinas, who is a Facebook friend of Matt Gelinas, Richard Dur and Cody Battershill. DeSmog Canada tried to contact Matt Gelinas through Blue Direct to clarify his relationship to Dave Gelinas, but messages were left unanswered. A publicly available phone number for Data Trek is no longer in service.
Following the Money
As a non-profit society, Canada Action's funders are not on the public record. Battershill says his supporters are ordinary citizens volunteering their time and effort to achieve that more "balanced conversation" about responsible resource development.
When asked who funds Canada Action by Stu McNish, producer of the Conversations That Matter video series, Battershill replied, "I've spent tens of thousands of dollars out of my own pocket."
"There is nothing astroturf or fake about my passion for my country," he added. "I've put my money, my time and my actions where my mouth is." McNish did not ask Battershill if he receives industry or political funds.
DeSmog Canada made several interview requests to Battershill, who declined to answer questions e-mailed to him at his request. These included questions about Canada Action's relationship with the Conservative Party, Battershill's relationship with Matt Gelinas and whether or not Canada Action is currently or has ever received funding from individuals or groups associated with the fossil fuel industry or the Conservative Party.
In an e-mailed statement Battershill said, "We're strong supporters of Canada's oilsands and the resource sector generally because we know how important these industries are to Canada's present and future prosperity. We believe it's critical to educate Canadians about the social and economic benefits provided by the resource sector and its commitment to world-class environmental stewardship."
He added the organization is non-partisan.
"We accept donations from individuals and we sell Canada Action merchandise to support our campaigns," the statement said.
Food, Shelter, Clothing and Family Vacations. This is what Canada's resources mean to Matt from Nanaimo, #BC. pic.twitter.com/JYutrG5yws

— Canada Action (@CanadaAction) July 18, 2015
Canada Action "Oversimplifies" Oilsands Issue
Battershill says he is standing up for more balanced and inclusive conversations about Canada's energy resources. Although to onlookers, Battershill's shrill criticism of climate and environment advocates may be working in the wrong direction.
In addition to celebrating Canada's strong economy and its reliance on the extractive industries, Battershill also spends ample time countering the claims of prominent environmental organizations and renewable energy advocates.
In December, Battershill attacked the credibility of the director of Clean Energy Canada, Merran Smith, calling her an "eco-activist" with a "divisive campaign to injure the oilsands in the view of the public." He has similarly criticized climate campaigner Mike Hudema from Greenpeace, Canadian journalist and author Naomi Klein and celebrities like Leonardo DiCaprio and Neil Young who have joined campaigns to advocate for the treaty rights of First Nations in the oilsands region.
Battershill has also taken up the narrative of blogger Vivian Krause who argues critics of the oilsands industry are merely paid protesters advancing the interests of U.S. companies (DeSmog has debunked Krause's theory in an in-depth post).
According to Ken Chapman, former director of the Oil Sands Developers Group and proponent of triple-bottom line resource development, Battershill's antics are not part of a constructive conversation.
"I think his intentions are sincere," Chapman said of Battershill. "The problem is that I think he's too much of a fan and I think he gets clouded. It's difficult from Calgary to see the oilsands in perspective. I see lots of people have that problem. It's also difficult from outside of Alberta to see the oilsands clearly," he said.
Chapman said pro- and anti-oilsands groups take extreme positions, "like religious beliefs" that dominate the conversation, crowding out the facts.
"And it doesn't matter what the facts are, it's the belief systems that are what's dominating. And quite frankly, they always will. What is open yet is the adult conversation, as opposed to the elementary school recess conversation."
Chapman said that while Battershill's "heart is in the right place…he is a little naïve."
"This guy wants to win an argument. The thing is it's not an argument. It's about a design. We have to take a design approach to this thing, not an adversarial approach."
Chapman added that while he thinks Canada will continue to develop fossil fuels for years to come, "we have a responsibility to do it better."
He said that he owns an "I love oilsands" button that he wears in Fort McMurray. "I'm an owner of the oilsands. I want to be proud of it. I want to love the oilsands," he said, adding, "I'm not there yet."
"People are trying to oversimplify the issue. And people like Cody is well-intentioned on the industry side, but he's oversimplifying the issue."
New title
You've read all the way to the bottom of this article. That makes you some serious Narwhal material.
And since you're here, we have a favour to ask. Our independent, ad-free journalism is made possible because the people who value our work also support it (did we mention our stories are free for all to read, not just those who can afford to pay?).
As a non-profit, reader-funded news organization, our goal isn't to sell advertising or to please corporate bigwigs — it's to bring evidence-based news and analysis to the surface for all Canadians. And at a time when most news organizations have been laying off reporters, we've hired eight journalists over the past year.
Not only are we filling a void in environment coverage, but we're also telling stories differently — by centring Indigenous voices, by building community and by doing it all as a people-powered, non-profit outlet supported by more than 2,900 members. 
The truth is we wouldn't be here without you. Every single one of you who reads and shares our articles is a crucial part of building a new model for Canadian journalism that puts people before profit.
We know that these days the world's problems can feel a *touch* overwhelming. It's easy to feel like what we do doesn't make any difference, but becoming a member of The Narwhal is one small way you truly can make a difference.
We've drafted a plan to make 2021 our biggest year yet, but we need your support to make it all happen.
If you believe news organizations should report to their readers, not advertisers or shareholders, please become a monthly member of The Narwhal today for any amount you can afford.