This article originally appeared on The Tyee.
At least seven of 51 large dams built by the province's shale gas industry in northeastern B.C. were not safe and required "enforcement orders" to comply with the law.
Almost six months after an independent report raised serious questions about the legality and safety of earth dams built to hold water for the fracking industry, the province's energy regulator now reports it is taking action.
The Oil and Gas Commission recently issued a bulletin saying it had inspected 51 dams northwest of Fort St. John last May and found "some issues" at seven different structures.
These issues included water spilling over their top, erosion at the base and potential failure representing a hazard to the environment, First Nations and energy workers, according to the orders issued by the commission.
The commission ordered Progress Energy to reduce water volumes by 50 per cent at five dams containing between 4.4 million and 26 million gallons of water.
The commission says it has identified 51 water storage sites holding more than 2.2 million gallons that qualify as regulated dams under B.C.'s Dam Safety Regulation. The dams are operated by 10 oil and gas companies.
The industry funded energy regulator also ordered ConocoPhillips to empty all the water from two dams deemed unsafe and insecure.
Both ConocoPhillips enforcement orders noted "that allowing the structure to fill with water above the native grade elevation creates a potential for failure of the dam and a large release of material downslope."
Inspectors also found a variety of problems at five dams built by Malaysian-owned Progress Energy, including erosion, slumping and water overflowing the top of the dam.
In one case water levels came to within 50 centimetres of the top of the dam during a recent storm, "creating risk of overtopping." In addition, "the existing closed-culvert spillway on the structure is insufficient to provide adequate outflow in the event of a large inflow from a storm rainfall event," inspectors found.
In July the commission ordered Progress Energy to reduce water volumes in the structure because if it was more than half full there was "potential for structure failure."
The OGC says the company has complied with the order at all five dams.
In 2015 Progress Energy triggered a 4.6 magnitude earthquake, one of the largest earthquakes attributed to the brute force technology of hydraulic fracturing, while injecting 35 million gallons of water, chemicals and sand over a three-week period in 132 stages. Each stage creates fractures in rock deep underground, allowing gas to flow to wells.
Increasing volumes of water have been used in fracking in the north Montney shale gas basin. Between 2012 and 2015 the mean amount used per well increased 62 per cent to 3.6 million gallons, the commission told The Tyee.
The regulator is also playing catchup in terms of providing legal authorization for the structures.

Location of 12 Progress Energy dams. Dams under review at the time of Ben Parfitt's original story on unauthorized dams in May 2017 are marked red. Yellow indicates existing Progress Energy dams that were constructed in advance of the company's water licence applications submitted in December of 2016.
The OGC's recent bulletin asks "the operators of water storage structures to submit the necessary applications, including assessments and any necessary design modifications done by qualified engineers."
As companies submit their designs, the commission says that it is "working to review all of them to ensure timely decisions are made in accordance with applicable regulatory and legal requirements." It has hired more staff to address safety at the dams — a subject that now has its own OGC website.
But The Tyee has learned that OGC only released its bulletin and the enforcement orders to the public on Sept. 29, five days after Parfitt filed a freedom of information request on the same topic to the OGC.
"It is deeply troubling that orders to companies on structures showing signs of failure are not issued publicly at the time, but only five days after a freedom of information request," said Parfitt in an interview.
"Why didn't the OGC publish their enforcement orders when they issued them back in May? I think there is a problem with transparency and integrity here," added Parfitt.
Parfitt's original report on the proliferation of unauthorized dams to store water for fracking operations was released last May by the Canadian Centre for Policy Alternatives.
The document reported that many of the dams were unauthorized and that at least one had failed during extreme weather.
The OGC denies that its recent bulletin or publication of enforcement orders has anything to do with Parfitt's reporting or queries.
"The Commission has been working on a compliance and enforcement webpage for a few months — it was ready to put in production in late September," said Phil Rygg, director of public and corporate relations.
Rygg also denied that the CCPA report prompted the commission to inspect the dams.
"Once we were granted the authority to inspect dams under the Water Sustainability Act last year, we started working with the Ministry of Forests, Lands, Natural Resource Operations and Rural Development to determine the number, location and owners of dams used in the oil and gas sector, and notified industry," said Rygg in an email.
"Due to snowpack levels, we weren't able to investigate each dam until the snow had fully receded in the northeast earlier this year, which was mid-May in the Montney region, and mid-June in the Horn River Basin area."
But Parfitt says that's not true.
"The suggestion that it was the enactment of the Water Sustainability Act that compelled the OGC to move is a smokescreen," he said. "The dams were all built when the old water act was in place, and many of them were built in contravention of that act because many of them impounded freshwater."
"Both the OGC and the companies and [the lands ministry] for that matter seem to want to hide behind the 'oh, the legislation changed' argument. That's clearly false," added Parfitt.
Parfitt also found it "stunning" that the OGC would claim that a flyover of the 50 dams was delayed because of snow.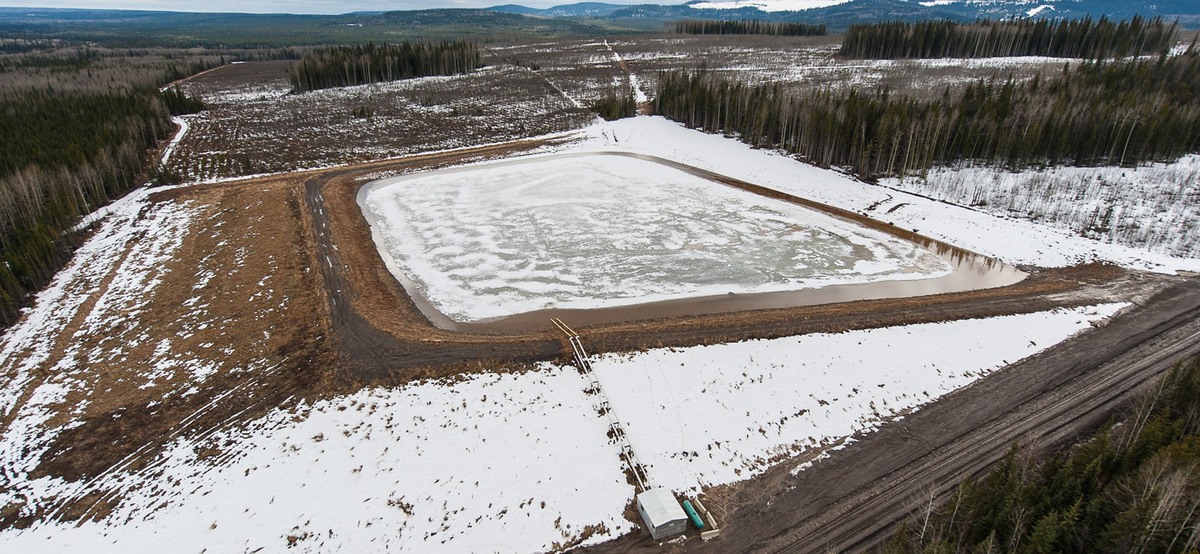 An unauthorized Progress Energy dam where millions of gallons of freshwater was found impounded in early April. It is among "dozens" of unpermitted dams spread across northern B.C. Photo © Garth Lenz, all rights reserved.
His report came out on May 3. On May 10 the commission issued a statement warning companies of potential problems due to extreme heavy rains.
"A week later they do the flyover and find troubles at seven of 50 dams, or 14 per cent of all facilities investigated," said Parfitt.
Seismic experts, such as Gail Atkinson, a professor at Western University, also expressed alarm at the ad-hoc construction of dams in an area experiencing a sustained rise in man-made earthquakes due to hydraulic fracturing.
Atkinson says earthquakes triggered by hydraulic fracturing can exceed the natural quake hazard, posing unanticipated risks to dams and other infrastructure.
"Any unauthorized dam of significant size is a source of concern," Atkinson told The Tyee.
"Dams are supposed to be highly regulated for a reason," she said. "The Canadian Dam Safety Association puts out extensive guidelines on the engineering requirements for such structures — though they note that the standards do not actually have the force of law." (Water and dams are provincially regulated.)
"I would expect the province to take a firm stand on authorized dams of significant size that could pose a safety or environmental hazard," Atkinson said. "To use an analogy, if you constructed a five-storey building without getting a building permit, how would that go over?"
In a related development the provincial Environmental Assessment Office announced that it is now considering an unusual request from Progress Energy to exempt two large dams, the Lily and Energy Town structures, that the company built in 2012 and 2014, from provincial environmental assessments.
The Lily dam is seven storeys high while the Energy Town structure is five storeys high.
The Environmental Assessment Act clearly states that the EAO must assess all major projects before they are built, and not after the fact.
BC Regulator Finds Numerous #Frack Water Dams Unsafe, At Risk of Failure https://t.co/93KXPLFJaV #bcpoli #fracking @BenParfittCCPA @BCOGC

— DeSmog Canada (@DeSmogCanada) October 17, 2017
The CCPA report found due to their size the two dams should have triggered an automatic review by the province's Environmental Assessment Office before construction. But Parfitt found that the province failed to conduct a review before the dams were built.
In a recent submission to the Environmental Assessment Office Parfitt noted "the applications for an exemption from an environmental assessment were received in July 2017, more than five years after the Oil and Gas Commission gave relevant approvals for the projects, more than five years after the completion of the Town dam, and roughly three years after completion of the Lily dam."
"B.C.'s Environmental Assessment Act does not contemplate a situation in which projects are illegally built and an exemption is subsequently sought," he added.
In a Sept. 21 letter, Ecojustice, representing the Sierra Club of British Columbia Foundation, also argued that proper environmental certificates for the dams "should have been sought, environmental assessments conducted, appropriate conditions and mitigation required, and EACs [Environmental Assessment Certificates] granted prior to construction, if construction was allowed at all."
Ecojustice has asked the Environmental Assessment Office to deny the exemption request and refer the matter directly to the environment minister.
Image: Progress Energy Lily Dam is the largest dam in northeastern B.C. According to the company the dam has a berm height of 22.89 metres. Progress Energy has 29 dams in B.C, the average height of which is reportedly 5.33 metres. Photo: Progress Energy