Hello Narwhals! Happy new year. We're back after a little holiday break and while we're keeping an eye on the massive chaos happening south of the border, we're not losing sight of what's happening here in Canada.
We know we offer up our fair share of troubling stories, but we are also committed to reporting on how some of our biggest environmental challenges can actually be addressed. Case in point? A sprawling, big-picture, international series that was a year in the making …
Remember when wild salmon in B.C. were plentiful? I don't. (OK, maybe my age is showing.)
Critics have long charged that a big part of the problem lies within the province's massive farmed salmon industry, whose open-net pens have been found to spread disease and sea lice to wild populations. The industry begs to differ and insists its operations pose no harm.
But what if there was another, less controversial way? Turns out there is — and it's gaining ground, literally. From the desert of the United Arab Emirates to fields near the Florida Keys, land-based salmon farms are already in operation.
So where is B.C. on all of this? Pretty far behind, as Sarah Cox found in her reporting for The Narwhal's three-part series on the future of sustainable salmon.
To get a sense of what's happening on the land-based front, Sarah got in touch with the folks over at Atlantic Sapphire, who are growing three million Atlantic salmon in a landlocked industrial complex near Miami. You may have already taken a bite of their sushi-grade salmon if you shop at IGA supermarkets in Quebec.
In 10 years, Atlantic Sapphire plans to harvest more than double B.C.'s current yearly farmed salmon production.
So is this the beginning of the end for the province's open-net pens? Hold your horses (err, salmon). With global demand for protein growing, companies like Atlantic Sapphire say they're just stepping up to fill the production gap.
"Right now it's cheaper for B.C. companies to keep up open-net pens because that's where they've made their investments," Sarah told me. But that calculus could change with the markets.
"When you drill down and look at the facts, this one company alone plans to produce more than double what B.C.'s open-net penned salmons farms produce every year. And furthermore, they are selling their environmentally friendly product in the market that most B.C. farmed salmon now goes to. So in the end it comes down to consumer choice. That will be very telling."
As Sarah explains, all eyes will now turn to a federal report on the transition to more sustainable salmon practices expected to be delivered this spring. It will follow news from December, when Ottawa said 19 fish farms in B.C.'s Discovery Islands will be phased out by 2022.
"There is a lot of confusion about whether or not this transition means that we will stop farming Atlantic salmon in the Pacific Ocean or whether it just means that will be done in more secure ways than the open-net pens."
For its part, the government says it isn't ready to rule out any approach or technology, so long as the farming can be done in a sustainable way.
Take care and check for lice,
Arik Ligeti
Audience engagement editor
---
101 Narwhals
Wow, talk about the best new year's present ever: 101 of you stepped up on the last day of 2020 to support our journalism with a donation. We were able to raise a whopping $8,000(!) — money that will go directly toward all the incredible stories we want to pursue this year. That's on top of the ongoing support from our growing pod of members, who now number 2,300. We are so, so grateful. Here's to more groundbreaking investigations in 2021.
New title
Get The Narwhal in your inbox!
People always tell us they love our newsletter. Find out yourself with a weekly dose of our ad‑free, independent journalism
---
The Narwhal in the world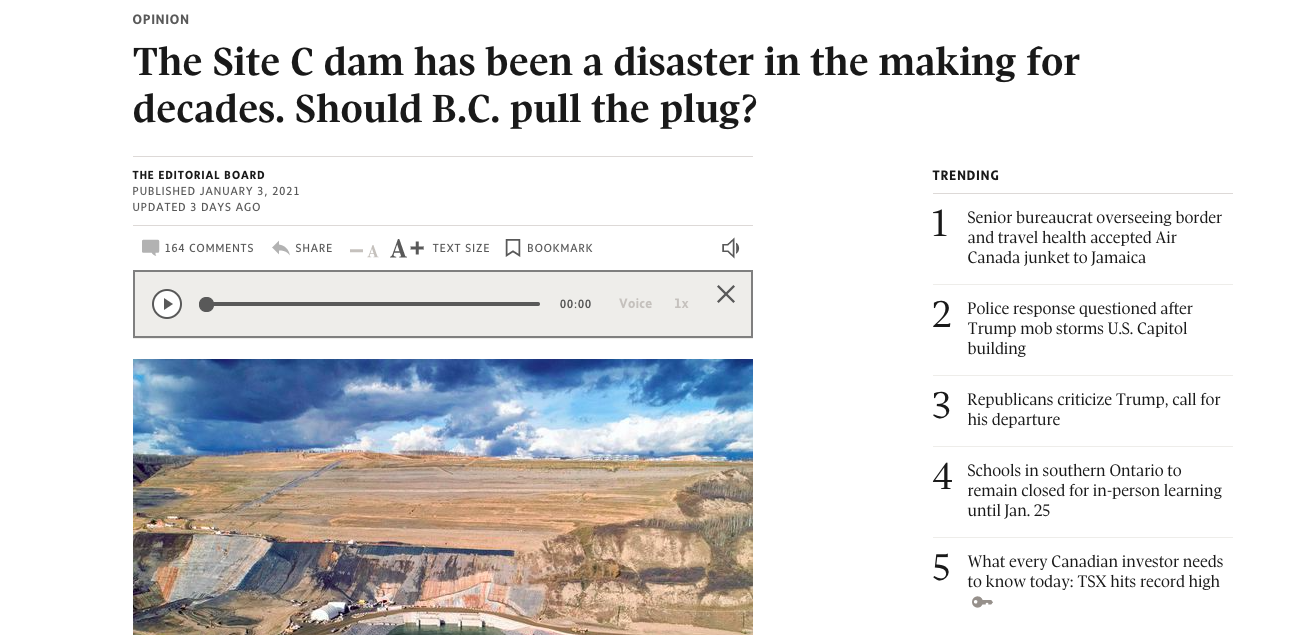 Sarah's Site C reporting continues to raise eyebrows, this time in a pair of op-eds in The Globe and Mail.
In a piece examining whether B.C. should pull the plug on the dam, the paper's editorial board noted that warnings about the project "came behind closed doors, before finally spilling out last summer." That's a nod to Sarah's investigation, which revealed top officials were aware of geotechnical issues more than a year prior to those details being shared with the public. Konrad Yakabuski also pointed to Sarah's story in a column calling for a public inquiry akin to the one conducted for the Muskrat Falls mess.
We're proud to see our coverage get the recognition it deserves. And yes, we're still waiting for the B.C. government to share the findings of an independent report on the state of the $10.7-billion (and counting) project.
---
This week in The Narwhal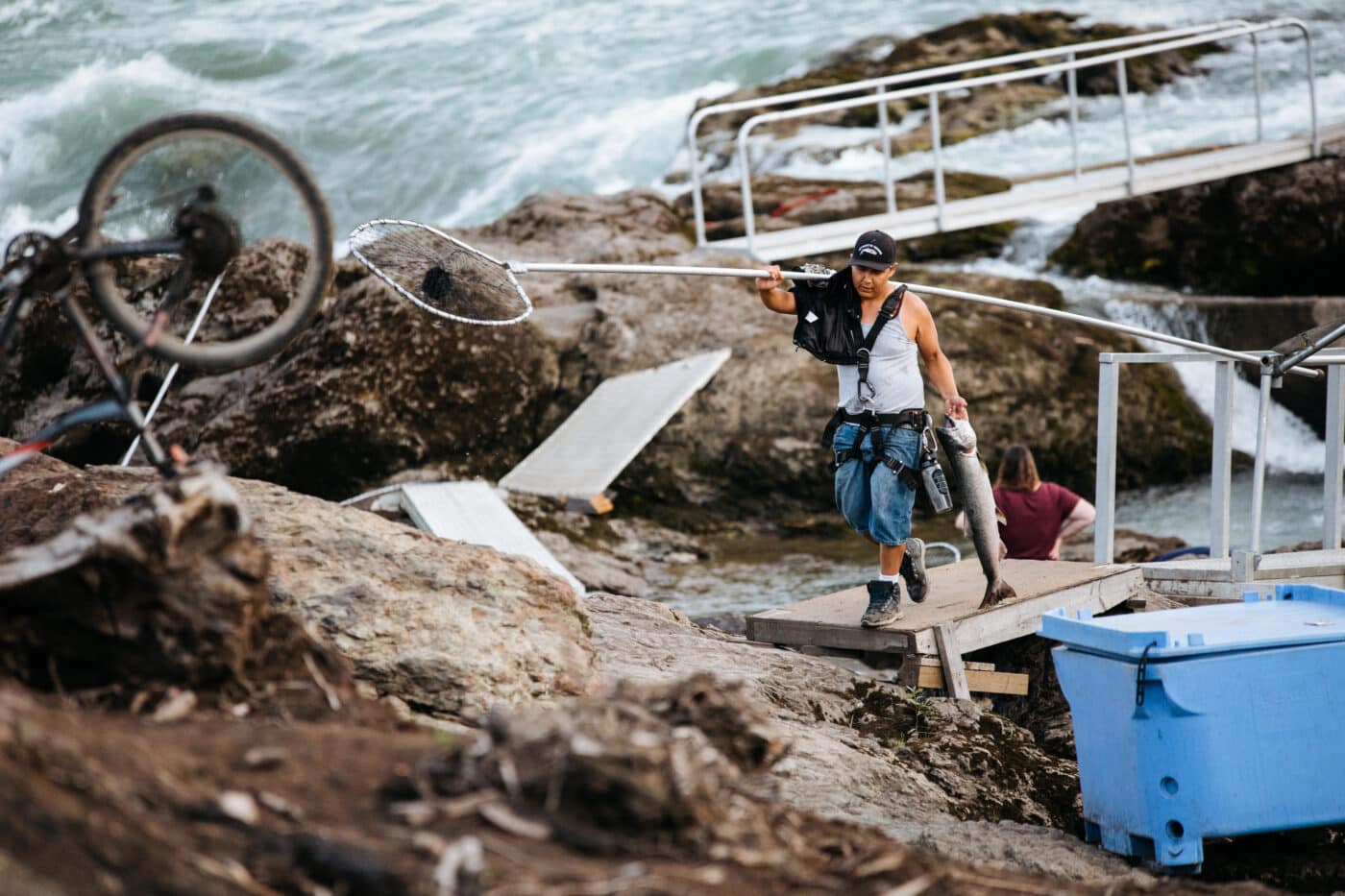 By Stephanie Wood
Traditional technologies, harvesting practices and management systems could bring endangered populations back from the brink, but government buy-in is needed. Read more.
---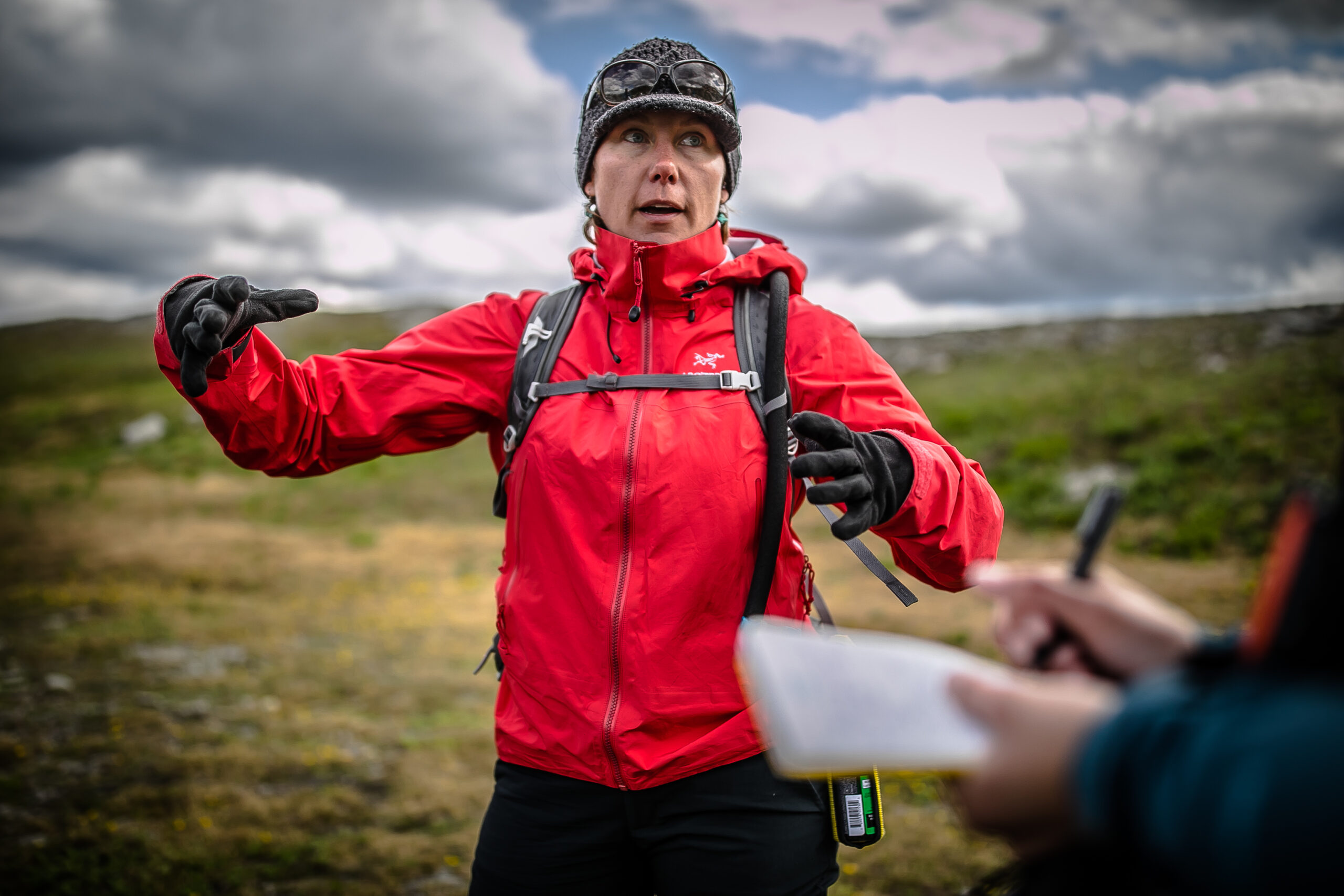 By Brian Owens
Ottawa has big ambitions but little research when it comes to setting aside the most valuable areas for conservation. Never fear, the mapping scientists are here. Read more.
---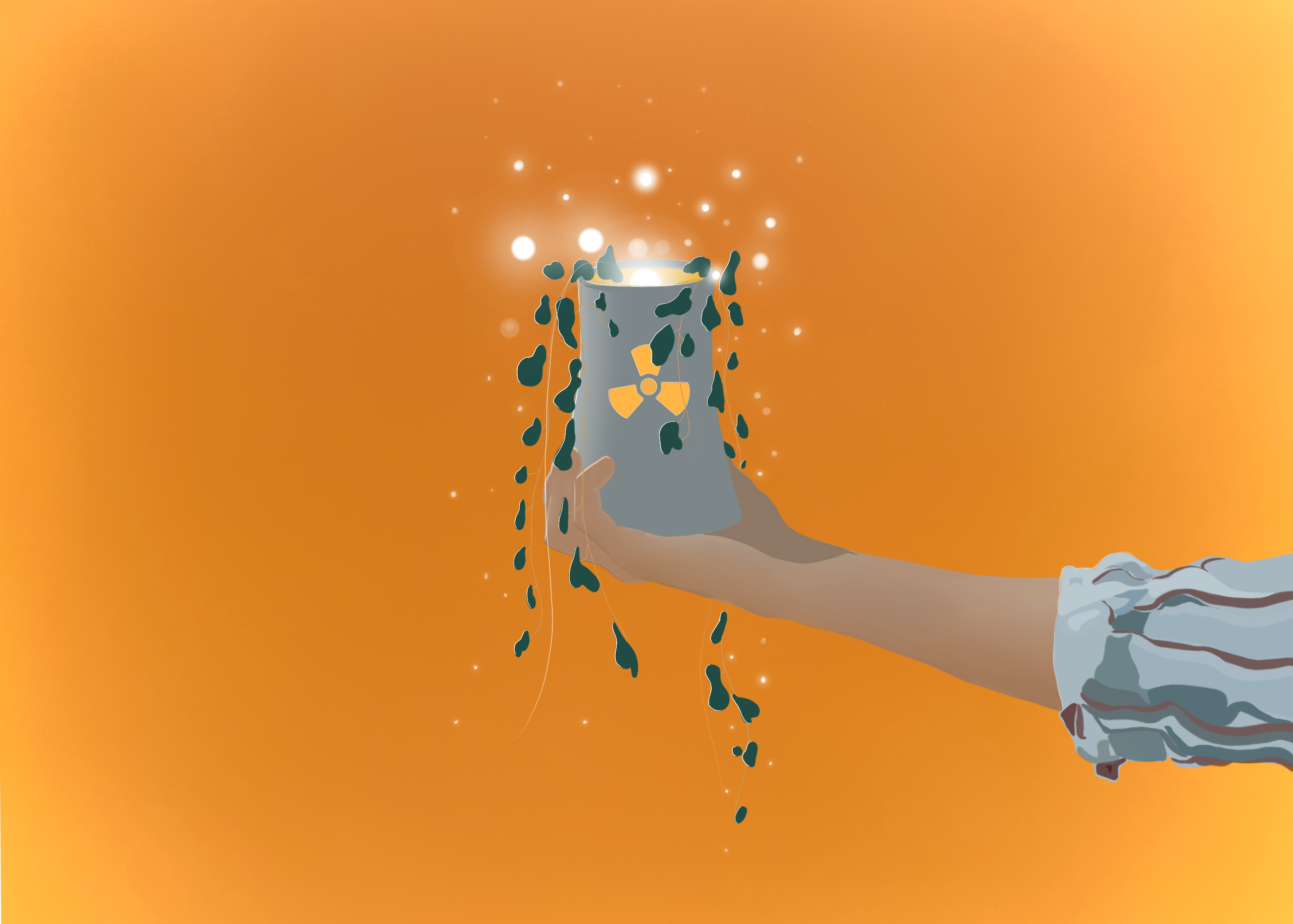 By Jimmy Thomson
Small modular reactors are variously described as a clean energy solution, a waste of time and a new danger. So, what's the deal? Read more.
---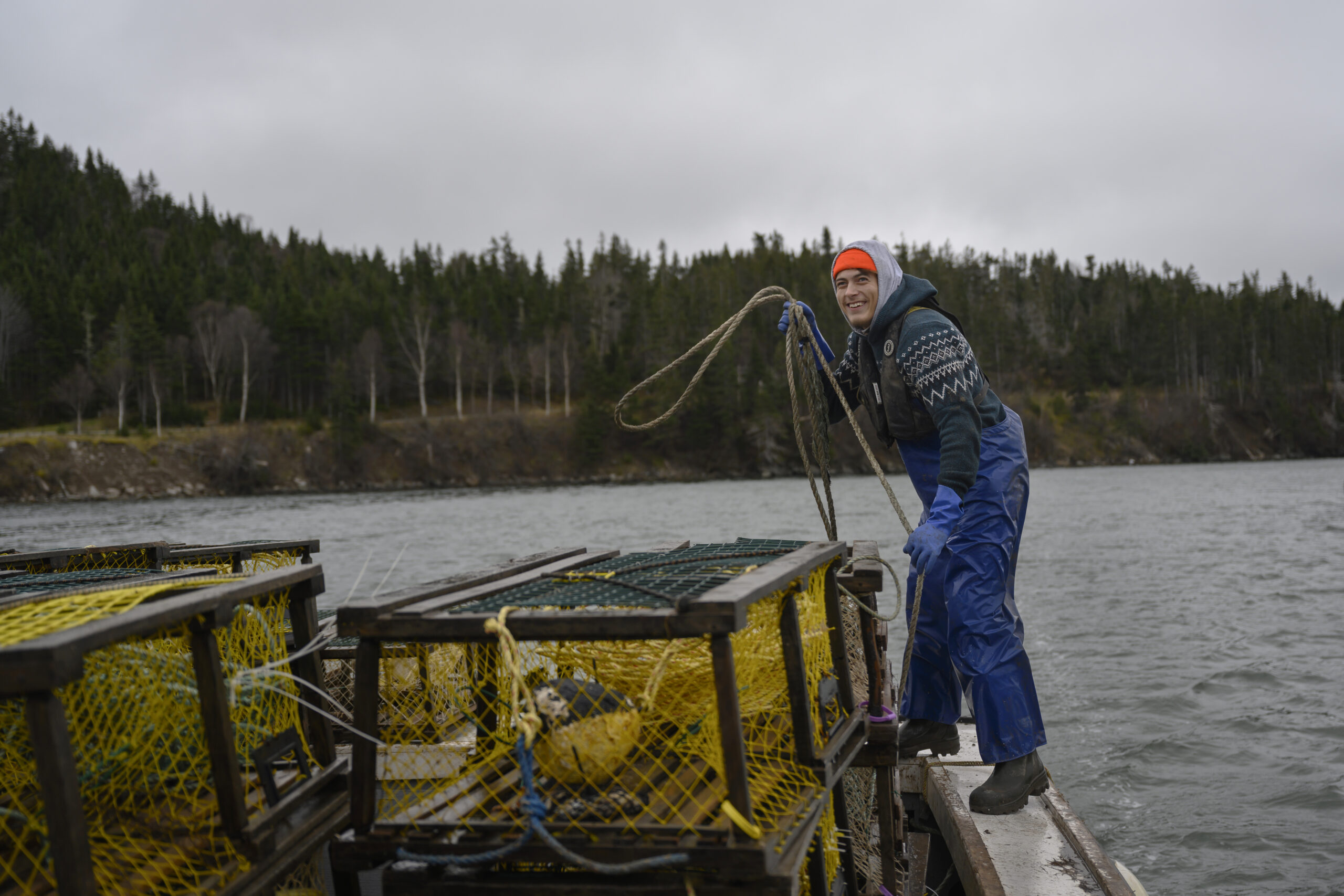 By Lindsay Jones
While protest, racism and violence have dominated the headlines surrounding the launch of Mi'kmaq lobster fisheries in eastern Canada, Mi'kmaq from Potlotek have been able to peacefully pursue their rights in a way that's giving other First Nations hope. Read more.
---
What we're reading
---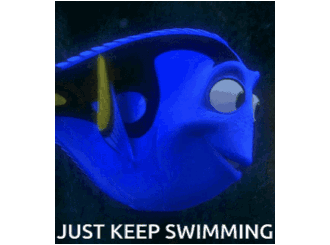 When you feel like a fish in a tank with nothing to do, sign up for our newsletter.
New title
You've read all the way to the bottom of this article. That makes you some serious Narwhal material.
And since you're here, we have a favour to ask. Our independent, ad-free journalism is made possible because the people who value our work also support it (did we mention our stories are free for all to read, not just those who can afford to pay?).
As a non-profit, reader-funded news organization, our goal isn't to sell advertising or to please corporate bigwigs — it's to bring evidence-based news and analysis to the surface for all Canadians. And at a time when most news organizations have been laying off reporters, we've hired eight journalists over the past year.
Not only are we filling a void in environment coverage, but we're also telling stories differently — by centring Indigenous voices, by building community and by doing it all as a people-powered, non-profit outlet supported by more than 2,900 members. 
The truth is we wouldn't be here without you. Every single one of you who reads and shares our articles is a crucial part of building a new model for Canadian journalism that puts people before profit.
We know that these days the world's problems can feel a *touch* overwhelming. It's easy to feel like what we do doesn't make any difference, but becoming a member of The Narwhal is one small way you truly can make a difference.
We've drafted a plan to make 2021 our biggest year yet, but we need your support to make it all happen.
If you believe news organizations should report to their readers, not advertisers or shareholders, please become a monthly member of The Narwhal today for any amount you can afford.