The National Energy Board (NEB), Canada's federal pipeline regulator, has come under tremendous public criticism over the last three years for limiting public participation in its review of major oil pipeline proposals. In recent years the board has denied hundreds of Canadians an opportunity to voice their concerns on projects like Kinder Morgan's Trans Mountain pipeline and Enbridge's Line 9.
TransCanada's Energy East, Canada's largest proposed oil pipeline, is the newest project to land on the NEB's desk. Despite major barriers to participation in the public hearing process, Canadians are preparing to apply in droves, even if just for the opportunity to be officially rejected from the process.
"We can't sit back and we can't afford the luxury of despair," Donna Sinclair of North Bay, Ontario said. "We need to resist efforts to shut us out of the process."
Sinclair, who was denied the opportunity to submit a letter of comment regarding the Line 9 pipeline project in 2013, plans on applying to participate in the NEB review process for Energy East.
Why Participate in a Broken Process?
Despair about the process, especially for pipeline critics like Sinclair, is understandable enough. After recent changes to federal legislation the NEB now limits participation only to members of the public the board believes are "directly affected" or possess "relevant information or expertise" on a given project.
"The narrow restrictions on speech are completely anti-democratic," Sinclair told DeSmog.
Canadians wishing to submit comments to the NEB on the 1.1 million barrels-a-day Energy East pipeline must complete the board's 'application to participate' form by March. Completion of the form does not guarantee one's participation in the NEB-run public hearing process.

What qualifies an individual as having the relevant level of expertise can at times be difficulty to ascertain. Last spring the NEB refused the application of 27 scientists and experts from B.C. universities who registered to participate in the Kinder Morgan Trans Mountain pipeline hearings.
Over two thousand people and organizations applied to participate in the NEB Trans Mountain hearings. Four hundred and sixty-eight were rejected outright.
The approval of the contentious Northern Gateway pipeline, despite broad public opposition, worked to convince many British Columbians that the board's only real authority resides in its ability to dictate approval conditions. The NEB subjected the Northern Gateway pipeline's approval to a hefty total of 209 conditions.
Further weakening the NEB's authority, thanks to omnibus budget bill C-38, decisions by the board are now subject to federal cabinet approval, leaving what was previously a quasi-judicious and independent decision ultimately in the hands of politicians.
Even individuals from the energy industry are losing faith in the process. Last November, Mark Eliesen, a former energy executive with 40 years experience, publicly quit the Kinder Morgan Trans Mountain public hearings, calling the NEB process "fraudulent" and a "public deception." Even B.C.'s environment minister Mark Polak said the province has had its "own issues with the process," which include the NEB defending Kinder Morgan's right to withhold critical information on things like spill response measures.
In this light, it is perhaps astonishing Canadians continue to apply en masse to be heard by the NEB on new proposed pipelines like Energy East.
So why does the public still try to elbow its way into a broken process which decides, ostensibly without their regard, the fate of new pipelines in Canada?
Hearings Drive Public Awareness, Opposition
"Participating in the NEB process helps to bring forward new information and keep the issue alive so that awareness and opposition grows," Tzeporah Berman, legendary B.C. environmentalist and co-founder of ForestEthics, told DeSmog Canada.
"In the end the NEB may approve a project, but if you have approval without social license and are facing lawsuits, difficulty with provincial permits and massive protests, the barriers to development are pretty serious," she said.
The Northern Gateway pipeline is a prime example.
Over one thousand five hundred Canadians presented oral statements against the pipeline to the NEB. Attempts to criticize pipeline opponents – most infamously in former Natural Resource Minister Joe Oliver's 'foreign funded radicals' letter – drove further support for the opposition movement.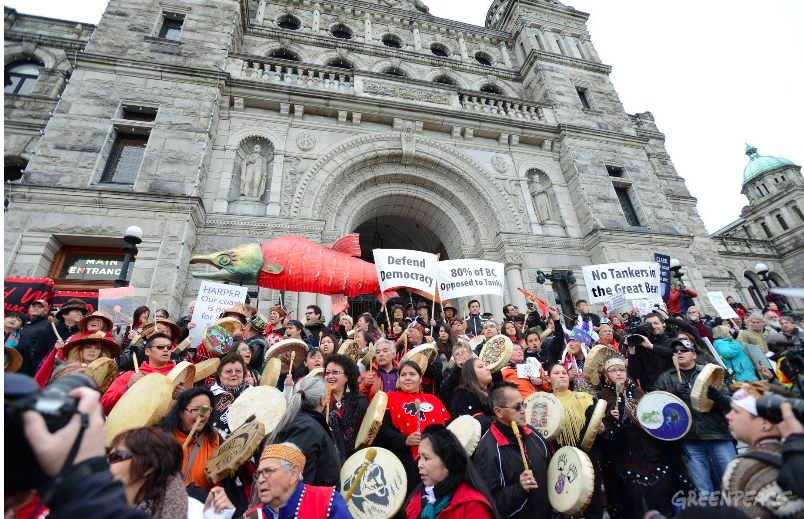 Defend Our Coast Protest Against the Northern Gateway Pipeline in 2012.
The NEB ultimately approved the project, yet the hearing process generated a massive anti-pipeline coalition comprised of engineers, scientists, First Nations, municipalities, environmental organizations and a good portion of the general public.
Strong social pressure undoubtedly influenced the unprecedented 209 conditions the NEB eventually attached to the pipeline's approval. Meeting every condition may actually be impossible for the project's proponent, Enbridge.
The NEB's conditions for Enbridge's Line 9 project in Ontario and Quebec have similarly delayed the pipeline's progress.
Public concern and criticism may not sway the NEB's recommendation or the federal government's decision on a project, but it is certainly leaving its mark in other ways.
The Public Forces Unique Pipeline Issues To the Surface
"Public participation in recent pipeline processes have brought forth some unique issues," Tanya Nayler, staff lawyer with the Ecojustice, an environmental law advocacy group, said.
For example, the ongoing NEB review of Trans Mountain has triggered a full on debate on where municipal by-laws and rights stand in relation to the powers of the NEB (not to mention a showdown on Burnaby Mountain last year).
The question of dilbit or diluted bitumen's behaviour in water was brought to the fore largely because of the Northern Gateway hearings. Subsequent federal reports confirmed the substance sinks when mixed with sediment although recently-released government documents show just how little is known about the effects of dilbit when spilled into water.
For existing pipelines like Energy East, involvement in the NEB process means information that might otherwise be kept from the public becomes a matter of record.
Through information requests, participants in the Enbridge Line 9 hearings gained access to disconcerting information about the condition of the 40-year pipeline. Information requests also revealed Enbridge had failed to assess what would happen in the event of a pipeline rupture.
"New information is essential to driving a public narrative about the risks associated with these projects," Berman said.
Three thousand kilometers of the proposed Energy East pipeline travelling through Alberta, Saskatchewan, Manitoba and Ontario is comprised of an existing TransCanada natural gas pipeline. If approved that gas line will be converted to carry heavy crude and dilbit. One thousand six hundred kilometers of additional pipe will be constructed in Quebec and New Brunswick to extend the line to export terminals.
NEB Is the Only Venue Canada Has To Discussion National Energy Projects
Outside the NEB, Canada simply has no alternate venue where national issues connected to new pipelines can be discussed, leading participants to argue for much-needed structural change.
"Although I do agree the NEB has become slanted towards approvals, it is important to have the public participate in and challenge the process in order to highlight the problems in need of fixing," Nayler said.
Of particular concern is the NEB's refusal to consider the climate impacts of pipelines. From the outset, the board deemed climate impacts, and especially upstream emissions from the Alberta oilsands, as outside the purview of public hearings on the Northern Gateway, Trans Mountain and Energy East pipelines.
At 1.1 million barrels-a-day, Energy East would increase oilsands or tar sands production in Alberta by at least one third. The energy-intensive oilsands are Canada's fastest growing source of GHG emissions.
Recently the U.S. EPA acknowledged the proposed Keystone XL pipeline, which would carry Alberta oilsands crude to export facilities in the Gulf of Mexico, would be the climate equivalent of adding 5.7 million new passenger cars to the road.
"The NEB is the only place we can try and be heard. Every other level of climate and environmental legislation has been removed by the Conservatives," Cam Fenton, tar sands campaigner for 350.org, said.
350.org has launched an online campaign encouraging the public to apply to take part in the NEB process on Energy East, but explicitly on the grounds of addressing climate change – a demand that is likely to have consequences.
It was precisely for wanting to address climate change that the NEB denied the 27 experts mentioned above participation in the Trans Mountain public hearing process.
"We are going to force the NEB to reject all these people. We need to hold the NEB and the process accountable for not allowing people to speak about climate change," Fenton told DeSmog Canada.
Over the last year, 350.org has collected one hundred thousand signatures from Canadians wanting the board to consider climate change in its Energy East decision.
Last week representatives traveled to Calgary to physically hand the petition to the NEB.
Image Credit: Light Brigading via Flickr, LeadNow, Greenpeace, TransCanada
New title
You've read all the way to the bottom of this article. That makes you some serious Narwhal material.
And since you're here, we have a favour to ask. Our independent, ad-free journalism is made possible because the people who value our work also support it (did we mention our stories are free for all to read, not just those who can afford to pay?).
As a non-profit, reader-funded news organization, our goal isn't to sell advertising or to please corporate bigwigs — it's to bring evidence-based news and analysis to the surface for all Canadians. And at a time when most news organizations have been laying off reporters, we've hired eight journalists over the past year.
Not only are we filling a void in environment coverage, but we're also telling stories differently — by centring Indigenous voices, by building community and by doing it all as a people-powered, non-profit outlet supported by more than 2,900 members. 
The truth is we wouldn't be here without you. Every single one of you who reads and shares our articles is a crucial part of building a new model for Canadian journalism that puts people before profit.
We know that these days the world's problems can feel a *touch* overwhelming. It's easy to feel like what we do doesn't make any difference, but becoming a member of The Narwhal is one small way you truly can make a difference.
We've drafted a plan to make 2021 our biggest year yet, but we need your support to make it all happen.
If you believe news organizations should report to their readers, not advertisers or shareholders, please become a monthly member of The Narwhal today for any amount you can afford.